This post may contains affiliate links for your convenience. If you make a purchase after clicking a link we may earn a small commission but it won't cost you a penny more! Read our full disclosure policy here.
Soarin' at California Adventure
When people ask me what my favorite Disney attraction is, I have to be honest and tell them that I have many and it's hard to pick. But one that has a special place in my heart is the attraction that was born at California Adventure and now has an East Coast home in EPCOT: Soarin'.

I remember going on this ride for the first time in October 2001, at the brand-new Disney California Adventure park. Back then, the ride was called Soarin' Over California, and it was a tribute to the Golden State.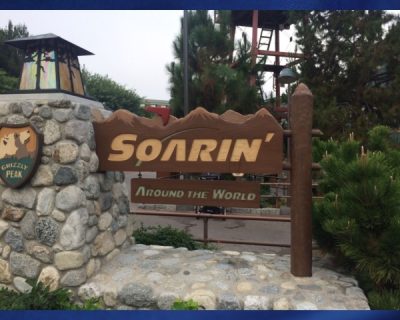 Soarin' Around the World in California Adventure
I was mesmerized by this ride. The gentle yet exhilarating feeling of soaring high over California, the scent of orange groves and pine forests, the stirring score by the late Jerry Goldsmith, flying right by the skyscraper where I used to work in Downtown Los Angeles, and the finale of Tinker Bell starting the fireworks over Disneyland Park – all of it caused the guests who took that high-flying trip to burst into applause once we touched down.
Years later, I was able to experience the same attraction in Epcot's The Land pavilion. Though I found the placement of the attraction here odd. (It's here because of California's importance in agriculture? Okay, seems a bit of a stretch, but we'll go with it.) The ride still supplied the same feelings of awe and wonder. I had assumed that the final scene, which always brought cheers in Anaheim, wouldn't be that big a deal in Central Florida. I was wrong. The EPCOT guests also enthusiastically applauded when we soared over Disneyland!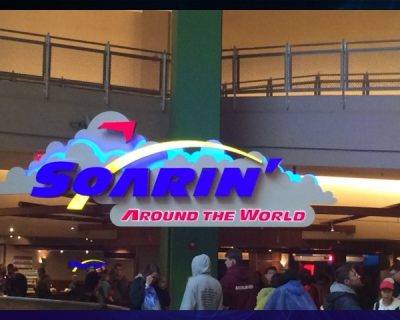 Soarin' Around the World, EPCOT
When I found out that this attraction would get a new film, and we would be Soarin' Around the World, I was nervous. I've seen some of my favorite attractions go through makeovers, and while some of them were very successful (Guardians of the Galaxy: Mission Breakout) others (don't get me started on Journey Into Imagination) were not.

But I have to say, I really like the new version. Now we can see polar bears and elephants, gliding over some of the most iconic places on Earth. And the Disney Imagineers made the wise decision to keep Goldsmith's original score, although the orchestration was changed to reflect the scenes in the new ride film. The new version isn't perfect (the weird angle on the Eiffel Tower gets me every time) but the best thing about it is that it's interchangeable. For example, currently Disney California Adventure has temporarily brought back the California version, and then they will be switching it back to the World version, showing that this ride has versatility and repeatability.

I'm also glad that they made two different finale scenes for each location now. This way, riding in Anaheim will be a different experience than riding in Central Florida. And who knows what the future will bring? Soarin' in Space, maybe?

For all these reasons, Soarin' will always have a special place in my heart.
Which version of Soarin' do you enjoy more?  Share your thoughts in the comments or on Facebook or Twitter!
Did you like this article? Make sure to share it with your friends! Check below for easy ways to share!  
Want to visit a Disney Destination? Contact The Magic for Less Travel for more information and a free, no-obligation quote.

Incoming search terms:
https://www themouseforless com/blog_world/why-i-love-soarin/