This post may contains affiliate links for your convenience. If you make a purchase after clicking a link we may earn a small commission but it won't cost you a penny more! Read our full disclosure policy here.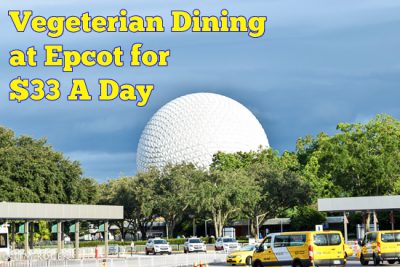 One of the most memorable aspects of any Disney trip is the food. We book our dining 6 months in advance and threaten to riot if our favorite menu item disappears. As Disney fans, we love food. But here at The Mouse for Less we also love saving on our trips, and food is a great place to start.
Currently, I am going park by park to try to plan a full day of vegetarian dining for $33 (for the explanation and choices for the Magic Kingdom, start here). Today, we head to the centerpiece of the Walt Disney World food universe – Epcot.
Breakfast
One of the often repeated pieces of advice for Epcot dining is that you should have breakfast in France, and who am I to argue. To start our day, we will get a Croissant from Les Halles Boulangerie – Patisserie ($2.25). All of the items are always great, and I particularly enjoy croissants.
(Total after breakfast – $30.75)
Lunch
One of the challenges to spending $33 or less is that many of the wonderful table service restaurants would probably knock out a huge chunk of the budget in one meal. However, Epcot has some of the best variety of counter service locations throughout all the property, especially for vegetarians. The challenge then becomes narrowing down the choices.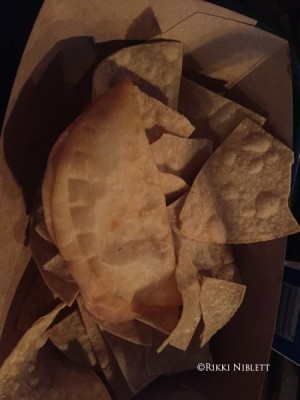 Note: this is actually the kids portion of the Empanada, so the sides are a little different, but they taste the same and ordering the kids portion is also a great way to save money at counter service locations.
For lunch, I decided to start with one of my favorites in the World Showcase, the Empanadas de Queso from the Cantina de San Angel ($11.50). If you are unfamiliar, these are fried flour tortillas filled with cheese and served with Mexican slaw. For starters, the Cantina is a great location right on the World Showcase lagoon, providing nice views during the meal. The empanadas are tasty (it's gooey cheese in fried dough, so…) and a very good size meal for the price since you get three of the empanadas along with the slaw. Going along with my personal challenge, it is also a unique dish you can't really find anywhere else in Walt Disney World.
(Total after lunch – $19.25)
Dinner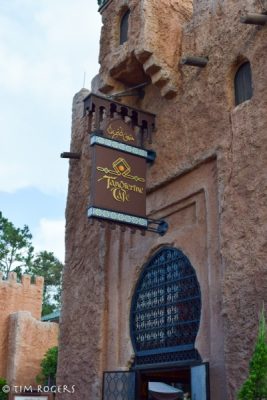 Routinely, one of the highest rated restaurants in Epcot is Tangierine Café, the counter service location in Morocco. First, continuing a theme from my Magic Kingdom day, I have a confession. For years whenever I heard or even read about this location I changed it to the "Tangerine" Café, as in the fruit, and not Tangierine, as in being from the city, like it is. If you, too, thought that, you're welcome.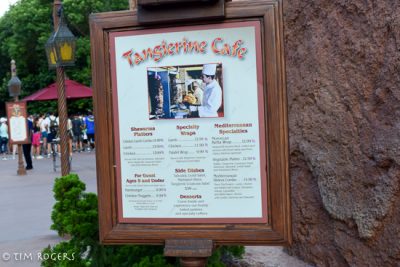 Second, I really don't know why it took me so long to eat here except that Epcot just has lots of good food (and I also have an attachment to Beaches and Cream). For a vegetarian, especially one who makes their own hummus and falafel, Tangierine Café is a natural stop, and I finally made it a point to check it out. What I got, and would suggest, is the Vegetable platter ($12.99). This comes with Falafel, Hummus, Pita, Salad, Olives, Tabbouleh, Couscous and Lentil Salad. It also happens to be vegan.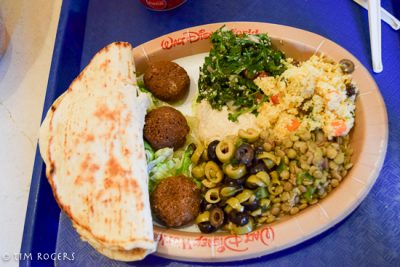 As you might imagine, this is a hearty amount of food. When we went, my wife and I actually split it and still got enough. Overall it is tasty and one of the best values in the World Showcase.
(Total after dinner – $6.26)
Snack/Dessert
As I mentioned before, thinking about food in Epcot is a complete embarrassment of riches. With just over $6 left to have some kind of dessert or snack, there are numerous possibilities. The first place my mind went for a unique offering that fits the idea of ridiculous things you should have on vacation is the Croissant Doughnut ($5.79) from the Refreshment Port right at the entrance to the World Showcase. You can also get it topped with ice cream ($6.49).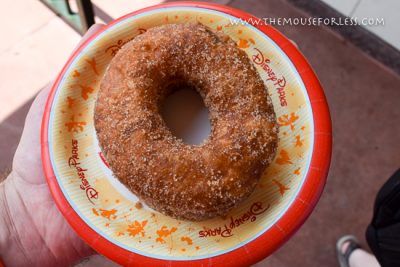 You might have heard of the craze, especially in New York, a few years ago for "cronuts," and that is essentially what this is, without trademark infringement (for more on copyright law, see a discussion of "potato barrels" in my next edition). You get croissant dough fried and prepared like a donut, and no part of that sentence sounds bad to me. But that is also my main description of the croissant donut – it's not bad. It is sweet, tastes fine and is a little fun and quirky, but for all the hype around it I was expecting something a little more. If you have never had one, you can definitely check it out and check it off your bucket list, but for the end of my day at Epcot, I'm going to actually call and audible and head over to Germany.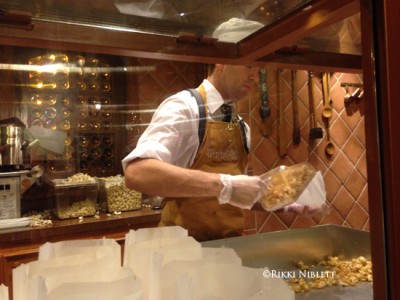 One of the traditions my wife and I have for each of our Disney trips is to head to Karamell-Küche and get something to take with us for our trip home. Specifically, one of the things we always get is the Dark Chocolate Caramel with Sea Salt ($3.99). You can obviously find dark chocolate caramel away from the World (and I have), but the balance of flavors and overall quality of it here keeps us coming back each and every time.
(Total left after snack – $2.27)
Thus ends our second $33 Day as a Vegetarian in Walt Disney World. Check back for continued exploration through the rest of the World.
What are some of your favorite vegetarian options at Epcot? Let us know in the comments, or on Facebook or Twitter.
Did you like this article? Make sure to share it with your friends! Check below for easy ways to share!
Want to visit Walt Disney World? Contact The Magic for Less Travel for more information and a free, no-obligation quote.