This post may contains affiliate links for your convenience. If you make a purchase after clicking a link we may earn a small commission but it won't cost you a penny more! Read our full disclosure policy here.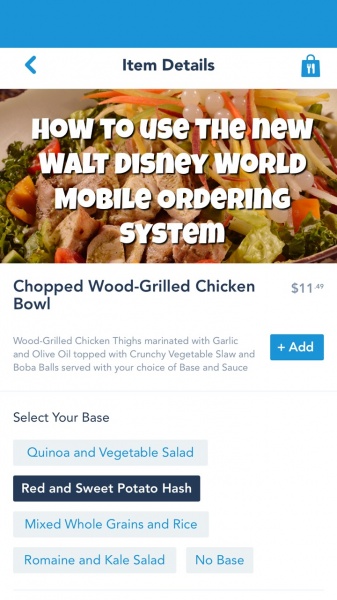 Pandora – The World of Avatar opens up this weekend, but something else officially begins this weekend and that is the Mobile Ordering System.
The Mobile Ordering System allows Guests to order meals at many of Walt Disney World's counter service restaurants ahead of time and then, when ready, place the order within the app and you will be notified when you meal is fully prepared and ready for pickup. The Mobile Ordering System is first being rolled out at the all-new Satu'li Canteen on May 27, but it will soon be available at other Disney's Animal Kingdom restaurants, including Pizzafari, Flame Tree Barbecue and Restaurantosaurus later the summer. In addition, other fast casual restaurants will be added along the way too.
How does the whole thing work? Well, I this weekend, I attended the Annual Passholder preview of Pandora – The World of Avatar and I got to participate in the new system.
First things first, you are going to want to download the My Disney Experience app, if you don't already have it. (If you do have it, you'll need to make sure you have the most current version that was released, because that's the one that includes the mobile ordering option.)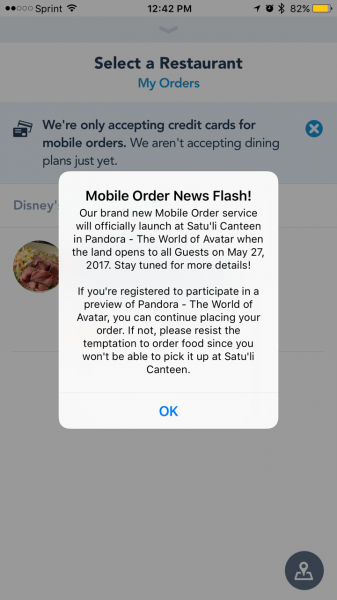 Guests who would like to place their orders via the Mobile Ordering System can can order no matter where they are. You will be able to select which restaurant you want to order food from.
Once you select the restaurant, you can peruse the menu to see which options you want to order by selecting "order food." You can also get directions, as well as see where the dining location is on the map.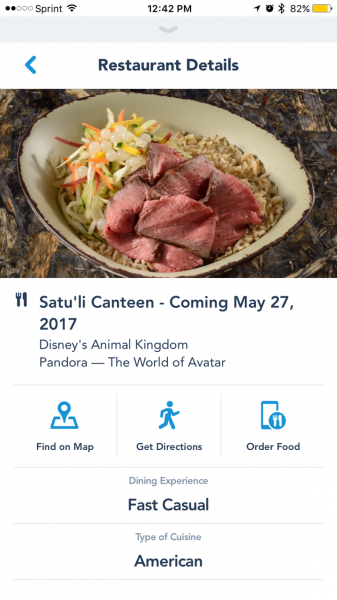 Once you pick which meal you want, you can then choose to customize it.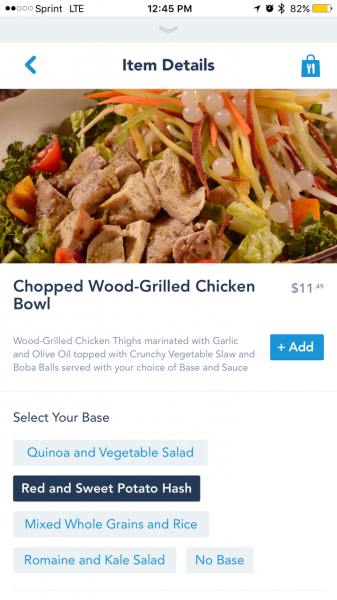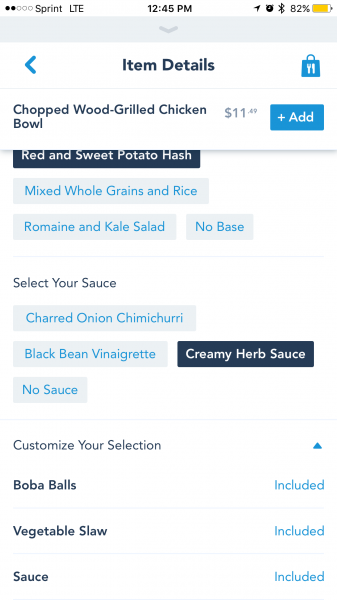 Make sure you add your option to you shopping cart.
Once everyone has made their selections, you can always go back to review your order and add to it or remove things from it. Do keep in mind that this can only be done prior to officially placing your order by pressing the "Purchase" button.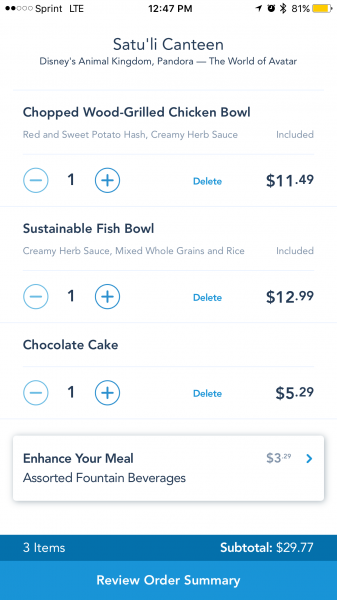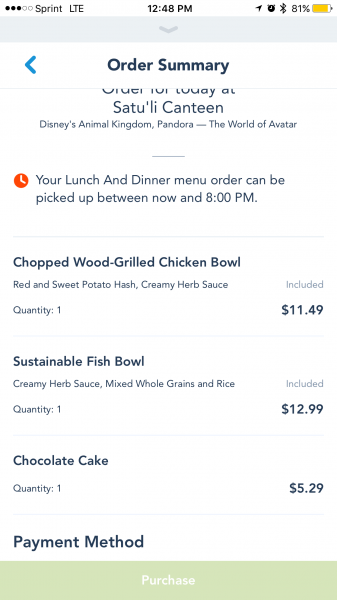 Once you select purchase, your credit card will be charged.  Currently the Mobile Ordering System is only accepting credit card purchases. They are not accepting Disney Dining Plan credits or cash. I expect it to open up to Disney Dining Plan participants soon.
The good news is that your food isn't ready when you click purchase! So, if you want to make sure your meal is ordered and paid for, say that morning, before heading to the parks, you can!
Once you are in the area and ready to officially eat, you are then going to click the "I'm Here. Prepare My Order" button. As soon as you do that, the kitchen will start to prepare your meal.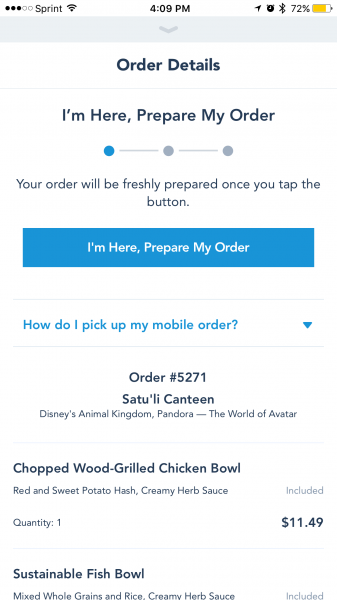 You will be notified via tracker what your food's process is and the app will notify you (if you have notifications turned on) when your food is ready to be picked up.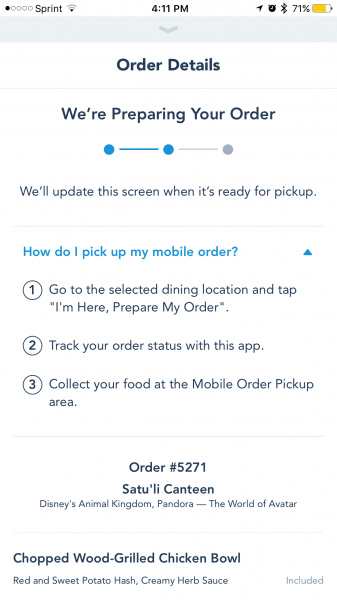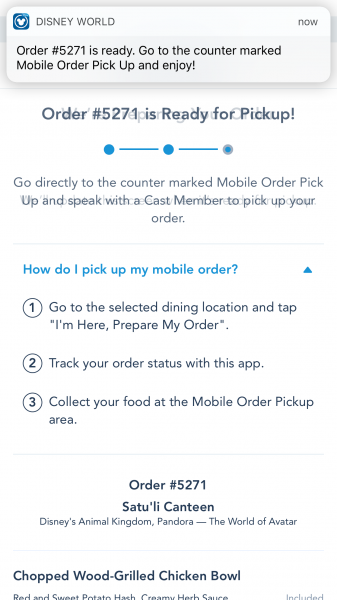 Once you are notified that your food is ready, you will simply need to head to the Mobile Order food pickup area. It will be clearly labeled as such. You will need to show them your phone, which has your order number on it.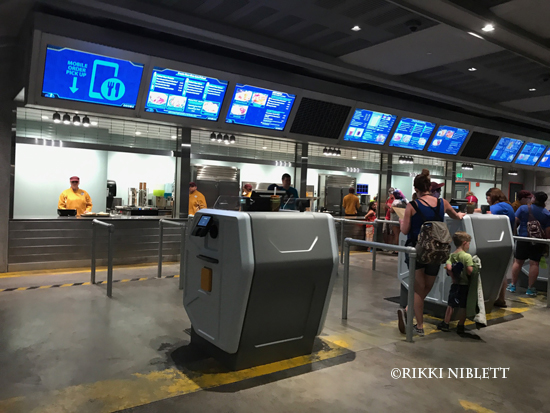 Then, you can go and sit down to enjoy your meal!
So what did I think of Satu'li Canteen? Well, you're just going to have to come back to the blog to find out!
What do you think of the new Mobile Ordering System? Would you use it? Share your thoughts in the comments! 
Did you like this article? Make sure to share it with your friends! Check below for easy ways to share!