This post may contains affiliate links for your convenience. If you make a purchase after clicking a link we may earn a small commission but it won't cost you a penny more! Read our full disclosure policy here.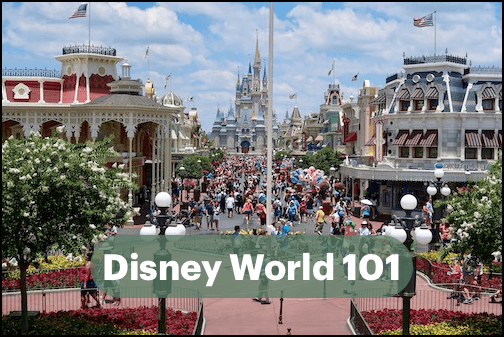 A few weeks ago I went to a friends house to plan their first trip ever to Walt Disney World. It's been a long time since I've talked with someone that knew so little about the world… ("is there a second park…. Ep-something?") I realized that starting from 0 can be very overwhelming! I had to work hard to go back to basics, as I so often am talking at a super high knowledge level. And so, I thought I would turn that conversation into a blog post for anyone out there who would like to visit Disney World but feel completely out-of-the-loop.
Disney World: what is it?
It's literally a "world" in Orlando Florida that consists of 4 theme parks, 2 water parks, a shopping/food district, boardwalk entertainment area, golf courses and mini golf courses, and more than 30 hotels. It is double the size of Manhattan, employs more than 64000 cast members, has it's own township, and a fantastic internal transportation system.
How long should I spend at Disney World?
As long as you can 🙂 There will always be more to see and do. Typically, most people plan one week for their first trip. People from outside North America often plan two weeks. If you want to fully see Disney World and do other Florida things (like Harry Potter, which is Universal which is not in Disney World), you may want more than 1 week.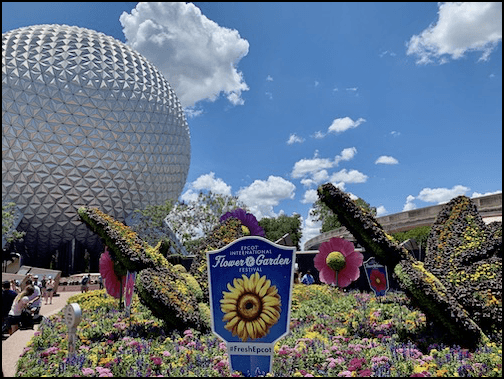 Where should I stay?
There are tons of options both on-site (inside Disney World property) and off-site. I recommend staying on-site as you get a few benefits, like free transportation from MCO airport (no rental car), free theme park parking (if you have a car), free MagicBand per guest, earlier access to dining and FastPass reservations, the ability to send purchases from a park back to the hotel, and the option to buy the Disney Dining Plan. It's true that on-site is a little more expensive than off-site, but not by as much as you think. Plus you can save by not getting a rental car as the internal transportation will get you wherever you need to go (theme park parking is also $24/day at time of writing).
How early should I start planning?
If you want to do everything you want, you should start at least 9 months out. Hotels are booking up earlier and earlier all the time. Some dining reservations will be gone within 6 months. Ideally, 9 months out you decide the dates and book your hotel. You choose which parks which days before the dining reservation window opens up.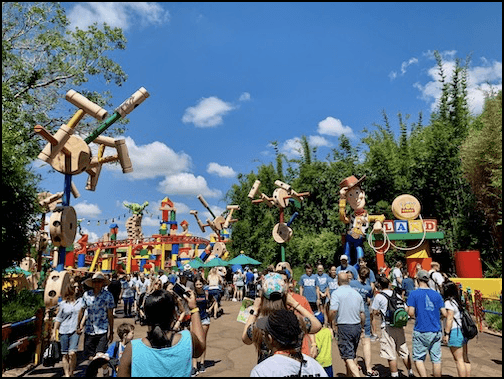 How many days should I plan in each park? And what kind of ticket should I get?
For a Sat-Sat trip I would recommend 2 days in Magic Kingdom, plus 1 day in Epcot, Disney's Hollywood Studios, and Disney's Animal Kingdom. If you extend your trip by a day you could add a second day in Epcot to really see the World Showcase. This leaves arrival and departure day as non-park days, and gives you one rest day in the middle. For first-timers you don't need to spend the extra $60/person for park hopping — there's plenty to see in each park to spend at least a full day there.
What hotel should I stay in on-site?
Depends on your budget! For Value, Pop Century is my favorite, but is a bit pricier since the opening of the Skyliner ($150-75). All-Star Movies ($115-45) is first to get room refurbishments which are very nice. For Moderate I'd recommend Caribbean Beach as it was just refurbished and has the Skyliner. And for Deluxe, I am biased but will say Wilderness Lodge (I own there with DVC – Disney Vacation Club). Plus it's a boat ride to the Magic Kingdom! Values are completely fine resorts. As you get into moderate and deluxe, they get less crowded, add water slides to pool(s), and get sit-down restaurants (known as table service). Values stick to food court style (known as quick service).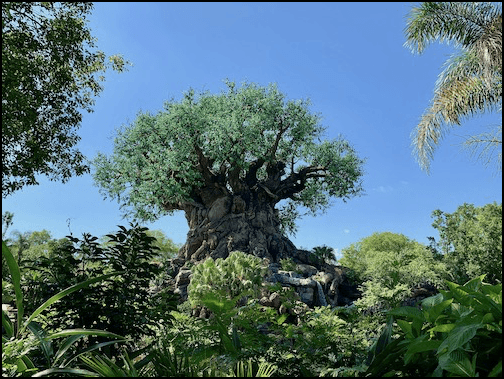 And now for the glossary of terms:
FP+: FastPass Plus. Each day you can pre-select three rides with FP+. It is a free service where you can skip the standby (regular) line. After your three are used, you can book one more at a time based on what's still available.
DDP: Disney Dining Plan. An optional add-on to people who book a package (hotel + park tickets). Each plan includes a resort refillable mug, 2 snacks a day, and a mixture of quick or table service dining depending on which one you pick.
Quick Service Dining: you walk up to a cash register to order, then take your food to sit. Less than $15 pp typically.
Table Service Dining: a waiter and a menu. More than $15pp typically.
Character Meal: you'll see Disney characters while you eat! They'll come visit your table for pictures and autographs if you wish. These start at $55pp for breakfast buffets and go up from there. They also "sell out" very quickly.
Memory Maker/PhotoPass: PhotoPass is available in all parks — cast members will take your picture, or some rides will automatically take one. These get linked to you via your magicband. You can purchase these after, OR you can purchase memory maker, which gives you unlimited downloads of everything taken of your trip. It is $169 if purchased ahead of time, or $199 if you're already there.
Rope Drop: getting to a theme park before it opens. Historically they literally "dropped ropes" when the park opened. Being at the front means you have 0 wait for your first ride, and minimal for the ones after. In order to effectively rope drop you need to be at the gate 30-90min before it opens (depending on what ride you're heading to).
My Disney Experience: an app that you should download! You can see all your plans and check wait times from there.
Magic Band: a bracelet type tech that's free with your hotel (or $15+ in the park depending on style) that you can use to enter the park, use your fast passes, get your photo pass photos, unlock your hotel room door, and charge things to your credit card (also with a pin number).
OK. That is a good start. I hope this helps get you "in the know" as you think about a trip to Walt Disney World! What else would be helpful for planning a first trip? Share your thoughts in the comments or on Facebook or Twitter!
Did you like this article? Make sure to share it with your friends! Check below for easy ways to share!
Want to visit the Walt Disney World Resort? Contact The Magic for Less Travel for more information and a free, no-obligation quote.

Incoming search terms: