This post may contains affiliate links for your convenience. If you make a purchase after clicking a link we may earn a small commission but it won't cost you a penny more! Read our full disclosure policy here.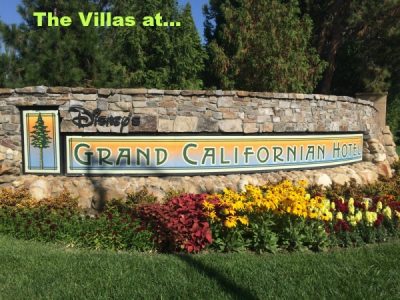 Welcome to the Grand Californian Hotel!
My parents recently became Disney Vacation Club Members, and made it no secret that a major reason they did this was to be able to enjoy Disney vacations with their kids and grandkids. They recently booked a five night stay at the Grand Californian at Disneyland. Since I live in Los Angeles, I decided to take my daughter down to visit them after an early release school day.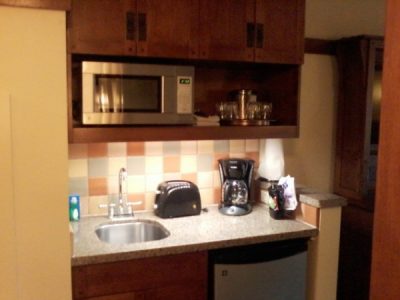 The kitchenette
The Grand Californian was built in my very favorite architectural style, California Craftsman. Of all the Disneyland-owned and operated resorts, this is the only one that was designed and built by Disney. (The other two, the very popular Disneyland Hotel and carefree Paradise Pier Hotel, were built by other companies, and then later purchased and renovated by Disney.)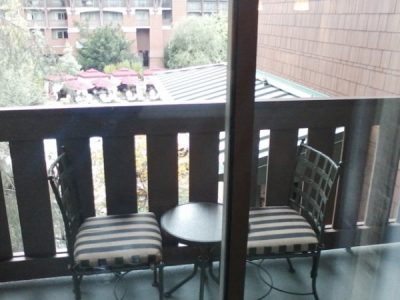 The balcony
We had all stayed in the Grand Californian before, but never in a DVC Studio. So I was excited to check it out. In the hallway, we spotted both a hidden Mickey and a hidden Chip and Dale in the carpet.
I see you, Hidden Mickey!
My parents put my daughter and I on their reservation since we are associate members on their account. They were allowed to park two cars at the hotel for free, and only brought one, so I was able to park in the self parking lot for no charge. I simply had to show my room key as I exited.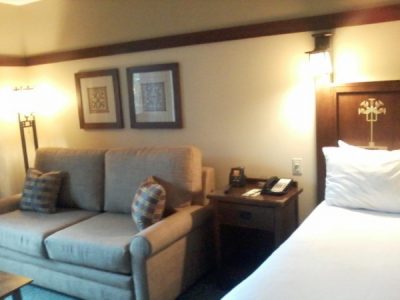 Sleeper sofa and queen sized bed
The lobby in the Grand Californian is one of my favorite places on earth. This being the week before Halloween, we were able to see the magnificent Halloween display made entirely of sweets.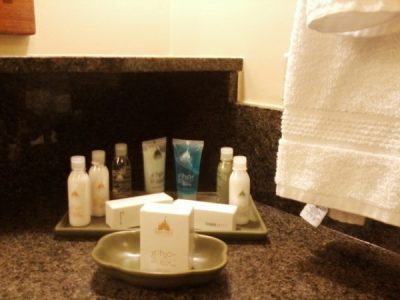 Ample H20 products in the bathroom
When we met my parents, we went up to their room, #3509, to check it out. My parents had a lovely view of the courtyard, overlooking the pool area. Their balcony was small, but large enough for a table and two chairs.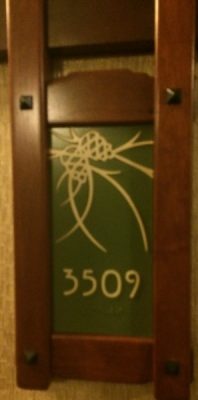 Let's step inside, shall we?
There is a split bathroom, with a sliding wooden door separating the vanity and sink area from the toilet and shower area. The small kitchenette featured a microwave, ample storage space in cabinets, a sink, refrigerator, toaster, coffee machine with coffee, ice bucket and glasses, a roll of paper towels, coffee cups and kitchen towels. The bathroom was stocked with a line of Spa H20 products.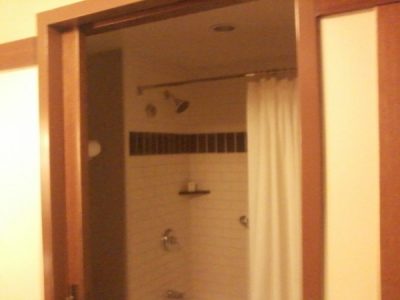 The shower
The queen sized bed had lamps at each side, and hanging on the wall nearby was California themed artwork. The bed is raised, giving my parents a place to store their luggage. A comfortable sleeper sofa is next to it.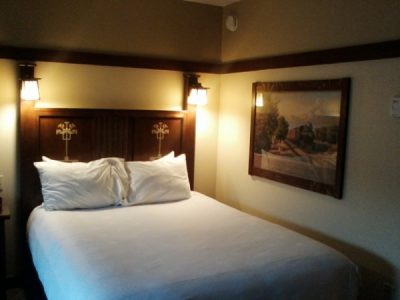 Queen sized bed
The television is atop the dresser, with lots of drawers. A table with two chairs is a good place to plug in a laptop. The closet is very spacious, and came complete with two bathrobes for my parents to use during their stay. However, my parents were surprised to discover that the hem of one robe was dirty, and the other robe had a receipt in the pocket from the Thursday before they checked in. When my mother called Housekeeping about this, the Housekeeper was very apologetic and sent up two clean robes within 10 minutes.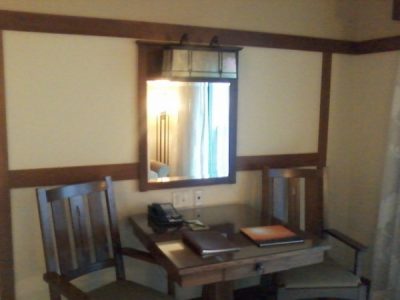 Sitting area
After enjoying a glass of wine on the balcony, we all checked out the observation deck, which can be accessed with your room key. The view into California Adventure was nothing short of spectacular. You could also spot the Paradise Pier Hotel from here. It was so much fun to see guests enjoying the attractions both in the bright sunlight of day…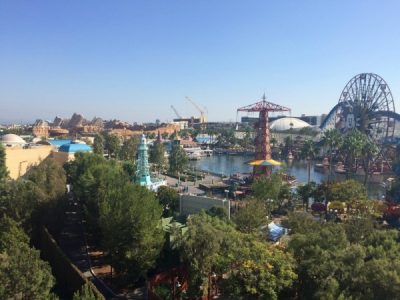 Spectacular view from the observation deck
…and under the twinkling lights at night. Heat lamps are turned on at night, and the music for World of Color is piped in if you'd like to watch from here. My parents did just that, and enjoyed it, although the angle prevented them from seeing every aspect of the show. As for me, I could have stayed here looking at the changing colors on Mickey's Fun Wheel for hours.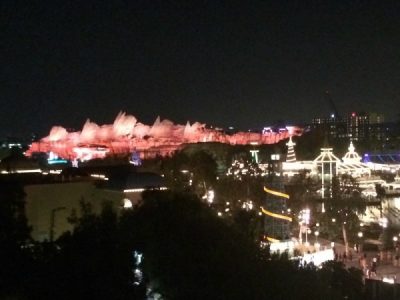 Even more breathtaking at night
We visited the pool area as well. There are three pools here, all in close proximity to each other: the relaxing Fountain Pool, the water slide laden Redwood Pool, and the circular Mariposa Pool. A Mickey shaped kids pool and hot tub are also in this area.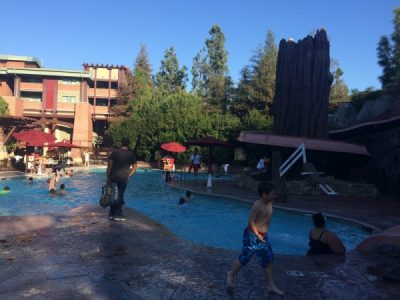 The Redwood pool, with slide
My daughter loved the kiddie slide with its water jets. My Dad enjoyed the big slide, but said it's not as thrilling as the one at the Disneyland Hotel.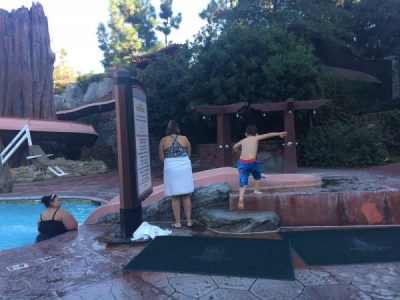 Kiddie slide at the Redwood pool
Now that my parents are DVC members, I'm hoping a stay at the Grand Californian is in my immediate future!
Have you stayed at Disney's Grand Californian Resort? What were your thoughts? Share in the comments.
Incoming search terms:
https://www themouseforless com/blog_world/villas-grand-californian-hotel/