This post may contains affiliate links for your convenience. If you make a purchase after clicking a link we may earn a small commission but it won't cost you a penny more! Read our full disclosure policy here.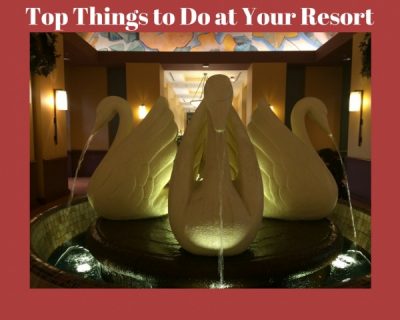 The lobby at the Swan Hotel, Walt Disney World
Staying at a Disney resort hotel, whether at Disneyland or Walt Disney World, is one of the highlights of my Disney vacations. I love the immersive theming, the Disney service, and the whimsical touches in our rooms.
For some vacationers, a hotel is just a place to sleep and shower. But for my family, staying at a Disney resort gives us an opportunity to relax, recharge, and have fun even when we're not in the parks. Here are my top things to do at your Disney resort!
LOOK FOR HIDDEN MICKEYS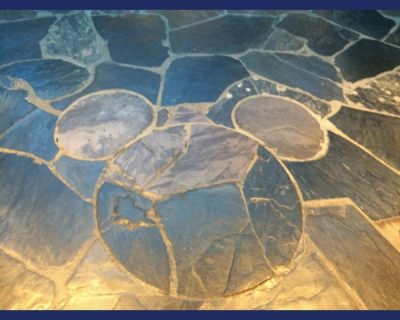 Hidden Mickey, Polynesian Village Resort
In case you're not familiar with the term, a "Hidden Mickey" is the iconic shape of Mickey Mouse's head cleverly tucked into design elements by playful Imagineers. No matter what Disney hotel you're staying at, there are Hidden Mickeys somewhere! See how many you can find!
GO SHOPPING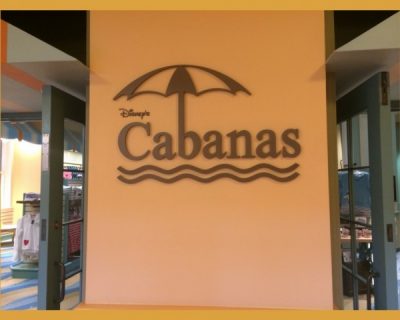 Cabanas at the Swan Hotel
If you've ever been at the theme park gift shops at closing time, you know that these shops can get very crowded. So, on your day off from the parks, why not peek into your resort's gift shop to see what you can find? You won't necessarily find the same selection as you would in the parks, but you just may find the perfect souvenir here.
WAIT, WAS THAT GOOFY?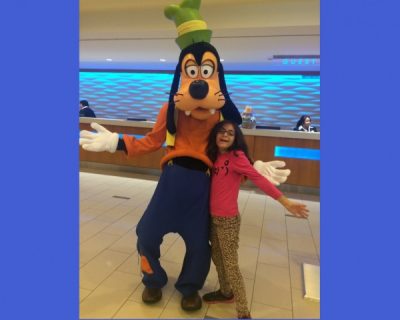 Disneyland Hotel lobby
I have been surprised by the number of times I have stepped into the Disneyland Hotel lobby to find Goofy greeting guests. I have never had the experience of meeting a character in a hotel lobby at Walt Disney World, but if it's happened to you, please share your experience in the comments!
CHECK OUT THE VIEWS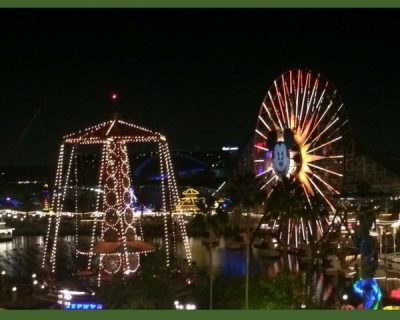 The view from the observation deck of the Grand Californian Villas
Not every Disney resort hotel has a stunning view, but there are many that do. And even if you didn't splurge for a fantastic view from your room, there may be locations around your resort grounds where you can see something breathtaking.
For example, Disney Vacation Club members at the Grand Californian Hotel have access to an observation deck where they can see California Adventure. At the Polynesian Resort, you can watch the fireworks at the Magic Kingdom not only from the beach, but from the ends of the hallways in certain longhouses. It never hurts to ask at the front desk if there is a place to catch a glimpse of something spectacular!
PRESS SOME PENNIES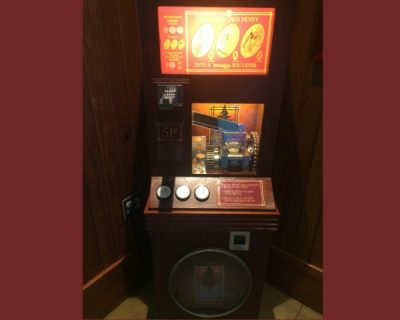 Pressed penny machine at the Grand Californian 
You probably already know that you can get pressed pennies in the parks. But there are some pressed penny machines in the resorts, too! Not every resort has one, so be sure to ask.
TAKE A DIP IN THE POOL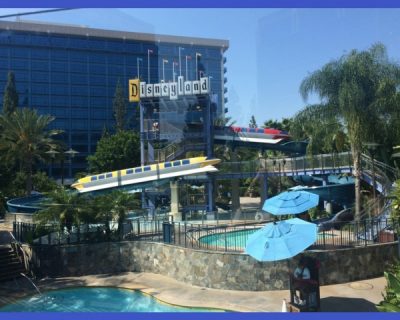 The pool at the Disneyland Hotel has monorail slides!
Every Disney resort hotel, from the humble Values to the incredible Deluxes, has at least one pool. And we're not talking bland, concrete rectangles. The pools are decorated with Disney characters, or evocative of another time and place. Some even have water slides, and others can more accurately be described as mini-water parks.
These pools are heated in winter, and the weather very rarely gets so cold in Central Florida or Southern California that you won't want to swim. (It does happen, though, so if swimming is important to you, check the historical weather forecasts!)
TAKE A FREE TOUR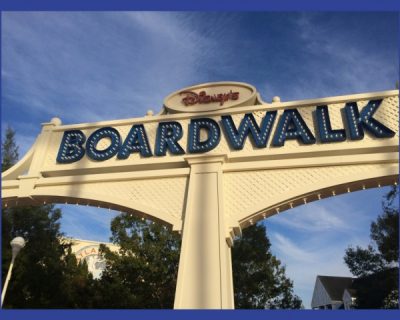 The Boardwalk Inn offers a free tour!
Several of the Walt Disney World Deluxe resort hotels offer free (that's right, I'm writing about Disney and I typed the word FREE) tours! If there is one happening at your resort, why not give it a try! (And if you're staying at another Walt Disney World resort, you are welcome to hop to another one to take that tour!) Some of the tours require reservations in advance, so ask at your front desk.
What are some of your favorite things to do at your Disney resort hotel? Share in the comments, or on Facebook or Twitter.
Did you like this article? Make sure to share it with your friends! Check below for easy ways to share!