This post may contains affiliate links for your convenience. If you make a purchase after clicking a link we may earn a small commission but it won't cost you a penny more! Read our full disclosure policy here.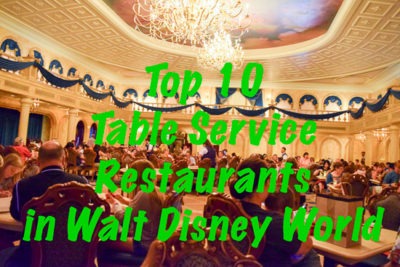 It is an age old question for Disney vacation planners – what is the best restaurant? The most honest answer? – it depends. However, if you talk to enough people, some definite trends emerge, so, once again, I decided to ask the members of the Mouse for Less Facebook group what their favorite table service restaurant was, starting with all of them and narrowing it down to a final ten. Since we are now wrapping up awards season, I now present for you the Mouse for Less Academy of Disney Culinary Arts and Sciences Restaurant Awards.
You can find the full list here, and then continue on for some explanation and personal experience on what makes these restaurants special. In the spirit of award season, we'll make some up to give out.
First, the honorable mentions:
Honorable Mentions : The Places Everyone Recommends
Like I said, the "best" restaurant is all a matter of perspective, and even after all of the rounds of voting and narrowing it down to a top 10, there are only so many restaurants you can include in a top 10. So while these didn't quite make the list, they are major fan favorites (including me).
The two that finished just outside of the top ten are both perennial recommendations for special occasions, meals outside the parks, or just straight up deliciousness.
Located at the top of the Contemporary Resort, California Grill has one of the most devoted followings of any Walt Disney World restaurant and is our winner for Most Likely to Get You Excited Over a Single Ravioli .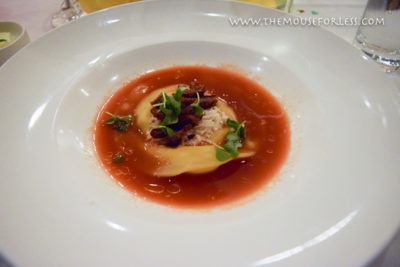 One of the interesting things with asking people their favorites, is that signature restaurants, like this one, don't do as well since, by sheer volume, less people have experienced them. It says something about California Grill that it made it even this far. Check it out for a great view of the fireworks, sushi, artisanal pizza from the wood burning oven, inventive entrees with the freshest of ingredients, and yes, the legendary Sonoma Goat Cheese Ravioli (it's great).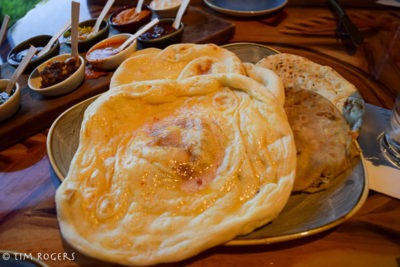 Our other honorable mention, and one of the restaurants that fell out of the top ten from the last time we did this, is one of my personal favorites –  Sanaa. Our winner for  Most Outstanding Usage of Bread in a Leading Role (that isn't a roll) is routinely listed as Disney World visitors favorite dining experience. Everything at this Indian/African inspired restaurant is great, but if you haven't heard of the Bread Service, you haven't talked to anyone who has ever been there.
And now to the top 10.
Top 10 Table Service Restaurants – Flavors of the World
One of the themes throughout the top ten was the highlighting of foods from around the world. Two of them actually gave us our first ever tie at number ten, with Boma (Best Guest Appearance by Zebra Domes) and Raglan Road (Best St. Patrick's Day Celebration, No Matter What Day It Actually Is). Boma is always popular, but in an "under the radar" kind of way, but with all-you-can-eat interesting food, what's not to love?
For me, Raglan Road was the surprise of the whole thing – we've had these sorts of votes several times, and almost never have anything from Disney Springs come close to making the top ten. However, it isn't hard to see why a unique dining experience with fun live entertainment would not only last in the constantly changing Disney Springs environment.
Finishing a bit higher than both of those is 'Ohana (#4) our winner for Outstanding Repurposing of Giant Marshmallow Roasters. 'Ohana is perpetually popular (even winning the whole thing a few years ago), and between a breakfast with unique characters, and a dinner with non-stop meat on sticks, I imagine that it will continue to be a fan favorite for years to come.
Top 10 Table Service Restaurants – Family Style
There are a lot of reasons why Disney World restaurants become popular. They might have one great item, super unique themeing, wonderful character interactions, or all of the above. One of the threads that ties together the next set of restaurants together can be expressed in a single word – comfort. For many people, when they are on vacation there is nothing better than a simple meal full of nostalgia.
When you think of nostalgia at Walt Disney World, probably the first place that comes to mind is 50's Prime Time Café (#8), our Most Realistic Retro Sitcom Experience. For years, 50's Prime Time has been one of the most consistently popular restaurants in Disney's Hollywood Studios. If you like you food fried, and served with a side of familial sass, head on over.
But if you think the 1950's is too recent and want to have an even more retro experience, you can head to Liberty Tree Tavern (#6), our winner for Best Daily Celebration of Thanksgiving. Between the colonial themed rooms and the Ooey Gooey Toffee Cake, you are bond to have a good meal from start to finish.
Top 10 Table Service Restaurants – Monorail Resort Hopping…With Character
Character meals are always one of the most popular "must do" things for Walt Disney World vacations. A challenge, sometimes, is taking the time inside one of the parks to really get the most out of the experience. That explains part of why two of the most popular restaurants in all of Disney World are character meals located close to, but not inside, the parks. Those are perennial favorite Chef Mickey's (#9) our Best Brunch in View of the Monorail and 1900 Park Fare (#7) the Best Place for an Un-Birthday Party. The popularity of each, however, is a little different.
With Chef Mickey's, it is basically a direct infusion of pure Disney into your trip. You get the Fab 5 with the Monorail overhead at an all you can eat buffet. Especially (but not only) groups with younger kids often feel like this is a must for their trip.
1900 Park Fare, on the other hand, is popular because it can be almost anything you want it to be. Want a unique character breakfast? Come on by for a mix of Winnie the Pooh, Mary Poppins and Alice in Wonderland friends. Couldn't get in one of the usual princess meals or want that feel with a little more snark? You can not only have dinner with Cinderella, but also Prince Charming, Lady Tremaine, and the Stepsisters. Looking for a Mad Tea Party? They have that too.
Top 10 Table Service Restaurants – Be Our Guest
When New Fantasyland opened, there was some…controversy…about adding another castle to the Magic Kingdom. However, once Be Our Guest (#5) opened it instantly became one of the most coveted reservations in all of Disney World. Our winner for Best Movie Scene Come to Life, truly does transport you into the middle of Beauty and the Best with some great food, and dramatic appearances by the master of the castle himself.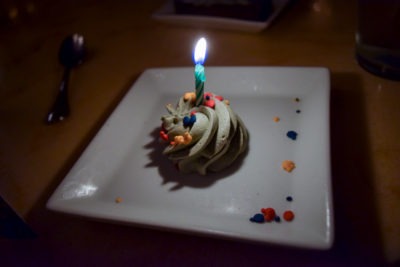 Top 10 Table Service Restaurants – Best of the Best
Our top three have a few important things in common. 1) All you can eat, 2) Characters, 3) Inside Parks. For what I said about the popularity of character meals outside the parks, it is undoubted that some of the most popular activities for visitors of all ages are the inside the park character meals.
First up, is Garden Grill (#3) our Lifetime Technical Achievement in Culinary Motion. A harvest fest, Chip and Dale, and a view of a classic Epcot attraction? What more could you want.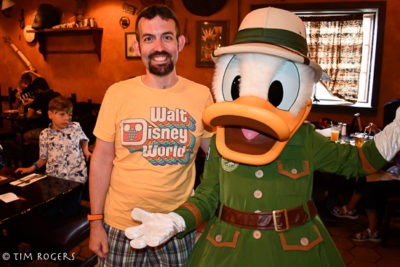 Moving over to Disney's Animal Kingdom is Tusker House (#2), our winner for Best Buffet Variety. This restaurant quickly became a favorite for my wife and I. As vegetarians, the food choices here, combining some African, Indian, and American flavors and favorites, gave us a lot to choose from and were all delicious, and the characters are unique and fun.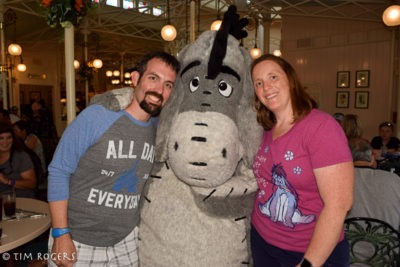 Which brings us to the winner, not only of our vote, but of the Recognition of Lifetime Achievement in Expanding the Meals in Which Lasagna is Appropriate, the Crystal Palace. If you have read anything by me before, the odds are good that it is something about Crystal Palace, and especially the breakfast. Being married to an Eeyore devotee, it is the best (And sometimes only) place to meet him, but outside of Winnie the Pooh and friends, it actually seems to separate itself on the quality of the food as well. I go there every trip, and if this vote is any indication, a bunch of other people do too.
As with any awards show, not all awards can be televised for time, so what are some of your favorites? Share your award winners in the comments or on Facebook.
Did you like this article? Make sure to share it with your friends! Check below for easy ways to share!
Want to visit Walt Disney World? Contact The Magic for Less Travel for more information and a free, no-obligation quote.