This post may contains affiliate links for your convenience. If you make a purchase after clicking a link we may earn a small commission but it won't cost you a penny more! Read our full disclosure policy here.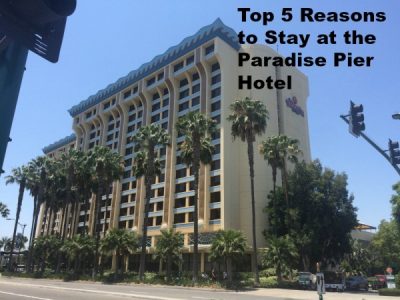 Welcome to the Paradise Pier Hotel in the Disneyland Resort
Choosing a hotel for your Disneyland trip isn't quite as overwhelming as doing the same for a Walt Disney World trip. If you decide to stay on property at Disneyland, there are only 3 hotels from which to choose. Here are my top 5 reasons for choosing the Paradise Pier Hotel:
THE VIEWS
There are good views to be had at any of the Disneyland hotels, but if you're lucky enough to score one facing California Adventure, you're in for a real treat. Some rooms feature a view of World of Color. If you splurge for a theme park view, you can get a room that pipes in the soundtrack, as well! The view here is at an angle, so if you've never seen the show before, I still highly recommend you see it from the park. But there is something very cozy about watching the show in your pajamas from the comfort of your hotel room.
This view could be yours!
COST
Of the three onsite hotels, the Paradise Pier Hotel is the least expensive. If your main reason for booking an onsite hotel is to get early entry into a select park every day of your stay, this will be the most cost effective way to get it.
THE THIRD FLOOR ROOFTOP
Head on up to the third floor rooftop to visit California Streamin, a waterslide that pays tribute to the California Screamin' roller coaster nearby.  There is also a pool bar here, a kiddie pool, a hot tub, and gorgeous views of the Disneyland Park fireworks, complete with soundtrack piped in.
OFF THE BEATEN PATH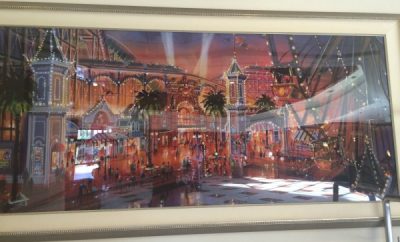 Hallway art depicts a boardwalk from another era
All three Disneyland owned and operated hotels are within walking distance of both theme parks. However, the Grand Californian is located directly in Downtown Disney, while the Disneyland Hotel is directly adjacent to the shopping, dining and entertainment area. The Paradise Pier Hotel is a longer stroll away from the action. For some, this is a good thing. People who are hoping to have a little bit of an escape from the crowds, hustle and bustle may find the Paradise Pier Hotel a welcome respite.
BEACH THEMING EVERYWHERE!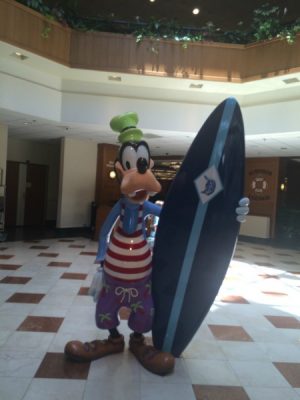 Surfer Goofy welcomes you to the hotel
The beach theme is apparent everywhere you look in this hotel. When you step into the lobby, you'll be greeted by a statue of Goofy ready to hit the surf. In your room, your beds will be decorated by adorable beach ball shaped pillows. And if your kids want to rest their legs while Mom or Dad check in to the hotel, they can sit in beach chairs and watch Disney cartoons from a TV that's nestled in a giant sandcastle!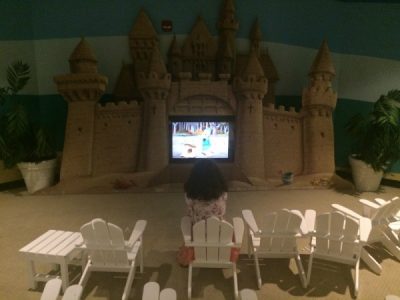 The adorable sandcastle themed TV room in the lobby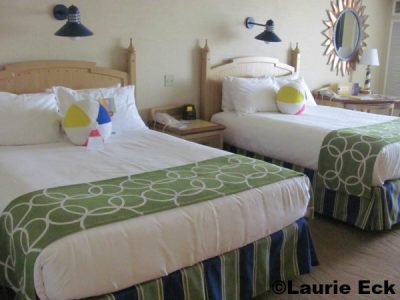 Just look at those pillows!
What are some of your favorite reasons to stay at Disney's Paradise Pier Hotel? Share them in the comments.
Did you like this article? Make sure to share it with your friends! Check below for easy ways to share!