This post may contains affiliate links for your convenience. If you make a purchase after clicking a link we may earn a small commission but it won't cost you a penny more! Read our full disclosure policy here.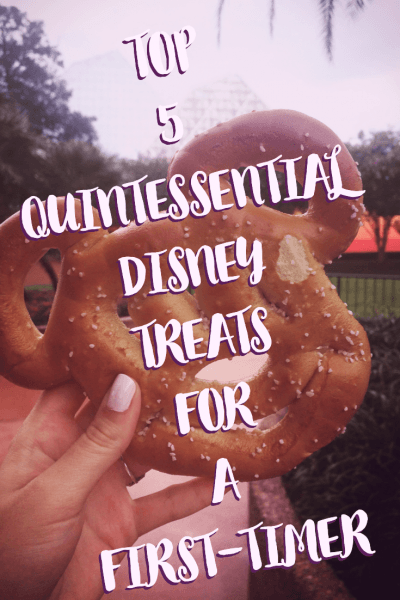 My best friend and her 7-year-old daughter will be taking their first trip to Walt Disney World in December, so naturally I invited myself along for part of the trip! My friend, Sarah, told me that she'd really like to do some traditional Disney eating (can you see why we're friends?), and I immediately started to make my "must-eat" list for a first-timer. Here, I'm bringing you my top 5 quintessential Disney treats!
1. Mickey's Premium Bar
I mean, you had to know this would be my top pick, right?! Close your eyes and imagine yourself walking down Main Street U.S.A. for the first time. Music playing, people laughing, a Mickey's Premium Bar in hand. It all kind of fits! There's nothing quite like the creamy vanilla ice cream and crunchy chocolate shell to make it feel like vacation!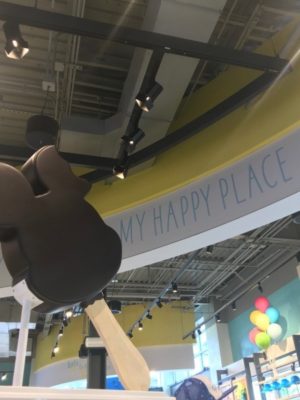 2. Mickey Pretzel
A perfect treat any time of the year, a Mickey pretzel is a must on your first WDW vacation! This pretzel is gigantic, and comes with a cup of plastic cheese for dipping (let them know if you don't want the cheese, they'll take $1 off the price!). This is a perfect sharable snack, it's cute as can be, and is great for photo ops (it's bigger than a 7-year-old's face!).

3. Dole Whip
For all you traditionalists, you didn't think I'd forget the Dole Whip, did you? If you were to ask me for a non-Mickey-shaped Disney snack, Dole Whip would be the first thing that comes to mind. This light pineapple flavored frozen treat is perfect for hot Florida days, and there's nothing like strolling through Adventureland with one of these babies! Try the Dole Whip float if you're looking for something extra special! You won't be disappointed!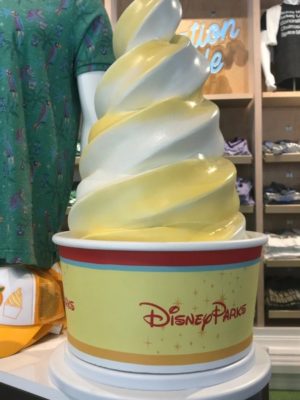 4. Churros
Okay, this is more of a Disneyland treat, but if you ask my husband what he wants to eat on a WDW trip, a churro is his #1 pick. It really isn't even a trip to WDW for him without a ride on the Haunted Mansion and a churro! The long churros come with a cup of chocolate dipping sauce (just like the Mickey pretzel, tell the cast member if you don't want the dipping sauce and they'll knock $1 off the price!). My pro-tip is to head to La Cantina de San Angel in Mexico in Epcot. They have mini churros with warm caramel dipping sauce!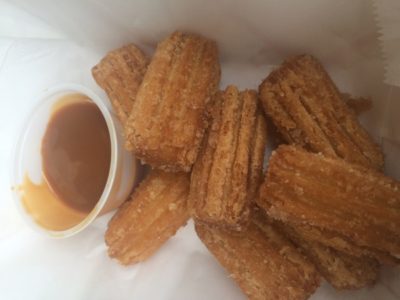 5. Cupcakes!
Disney has gone above and beyond with their crazy cupcake theming, recently. From mermaid cupcakes, to rose gold cupcakes, to cupcakes topped with princess dresses, you'll be sure to find something wonderfully sweet at one of the bakeries or candy shops on property. My personal favorite is the Grey Stuff cupcake from Be Our Guest Restaurant. It's delicious! Don't believe me…. Well, you know the rest!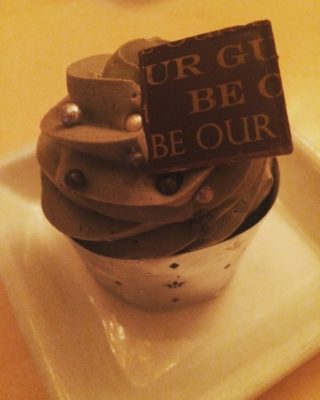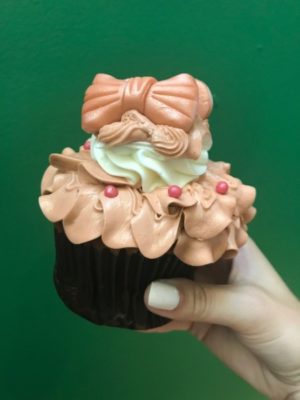 Honorable Mentions:
I'd be remiss if I didn't mention a few of my other favorite treats! Of course, it wouldn't be a trip to WDW without a scoop of ice cream! I'm a fan of the kid's cone because 1. it's small enough that you can finish it before it melts and 2. it comes with chocolate Mickey ears!
Looking for another large-as-your-head treat? Look no further than this chocolate chip cookie! This is another one of my husband's favorites. This gigantic cookie is dipped in chocolate, has Mickey ears, and is big enough to share with 4 people in your group. That makes it honorable mention-worthy, if you ask me! You can find it at Big Top Treats and the Confectionery in the Magic Kingdom.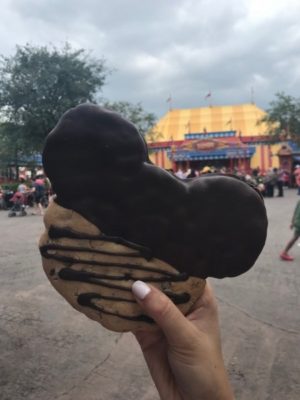 My final honorable mention is the printed latte from Joffrey's Coffee & Tea Company in Disney Springs. If you're a coffee-lover who wants to make your latte even more magical, for only $0.50, you can add a printed Mickey Mouse in your beverage's foam!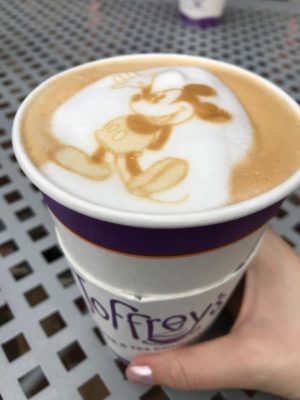 What are some of your favorite treats that are quintessential for first-timers to try? Let us know your thoughts in the comments, or on Facebook or Twitter!
Did you like this article? Make sure to share it with your friends! Check below for easy ways to share!
Want to visit the Walt Disney World Resort? Contact The Magic for Less Travel for more information and a free, no-obligation quote.