This post may contains affiliate links for your convenience. If you make a purchase after clicking a link we may earn a small commission but it won't cost you a penny more! Read our full disclosure policy here.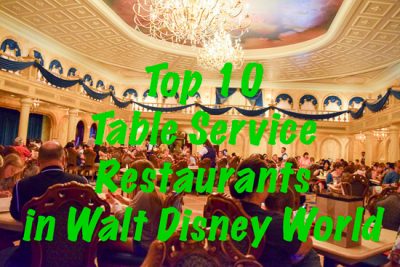 It is an age old question for Disney vacation planners – what is the best restaurant? The most honest answer? – it depends. However, if you talk to enough people, some definite trends emerge, so I decided to ask the members of the Mouse for Less Facebook group what their favorite table service restaurant was, starting with all of them and narrowing it down to a final ten. Since we are now entering awards season, I now present for you the Mouse for Less Academy of Disney Culinary Arts and Sciences Restaurant Awards.
First, the honorable mentions:
Like I said, the "best" restaurant is all a matter of perspective, and even after all of the rounds of voting and narrowing it down to a top 10, a few people didn't see their favorite and just added it in to the vote, and apparently a bunch of other people agreed. So while they were not officially eligible, we had two fan favorites who will get mentioned here.
Honorable Mention 1: Best Brunch in View of the Monorail…Chef Mickey's
Chef Mickey's has been a family staple in the Contemporary for years, and the relatively recent expansion into brunch has increased the appeal and availability. For a Fab 5 character meal in walking distance to the Magic Kingdom, this is a great option.
Honorable Mention 2: Most Realistic Retro Sitcom Experience…50's Prime Time Café
Easily the most popular restaurant in Disney's Hollywood Studio, 50's Prime Time serves American comfort food with 50's styling and "familial" servers with attitude. It you are looking for a unique eating experience in Hollywood Studios, especially if you like your food fried, this is a great option.
And now to the top 10.
10.) Best Use of Ketchup in a Supporting Role…Whispering Canyon Café
If you like the service at 50's Prime Time but want your food a little more rustic and your milkshakes never-ending, Whispering Canyon is for you. Located is the Wilderness Lodge, this fan favorite gives you a coaster to indicate whether or not you want to "play" with the servers and features a breakfast buffet and skillets later in the day. Try some Gold Rush chips and be prepared if you ask for a straw.
9.) Outstanding Achievement in the Service of Bread…Sanaa
Thought by many to be the best restaurant on property, in this round of voting Sanaa didn't even end up the top restaurant in the Animal Kingdom Lodge. However, for a unique and exceptional dining experience, you have to make the trip over to Kidani Village. During daylight hours you can enjoy the African and Indian flavors while watching animals on the savanna, and anytime of the day you get get the legendary bread service. I recommend getting all of the accompaniments and be ready to order more bread.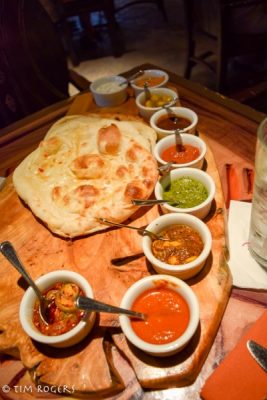 8.) Best Lederhosen Design…Biergarten Restaurant
Epcot's World Showcase is known for its culinary offerings – you can explore great tastes from across the world to fit nearly any palette or interest. Even with that wide range of fantastic choices, it is easy to understand why the Biergarten is so popular. First, the food itself is great. I wrote before about my experience going there as a vegetarian, but the meat-eaters among us seem to enjoy themselves even more.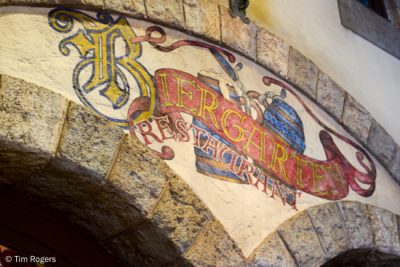 However, what I think really sets this restaurant apart is the atmosphere. When you walk inside, you are suddenly under the stars in a Bavarian Biergarten, and you are brought to shared tables to enjoy your meal. In the center of the restaurant, a traditional German musical group performs a great show, complete with tubas, xylophones, Alpine horns, and more. When you think of the themeing Disney is know for providing, a shining example of that attention to thematic detail is definitely the Biergarten.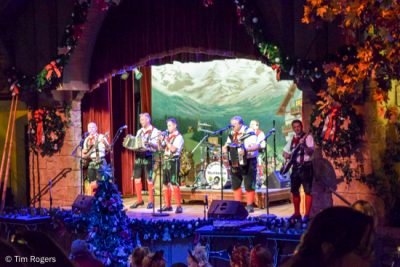 7.) Best Character Ensemble…1900 Park Fare
I think 1900 Park Fare's popularity can be explained by a few relatively simple factors. First, the diversity of offerings. During the breakfast buffet, you get a chance to meet a great cross section of British-tied characters (Winnie the Pooh, Mary Poppins, Alice in Wonderland), and at Dinner you are joined by Cinderella, Prince Charming, and other members of the royal family (of which appearances by the Step Sisters and Lady Tremaine almost always steal the show). During the day, you can also attend a children's tea party here. Not many restaurants offer this sort of diversity in experience.
More than that though, you get all of that outside of the parks, so you don't need to use a park day to eat there, and in close proximity to Cinderella's Castle for a much lower price. While the other Grand Floridian restaurants get more hype, 1900 Park Fare is an under the radar fan favorite worth experiencing.
6.) Outstanding Achievement in Breakfast Lasagna…Crystal Palace
I could talk for days about Crystal Palace (in fact I have), so I just want to point out a few of its defining attributes. First, outside of holiday parties it is the only real way to meet the whole Winnie the Pooh gang. You can find Pooh and Tigger pretty easily elsewhere, but Piglet and Eeyore are much rarer, and the only safe bet is Crystal Palace.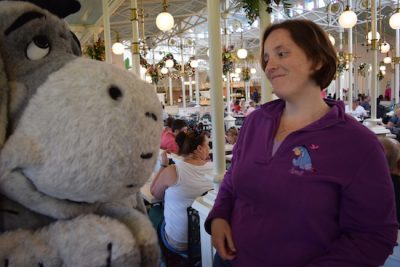 But while maximizing time in the park with a character meal is a part of it's popularity, what really maintains interest in a restaurant is the food. In that regard, I think a big part of Crystal Palace's appeal comes from breakfast – it is routinely rated one of the best breakfasts on property. Whether that is because of the unique offering of Breakfast Lasagna (which everyone should have at least once) or just that omelets taste better when it's Friendship Day, Crystal Palace is bound to retain its popularity during all meals of the day for years to come.
5.) Technical Achievement in Culinary Motion…The Garden Grill
The Garden Grill is great American food done with a twist…literally. Located in the Land Pavilion in Epcot, Garden Grill offers a harvest feast accompanied by Chip and Dale (and other friends) all while the restaurant slowly spins, showing off views of Living with the Land during your meal. In a way, this combination of characters, good simple food, and a unique experience is the epitome of what Disney dining strives to be, and it makes perfect sense that this restaurant would make it into the top 5.
4.) Best Guest Appearance by Zebra Domes…Boma
Located in the Jambo House of the Animal Kingdom Lodge, Boma is a non-character buffet that specializes in African flavors. If you ever walk by during a meal time, this restaurant seems to always be packed with a ton of energy, and I'm sure the all you can eat Zebra Domes have absolutely nothing to do with that…
3.) Most Unique Character Dining Experience in Walt Disney World…Tusker House
Tusker House is located in the Africa section of Disney's Animal Kingdom, and after only one visit is one of my wife and my favorite restaurants. As vegetarians, the food choices here, combining some African, Indian, and American flavors and favorites, gave us a lot to choose from and were all delicious.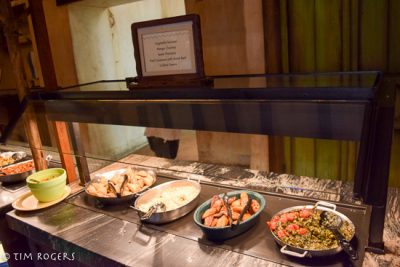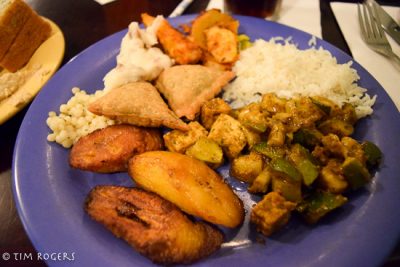 Moreover, the "safari" characters at this meal are a fun and unique take on some of the classic Disney friends. If you are spending a day in the Animal Kingdom, you have to give this place a try.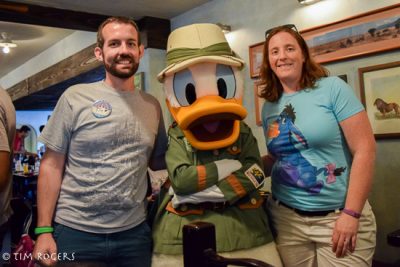 2.) Outstanding Song From a Film Come to Life…Be Our Guest
If you have tried to get a reservation for Be Our Guest, I don't have to tell you how insanely popular it is. From the walk up experience, to the different themed dining rooms, before you even take a bite you can see this is a unique and wonderful dining experience.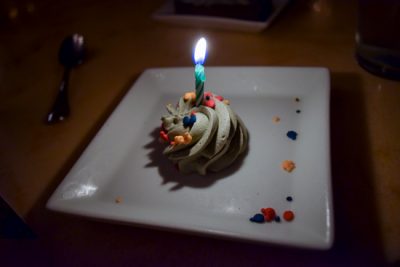 The food is also delicious (and not just the grey stuff), and all of that plus a visit with the Beast after you finish your dinner makes this easily the most popular restaurant inside any of the theme parks, and a must try during any Disney vacation.
1.) Lifetime Achievement in Tricking Guests to Sweep the Floor for You…'Ohana
In every bracket it appeared, 'Ohana swept the floor with the competition like they were some coconuts. Located in Disney's Polynesian Village Resort, this restaurant features two distinct (and popular) dining experiences. First, the all you can eat breakfast includes visits from Lilo and Stitch. Then, at dinner you can enjoy all you want from a variety of meat skewers, noodles, wings, and more while family friendly games and activities occur.
Once again, 'Ohana exemplifies a restaurant that showcases a variety of experiences in a wonderfully themed environment with unique food. When all of that comes together, Disney fans respond and come back again and again.
As with any awards show, not all awards can be televised for time, so what are some of your favorites? Share your award winners in the comments or on Facebook.