This post may contains affiliate links for your convenience. If you make a purchase after clicking a link we may earn a small commission but it won't cost you a penny more! Read our full disclosure policy here.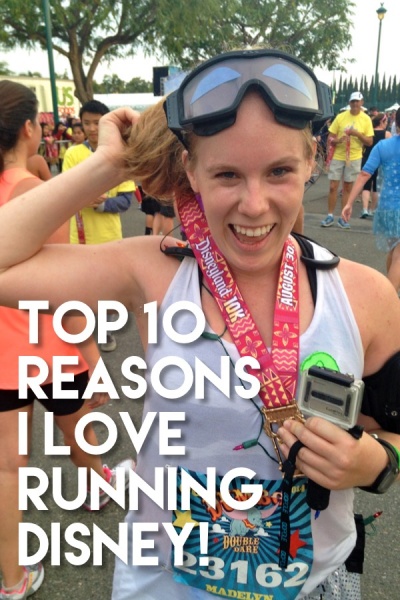 Let me just say, I love running Disney. If you are a Disney fan, you probably operate on the idea that anything at Disney is more fun. If you are like me, you may also think running any distance seems like torture. So is running at Disney really an enjoyable experience? The answer is absolutely and here's the top ten reasons why you should do a runDisney race, even if you are not a runner:
Let's just state the obvious: where else can you run in the most magical place on Earth? My favorite part of any course is running down Main Street towards the castle. The lights, the soft sunrise, and the cheering combine to send chills down any Disney fan's spine. It's the moment I live for in every race.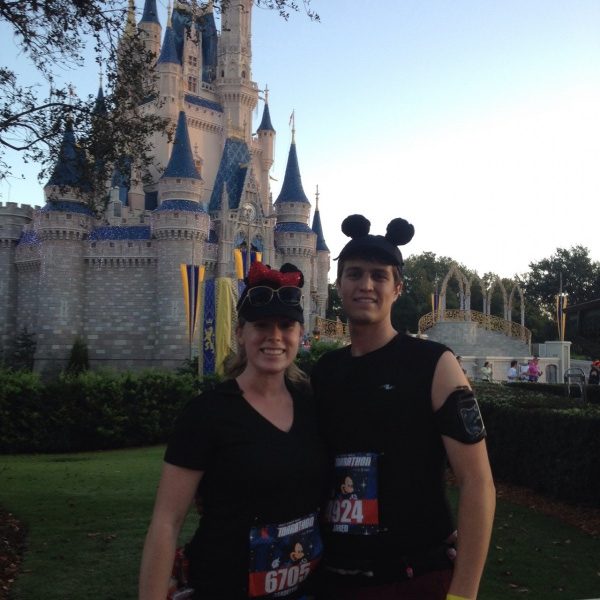 On our first marathon, just after we ran through Main Street, a kind stranger took this photo of my husband and I next to the castle!
2. What other race can you do where you are able to meet and take pictures with your favorite Disney characters? From Mater to Darth Vader, a wide array of characters line the course, some of which you might rarely see in the parks!
Mary wished me a race that was practically perfect in every way!
3. There's not only characters on the course, but Disney does a great job trying to provide entertainment during the race. From DJs to parade floats, there are things to see throughout the course, taking your mind off of how many miles you have left.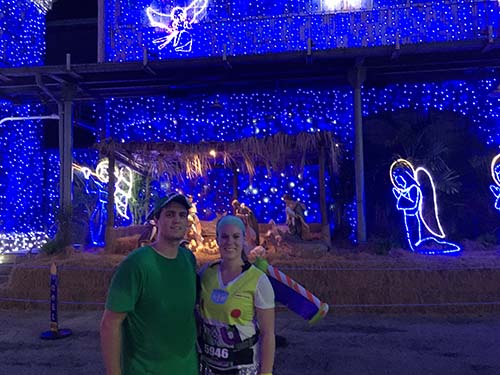 One of the most magical things to run through was the Osborne Lights. Hopefully, we will get to run through Star Wars land soon!
4. runDisney events are extremely friendly to new runners. Many races outside Disney have strict pacing guidelines that can be difficult to achieve. Other races also tend to have the indescribable "intimidation factor" given off by those guys in singlets and short shorts. But at Disney, you have a very doable pace of sixteen minutes per mile and honestly, you just can't intimidate people when you dress up as Mickey Mouse.
My In-Laws joined me for the Princess 10K and it was their first major race to ever do! We had a blast!
5. The atmosphere is incredible. It's a very positive feel at each and every race. Everyone encourages each other on the course. Out of seven runDisney events I have participated in, I've only ever had one minor negative experience on the course. I always finish with a huge smile on my face!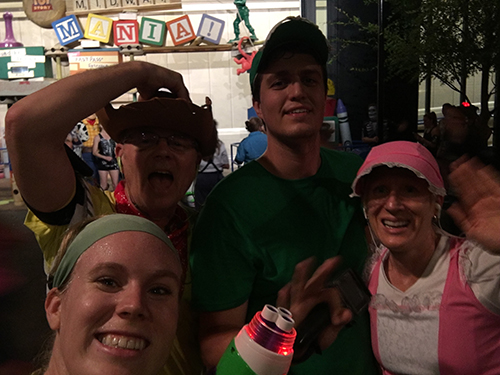 All the toys were happy at the 2015 Wine and Dine race despite the course getting cut short!
6. One of the things that makes the environment so much fun is everyone dresses up in costume. My family always has a fun time coming up with our costumes. We have dressed up as characters in everything from the Avengers to Toy Story. It's so much fun to see how creative people get with their costumes and is an entertainment factor in itself while you run your miles. People have fun with each other's costumes too. My husband and I dressed up as Wall-E and Eve for the Disneyland 10K and half way through the course, somebody behind us yelled, "Caution Runners! Rouge Robots!" Everyone around us laughed and it's a memory we will always look back on fondly.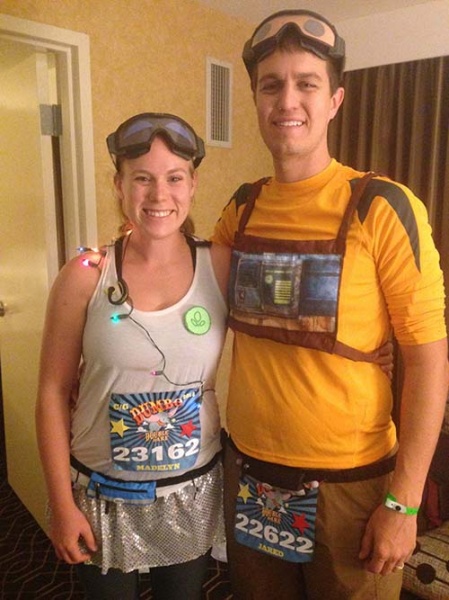 The robots are ready to race!
7. One of the best parts of the course is the Cast Members. I love it when I see the janitorial team out on the course giving Mickey glove high fives and encouraging runners to keep going. One Fantasyland Cast Member was actually giving out tissues during our Tinkerbell race. Why? So you could wipe the sweat off your face before you went through the castle and got your picture taken!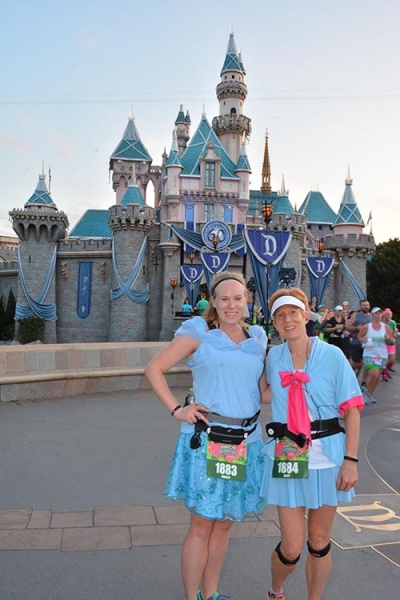 Cinderella and the Fairy Godmother looked beautiful for our castle picture!
8. Now, when you get outside the parks (especially in Disneyland) the thing that really makes a RunDisney experience magical is the spectators. Random strangers cheer for you, make hilarious signs to read as you run by and some even bring snacks for you as you go along the course! My favorite spectator interaction by far was on my recent trip to Star Wars: The Light Side in Disneyland where we saw some incredible cosplayers between miles eight and nine. I loved them, not to mention I got an awesome selfie with Boba and Jango Fett.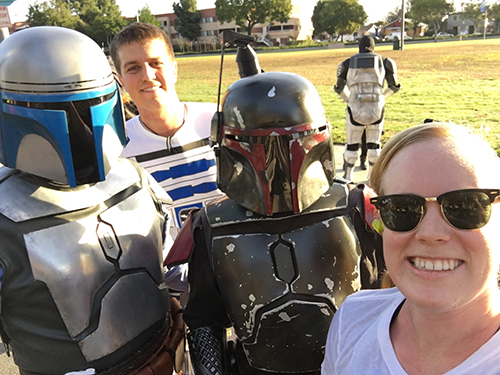 My inner geek was so happy to see all the cosplayers during the Star Wars race in Disneyland!
9. The bling! runDisney definitely has some of the best medals. They spin, twirl, and are as big as your face! I've actually gotten stopped at LAX security because I had so much metal in my suitcase. Thankfully, the TSA officer was also a runDisney fan! The medals are so beautiful and are a great tribute to the work you do in order to train and finish the race.
Showing of our bling after we finished our first challenge weekend and completed our first coast to coast!
10. When you finish, at most races you wear your medal through the finisher shoot, maybe for a couple of pictures, and then in your car on the way home. Then it sits on a medal display in your house. But at Disney, you can actually wear your medal in the parks long after the race. Honestly, this is one of my favorite parts of a runDisney race. You put in the miles, you push yourself physically and mentally and you get to enjoy the reward for a long time. Wearing our medals together as a family while touring the place we Disney fans call home is the best thing in the world. In my mind, it doesn't get any sweeter than that.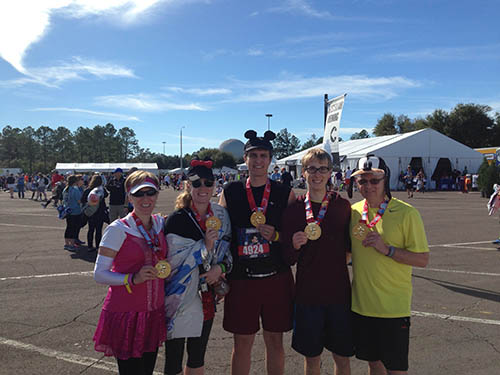 Our family after our first race together, the Disney World Marathon.
Are you convinced yet? Which race sounds like the one you want to conquer? Will this be your first running race ever? Let us know in the comments below!
Did you like this article? Make sure to share it with your friends! Check below for easy ways to share!