This post may contains affiliate links for your convenience. If you make a purchase after clicking a link we may earn a small commission but it won't cost you a penny more! Read our full disclosure policy here.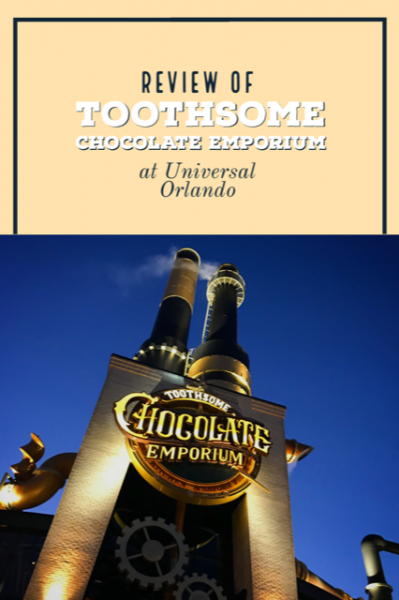 One of my favorite places to dine in all of Universal Orlando Resort is Toothsome Chocolate Emporium. This restaurant, which of course, is known for chocolate and it's incredible milk shakes, has amazing dishes too. The main problem (ok…not really a problem) is that there are so many things listed on the menu, I've had different things each time I've been there. The restaurant has such a vast and varied offerings. And that's absolutely a good thing. It keeps me returning and excited.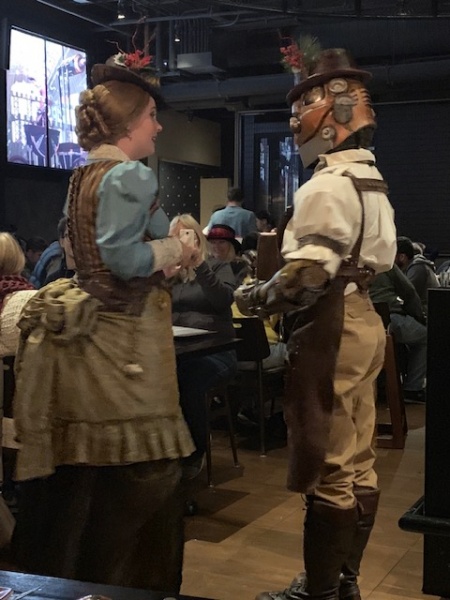 First, let me let you in on the backstory. The restaurant is run by Professor Doctor Penelope Tibeaux-Tinker Toothsome. Thanks to Penelope's trips around the world, she discovered ways to infuse chocolate into her recipes. When Penelope returned home from her travels, she discovered that her parents had set out to join her. Penelope decided she would use her newfound chocolate knowledge to create this emporium, and would share her dishes until reunited with her family.  She also has a trusty sidekick who goes by the name of Jacques, who is a robot. (Ties into that steampunk idea that the restaurant employs.)
Keep in mind that this CityWalk restaurant is extremely popular. There will be a line to not only put your name down on the list, but also a lengthy time to wait, and you'll likely have to wait a bit for your table once you are texted that your table is ready. Trust me. The wait is worth it.
On our December trip here, the family tried a number of dishes that were quite delicious.
I went with the Grilled Filet Mignon, which was a 6oz portion of filet, with Yukon Gold mashed potatoes and asparagus. The steak, while not huge in size, was under $30, which in the theme park world, is really quite reasonable. I thought it was flavored well and cooked correctly. The mashed potatoes were good and as for the asparagus, well it was good to have something green on my plate.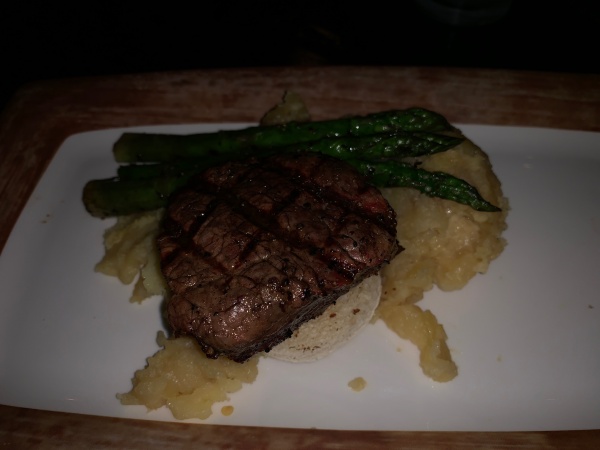 Another tablemate got the Chicken Bourguignon. This was a boneless chicken breast, with red wine, demi-glace, pearl onions, mushrooms and bacon. It is also served with the Yukon Gold mashed potatoes and asparagus.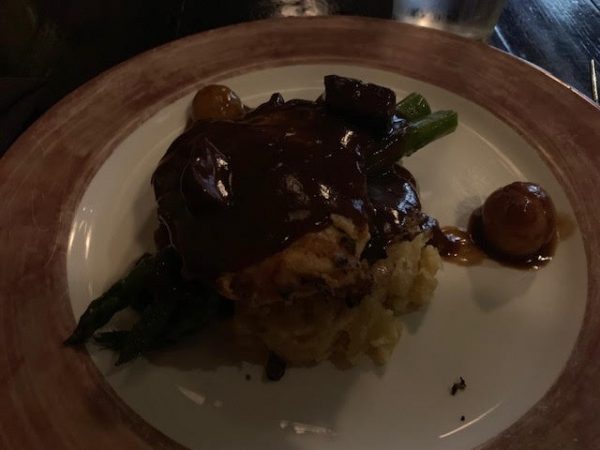 Moving along was the Brisket & Wild Mushroom Meatloaf. This is served with roasted corn, fried onions, and the same mashed potatoes all covered in a bordelaise sauce.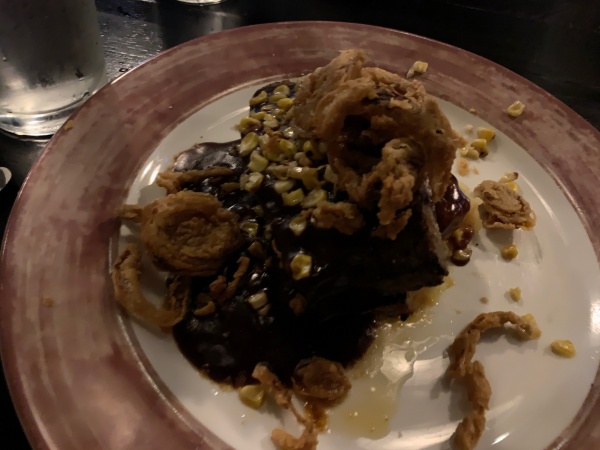 Also ordered was the Meatloaf sandwich, which is the meatloaf dish, served on a bun. On the side are homemade chips.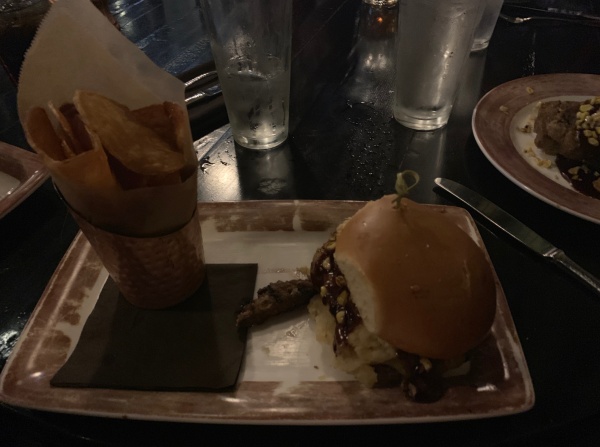 Finally, there was the Chicken Cordon Bleu. This was a buttermilk fried piece of chicken that's stuffed with ham and fotnina mornay served on a brioche bun. These were served with French fries.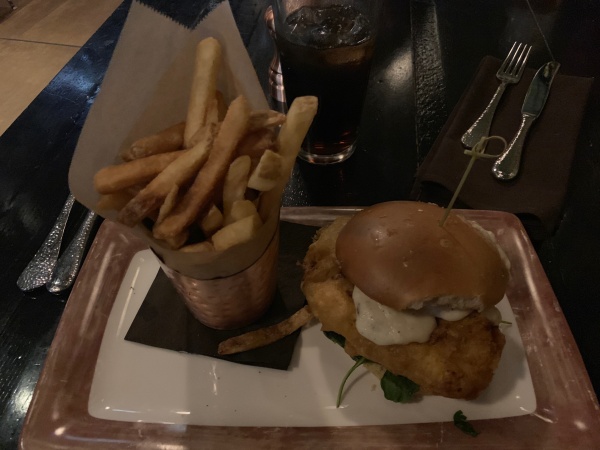 While we were all stuffed, you can't leave Toothsome without getting dessert.
I opted for the Brownie milkshake. This is Dutch chocolate ice cream, served with a chocolate swirl, and a brownie placed on top. I love this option because it really is like two desserts in one! There's the brownie portion, then the shake part! Both are equally great.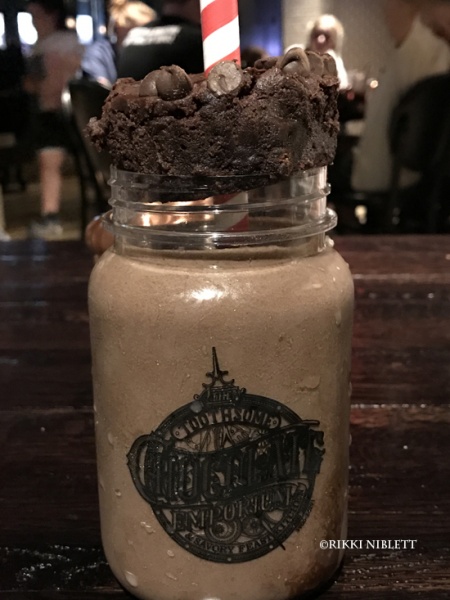 We also had the Chocolate Creme Brulee. This is a creamy chocolate custard with a carmelized sugar shell. I thought it was good, but really feel like it could have been a bit richer. (Again, I'm a chocoholic….)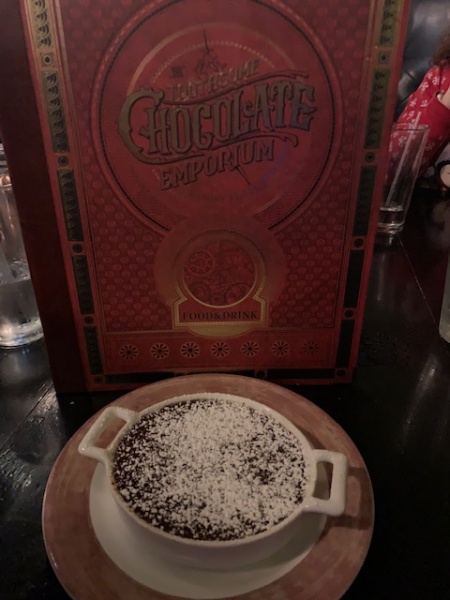 Overall, Toothsome, once again, delivered. We left satisfied and entirely full.
Have you dined at Toothsome Chocolate Emporium lately? What were your thoughts? Share your experience in the comments, or on Facebook or Twitter!
Did you like this article? Make sure to share it with your friends! Check below for easy ways to share!
Incoming search terms:
Chicken Bourguignon chocolate emporium
chocolate emporium meatloaf recepie
https://www themouseforless com/blog_world/toothsome-chocolate-emporium-2/