This post may contains affiliate links for your convenience. If you make a purchase after clicking a link we may earn a small commission but it won't cost you a penny more! Read our full disclosure policy here.
I recently returned from a wonderful trip in August 2019. We stayed at Disney's Coronado Springs Resort. I've stayed on site at multiple other places, but this was a first for Coronado. I really loved the resort. I want to stay there again for sure. We did not have a room in the new Gran Destino Tower, but we took the opportunity to dine there. Up on the 16th floor, of the beautiful new tower, is Toledo. Also located up there is a rooftop lounge, Dahlia. We did not have drinks at the lounge, but while we waited for our table in Toledo, we walked out into Dahlia and saw the breathtaking views!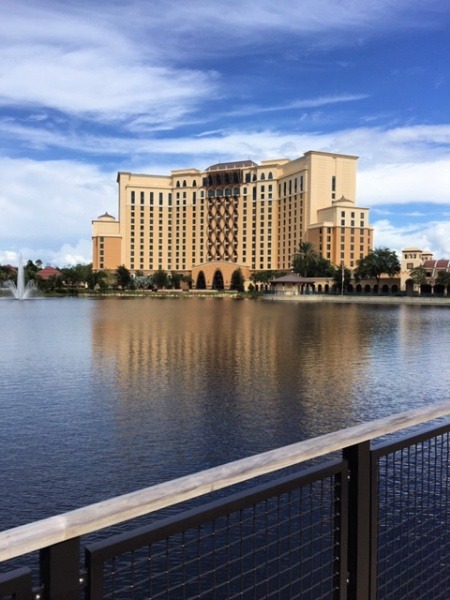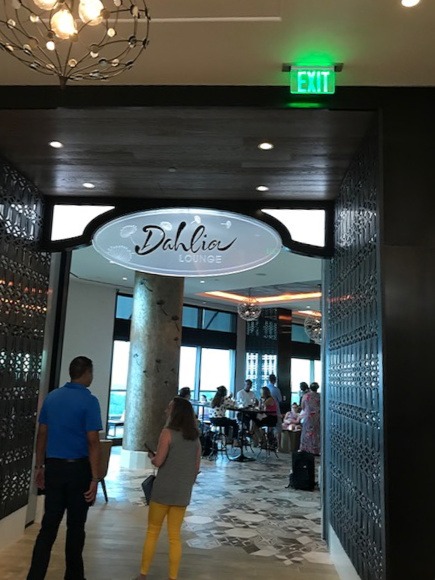 Look at this view! You can see Tower of Terror and to the right of that, I believe, is Galaxy's Edge.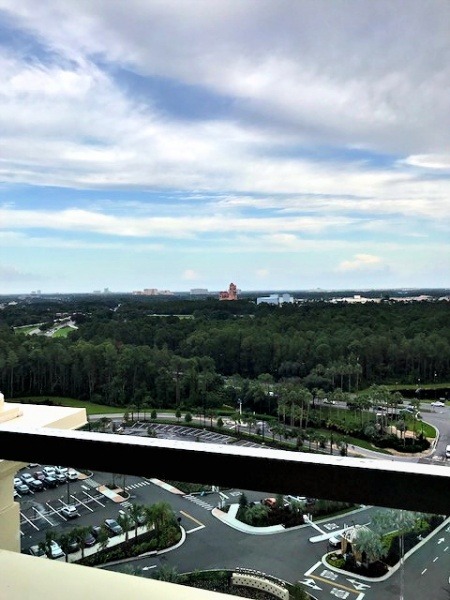 The most remarkable ceiling adorns Toledo. It changes color! Notice the beautiful olive tree nearby. The seating is very contemporary and you can see tapas bar up front.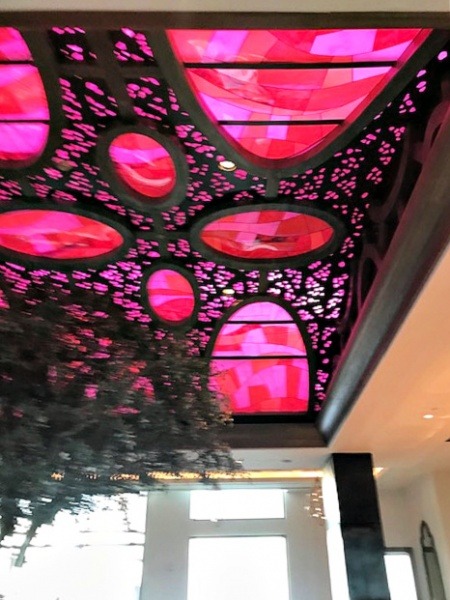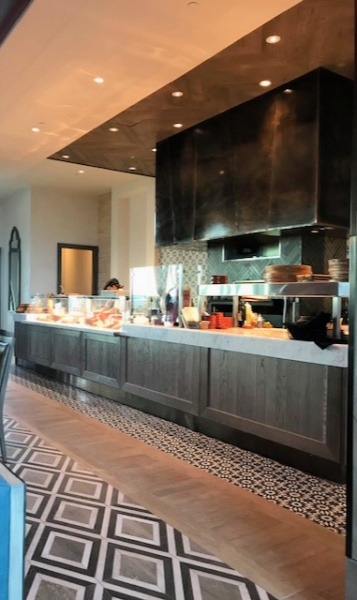 The seating was comfortable with some booth style seating and tables. There was a separate room in the back for conventions or larger groups. Along the sides were views out into Dahlia Lounge as well as a beautiful display of wines.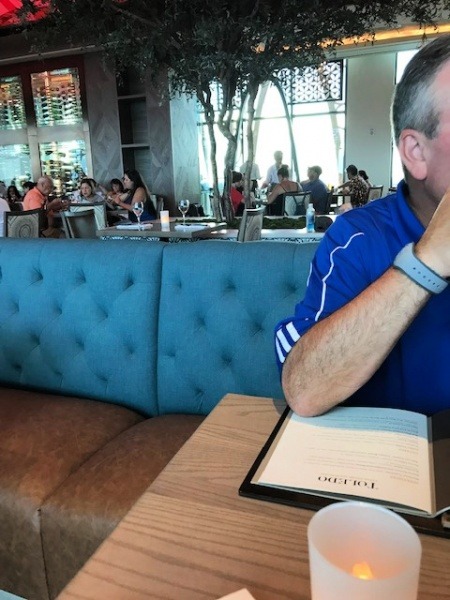 We received our menus. Here is a shot of the Allergy Menu. It was a big portfolio, with different areas for tapas, entrees and so forth. You could get any number of small tapas and some larger appetizers.  The flavors here are inspired by Spain.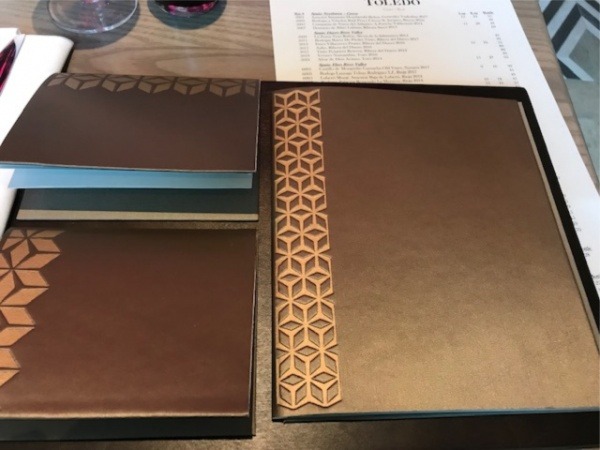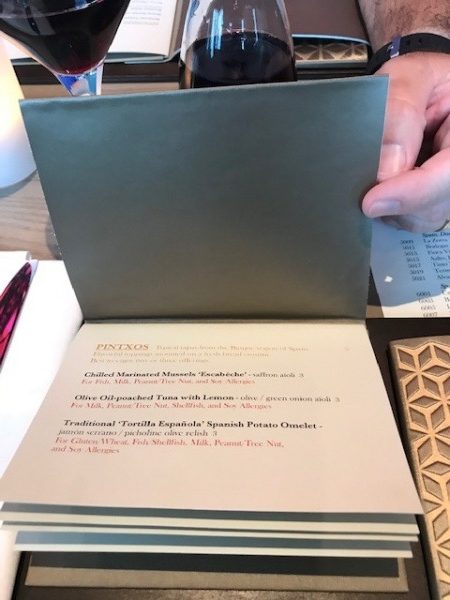 I started my meal with:
Pintxos (small plates) "Typical tapas from the Basque region of Spain. Flavorful toppings mounted on a fresh bread crostini. Best to enjoy two or three offerings."
Many of  the "non-gluten" free pintxos options include crostini so the gluten allergy options were limited to this one: Traditional 'Torilla Espanola' Spanish Potato Omelet, jamon serrano/picholine olive relish.  Ideally you would order several different choices of pintxos but since I only had the one choice I simply ordered the one. It was a tasty bite! It had many layers of the potato and the olive relish was very flavorful.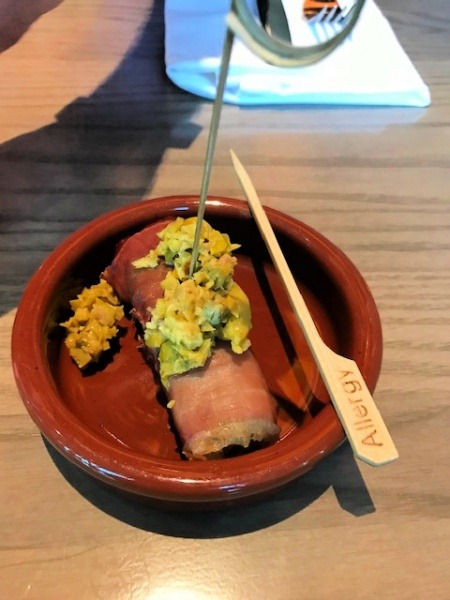 For my entree, I selected the Manhattan Filet – Olive Oil-Potato Puree, Grilled Onions, Dates, Sherry Vinaigrette.  I enjoyed the Filet very much. The Olive Oil-Potato Puree was delicious. I was concerned that since they called what is basically mashed potatoes something fancy like puree that it would not be a huge portion, but I was pleasantly surprised! The onions and sherry vinaigrette were also very good. I was most surprised by the dates! I'm not a huge date fan; on a holiday tray, I will typically skip any dates or figs. However, this was presented as sort of a sauce, similar to an applesauce consistency, it was sweet and added a nice flavor with the beef! I requested Filet to be cooked to medium and was glad I did as my meat was cooked more medium rare. I do like medium rare also, so it was fine with me.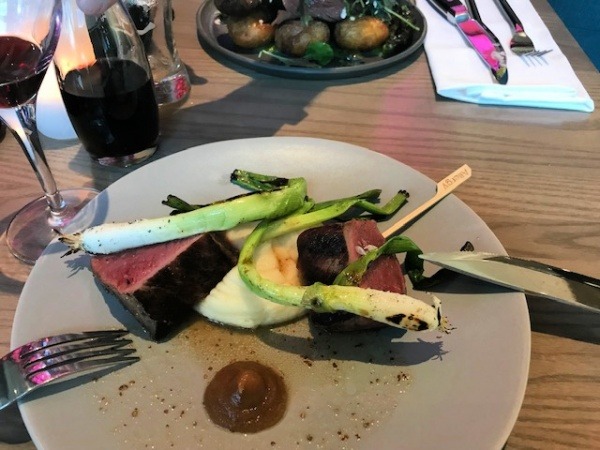 I paired my entree with a Spanish red wine from Ebro River Valley – Castillo de Mongardia Garnacha Old Vines Navarra- 2017, which was very smooth.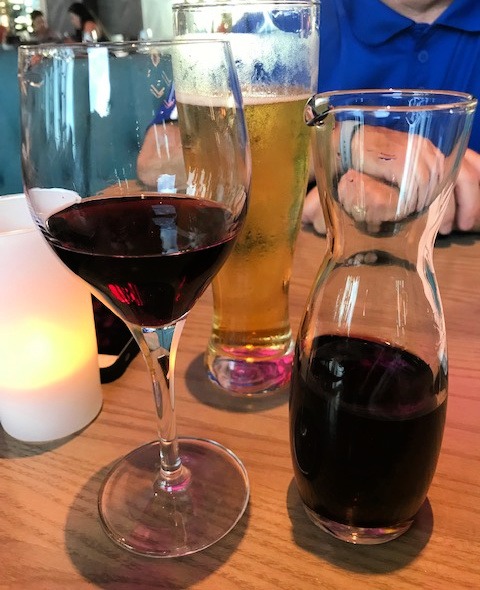 My husband (who does not need to eat gluten free) ordered the Hangar Steak, medium well, and his was more along the lines of medium. He enjoyed his with a beer, as you can see above.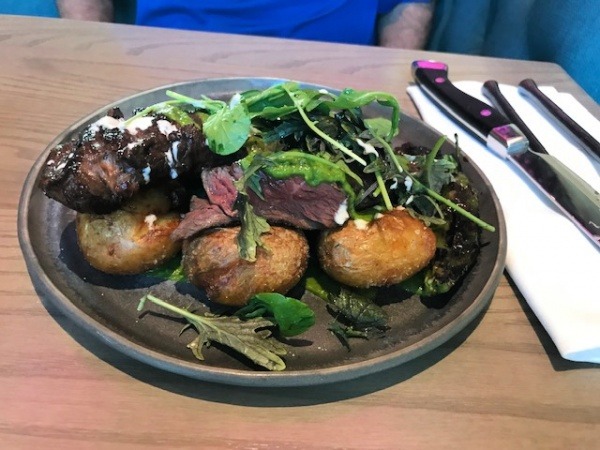 Overall, this was a nice experience for a special occasion. The hostess and our waiter were super nice and accommodating! The restaurant itself was beautiful and comfortable. We had spent the morning at a park, then returned for a swim and changed for dinner. It was so nice to be able to stroll across the new bridge at Coronado Springs to the beautiful Gran Destino Tower and enjoy this restaurant.
I did feel like I had to wear something other than my normal theme park attire, and so I put a simple summer dress on. My husband also changed from a tee shirt to a golf shirt. If you are looking for an upscale adult- night out type of dinner,  it is worth a trip over to enjoy the Gran Destino Tower and to enjoy the views and flavors of this new restaurant.
Have you tried Toledo yet? What were your thoughts? Let us know your thoughts in the comments, or on Facebook or Twitter!
Did you like this article? Make sure to share it with your friends! Check below for easy ways to share!
Want to visit the Walt Disney World Resort? Contact The Magic for Less Travel for more information and a free, no-obligation quote.

Incoming search terms:
https://www themouseforless com/blog_world/toledo-tapas-steak-and-seafood-a-gluten-free-review/