This post may contains affiliate links for your convenience. If you make a purchase after clicking a link we may earn a small commission but it won't cost you a penny more! Read our full disclosure policy here.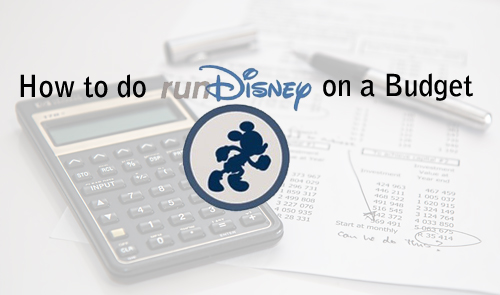 I have run many runDisney races; if you have run a runDisney race, you know that they are not inexpensive.  In addition to purchasing a race bib or a challenge bib, your overall race expenses involve a night or several nights away from home.  My first race was the Walt Disney World Marathon in 2013.  I brought my husband and kids with me for this race and we stayed on property at Saratoga Springs.  At that time we had an Annual Pass so we could use this trip along with our future Spring vacation trip on that pass.
However, after that race, I got bit by the runDisney bug and HAD to find another race to run.  The following month, registration opened for the Inaugural Dumbo Double Dare.  I jumped on board to register for that race.  But then I had to find a flight, a hotel and a rental car for a trip to California.  I thankfully had enough points on a credit card to use for the flight.  I found a special rate for a rental car and the hotel I chose was a little further off site and it was inexpensive.
Now, I have a Southwest credit card so I can use my points for upcoming races.  I am part of the Emerald Club with National Rental cars so I have a great rate for car rental; and when I book my hotel I use AAA.
When I do the Dopey Challenge, or any races during the Walt Disney World Marathon weekend in January, my husband, two kids and my parents travel with me and we stay off site due to this resort having two and three bedroom suites with full kitchen, living room, two full bathrooms and washer and dryer.  It's perfect for a large group and for a race weekend.  We also purchase our food online with Amazon Prime Now and have it delivered directly to our room.  This service does include cold food items.
When I am participating in other race weekends such as Princess, Dumbo or Wine and Dine, I travel alone.  I book a hotel off property for a lot less money.  I usually don't need a park pass because I can visit Disney Springs, attend meetups with the various race groups I am a part of, and I also enjoy resort hopping.  Traveling alone also saves on money for meals, since I only have to worry about feeding myself.  I can pick something up at Earl of Sandwich, join a group for breakfast after one of the races, or even just go to a restaurant outside of Disney property.  I'm not picky when it comes to race weekend meals.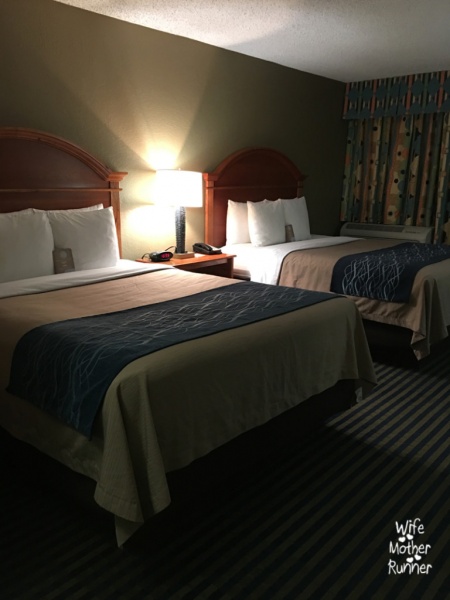 Comfort Inn on Palm Parkway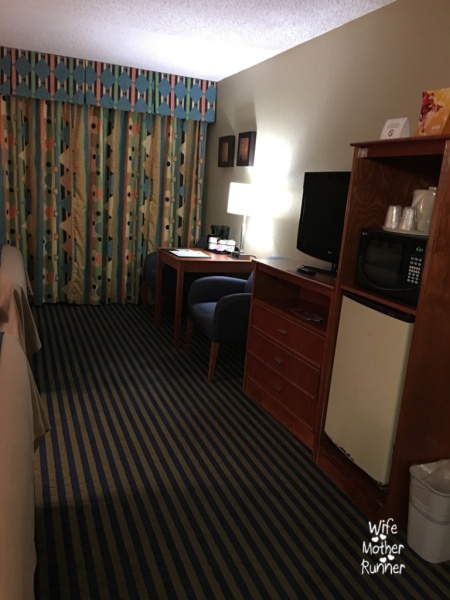 One thing I do on an almost daily basis is check Southwest.com for the flights.  I keep an eye on the cost as soon as the block of dates open from the airline and purchase the ticket while they are still low.  However, there are times that the price may drop just weeks before the race.  I have been able to snag a decent price just two weeks prior to a race!
The key points for doing runDisney on a budget is to know the area you want to stay (off site is cheaper), watch the flights and purchase them early if possible, and check discounts for cheaper car rental.
Another good point to keep in mind is if you are part of the military or retired military.  You can stay at Shades of Green and purchase military priced park passes which are highly discounted.
If you are very thrifty and no frills for these race trips then you can afford to do more of them and meet lots of great people, too!  I made a lot of new friends by traveling for races alone and hooking up with people before or after the races.
What are your best tips for saving money during a runDisney race weekend? Share yours in the comments.
Did you like this article? Make sure to share it with your friends! Check below for easy ways to share!
Incoming search terms: