This post may contains affiliate links for your convenience. If you make a purchase after clicking a link we may earn a small commission but it won't cost you a penny more! Read our full disclosure policy here.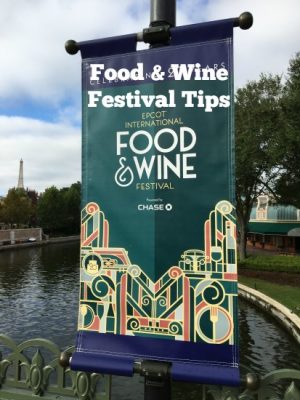 While there are many reasons I love to visit Walt Disney World in the fall, The Epcot International Food and Wine Festival is definitely at the top of the list.  The festival, commonly referred to as "Food & Wine," is in its twenty-first year and this is the longest it's ever run – a full 62 days! The Epcot Food & Wine Festival has already kicked off and is in full swing.  Ultimately, Epcot celebrates the tastes of both food and drinks from around the world, and brings bit of many cultures to us in one place.   To get the most out of Epcot's Food and Wine Festival, read our tips!
The World Showcase in Epcot is made up of eleven pavilions representing different countries – all of which have dining venues, but during Food & Wine, you can taste offerings from another thirty countries!  That's a lot of food or drinks – so first off, do not think you can conquer everything in one day.  While there will be many factors that play into when you attend the festival, if you can at all, go during the week!  The crowds are always heavier in the evenings, and then more so on the weekends.  It's a huge draw for Floridians and rightly so!  You'll be able to get more done on weekdays so plan accordingly.
There are also lots of special events going on throughout the two month festival – take a look at calendar of events here.  Admission to Epcot is required to take part in festival activities, and special events are both free, and by ticket-only, so do your research!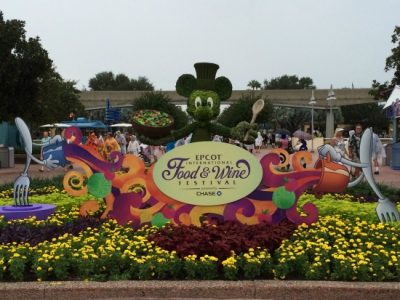 You'll also want to
review the menus
ahead of time.  They are set a bit ahead of the festival start so you can go old school and print them out, or save them to your smart device. Make sure to look them over and get an idea of where you'll want to try things.
Food offerings are served in a trial size, so portions are small and you'll need to sample a few items if you're trying to make a meal out of them.  If you order several different items, there's usually enough to share a few items between guests so that everyone can taste something.  If you know you will really like something, or it's a favorite from trips past, then order your own. 😉
In addition to the food, alcoholic beverages such as wine, craft beer, and even ice pops are available at the marketplace booths.  There are also options available for vegans, vegetarians, and there are gluten-free options (although not as many as for those who aren't.)
Now that you've done your research and know what you want even before you've arrived, when you do arrive, it's a good idea to stop at the Festival Center. 
The Festival Center
is in the old Wonders of Life Pavilion on the east side of Future World and it's where you can get your bearings about what's going on at the festival, get your event guide and festival passport, and check out the special event merchandise.  You can also purchase food and wine here, visit The Chocolate Experience: From Bean to Bar – Hosted by Ghirardelli® Chocolate Company, enjoy celebrity chef meet and greets and collect autographs, as well as pick up your Hide & Squeak game from Remy's
Ratatouille
.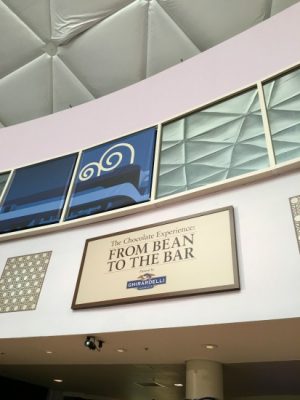 (c) Julie Dobrin
There are a few things that you can bring from home that will help make your day(s) at the event go smoothly.  Pack some rain gear – whether it be your poncho or more!  In 2014, we were in the World for the very first day of the festival and were leaving the next day, so we didn't have flexibility with changing plans because of the weather.  It poured almost the entire day!  While it definitely deterred some crowds, we had umbrellas and some basic rain gear and we lasted nine hours at the festival – with kids to boot!
We also found that because we had a large crowd, establishing a "base" worked well for us and adults would take turns running to booths and bring back items.  Luckily, we had brought a tray to carry multiple items and I can't recommend this enough.  The festival does sell a square "tray" with a built-in cup "holder/area."  But if you're trying to carry back multiple items, bring your own tray.  If you're carrying multiple drinks, you are limited to two per person, but the cardboard trays from your local coffee shop do the job and are really light in a backpack.  We even found some trays online that you can carry/hold with one hand and there is an area for food, a small holder for silverware, and a cub holder.  They aren't self-standing so you can't then easily put them down and not hold onto them, but they are great for walking around the festival, especially if you cannot find a place to "park."
Also, if you're pushing a stroller, be sure to have a couple of couple-holders, preferably the style that won't spill so you can still push!  Many festival goers are not above eating on trash cans so having some antibacterial wipes or something to put down is great to have if this is your only option.  The festival does seem to have brought more tables in over the last two years (high-top style tables for standing).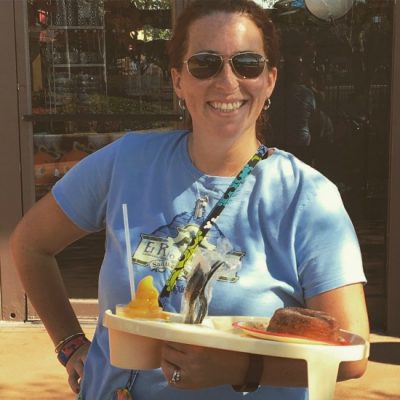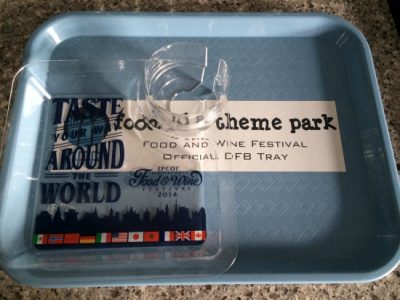 Festival tray versus one brought from home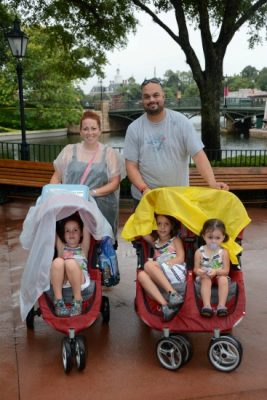 Thank goodness for rain ponchos!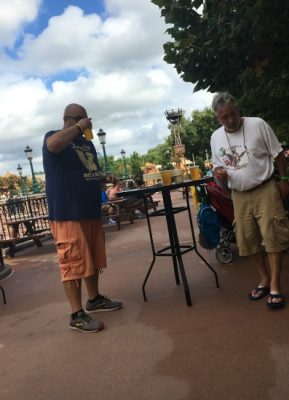 One way to expedite the process of buying your items at the booths is using your MagicBand! The touch-to-pay system is quick & convenient!  You can also purchase a small Disney gift card that comes with a wrist band if you find that easier for budgeting purposes.  Just remember, you cannot purchase a gift card with a gift card, if you're one to bring a ton!  You can also purchase a 
Tasting Sampler
which is a lanyard with rip-off vouchers for either 8 ($59) or 16 ($109) food or beverage items from the marketplace locations.  If you are smart about your purchases, this can be a savings!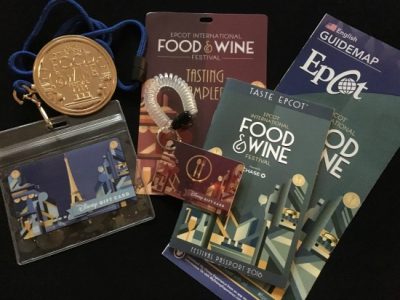 (c) Julie Dobrin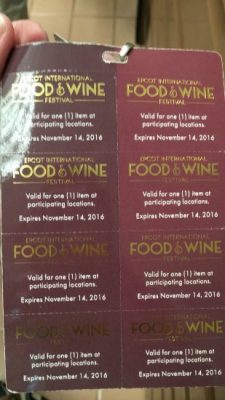 (c) Julie Dobrin
In addition to the great food & drinks, the merchandise is often too cute to pass up!  It's best to purchase this merchandise when you see it as it will sell out!  If you're an Annual Passholder, there is currently a special offer where you can pick up a special edition glass tumbler after visiting the festival three times.  The process has evolved since last year, and your MagicBand will let them know how many visits you've made and you can simply go and collect one per passholder.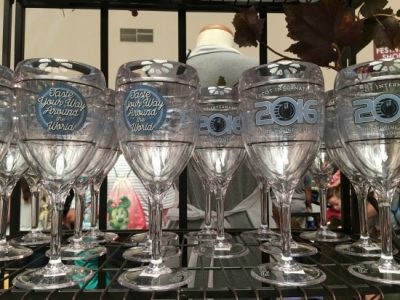 Dated merchandise (c) Julie Dobrin
I would highly suggest going into the festival with an open mind and a willingness to try new things.  I know I am set in my ways and can be a bit close-minded about foods, just by what I "think" it is.  Again, sharing items makes trying things easy without waste!
Another tip is to seek out the standard offerings the World Showcase has to offer.  Often, these quick service locations or kiosks don't have the lines that the festival booths do.  If you're not a regular, there will be options that are new to you – and of course favorites for those who are!  I love alternating some of my favorites with new items!
Speaking of lines, check to be sure how many lines there are to order and pay.  Some booths may have one on each side of its location, and one may be much shorter than the other!
There are also two exclusive lounges that are a nice place to take a rest if you're a Disney Vacation Club (DVC) Member or Chase Visa cardholder.  The DVC Lounge is located in the upstairs of the Imagination pavilion and the Chase Visa Lounge upstairs in the American Adventure pavilion.  Both are great places to cool off, charge your phone, and people watch if the festival crowd is getting to be too much.
If you will be attending Food & Wine with children, make it interesting for them as well!  Our kids look forward to it every year, and I don't even think they try any of the food!  They enjoy the atmosphere and the people watching as much as we do.  We keep them entertained around the World Showcase with our own games.  Finding hidden Mickey's never gets old for them, nor does walking through the pavilions (this is where those trays come in really handy), and snacking on many treats from the different countries.  If your child(ren) isn't an adventurous eater, go for things at the booths like the desserts, or again – stop at the permanent quick service locations for the kids!
Having a stroller even as your kids outgrown them at home is a must!  There's not only a lot of walking in Epcot, but standing as well!  Even if they walk most of the time, that occasional rest in the stroller is always nice, as is the storage it can provide.  And while going earlier in the day or during the week is key for avoiding long lines, it's really the best time to attend with younger ones.  The crowd can get a bit rowdy as the day goes on.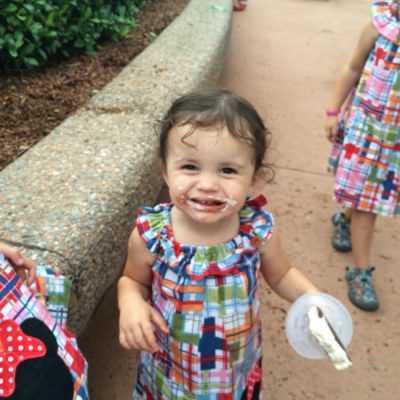 If all else fails, give them a Mickey bar! 
Whenever you get to go to the Epcot Food & Wine Festival, do your homework, have a game plan, be open-minded, and enjoy yourself!  It's two full months of a culinary celebration from around the world, in one place!
What's your favorite dish at the Epcot International Food and Wine Festival? What are you most looking forward to this year?  And what are your best tips? Share in the comments.

Incoming search terms:
https://www themouseforless com/blog_world/tips-for-the-epcot-international-food-wine-festival/