This post may contains affiliate links for your convenience. If you make a purchase after clicking a link we may earn a small commission but it won't cost you a penny more! Read our full disclosure policy here.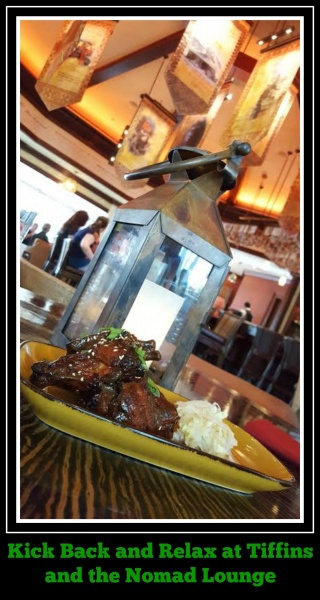 Tiffins and the Nomad Lounge used to be a little off the beaten path at Disney's Animal Kingdom, but now both are easy to find as you make your way to the new land of Pandora. Whether you are looking for an upscale meal or a place to relax with a cocktail, Tiffins and the Nomad Lounge are both worth a visit.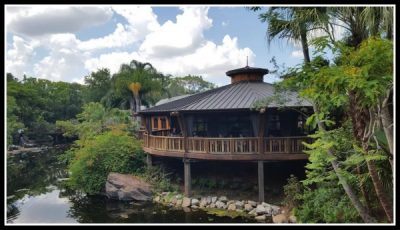 Depending on where you are seated at Tiffins, you may or may not pass through the Nomad Lounge on the way to your table. If you have the time before your reservation, this is a great place to stop off for a drink or some appetizers and bar snacks. Fun tip: They also make drinks "to go" if you want to take your drink with you.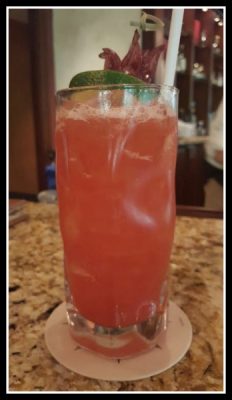 On this particular trip, I did not stop in the Nomad Lounge, but got to visit on several occasions later. They have a variety of unique cocktails and the chicken wings were really good!  If you need a place to relax after travelling back from Pandora, this would be a great place to rest your feet and cool off with a drink.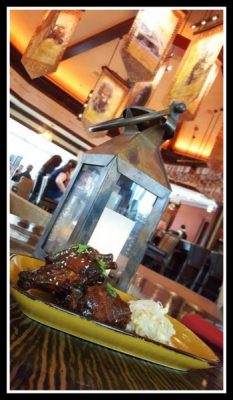 After checking in for our reservation, we were escorted to our table where we met our server, Kile. I should point out that we had 5 kids and 2 adults in our party on this particular day. A group like that can be a challenge for any server, but it almost seemed like Kile was handpicked for us. He was awesome, and very patient with the little ones in our party.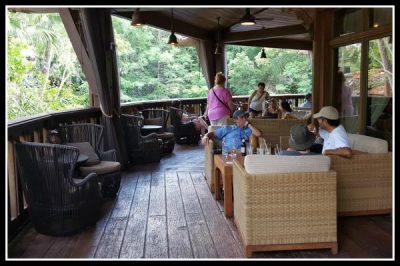 As we settled in and looked over the Tiffins menu, I was completely torn between the swordfish and the whole-fried sustainable fish. I asked our server for his suggestion because I just could not come to a decision. He told me that the black bean sauce that came with the sustainable fish was one of his favorite sauces in the world. I was intrigued and decided to give it a try. In the meantime, we ordered some black-eyed pea fritters as an appetizer.

When our entrees were brought to the table, I immediately realized that I should have asked more questions before ordering. When the menu says "whole fish" it means, a whole fish!  This really should have been obvious to me, but I must not have been paying full attention when I saw it on the menu. Here was my fish, on my plate, looking me right in the eye!  I had a small moment of panic, but thought, "I can do this."
Kile offered advice on the best way to tackle the fish and I was thankful for his suggestions. I took a deep breath, took my first bite…and it was delicious!  
This fish was absolutely fantastic! It was so flaky and, as promised, the black bean sauce was phenomenal. It was so good that I quickly got over the fact that my dinner was still looking at me. Believe it or not, I would be willing to order this fish again.  It was THAT good!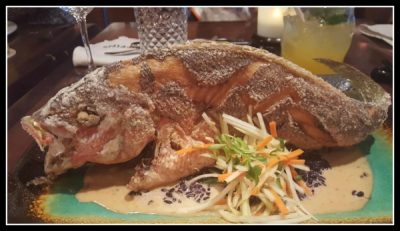 My friend ordered the Waygu strip loin and braised short rib.  She was kind enough to share a taste with me and just like the fish, it was amazing. The beef was high-quality, cooked perfectly, and just delicious overall. It was served with Peruvian potatoes and carrots. These were also very yummy.
The kids had no complaints about their meals and everyone nearly cleaned their plates.  A couple of them were even willing to give my fish a try, but they didn't give it the rave reviews that I did.  I guess it's an acquired taste!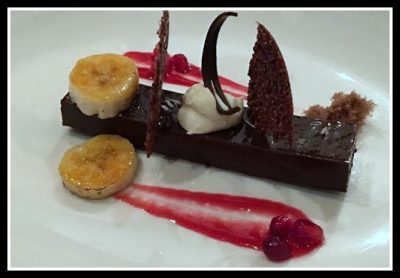 We had the South American Chocolate Ganache for dessert. It was really rich and even though it was small, it was a good dessert to share. I think it would have been too much if I had eaten it by myself. The kids has the caramel-chocolate cake with strawberries and chocolate lava.  I actually think I liked this one better than the adult dessert!  The kids definitely approved too.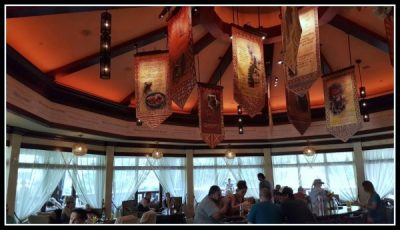 I know that I will pay a visit to Tiffins in the future. I've already had the opportunity to visit the Nomad Lounge a few times since my dinner at Tiffins and it is always a great experience. I am looking forward to enjoying dinner there again soon.
Have you dined at Tiffins or the Nomad Lounge? What did you think? And how would you have reacted if you had gotten a whole fish? Share your thoughts in the comments! 
Did you like this article? Make sure to share it with your friends! Check below for easy ways to share!
Incoming search terms:
can you get a drink at tiffins without a reservation