This post may contains affiliate links for your convenience. If you make a purchase after clicking a link we may earn a small commission but it won't cost you a penny more! Read our full disclosure policy here.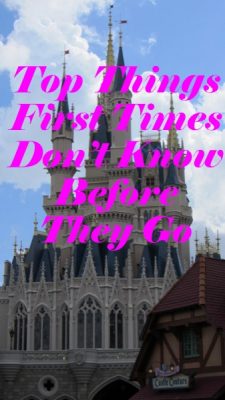 Congrats!  You have decided to take the family to Walt Disney World for the very first time!  With four theme parks, two water parks, Disney Springs and over twenty resort hotels there is so much to know before heading down.  Here are a few things to help you be better prepare for your magical Walt Disney World Vacation.
Before heading down to Walt Disney World here are a few things first timers need to know.

Four Parks:  One World
Walt Disney World Is Huge
Walt Disney World has four main theme parks, two water parks, an enormous shopping and entertainment center in Disney Springs as well as 20 plus resorts.  It is huge!  Understanding how big Walt Disney World is before going is important to your planning and your experience.  Because of how big it is, it takes a while to get anywhere.  Knowing that you will need travel time built into your schedule before going down is important.  Just keep in mind that you will need to be patient during your trip just due to the size of Walt Disney World itself.
You Will Walk… A LOT
Because Walt Disney World is SO big, you will walk each day.  A lot.  Most guests walk miles a day.  Be prepared for this ahead of time.  Get those new shoes broken in. (Don't wear new shoes!) Take kids on walks to practice.  Be active.  All of those things will help when you head down.  Know that having a few pairs of shoes, band-aids and blister medicine will also help with all of the walking.
Weather Happens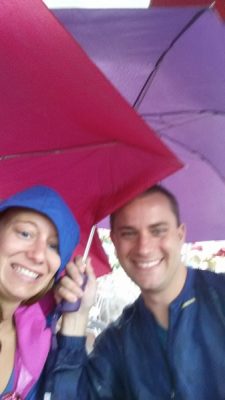 Sporting Our Umbrellas and Rain Coats
When you think of Disney do you picture sunny, clear blue skies?  Although it does seem like Walt Disney World has more sunny filled days than other places, weather does happen there too.  Make sure you look into the weather before going.  It can get colder in Florida during the "winter" months down there so plan accordingly.  Also, it does sometimes rains daily in the summer months.  Make sure you pack those umbrellas and ponchos so you can keep on moving without much of an issue.  It would be great if it was sunny skies for every vacation but not even Disney can make that magic happen so make sure to plan ahead.
Planning is a must!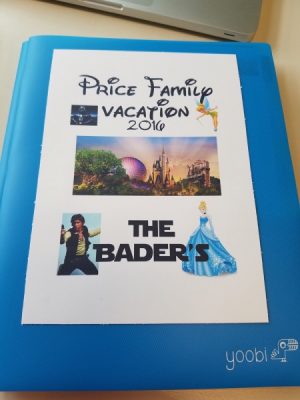 Planning Book For My Sister
We will get into more detail on what exactly to plan here shortly, but you need to know that a Walt Disney World vacation takes planning.  Long gone are the days where you can just show up at Disney and wing it.  Some people (myself included) love planning and will spend hours reading blogs, making spreadsheets and laminating them.  That type of planning isn't required for a good time, but some planning is.  Take time to read some blogs (like this site) and look at the maps of the different parks.  Get familiar with some of the language of Walt Disney World.  If you go into your vacation not knowing anything, you might find yourself frustrated.
My Disney Experience
When you are starting your planning, you will want to use My Disney Experience.  This is a section of Disney's online site where you are able to create a profile and then view, plan and make reservations.  Once you have booked your trip, you will want to get this up and running as it is a great one-stop shop for all things about your trip.  You will also want to download the My Disney Experience app allowing you to have access to this information on the go.
Disney Dining Plan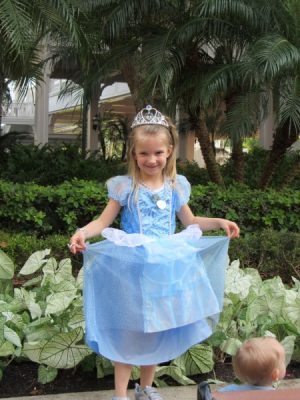 Don't Disappoint the Princess… Make Those ADRs
Disney offers guests staying on property the option of purchasing a Disney Dining Plan.  There are currently three different dining plans to choose from.  Disney Deluxe Dining Plan, Disney Dining Plan and Disney Quick-Service Dining Plan are the three options.  Each of these plans are ways for guest to prepay for their dining.  Each plan offers guests a mixture of credits for either table-service, quick-service and snacks.  If you are staying on property, this is a great option for many families.   The ease of having food prepaid is a great option for many families.
Advance Dining Reservations
One of the things that needs to be planned out prior to leaving is advance dining reservations.  These are reservations you can make throughout Disney property at their sit-down, table service restaurants.  These can be made up to 180 days ahead of time for guests staying at a Disney resort.  I know.  You are thinking I have no idea what I want for supper tonight, how am I going to know what to have six months from now.  I get this.  It really is important to book your Advance Dining Reservations as soon as possible especially for those popular places such as Cinderella's Royal Table, Be Our Guest Restaurant and Chef Mickey's as they fill up quickly.  Take some time to plan ahead when it comes to your dining reservations in order to get those special meals.
FastPass+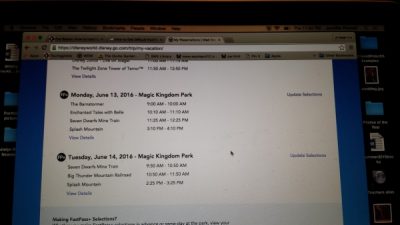 FastPass+ Planning
Before heading down you will want to book your FastPass+ reservations.  FastPass+ is part of Disney's MyMagic+ and can be found on the My Disney Experience website.  FastPass+ allows for guests to by-pass lines by booking three FastPass+ tickets each day.  This is a way to virtually stand in line while experience other attractions throughout the park.  When your scheduled time arrives (typically an hour window), you will scan your MagicBand and head on into the ride with little to no wait.  Those staying on Disney property can book these 60 days ahead of time and it is highly recommend that you take advantage of this opportunity.  By booking these you will eliminate some of your long waits to highly popular attractions such as Seven Dwarf Mine Train, Big Thunder Mountain, Avatar Flight of Passage and more.
Extra Magic Hours
Extra Magic Hours Are Great
Extra Magic Hours (EMH) are additional hours offered to guests staying on Disney property.   EMH are offered at a specific park either prior to normal park opening or after normal park closing.  This is a great opportunity for guests to take advantage of extremely low crowds.  Make sure to check out the extra magic hours offered during your vacation located on Disney's park calendar.
There is so much to know and learn about Walt Disney World prior to heading down.  These are just a few things that first timers should know prior to their trip.
What tips do you have for those visiting Walt Disney World for the first time? Share them in the comments section.
Did you like this article? Make sure to share it with your friends! Check below for easy ways to share!