Best Activities Included in the Price of Your Disney Cruise
|
This post may contains affiliate links for your convenience. If you make a purchase after clicking a link we may earn a small commission but it won't cost you a penny more! Read our full disclosure policy here.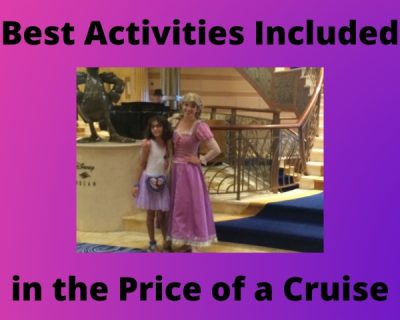 You won't have to pay extra for this!
Let's face it: Disney cruises are expensive. But one reason Disney cruises stand out from other cruise lines is that once you're on board, so much is included in the cost of your cruise that you can go a long time before you spend any more money!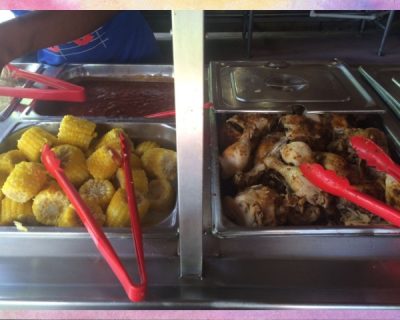 Cookie's BBQ on Castaway Cay
It would take too long to list all the things that are included: rotational dining, all the buffets, room service, the nightly stage shows, all the food on Castaway Cay (if your itinerary stops there), the health club, the sail away parties….let's just say there's a lot. But I thought I'd highlight five of my favorite activities that are included in the cost of your cruise, hopefully ones you haven't thought of before!


THE MIDSHIP DETECTIVE AGENCY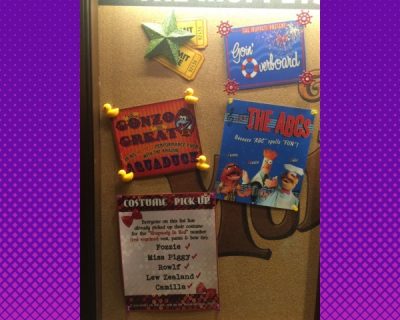 Was this door a clue?  We'll never tell!
This is a fun, interactive game that can be played onboard the Dream and the Fantasy. You can pick up a game board at a self-serve kiosk, and then you're ready to solve a fun (and downright silly) mystery! While on the Disney Dream, my family took the opportunity to play. We chose the Muppets mystery, but there were two others we could have chosen. This game sends you throughout the ship to find "enchanted" works of art which you can activate with your detective badge. This game is recommended for kids 9 and up, but my child was younger than this and had a blast.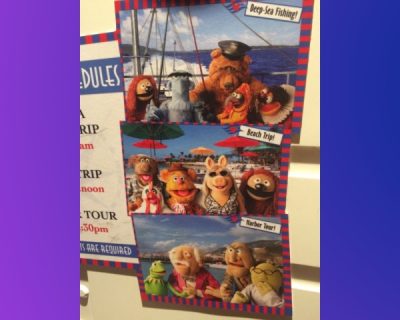 The game is afoot!
Something to keep in mind: This game requires a lot of walking back and forth throughout the ship to find all the clues. You can do this at your own pace, so if you're feeling tired and need a break, no problem! But if you're worried about those two desserts you had at dinner the night before, this is a great way to get your steps in.


THE NIGHTLY FAMILY GAME SHOWS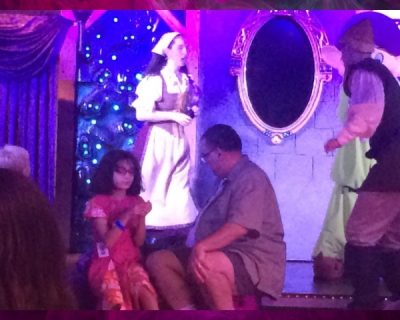 My family was part of a fairy tale!
If interactive fun with your family is what you're looking for, you should check out the nightly family game shows! These are scheduled so that they do not interfere with dinner seatings or those amazing stage shows in the main theater. Each night, a different game is featured. We were winners at Disney trivia, we got a tutorial on how to be a pirate, and we became extras in a fairy tale. These are a hit with families with kids.


MEET THE CHARACTERS!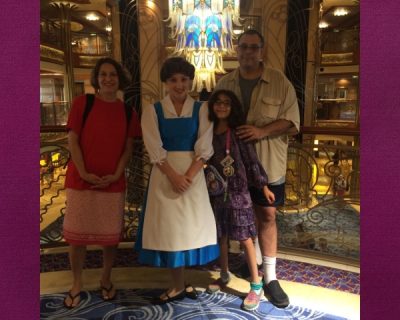 Meeting Belle in the atrium
Each Disney Cruise ship gives guests of all ages the opportunity to meet some Disney characters, often even before you board the ship. Some of these meet-and-greets require advanced reservations, but there is no charge. You can always splurge for a photo package to capture those memories, but it is perfectly okay for someone in your party to snap photos of your little ones meeting their Disney favorites.


GOOFY'S GOLF


Located on the Dream and the Fantasy's 13th decks, this is just part of a large area known as Goofy's Sports Deck. Playing a round of whimsical mini golf is a fun way to spend time with your family – and it's included in the price of your Disney Cruise! Keep in mind, however, that it is open air. In other words, it can be brutally hot in the middle of the summer. Remember that sunscreen!


FIREWORKS!


Fireworks displays do not happen on every cruise, but check to see if one will happen on yours! We particularly enjoyed the Pirates Night fireworks display on the Disney Dream, especially since Captain Jack Sparrow himself led the festivities! You'll want to get to the deck early to get a prime viewing location, but decent views could be had pretty much for anyplace on the deck. This is an exclusive on Disney Cruise Line! 

So before you shell out major bucks for extras on your Disney cruise, take a look at what is already available. You might find something that's perfect for your family at no extra cost to you!


What are your favorite things included in the price of your Disney Cruise? Share your thoughts in the comments or on Facebook or Twitter!
Did you like this article? Make sure to share it with your friends! Check below for easy ways to share!  
Want to visit a Disney Destination? Contact The Magic for Less Travel for more information and a free, no-obligation quote.