This post may contains affiliate links for your convenience. If you make a purchase after clicking a link we may earn a small commission but it won't cost you a penny more! Read our full disclosure policy here.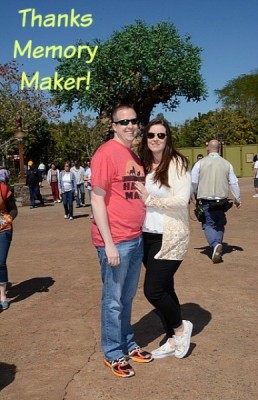 You know how after you've been to a place maybe 5 or 6 times you start thinking, "Wow, I've basically done everything here there is to do. Why keep coming back?" I hate that feeling! But you know what place I've never had that feeling about? Walt Disney World! There is SO much to do that you can keep having "firsts" even after you've been 5 or 6 times! Or maybe 15 times. But who's counting?
Recently my husband and I had a family wedding to attend in Sarasota, FL. Florida = Disney! So we took 2 days and booked our first Disney Vacation Club vacation! We also decided to become Annual Pass Holders and bought the passes right on property.
First #1: Disney Vacation Club Members & The Boardwalk
We became Disney Vacation Club members in July 2014. Our daughter was born in August 2014 so before this trip, we hadn't had an opportunity to book a vacation. Because we knew we weren't going to use our points, we rented them out. However, we had a few left over that were going to expire before the next time we head down this October. So when we got the invitation to the wedding, we hopped online to see if we could get a short DVC trip in with the amount of points we had left over. We had enough points for 2 nights at Disney's Boardwalk Villas. Booked!
We had been to The BoardWalk before to eat, to drink, and to get engaged (in '08. Not this time. Trust me, you would've heard about that first thing, lol)! I absolutely love The Board/walk. I grew up in a shore town in New Jersey and considering The BoardWalk was modeled after 1940's Atlantic City, it reminds me of home and gives me all the comfort feels. However, I'd never stayed there and neither had my husband. Before Disney Vacation Club, we were strict Value Resort stayers (I love me some Pop Century!) so you can imagine our excitement.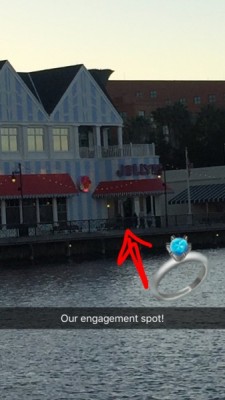 Right outside of Jellyrolls Dueling Piano Bar is where my husband asked me to be his wife!
Let me just try to summarize by saying the hotel itself is, in true Disney fashion, stunning. The view from the lobby of Crescent Lake made me tear up. I truly felt at home. The decor, the details, the beautiful rockers on the lobby balcony that overlook the boardwalk, garden, and lake are absolutely amazing. I could've lived out my days in that lobby and been a happy girl. I am not tearing up right now thinking about the lobby, you're tearing up right now.
We stayed in a Deluxe Studio – Garden/Pool View and had a garden view. The room was absolutely lovely, painted in light blue and white. It did have a great view of the garden and those rockers I mentioned earlier. The only 2 things we didn't love about the room was the fact that it had a queen sized bed as opposed to a king (which we knew going in because it was in the room description online) and with our room balcony facing the doors of the lobby, it did get kind of loud at night with people coming and going. But with the setup at The Boardwalk, I think that's just something you have to accept may happen going in.
Our first experience at a Disney Vacation Club resort was magical. As members, we got to attend the Disney Vacation Club "25th Anniversary and Beyond Bash" at Magic Kingdom; a "thank you" to members for a magical 25 years of DVC. I won't tell you too much about it since it was only being held twice this year, and both dates have passed (boo), but suffice to say, it was awesome. There were many rare character opportunities (Robin Hood and Darkwing Duck!) and I was handed a free Mickey Bar; need I say more?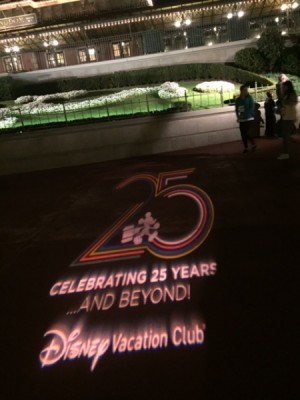 First #2: Becoming Annual Pass Holders
As I mentioned earlier, we decided to become Annual Pass Holders this time around. It made sense for us since we'll be at the World again in October and then again, hopefully, in February 2017 for Princess Half Weekend. Yes, Annual Passes are expensive, but let me give you a little tip. You go to Target, right? Of course you do. Target sells Disney gift cards. Every time we went to Target over the last year or so, we picked up a Disney gift card. That's how we saved for our Annual Passes! And if you have a Target Redcard, you save 5% on that gift card and it's like you've gotten 5% off your Annual Pass!
You can buy Annual Passes online, on property at Guest Services, or at a ticket window at one of the parks. We bought ours at the ticket window at International Gateway in Epcot. I told you we bought gift cards. Well, we had a lot of them. I was concerned we would be taking up too much of the Castmember's time to have him/her swipe them one by one to pay for our passes, but Emily (shout out!) was lovely and more than happy to swipe each individual gift card. All features, benefits, and rules were explained to us and the entire process took maybe 10 minutes. We walked right into Epcot that morning and in and out of the other 4 parks for the next 2 days without any issues at all. Yay for Disney technology! And of course chEARs to Emily!
First #3: Lunch in the Rose & Crown Dining Room
I've mentioned before in a previous post how much I delight in sitting at Rose and Crown in Epcot while drinking my favorite beer and people watching. However, I'd never dined inside. I know, crazy! So this time, we were doing it.
My husband and I met up with his parents and sister (see, everyone knows Florida = Disney) and we actually sat outside with a beautiful view of World Showcase and the Lagoon. Our waiter Colin was a joy to be around and tolerated our craziness! I ordered the Shepard's Pie and quite frankly it was so delicious that I don't believe I ever looked up from eating it to see what anyone else ordered! There may have been a burger on the table and Fish 'n Chips, but I can't swear to it. The Shepard's Pie was piping hot and the lamb was cooked beautifully. The mashed potatoes on top had just the right amount of crusting from the oven. Colin tried to talk us into dessert, but we were all stuffed and there were more drinks to be had!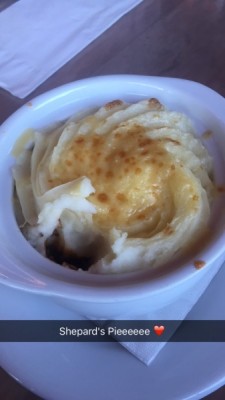 All in all, our first Rose & Crown dining room experience was one for the books! Great food, great drinks, a breathtaking view, and great company!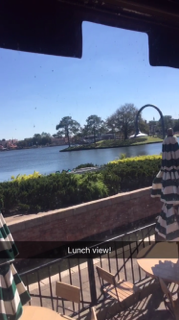 First #4: Symphony in the Stars Fireworks
This one is a first for a lot of people since it debuted in the last few months! You've heard by now that Disney's Hollywood Studios is getting a Star Wars makeover (you haven't? Click here!). The Symphony in the Stars Fireworks show is one of the first stops on the road to that makeover. The fireworks happen above the Chinese Theater so you can be anywhere on Hollywood Boulevard and have a great spot.
Now, full disclosure, I'm not a huge Star Wars person. (I can hear some of you rolling your eyes). I've seen the originals and, much to my husband's dismay, I could take it or leave it. However, I absolutely believe the musical score is arguably one of the best ever. So to watch Disney fireworks, which we know are the best in the world, set to the Star Wars score while listening to sound bites from the movies is incredible. And a slice of Heaven to Star Wars fans everywhere. As I've said, this show has just recently debuted, so you have plenty of time to see it. But don't wait and get thee to Studios! It is truly remarkable.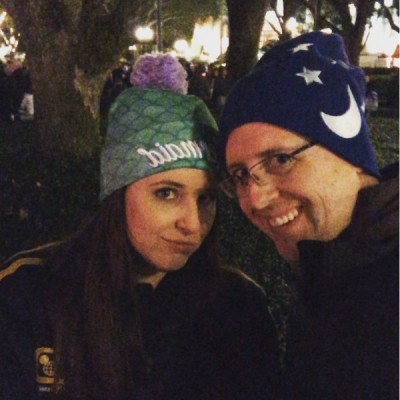 Did I mention how cold it was at night?! 
So there you have it! Our trip of "firsts!" We'll be back in October with our daughter for the first time so we've got plenty more "firsts" on the horizon. Tell us about one of your favorite "firsts" in the comments below!
What were some of your firsts during your last trip to Walt Disney World?