This post may contains affiliate links for your convenience. If you make a purchase after clicking a link we may earn a small commission but it won't cost you a penny more! Read our full disclosure policy here.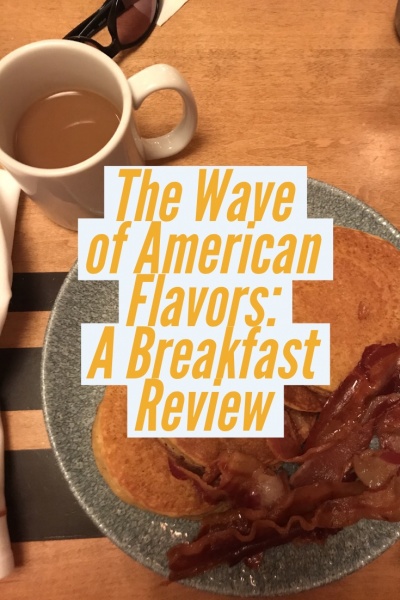 OVERVIEW
I'm a Kona Café fanatic; I've dined at a bunch of different locations for breakfast while on Walt Disney World vacations, but I usually gravitate toward Kona when it comes to making Advance Dining Reservations (ADRs). I was recently given a surprise bridal shower weekend at Walt Disney World, and since our party was large (and our reservation was last minute!), my family and friends booked us a table at The Wave! We'd never eaten here before, but there was an open table, we were staying at Bay Lake Tower, and it all fell nicely into place! Let me tell you, The Wave may be competing with Kona for my new favorite breakfast spot on WDW property!
THE RESTAURANT
The Wave is located on the lower level of the Contemporary Resort. We were staying at Bay Lake Tower when we went to check out The Wave; we were able to enter The Contemporary through an overpass walkway connecting the two buildings.
We entered the restaurant through a long hallway complete with deep blue lights reminiscent of waves. Despite having no windows, the restaurant feels open and bright inside, with minimal decoration and neutral colors. The Wave touts an emphasis on whole, sustainable foods. The restaurant seats 200 guests, and did approach capacity during our visit, but never felt overly crowded.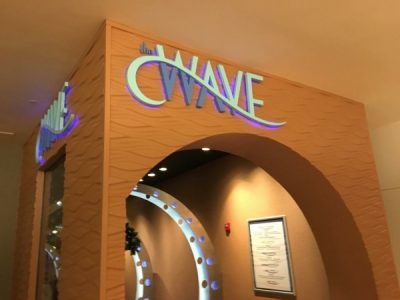 THE MENU
The Wave offers a great menu; you're able to choose between buffet offerings and an a la carte menu. Our party decided to try out both options; 3 opted for the buffet, while the rest of us ordered a la carte. The buffet offers your classic Disney breakfast options like Mickey waffles, scrambled eggs, bacon, sausage, fresh fruit, among other great offerings. You're also able to enjoy the Wave signature sweet potato pancakes, lox, deviled eggs, biscuits and gravy, and more! Each buffet breakfast includes a beverage of your choice; my dad got a coffee and an orange juice at no additional charge.
The a la carte menu offers egg dishes, such as frittatas, eggs benedict, omelets, and eggs any way. Keeping with current brunch trends, you're able to get avocado toast as an entrée, and if sweet breakfasts are your thing, a continental breakfast, a fluffy French toast, and the signature sweet potato pancakes are available.
THE FOOD
Our party enjoyed the buffet offerings, going back up multiple times to experience more offerings. Some of the highlights were Mickey waffles, deviled eggs, fresh fruit, and sweet potato pancakes. Our table also ordered the American breakfast, two eggs any way with breakfast potatoes and breakfast meat of your choice. We enjoyed this offering; the portion was gigantic, enough to split! The breakfast potatoes were flavorful, the eggs perfectly cooked, and 3 links of sausage. One member of our group built her own omelet; the server was happy to accommodate her request for an omelet with modifications, and she enjoyed her dish!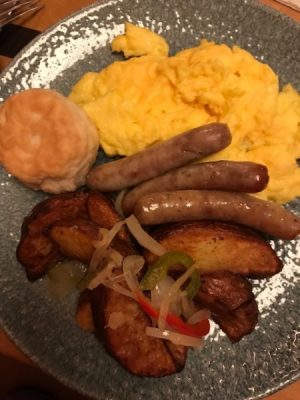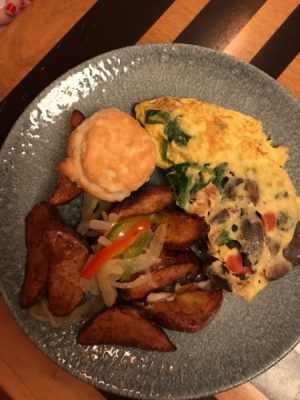 I went with the Wave Signature Sweet Potato Pancakes, and let me tell you, these were phenomenal! The portion size was, again, enough to feed two! 4 pancakes come with a side of breakfast meat and (the real star of the show) pecan honey butter. The pancakes were mildly sweet, and when paired with the butter, didn't need syrup! Fluffy and served nice and hot, this entrée was absolutely the best thing I ate all weekend at Walt Disney World!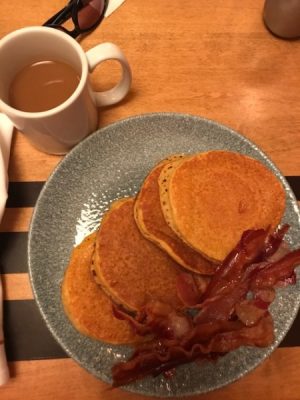 We also ordered coffees, and the server brought a couple carafes to keep at our table, so we could keep filling up our mugs! At the end of the meal, our server graciously brought us travel cups so we could take some coffee to go.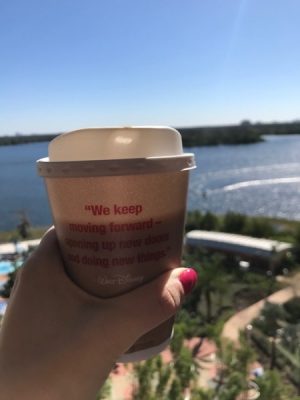 THE SERVICE AND FINAL THOUGHTS
Our server was absolutely fantastic; he went above and beyond to make sure we were taken care of. As mentioned previously, he brought us more than enough coffee to help us wake up, and provided travel cups so we could keep our caffeine buzz going! He was attentive, but not overbearing, and we never felt rushed even as the restaurant began to fill up.
We were also greeted by two managers throughout the course of our breakfast, which was quite nice. We found the experience to be fantastic, overall. We agreed that we will definitely be back! My mouth is watering thinking about those sweet potato pancakes as I write this!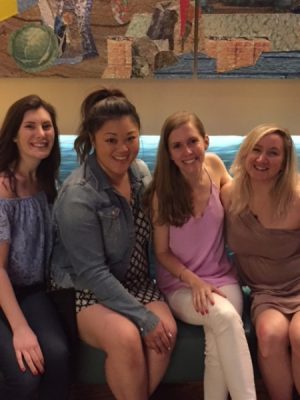 Have you dined at The Wave for breakfast? What were your thoughts? Share in the comments, or on Facebook or Twitter.
Did you like this article? Make sure to share it with your friends! Check below for easy ways to share!