This post may contains affiliate links for your convenience. If you make a purchase after clicking a link we may earn a small commission but it won't cost you a penny more! Read our full disclosure policy here.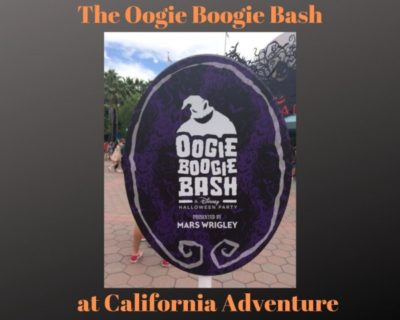 Welcome to the Oogie Boogie Bash
After years of hosting Halloween parties at Disneyland Park, this year Disneyland changed things up a bit. The Halloween parties this year are called The Oogie Boogie Bash, and they are being held at Disney California Adventure.
Many facets of the party remain the same. It is a family-friendly, hard-ticketed event, meaning that you must have a specific party ticket in order to participate. On evenings when the party is being held, the park will close early to guests who have not purchased a party ticket. (Disneyland Park's operating hours are not affected.)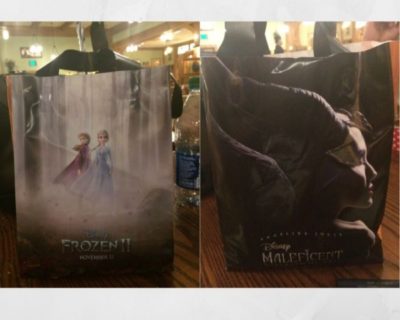 Both sides of the treat bag
Party guests are welcome to wear costumes, provided that they comply with the party guidelines.  When arriving, Guests are given treat bags and wristbands. Party guests are able to enter the park between three to four hours prior to the beginning of the party, depending on the day they are attending.
The party itself consists of treat trails where guests are encouraged to collect candy, sweets, and savory packaged snacks. Guests who have food allergies can ask a Cast Member for allergy-friendly prepackaged snacks. A special parade exclusive to the party, entertainment, and a special night time extravaganza are all presented.
Another big draw to the party is that there is only a limited number of tickets available. Thus, lines to attractions are often substantially shorter than they would be on regular park days.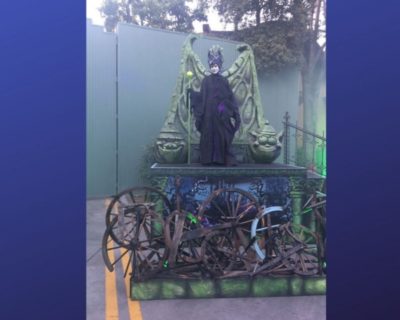 Maleficent on a treat trail
There were a couple of changes this year to the party. First of all, when guests entered the park, they had their photo taken. Next, they proceeded to a line to receive wristbands, where Cast Members confirmed that each guest matched his or her photo. Then they were sent to another line where each guest received a special party map and their treat bags. This made entering the park take longer than it did in years past.
Another change was that this year, the party is sponsored by Mars Wrigley. Consequently, there was a decrease in variety of candies being given out, as any chocolates and candies were all from the Mars Wrigley company. There is still a wide assortment, but if your kids love Kit Kats or Hershey's bars, they'll be out of luck.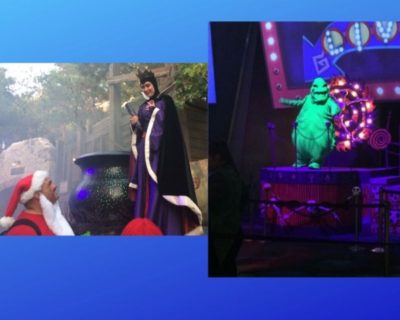 The Evil Queen and Oogie Boogie
A very welcome new facet to the party were the villains present at some of the treat trails. We were thrilled to see Maleficent, the Evil Queen, the Mad Hatter (the Tim Burton version), Dr. Facilier, and Oogie Boogie himself. In each case, the villains spoke to the passing guests and happily let guests take their photos. However, they are all on elevated platforms, so this is not a meet-and-greet situation. The villains were, without exception, highly entertaining.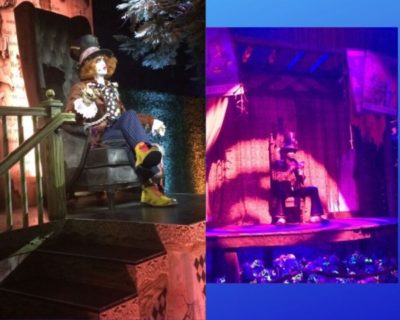 The Mad Hatter and Dr. Facilier
Since the party is now in California Adventure, we were treated to a World of Color inspired show called Villainous. Prime viewing locations for the show went quickly, but we were surprised at how many decent spots were open just moments before the show started. We wound up watching a good portion of it from the launch area of the IncrediCoaster. While this is not a straight-on view, we loved watching from this vantage point.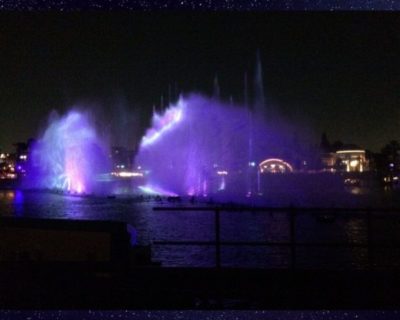 Villainous
We timed our arrival to the park so that we arrived slightly before our entrance time of 2:00 p.m. Our first stop was to grab a birthday button for our daughter. We then spent the hours until 6:00 p.m. (the official party time) going on rides and attractions and enjoying meet-and-greets.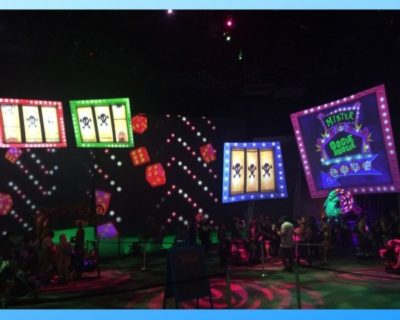 My favorite treat trail was inside the Animation Building
Once the party started, we hit as many treat trails as we could. The locations of the trails are on the party map, although some were hard to find. Luckily, Cast Members were all too happy to point us in the right direction.
Many of the restaurants were open during the party, and the party map identified each of these. When we wanted to get a Halloween-themed snack, we found a nearly deserted Fiddler Fifer and Practical Café, Trolley Treats, and Clarabelle's. This was at 7:00 p.m., a time when, during a regular park day, it would be hard to find a table.
We decided to skip the Frightfully Fun Parade as we'd seen it two years in a row. My daughter is not a Descendants fan, so we also walked right by the DescenDANCE party. But we were very happy to get a good view of Villainous.
Bonus fireworks!
Because of Disneyland's compact size, it is possible to see Disneyland Park's nightly fireworks display from certain areas of California Adventure. We got a very nice view from Pixar Pier.
All in all, we enjoyed the Oogie Boogie Bash very much. The addition of the villains to the treat trails is very fun. And in case you're wondering, here is an actual photo of the treats we came home with!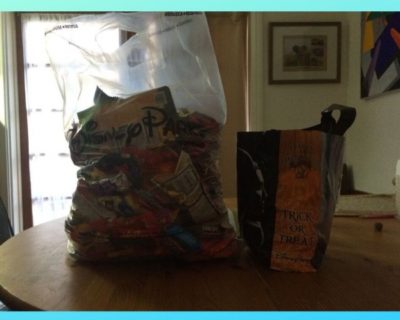 Have you attended the Oogie Boogie Bash? What were your thoughts of the event? Share your thoughts with us in the comments or on Facebook or Twitter!
Did you like this article? Make sure to share it with your friends! Check below for easy ways to share!
Want to visit the Disneyland Resort? Contact The Magic for Less Travel for more information and a free, no-obligation quote.