This post may contains affiliate links for your convenience. If you make a purchase after clicking a link we may earn a small commission but it won't cost you a penny more! Read our full disclosure policy here.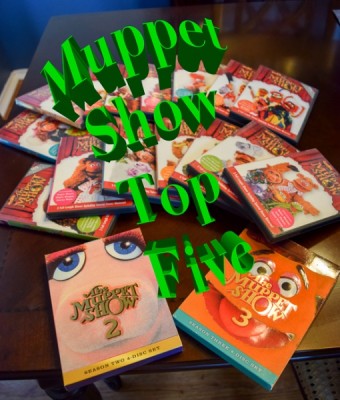 As you might have heard, this fall (September 22nd to be exact) ABC will be launching a brand new TV show featuring the Muppets. Now, if you have seen some of my previous posts here (such as this, this, and this ), you may have guessed that I am incredibly excited about this new show (check out the blog a few days after the first episode for my review).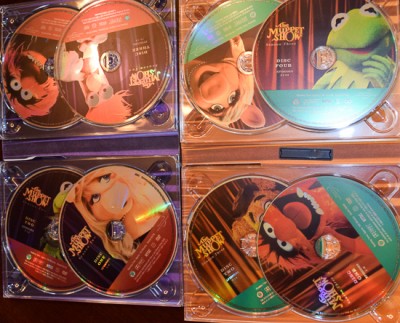 In anticipation, I wanted to go back to the original series and share my Top 5 episodes. As a disclaimer, by "Top 5" I don't necessarily mean the "best" or even my favorite, but more they are the best representation of what the Muppet Show, and by extension the Muppets, are all about.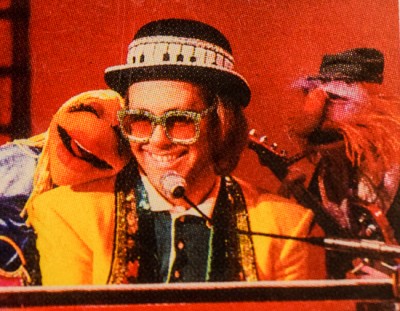 Elton John (Season 2, Episode 14)
One of the things that makes for a good guest on the Muppet Show is someone that really embraces the sensibility of what the Muppets are all about. If you have ever seen concert footage of Elton John from the 1970s, you might imagine that this was not a stretch (to Sam the Eagle's dismay).
As with any of the musical guests on the show, the skits featuring Elton John featuring some of his songs, which are of course fantastic. The show opens with Elton and the Electric Mayhem performing "Crocodile Rock," complete with a chorus of actual crocodiles. Later on you get to hear "Bennie and the Jets" in his dressing room, a return of the Electric Mayhem for a rendition of "Goodbye Yellow Brick Road," and a finale of Elton and Miss Piggy singing "Don't Go Breaking My Heart." In some ways, the music of this episode is enough to make it worthwhile.
However, the interior Muppet sketches are really important to the overall flow and feel of the show, and those sketches on this episode really deliver. You get the Swedish Chef trying to cook an egg from a chicken who lays ping pong balls, the pun-fest that is Veterinarian's Hospital, and everyone's favorite, Pigs in Space (with a throwback to the Swedish Chef's segment).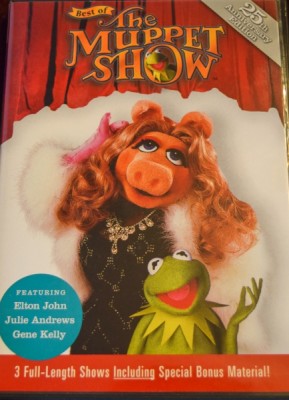 A special note: the Muppet Show was originally produced in the UK, where there were fewer commercials, so each episode has an extra segment that was removed during presentation in the US. These short segments often reach way back into the archives, as was the case with this episode, where Kermit and Fozzie sing a song from 1911 called "Any Old Iron."
Some of the enjoyment of this episode will definitely be based on whether you enjoy Elton John's music, but assuming you do, this is a great example of what the Muppet Show has to offer.
Favorite Quote: Sam the Eagle on Elton John: "Then why does he dress like a stolen car?"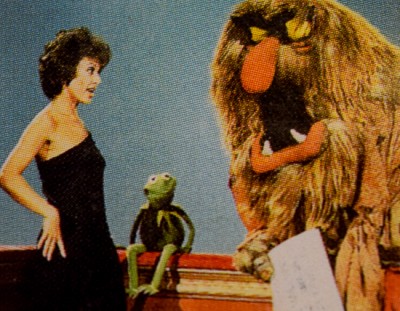 Rita Moreno (Season 1, Episode 5)
Current fans of the Muppets might be thrown off a little to see some of the earliest episodes of the Muppet Show, especially the appearance of Gonzo and Miss Piggy. And while it is true that the Muppet Show really hit its stride in later seasons, this episode, which for many was the first broadcast in the United States, is great.
It features Rita Moreno, a fantastic singer, dancer, actor, and overall performer who is probably best known for her role in "West Side Story." She won an Emmy for her appearance in this episode of the Muppet Show, and as such became the first person to win an Oscar, Tony, Grammy, and Emmy.
For the Muppets, this episode features the first occurrence of Veterinarian's Hospital, as well as appearances of the Muppet Newsflash, Swedish Chef making pancakes, the long running "At the Dance" and "Wayne and Wanda" segments, the infamous Marvin Suggs and his Muppaphone performing "Lady of Spain," and a running gag with the backstage phone.
Rita Moreno begins the episode with a dance duet with a full size Muppet, and later appears on a panel discussion about whether conversation is a dying art as well as a one on one conversation with Kermit. (where she is carried off by Sweetums). The most memorable part of her appearance is a special rendition of "Fever" with Floyd on bass and Animal with some very exuberant drum fills.
The special extra segment is a folk song with three special Muppets made to resemble Jim Henson, Frank Oz, and Jerry Nelson called "To Morrow." For my sense of humor and appreciation of music, this little weird segment is one of the best things that ever appeared on the Muppet Show.
Favorite Quote: Animal, after Rita smashed his head with crash cymbals at the end of "Fever": "My kind of woman!"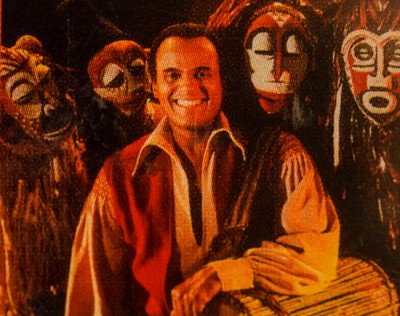 Harry Belafonte (Season 3, Episode 14)
This episode starts with a bang (courtesy of Crazy Harry) and takes off from there. One of the special things about this episode is the fact that Harry Belafonte tends to avoid television appearances, but appreciated Jim Henson's work so much that he agreed to the invitation to appear on the Muppet Show.
After an opening of the Banana Boat Song ("Day-O"), this episode descends into Muppet silliness, including a backwards rendition of "Tea for Two" with Rowlf and Lew Zealand, Pigs in Space with some serious mix-ups, a jazz duet from Zoot and Floyd that features bumblebee, and the latest in Muppet Sports. Harry Belafonte joins in the silliness by taking part in a drum battle with Animal.
The reason why the episode makes this list, and also is featured in many collections and retrospectives, however, is the much less silly closing number. This piece, "Turn the World Around," was brought the to show by Belafonte and the Muppet Workshop created African inspired masks to serve as the chorus for this piece.
Besides the powerful message indicative in this song, one of the things that makes it special is that after Jim Henson passed away, Harry Belafonte performed this song as a part of his memorial service. As such it, and the episode it originally appeared in, are an important and touching part of Muppet history.
Favorite Quote:
"We are of the spirit
Truly of the spirit
Only can the spirit
Turn the world around"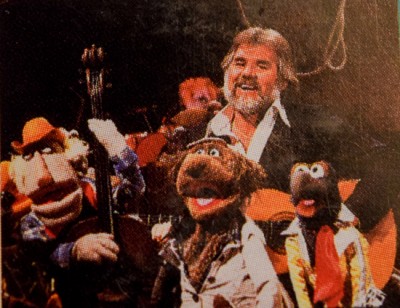 Kenny Rogers (Season 4, Episode 10)
As you can see, one of the greatest things about the Muppet Show is their ability to combine great performances, silliness, and sincerity. The Kenny Rogers episode is another great example of this balance.
Throughout the episode, from the opening number, through a witch doctor infused rendition of "Lime in the Coconut," and including Veterinarian's Hospital and one of Gonzo's stunts, Kermit is constantly getting injured and beat up in ridiculous ways. Additionally, there is a running gag throughout about how Scooter's uncle sold the mineral rights to Kenny's dressing room and drilling is about to take place.
Amidst that chaos, though, are a few great, and understated, performances by Kenny Rogers. The first is a fairly straightforward rendition of "The Gambler" with a few human-looking Muppets in support. The other, which closes the show, is a sing-along version of "Love Lifted Me," used in the show to calm everyone down.
This episode has a little bit for everyone, and is a must watch for any Muppet fan
Favorite Quote: Nurse Piggy: "I will never leave your side until you have taken your last breath! Do you think he heard me?"
Dr. Bob: "He must have. His pulse has stopped."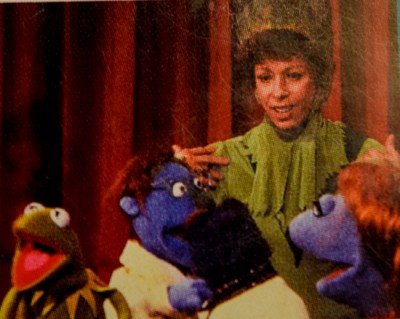 Carol Burnett (Season 5 , Episode 15 )
While it isn't surprising that someone with as much performing and variety show experience as Carol Burnett would be great on the Muppet Show, this episode took full advantage of her talents and also wound up earning the writers an Emmy.
The main conceit of the episode is that Gonzo talked Kermit into doing a dance marathon competition throughout the show, which Carol is not too happy about. The episode opens with an "At the Dance" spot, but as Gonzo puts it, one that lasts forever. As these segments continue, Carol not only appears as herself (with dance partner Animal) but as her janitor character from "The Carol Burnett Show."
As Kermit attempts to give Carol Burnett the variety show he promised, he puts a Pigs in Space segment on, although the dancing continues even as Miss Piggy is eaten by a space alien.
After Kermit consoles Carol by asking her to perform her "Lonely Asparagus" sketch, she asks Gonzo how he expects the marathon to ever end when he keeps giving rest periods. She takes over and sings faster and faster until all the contestants collapse.
As the credits roll, she tries one last time to do her "Lonely Asparagus" sketch, but is cut off by Zoot playing the last note of the theme.
Favorite quote: (Carol comes out in asparagus outfit)
Scooter: "Hey, Mister, you're in the wrong place. They're doing the vegetable soup commercial next door!"
Carol: "Mister? I'll have you know I am a lady!"
(she uppercuts Scooter through the door and off the balcony)
Honorable Mention Moments:
While I limited the complete episode list to 5, there are many more moments from the original 5 season run of the Muppet Show that warrant some attention. Here are a few favorites:
The Jousting Scene from Camelot featuring Pearl Bailey (Season 3, Episode 5) – in the middle of this scene, Pearl Bailey turns to Rowlf and says "You know Rowlf, this don't make any sense at all." That about sums it up, but at the same time it is completely amazing.
Happy Feet (Season 2, Episode 9) – One of the most famous bits from the entire run of the Muppet Show :"The time has come to answer that question that has baffled mankind through the ages, namely, "Can the Frog tap dance?" The answer is: hit it!"
The Planet Koozebane Finale (Season 4, Episode 17) – this is the end of the episode featuring Mark Hamill and other characters from Star Wars. It hits all of the strange notes you would expect (including a dance number featuring Chewbacca and R2-D2), but also ends with, perhaps in a bit of foreshadowing, a closing rendition of "When You Wish Upon a Star" by the combined Muppet and Star Wars groups.
The Viking Pigs "In the Navy" (Season 5, Episode 24) – this segment is somewhat notorious, mainly for how long it took to shoot (1/3 of total production time for 2 minutes of the show), but it is a lot of fun.
So as we get ready for this next phase of the Muppets to begin, take a moment and look back at what really made them the household names they are today.
What about you? Share your favorite Muppet moments with us in the comments!
Incoming search terms:
https://www themouseforless com/blog_world/muppet-show-top-five-time-light-lights/
muppet show episodes