This post may contains affiliate links for your convenience. If you make a purchase after clicking a link we may earn a small commission but it won't cost you a penny more! Read our full disclosure policy here.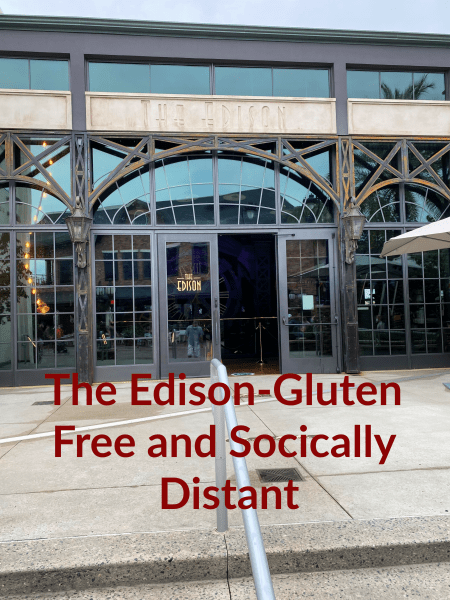 I recently had the opportunity to dine at The Edison-gluten free and socially distant.  The Edison Restaurant is located in Disney Springs. It was awesome to get out into the real world again after several months of quarantine and enjoy this beautifully themed restaurant!  This restaurant is also a nightclub with live entertainment. It's themed after an electric company in the roaring 1920's. Considering 2020 had not been much fun due to the pandemic, I was more than happy to try and take a step back in time and give this place (and century) a shot.
Dining at The Edison-gluten free and socially distant was not a disappointment! We checked into our reservation via the My Disney Experience Application on my phone. Once the table was ready, we were texted to go to the host/hostess stand in the restaurant. We were then taken to our table.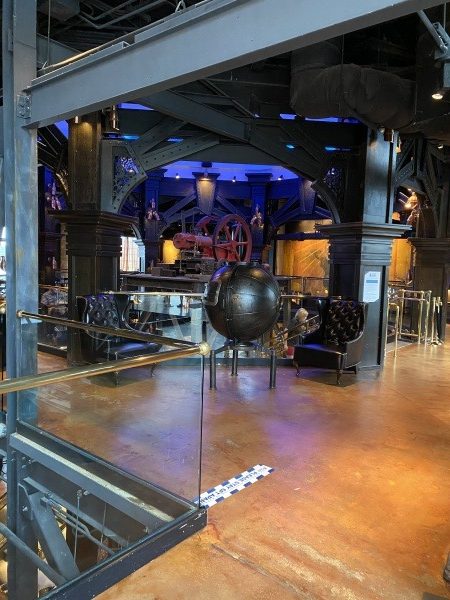 There is a lot of ambiance and fun things to look at inside the restaurant. It's multi-level with high ceilings and lots of props made it fun to sit and take it all in. There was live music playing somewhere but it was in the distance and not overly loud. We were seated downstairs in the Ember Lounge. The two nearest occupied tables were in our sight but were more than 6 feet away.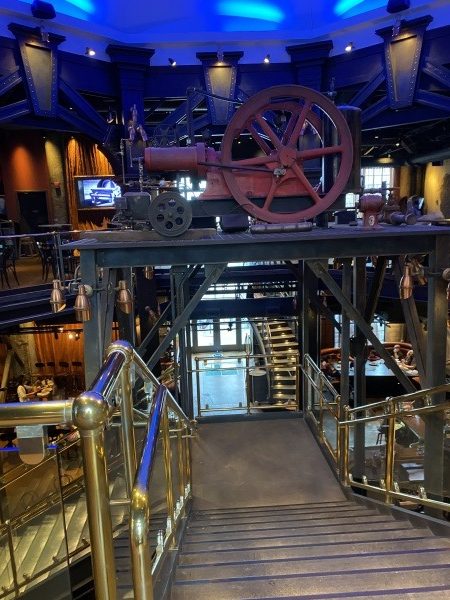 At the time of our meal, was the first indoor dining experience we had in 6 months due to the Covid-19 restrictions in our state. So, we were nervous and excited at the same time.
We started with drinks. My husband is a beer drinker and felt that getting a Corona would be most suitable during this time. We wore our masks until we received our drinks. Our waiter wore a mask and a shield the entire time. I had one of their signature cocktails, the Strawberry Fields Forever. It consisted of Hanger One vodka, St. Germaine liqueur, honey, lime juice, strawberries, mint, lemonade. The drink was sweet and really refreshing.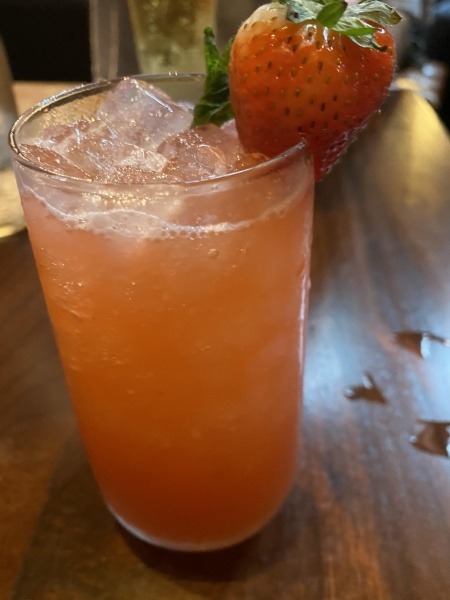 For an appetizer we had the Electri-Fries: Handcut Idaho Russet Burbank Potatoes, Edison Special Sauce, bacon, grated parmesan cheese, chopped green onion. This was all safe for me being gluten free, so I was thrilled. The Edison has a dedicated fryer for cooking just French fries and their Special Sauce was also gluten free!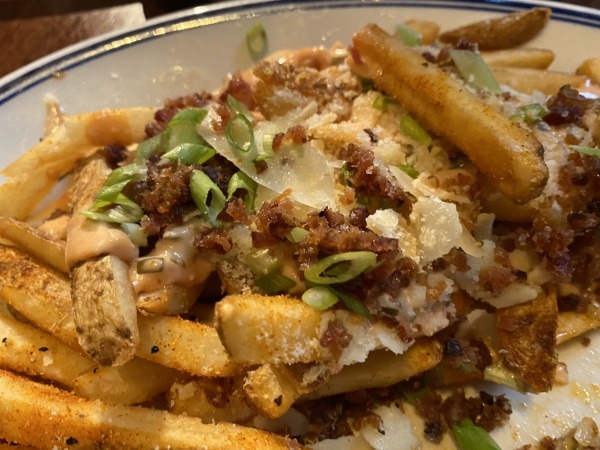 Then, for dinner we both opted for The Edison Burger. It came with more fries. Not sure we didn't think about that when we ordered but we were tired and just needed food!  The Edison burger was served perfectly cooked and mine was served on a gluten free bun. The gluten free bun was very moist, which is saying something because most gluten free buns are dry and crumbly. In the below picture the burger furthest away was not gluten free. Mine was the burger front and center. It was a tasty burger with a delicious drink!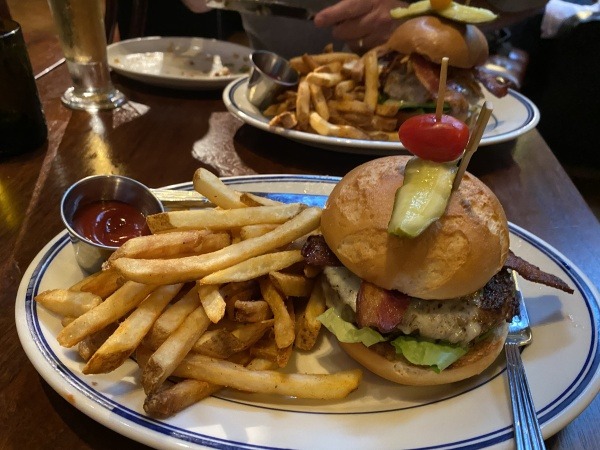 Due to all the restrictions in place, it was a relatively quiet dinner. We could hear the live entertainment in a different room. Overall, our experience at The Edison-gluten free and socially distant was a good one! We'd like to return once things are back to normal where we can witness this interesting atmosphere when its busy and in full Roaring 20's swing.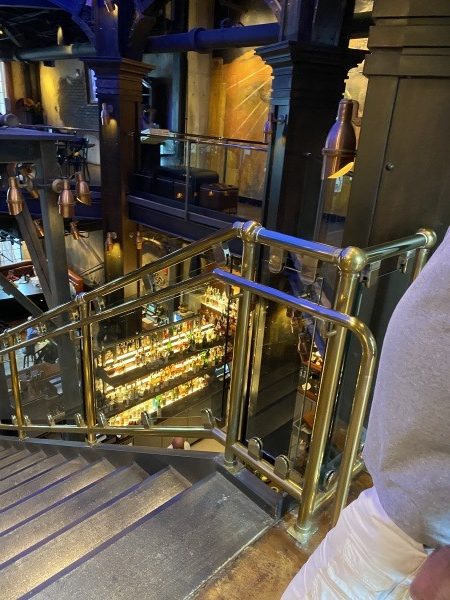 Have you dined at The Edison before? What were your thoughts? Share with us your thoughts in the comments or on Facebook or Twitter!
Did you like this article? Make sure to share it with your friends! Check below for easy ways to share!  
Want to visit a Disney Destination? Contact The Magic for Less Travel for more information and a free, no-obligation quote.

Incoming search terms:
https://www themouseforless com/blog_world/the-edison-gluten-free-socially-distant-review/