This post may contains affiliate links for your convenience. If you make a purchase after clicking a link we may earn a small commission but it won't cost you a penny more! Read our full disclosure policy here.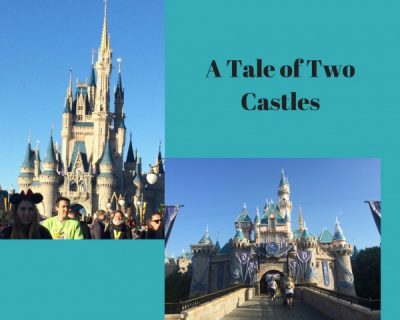 Cinderella Castle and Sleeping Beauty Castle
Two of my favorite places on earth, Disneyland Park and The Magic Kingdom, have something in common: a beautiful castle right in the middle. Disneyland has Sleeping Beauty Castle, and Walt Disney World features Cinderella Castle. Let's take a look at both of these gorgeous castles.
CINDERELLA CASTLE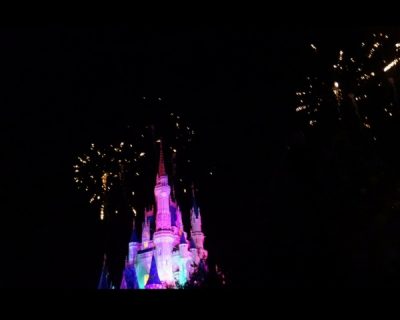 This is the first Disney castle I ever saw, and it's gorgeous. It's about 180 feet tall, and is visible not only from many sections of the park, but from many of the Magic Kingdom area resort hotels.
The courtyard of the Castle sometimes hosts special entertainment. Be sure to check a Times Guide to see if one will be performed during your visit. At other times, you can walk through the Castle to get from Main Street, U.S.A. to Fantasyland. On your walk you'll see magnificent murals that tell the story of Cinderella. (There's real gold leaf here!)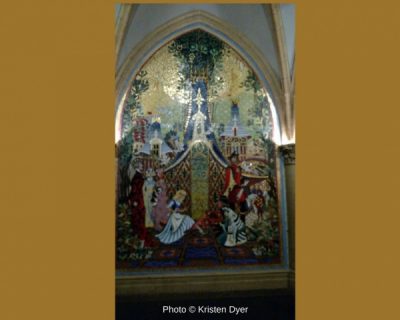 One of the murals that tell the story of Cinderella
Inside the Castle, you'll find the Bibbidi Bobbidi Boutique, where, for a fee, Fairy Godmothers In Training work their magic to give young princes and princesses fairy tale makeovers, provided you've made a reservation.
Upstairs, you'll find Cinderella's Royal Table, a character restaurant where you can dine amidst the splendor of the castle and meet Disney royalty. These reservations can be hard to come by, because this experience is extremely popular.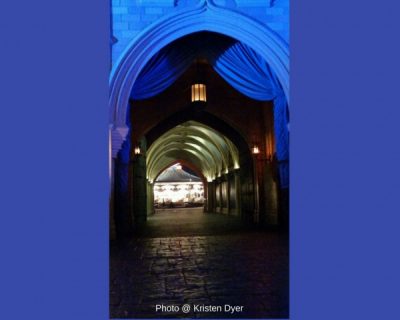 Looking through Cinderella Castle at Fantasyland
Ever higher up is a location that very few Disney fans have ever seen. When Walt Disney World was constructed, an apartment was built into the castle for the Disney family. However, the apartment was never occupied. Decades later, it was completely renovated and became the Dream Suite. A fantastically themed suite, this magical spot is only available for winners of certain contests. So keep your eyes and ears open to see when Disney will let you try to win a stay here!
SLEEPING BEAUTY CASTLE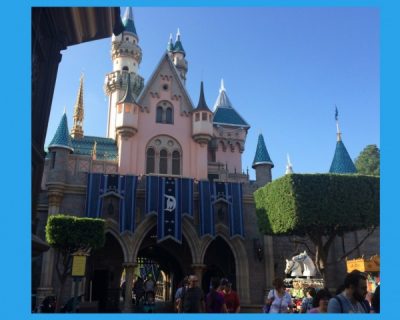 I must admit, when I first saw Sleeping Beauty Castle, after two decades of seeing Cinderella Castle, I was shocked by its size. It is less than half the height of its sister castle in Florida. However, what it lacks in height it more than makes up for in pure charm.
Like Cinderella Castle, Sleeping Beauty Castle serves as a gateway between Main Street, U.S.A. and Fantasyland. When you walk through this castle, you can climb stairs and wind your way throughout a dimly lit, scenic walkthrough that tells the story of Sleeping Beauty.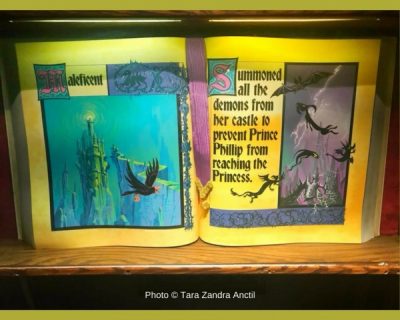 Part of the Sleeping Beauty Castle Walkthrough
If you cannot manage stairs, there is a small room on the ground floor where you can sit in comfort and watch a high definition video of the walkthrough. It's not obvious where this is, so be sure to ask a Cast Member for assistance if you have trouble finding it.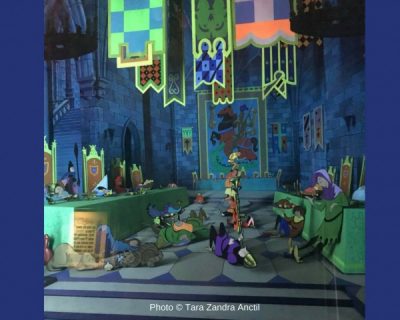 A dramatic scene from the Walkthrough
Both Castles get a delightful holiday overlay in December, where they seem to be dripping with thousands of brightly lit icicles. If you'll be visiting during the winter holidays, be sure to see this at nightfall.
Both Castles look beautiful during the day, when the sun shines and seems to glisten off the turrets. But no matter what coast I'm on, my favorite view of both these beauties is at night, when the lights on Main Street dim, the music swells, and fireworks burst overheard.
Which of the two castles is your favorite and why? Share in a comment below or on Facebook or Twitter.
Did you like this article? Make sure to share it with your friends! Check below for easy ways to share!
Want to visit a Disney destination? Contact The Magic for Less Travel for more information and a free, no-obligation quote.

Incoming search terms:
cinderellas castle vs sleeping beauty castle
https://www themouseforless com/blog_world/tale-two-castles/
Disneyland Cinderella
https://www themouseforless com/blog_world/tale-two-castles/#:~:text=Disneyland has Sleeping Beauty Castle both of these gorgeous castles
https://www themouseforless com/blog_world/tale-two-castles/#:~:text=Two of my favorite places both of these gorgeous castles
sleeping beauty Cinderella castles