This post may contains affiliate links for your convenience. If you make a purchase after clicking a link we may earn a small commission but it won't cost you a penny more! Read our full disclosure policy here.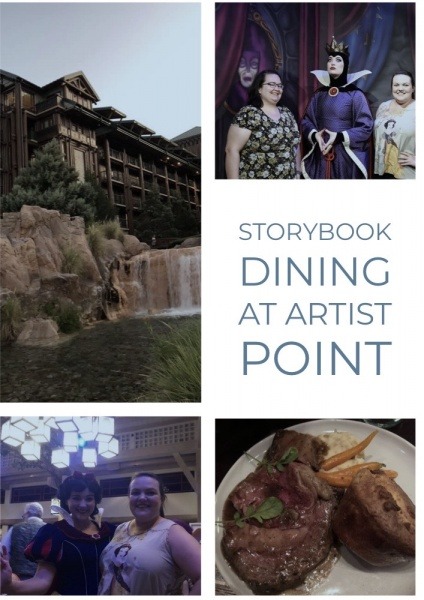 Have you dined at the (relatively) new Storybook Dining at Artist Point? If you're a Snow White fan or have a soft spot for a unique dining experience, definitely add it to your must do list! I recently dined at Storybook Dining at Artist Point on my recent solo Walt Disney World trip. Snow White is my absolute favorite princess, so this meal was on the top of my wish list when I booked my Advance Dining Reservations!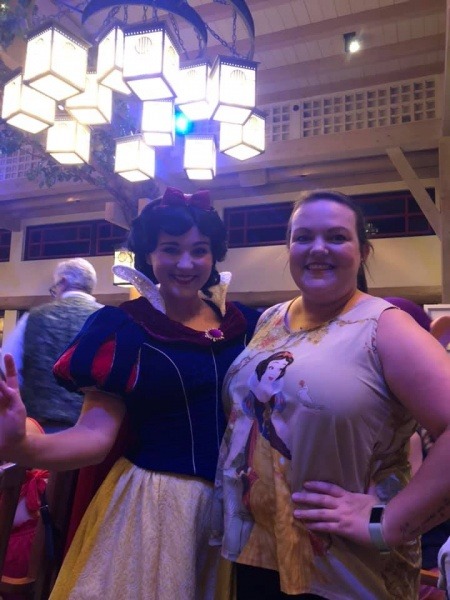 During the meal, you get to meet Snow White, Grumpy, Dopey & the Evil Queen. The Queen has a stationary meeting station where you can get photos & autographs, while Snow White, Dopey & Grumpy come to your table during your meal. It is the only place you can meet any of the dwarves, other than during Mickey's Not So Scary Halloween Party & Mickey's Very Merry Christmas Party! I wish we could meet all the dwarves during this meal, but I was excited to meet these two nonetheless! 
Storybook Dining at Artist Point is located at the Wilderness Lodge resort, which is a short boat ride away from the Magic Kingdom. Perfect choice for your Magic Kingdom or non park day. It was the first time I had been to this resort, and I absolutely fell in love. I actually did a lot of resort hopping this trip & have now seen most resorts on property. While the Polynesian still owns my heart, the Wilderness Lodge became a VERY close second. The ambiance, atmosphere & architecture is absolutely stunning. As soon as that boat pulls up to the dock, you instantly feel like you have been whisked away to a cozy retreat in the woods. From the tall log cabins, to the beautiful waterfall, there is something so serene & calm about it. Disney imagineers of course took it to the next level by piping in lots of nature sounds. You really do feel like you're away from the madness of the parks & can unwind, even if it's just for a little while.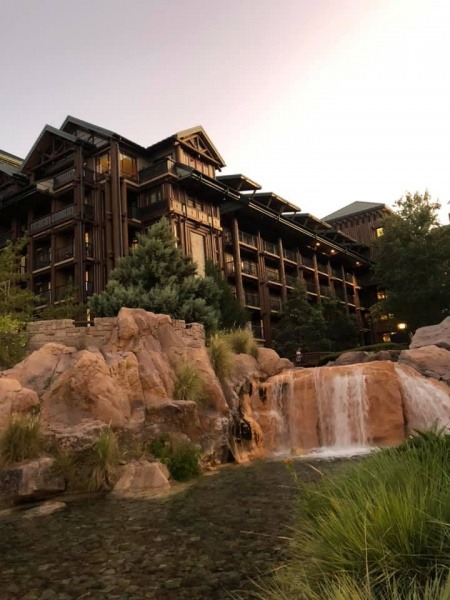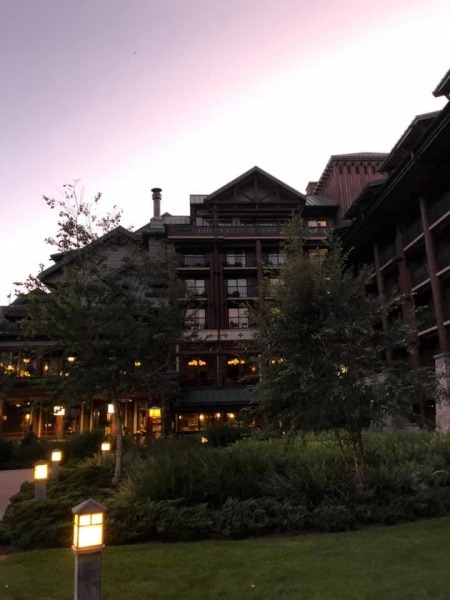 I didn't get to explore the resort as much as I'd planned to, as I wasn't feeling the best. I enjoyed checking out the lobby & outdoor areas, and let's just take a second to admire the awesome totem pole (that I may or may not have brought home a smaller version of). When we left for the evening, we opted to take the bus to Disney Springs, then home, instead of the boat, because the Magic Kingdom fireworks were just ending & we knew it would be busy. The stroll back to the buses was one of the most peaceful strolls I have had on property. Again with the nature sounds piped in, and few people around, it was the perfect getaway. There is a walking trail that goes between the Wilderness Lodge & Fort Wilderness – it was on my bucket list, but I never got to do it. I definitely will be checking this out next trip!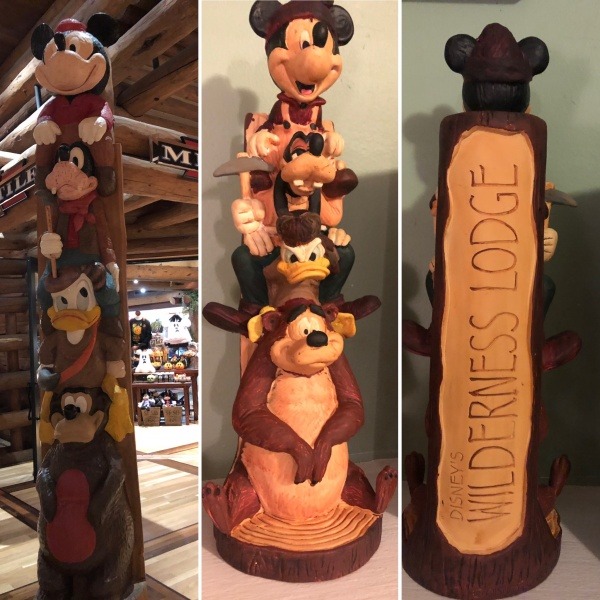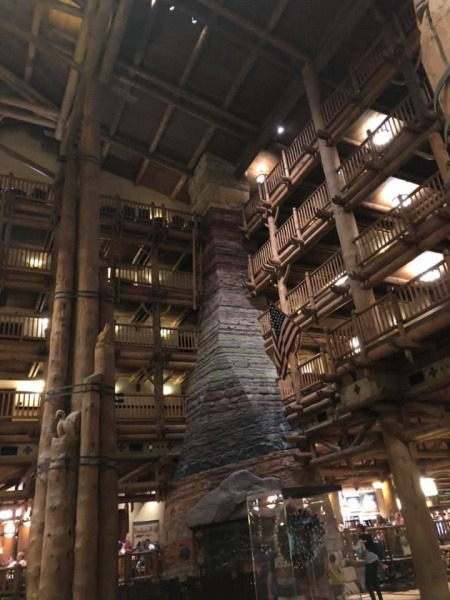 Ok, enough about the beautiful resort, let's talk about the dining experience! First up, the food. The meal is pre-fixe which means you get a selection of appetizers, choose one entrée & a selection of desserts. This is what I would consider more of an upscale dinner, but is currently only one credit on the dining plan! I don't have the most adventurous palate so there were some things I wasn't fond of, but overall, it was one of my top meals on the trip.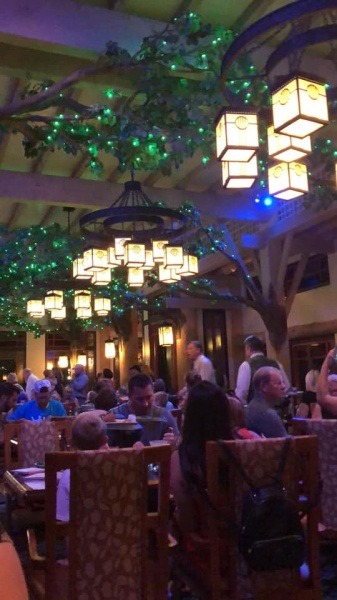 For appetizers, the menu is mushroom bisque, hunter's terrine & shrimp cocktail. I don't like seafood, so I didn't have the shrimp. My friend said it was delicious! The terrine was kind of a pate type thing, which I didn't love. The mushroom bisque, however, was delicious!  It was served on the centre piece of the table, which was a tree on a swivel so you could turn it. Inside the stump, it even had little lights! Very cute.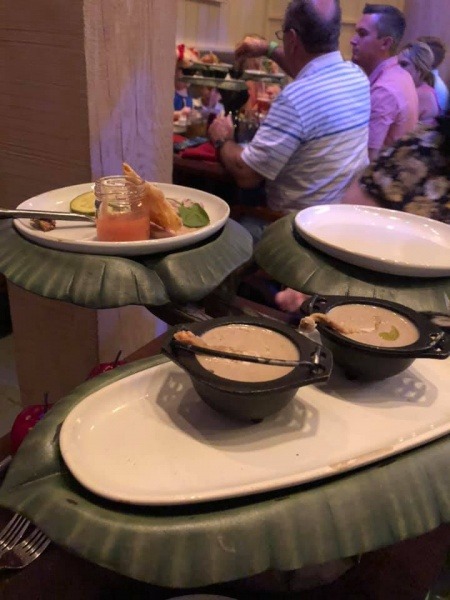 For the entrée, you can select from either; cottage beef stew, a stroll through nature, magic mirror slow braised pork shank, sorceress spell of land & sea, royal prime rib roast, brother's grimm roasted chicken or bashful's butter-poached sustainable fish. I had the prime rib, which is one of my favorite meals, and it was incredible. Juicy, flavorful, melt in your mouth goodness. It came with mashed potatoes, carrot & a yorkshire popover, all of which was also delicious. My friend had a stroll through nature (gnocchi/salad combo type dish) which she also enjoyed!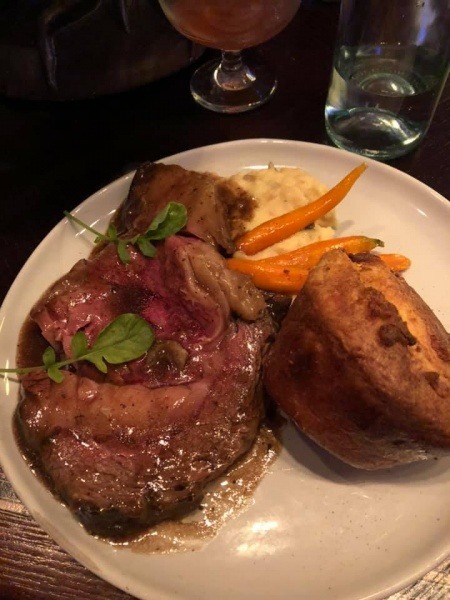 Lastly, the desserts. The Cast Member brought out a wide array of choices; miner's treasures (sponge cake + pana cotta), fairytale gooseberry pie & the posion apple (truffle). To top the night off, they brough out the hunter's gift to the queen, which was ganache hearts & caramel popcorn, presented in a beautiful box with steam for effect! I loved all the desserts – although the gooseberry pie was a bit tart for me.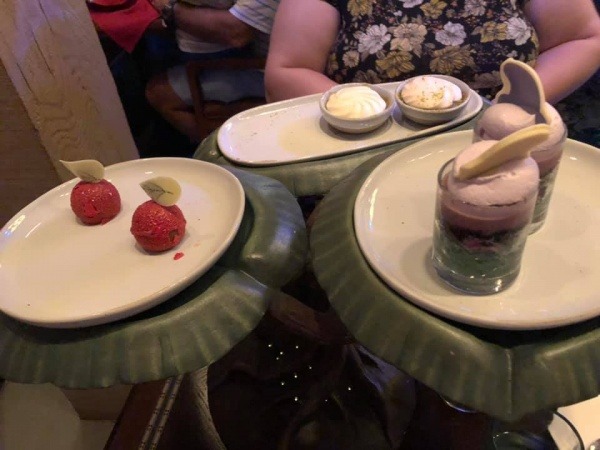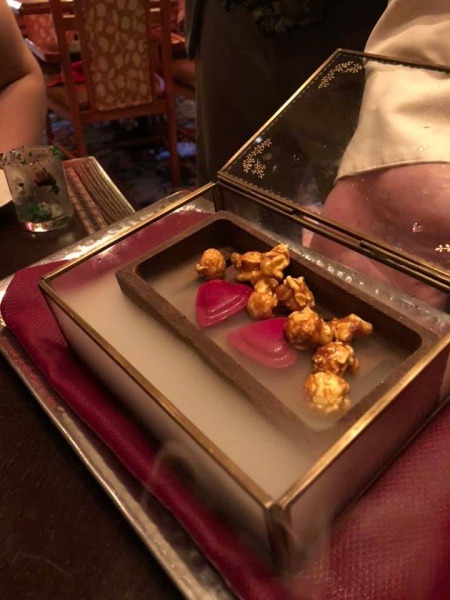 I also had an alcoholic beverage with my meal. I wanted the smoking drink I had seen on all the social media posts – because, not going to lie, I wanted a cool social media post too. I opted for the smoking mirror, which, little did I know was a strong whiskey drink mixed with some fruity flavours. I am not a whiskey drinker so I couldn't even get this one down. If you are a whiskey drinker, I'm sure you'd enjoy it! Note to self: "doing it for the insta post" is not always worth it! 
Now it's time for the character fun! Although the drool worthy prime rib drew me in, the characters were the main thing that made this one top of my wish list. I was beyond excited to meet my favorite characters! Sporting my favorite Snow White shirt, I was off to enjoy dinner with my magical pals, and my new friend I met on my trip. 
Snow White, Dopey & Grumpy all visited our table throughout the meal. First up, we got a visit from Snow White. Although I had met her before, this was a totally new dining experience, and my heart was so full (as you can see from this – almost embarrassing – photo below). Snow White was SO interactive & even sat down to give me a hug & chat! She loved my shirt, we chatted about our day until finally I asked her to sign a decorative apple for me. (That's right. stay tuned for my blog on how I made my autographs awesome during this meal!) Snow White was very nervous that this was a poison apple, but I reassured her that it was safe & she signed it for me beautifully! Little did she know…I had a 'poison' apple in my backpack for the queen to sign later. We had our pictures together & she was off!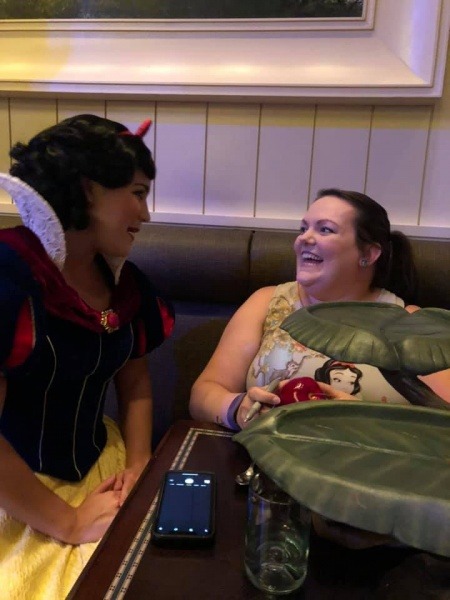 Dopey & Grumpy came out pretty close together & once again, we had a great character interaction. Dopey was his usual fun loving self, and was also afraid of the apple I asked him to sign. Grumpy, however, was just plain grumpy that I asked him to sign an apple! They both signed one each, we got photos & talked about Snow White being my favorite princess.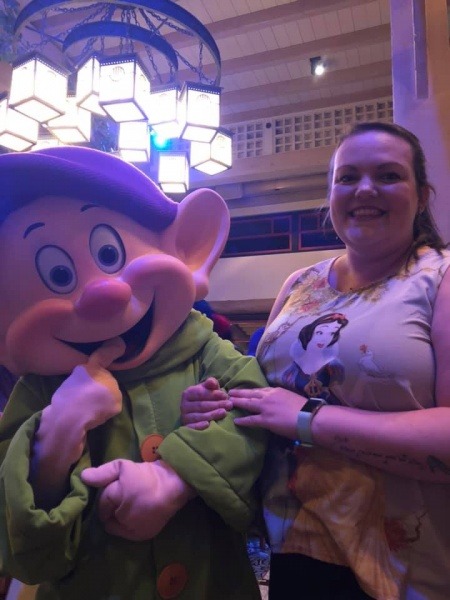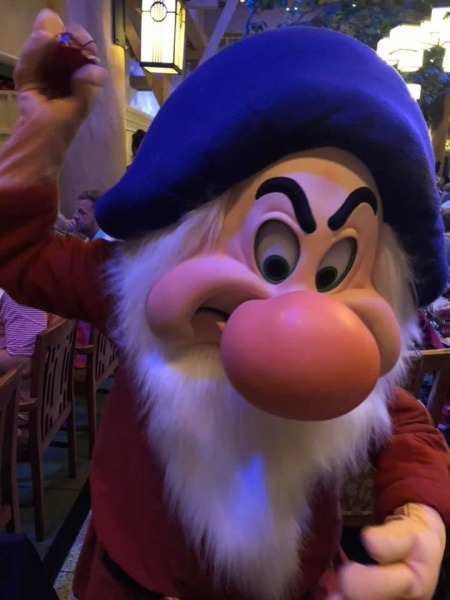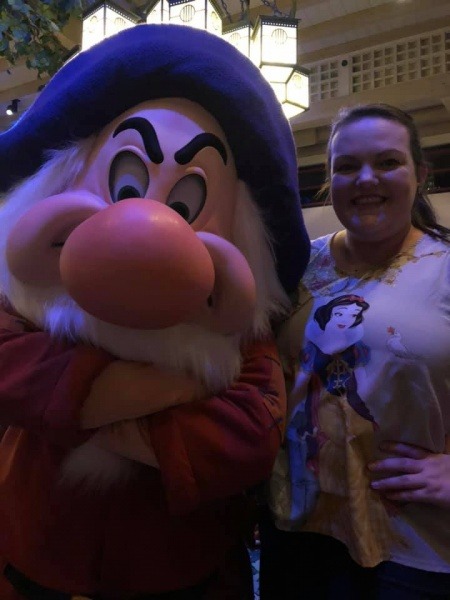 Throughout the meal, all 3 characters came back a few times to say hi or give a hug. It was fantastic! One of my favorite parts of the character interaction, was the many songs & dances they did throughout the restaurant! Whistle while you work, among other Snow White favorites.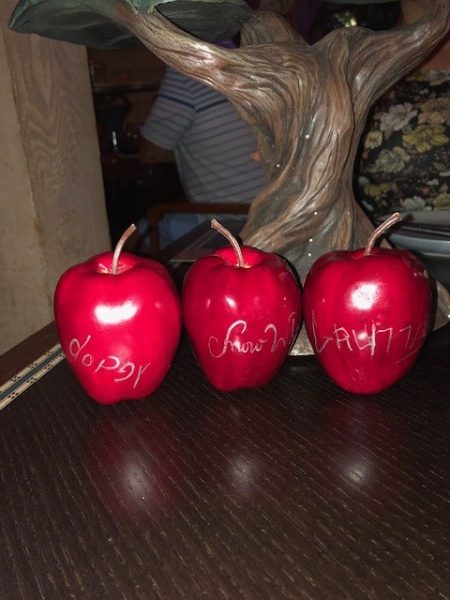 The Evil Queen had a stationary set up. When the song & dances were over, she would come out to her spot for pictures, autographs & to meet guests. She was, hands down, one of the most in character I have seen any characters on property. We talked about my Snow White shirt & how I had betrayed her. When I handed her the poison apple to sign, she almost didn't want to, telling me I cannot dabble in the dark arts but also support Snow White. It was a fantastic experience.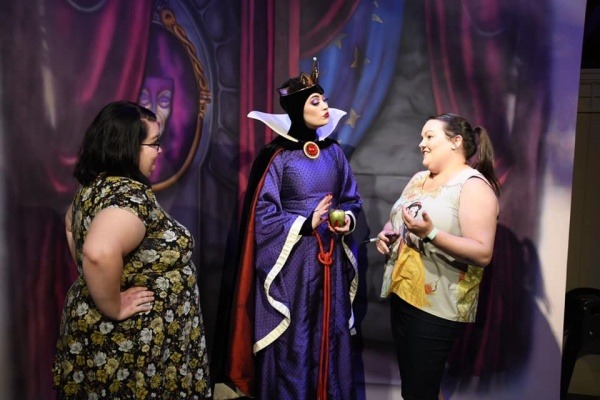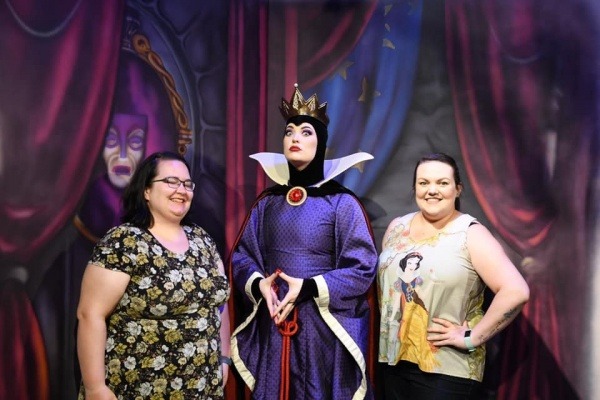 Overall, the character interaction at Storybook Dining was unlike any other that I have had on property. Maybe it's because it's new, Snow White is my favorite & we were the last reservation of the day, but it was amazing.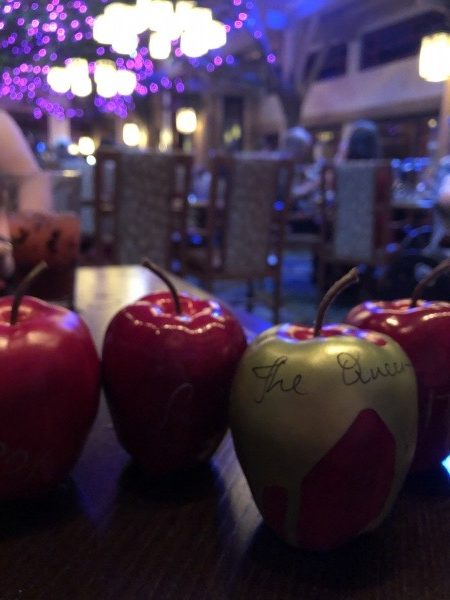 Storybook Dining at Artist Point was in my top 5 of memories on this trip. It was truly an incredible experience overall, and it was nice to get to the Wilderness Lodge for a few hours. I had been looking forward to it my whole trip, and it definitely did not disappoint! Check it out on your next Walt Disney World vacation.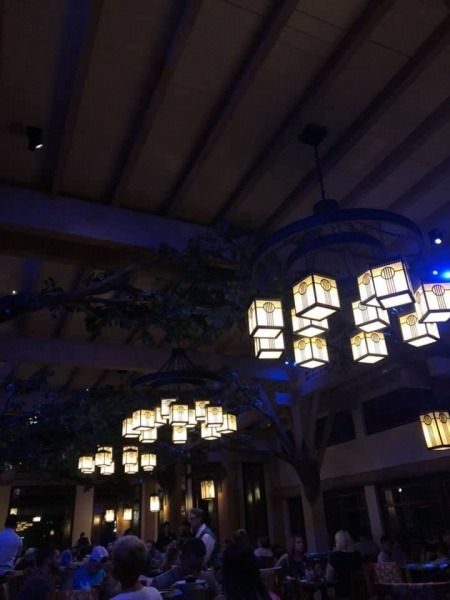 Have you tried Storybook Dining yet? What are your thoughts? Let us know in the comments or on Facebook or Twitter!
Did you like this article? Make sure to share it with your friends! Check below for easy ways to share!
Want to visit the Walt Disney World Resort? Contact The Magic for Less Travel for more information and a free, no-obligation quote.

Incoming search terms:
https://www themouseforless com/blog_world/storybook-dining-review/