Still the Flagship — Renovated Grand Californian Hotel
|
This post may contains affiliate links for your convenience. If you make a purchase after clicking a link we may earn a small commission but it won't cost you a penny more! Read our full disclosure policy here.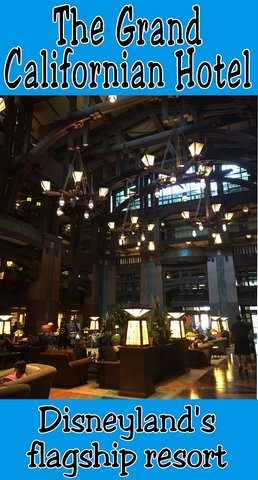 Disneyland's Grand Californian Hotel and Spa opened in 2001 along with the expansion of Disney California Adventure and Downtown Disney. This year, the hotel has undergone its first major renovation since opening. The subtle changes keep the renovated Grand Californian Hotel right where it belongs — as Disneyland's flagship resort.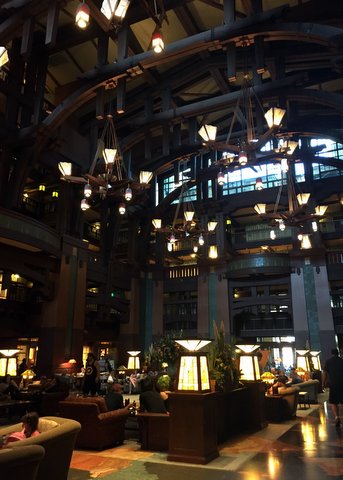 No review of the hotel would fail to mention the jaw-dropping lobby, inspired by historic national parks lodges. Walt Disney World veterans will notice some similarity to the Wilderness Lodge, as the hotels share a designer. This portion of the renovation has been more of a freshening than a wholesale change. During the holidays, the Grand Californian lobby houses a massive Christmas tree, Santa Claus, carolers, and a beverage stand. The rest of the year, it's a relaxing oasis just outside of the theme parks (and open to anyone). I love to get a treat from Marceline's in Downtown Disney and pull up a comfortable chair to enjoy the goodie and the lobby piano player.
Rooms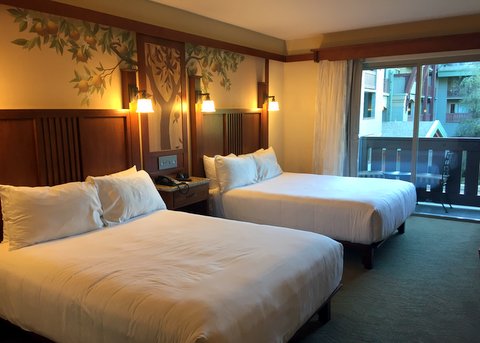 It wouldn't matter how grand the lobby was if the rooms weren't equally posh. The renovations kept the Craftsman theme but lightened up the look. Gone are the elaborate runners and bedskirts in favor of crisp white linens and space underneath for luggage.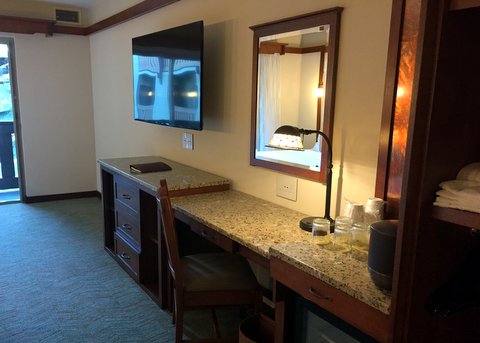 The entertainment hutch of the past has given way to a more low-profile desk and wall-mounted television. The room sports plenty of outlets and USB ports for charging as well. Note: we had a handicapped-accessible room. Other rooms may have a chair or couch in the back corner of the picture above.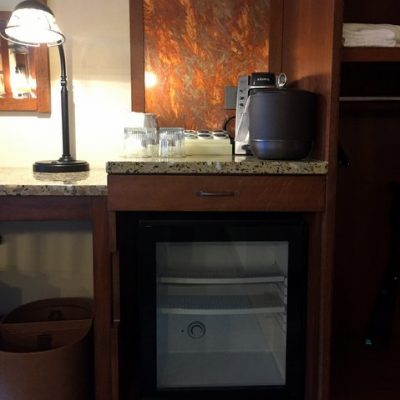 The beverage area has a Keurig machine and a glass-fronted refrigerator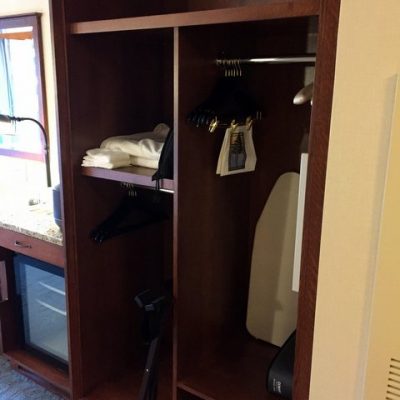 No doors on the wardrobe, but there are double rods and a stack of robes, plus a safe big enough to hold a laptop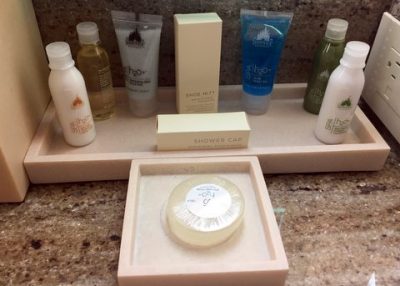 Our handicapped bathroom was very well-laid out but not representative of most bathrooms. But all rooms get the H20 products, beautiful vanities and tiled showers.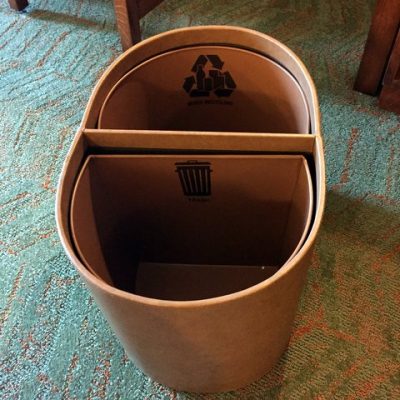 It's the little touches: The waste bin is separated into trash and recycling. Bravo Disneyland!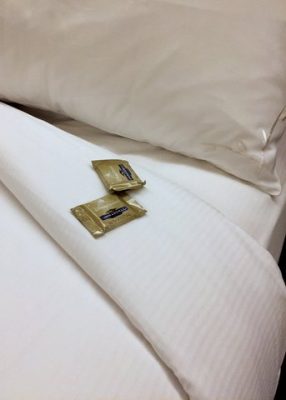 Nightly turndown service includes Ghirardelli chocolates on your bed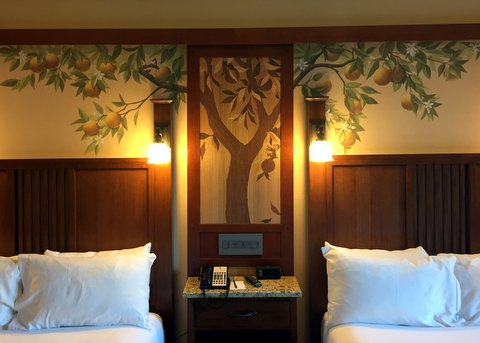 Can you find Chip and Dale hiding near your headboard?
Some fans are disappointed that the renovated Grand Californian Hotel will no long have rooms with bunkbeds. Disneyland has confirmed that some rooms will come with a daybed to sleep five guests.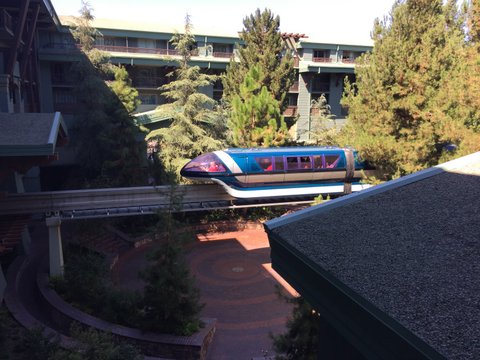 Many Woods/Courtyard View rooms have a unique feature: the monorail passing by regularly.
Up to $75 Disney Gift Card!
Deal
Book a Disneyland package or transfer an existing Disneyland package reservation of $750 or more and receive a $25 Disneyland Resort Gift Card. Guests who book a Disneyland package of $1500* or more with The Magic for Less Travel and receive a $50 Disneyland Resort Gift Card. Book a Disneyland package of $3000 or more with The Magic for Less Travel and receive a $75 gift card!  Read More
More
Less
Amenities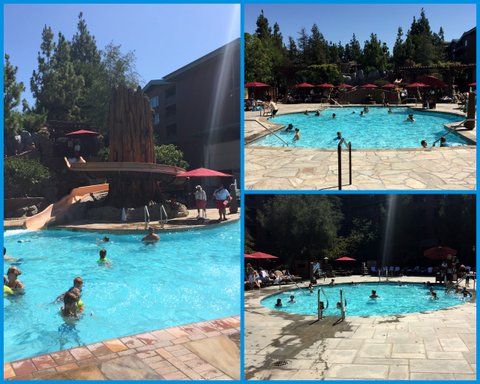 But you're not here to hang around your room all day! Over the winter, the Grand Californian drained and resurfaced its three pools. The pool area also received new decking. Multiple pools in one gated area allow families to keep an eye on everyone from the same chair. There are plenty of umbrellas and plush lounge chairs, as well as cabanas for rent.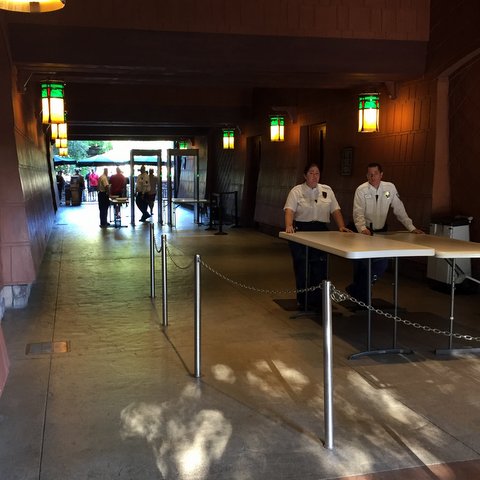 The biggest advantage to the Grand Californian is a separate entrance to California Adventure, which lets you out right across from Grizzly River Run. In the morning, this entrance is exclusive to Grand Californian guests. Visitors staying at the Paradise Pier Hotel or other hotels southwest of Disneyland can no longer use the Grand Californian as a cut-through; they will be stopped at the sidewalk and directed around to the west Downtown Disney security checkpoint. Guests are free to re-enter Downtown Disney or Californian Adventure from the Grand Californian after visiting the hotel restaurants or lobby.
Overall the updates to the Grand Californian have brought it on par with other high-end hotels of the area. Disneyland is able to charge a premium price because of the hotel's location right on the edge of California Adventure and Downtown Disney. Staying at the renovated Grand Californian Hotel is a luxury choice that doesn't disappoint.
Have you stayed in the Grand Californian Hotel at Disneyland? Do the renovations make you more likely to pick this hotel?
Did you like this article? Make sure to share it with your friends! Check below for easy ways to share!