This post may contains affiliate links for your convenience. If you make a purchase after clicking a link we may earn a small commission but it won't cost you a penny more! Read our full disclosure policy here.
You're all set. You read all the blogs, pinned all the pins, MagicBands have arrived and the bags are packed! It's time to get magical! Wheeeeee!!!!
Now what…
The planning and anticipation of the big trip can be a bit consuming, especially if you're doing the whole "surprise! you're going to Disney World today"  route like my family did. It's easy to get swallowed by the Monstro of itineraries and table service reservations and FastPass times. Believe it or not, that hot diggity dog feeling of visiting the Main Mouse can turn to a giant ball of stress if you allow it. Which leads us to the question, well how in the high ho do you not let it? How do you stay happy in the happiest place on earth?
The first thing I suggest is taking a cue from Elsa, let it go. There will be things you will not see. There will be rides you do not ride. There will be treats you do not taste. The good news is, it gives you something to look forward to next trip!!
A lot of you are probably saying, "we aren't planning a next trip. This is a one time thing". To be honest that's what I thought too, but here I am looking up information on which resort we'll stay at next. (Walt Disney World is a very addictive experience! I think I may need a Mouservention.) But even if this is a one time trip, those rides, treats and things will be nothing compared to the memories you make with your family. When you look back at your pictures a few years from now, the smiles will be what you notice most. You probably won't give an ounce of "oh bother" to whether or not you got to try a Dole Whip while watching Wishes from Big Thunder Mountain.
Now I know this is going to contradict some of the other blogs out there, but do not bring something to occupy the kids while they wait in line. Disney is really good at moving people, both physically and emotionally. Let yourself be moved. The queues are all designed to encourage engagement. There are tons of things to see and even to do, but most importantly they are filled with a bunch of stuff to talk about. Spend that line time pointing at things with your little ones and asking questions and making up stories. This is where the most magical magic happens – in between adventures. Take the precious 40 minute wait for Haunted Mansion or The Barnstormer and become your child's personal Imagineer.
If you're wondering what your kiddo will remember from their big Disney trip?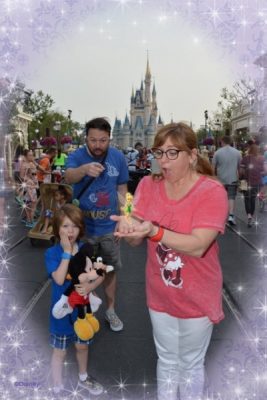 You are what they will remember – having fun, playing, laughing and discovering with you. They might not remember what they ate at The Crystal Palace, but they will remember you being silly with Tigger. They might not recall how it felt riding Dumbo, but they will remember how it felt holding your hand under the Big Top. And this advice isn't just for parents of really young ones, those tweens and teens and their eye rolling crave your attention far more than they care to admit.
This next tidbit is gonna be a little hard in the Florida heat, but please try to keep your cool. Stuff is going to happen – spilled drinks, sibling tensions, stepped on toes, lost toys, etc. Just know this going in and try to have plan for those moments. As ridiculous as this sounds, I like to give myself a little inner "quack". It reminds me that all of it is water off a ducks back and whatever minor infringement it is, it won't affect my life 10 minutes from now. In other words, pack a whole lot of patience in your park bag.
Another suggestion is to follow your kid's lead. Let them set some of the pace of your day. If they keep asking to go dig in The Boneyard at DinoLand USA, go dig. Sometimes a little free play is the best form of decompression from all the go, go, go. They may be on the verge of a melt down and it's their way of saying, "hey! I need a break" In addition, if they want to take a few extra minutes to look at something, join them. It could be way cooler than you initially thought. Look at it from their perspective, you never know what you might see!
Overall I think the biggest thing I can suggest, is to recognize the moments and soak them in all you can. A friend asked me the day after we got back from our trip, what was my favorite part. While rope drop was awesome and watching fireworks dance around Cinderella's castle brought happy tears to my eyes and I could have gone on Space Mountain a million times in a row, my favorite part was a small, quiet moment that didn't involve thrills. At the end of  our first day in Animal Kingdom, after we were completely blown away by the new nighttime show, Rivers of Light, my big guy, little boy and myself wandered over to look at the Tree of Life one more time before closing.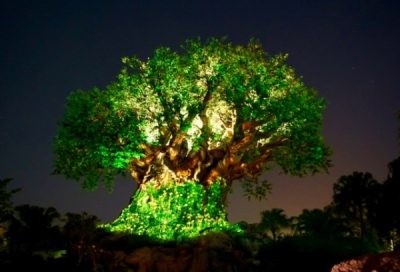 We plopped down on the pavement and held each other close. Almost silently we watched in absolute amazement as illuminated animals yawned and stretched and looked around. My big guy and I looked at each other and knew it was a million dollar moment – one of those moments you would give a million dollars to return to one day. It was magical. We had several million dollar moments over the course of our six day stay.
The trick is to notice while you're in them and to simply let them wrap around you like a cozy blanket. Take the time to watch your kid eat that Mickey shaped ice cream and treasure the sticky mess all over their face. Head over to Tom Sawyer's island and play together exploring all the nooks and crannies of the fort and Injun Joe's cave. Don't watch the fireworks through your iPhone or camera lens. Watch them with your eyes, then enjoy the sparkle in your family's eyes. Stroll around the parks and take it all in –  sights, sounds, smells. Be sure to touch too, not just things but the people you love.
I hope you all stay happy and have the most magical time!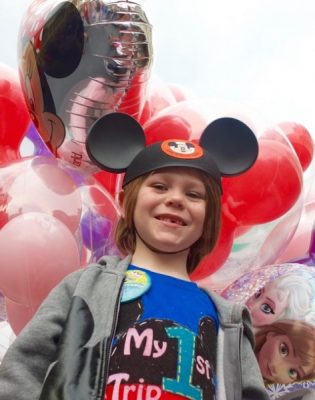 What are your best suggestions for how to stay happy at Walt Disney World and keep making the magic? Share them in the comments!
Did you like this article? Make sure to share it with your friends! Check below for easy ways to share!