This post may contains affiliate links for your convenience. If you make a purchase after clicking a link we may earn a small commission but it won't cost you a penny more! Read our full disclosure policy here.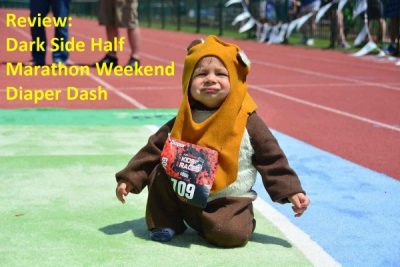 runDisney race weekends bring in all types of runners and walkers to Walt Disney World property. This most recent race weekend was the Star Wars Dark Side Half Marathon Weekend and my son took part in the Star Wars Dark Side Diaper Dash at ESPN Wide World of Sports Complex.
Similar to the other races, you must go to the Health and Fitness Expo to pick up your child's bib for any of the Kid's Races. We went Friday morning and picked up my Dark Side Challenge bib, my wife's 10k bib, and my son's diaper dash bib. It was convenient to get all three bibs in one trip.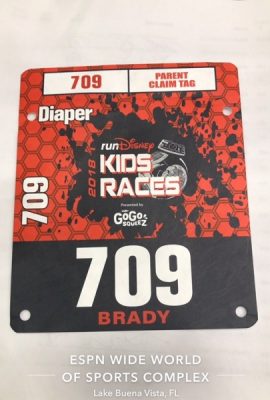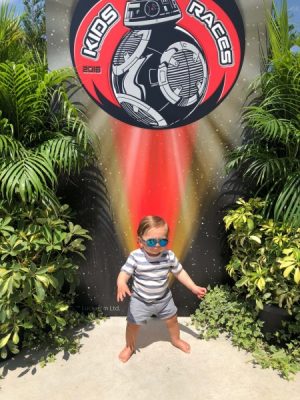 The race took place on Saturday at approximately 12:30 p.m. The timing was very convenient as my wife and I ran the 10k earlier that morning and had time to go back to our resort to relax a little bit before his big race.
We arrived at the Wide World of Sports Complex around 11:30 a.m. and made the long walk from the parking lot to the track in the back of the complex where the Diaper Dash takes place. There were plenty of signs showing you where to go for the Kids Races. This was a long walk, so make sure to give yourself ample time to get from the parking lot to the track.
Upon arrival to the track, it seemed to be a controlled chaos of sorts. There were a handful of runDisney volunteers directing us where to go. There are multiple Kids Races of all different ages and distances.
The diaper dash itself takes place on the backside of the track. They lay a carpet down on the track, so the babies have a soft surface to crawl on. The carpeted area was no longer than 50 feet.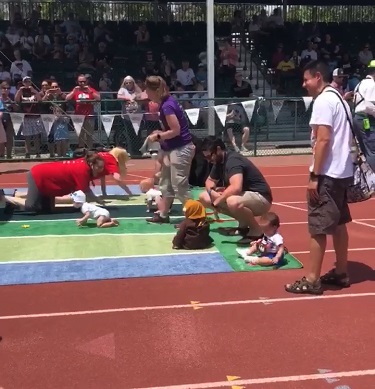 The MC goes over the rules and guidelines, and after that, it turns into a free-for-all of getting into a "line" of some sort.
Just as a note, your child's bib must be on the front of them. We originally had it on his back and had to switch it last minute filing into the line.
We were told that each wave would consist of eight racers. My wife and I had our son in the front of that line and were quickly taken to the track where you stand in a designated race lane.
While in the lane, the PhotoPass photographers came and took a photo of our son with his bib. We found that this is to help them after the fact to match the child with the photos taken during the race; hence the bib needing to be on the front.
On the direction of the MC, you step up to the carpet and lay your child down to go. My wife went to the finish line to call for our son while I held him at the start.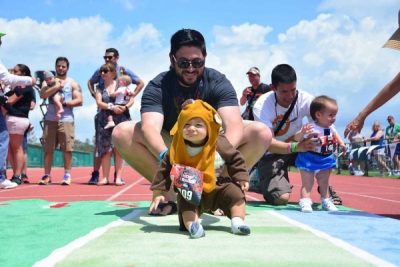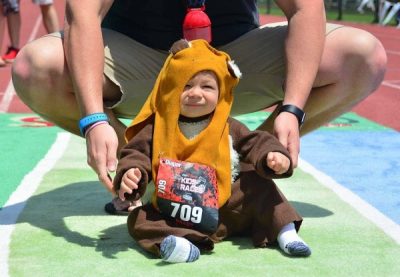 For those wondering, your child does not need to be mobile to participate in the Diaper Dash. Our son who was 10 months at the time was an active crawler, however, during the race, he decided to not move an inch.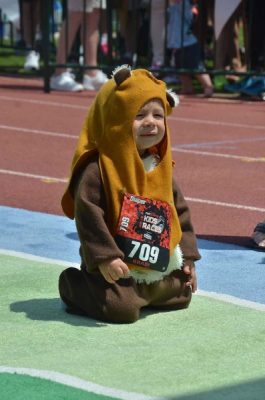 Some of the babies were crawling, some were walking, and some like my son did not move at all. There were a few very young babies that were essentially immobile, but it was fun to watch them wiggle at the start line on their bellies.
As a bonus, Minnie Mouse was there to help encourage all the babies. We got some great photos of Minnie trying to get my son crawling. She was very interactive with all of the babies during each race.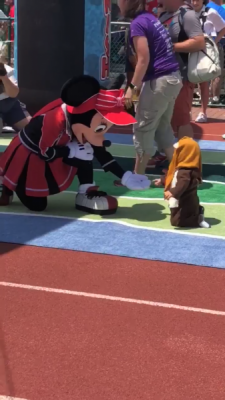 Each wave got about 3-5 minutes on the track before the next group was called to begin. When it's all said and done each baby receives a Kids Race Medal.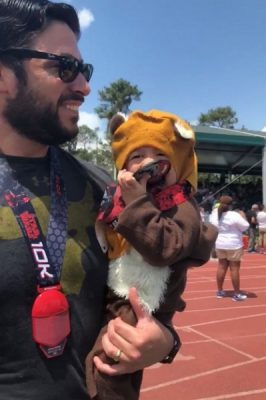 We dressed our son up in a funny Ewok costume to lend to the Star Wars race weekend theme (costumes are encouraged) and have several photos to show for the event all for only the $20 registration fee.
runDisney has several different Kids Races, which I highly recommend you check out. They hold races of all different lengths for ages ranging 12-months and under up to 13-years old. Having such a good experience at our sons first Diaper Dash, I know he will be back to do more!
Has your child ever participated in one of the runDisney Diaper Dashes? What were your thoughts and experiences? Share in the comments, or on Facebook or Twitter.
Did you like this article? Make sure to share it with your friends! Check below for easy ways to share!
Incoming search terms:
https://www themouseforless com/blog_world/star-wars-dark-side-half-marathon-diaper-dash-review/