This post may contains affiliate links for your convenience. If you make a purchase after clicking a link we may earn a small commission but it won't cost you a penny more! Read our full disclosure policy here.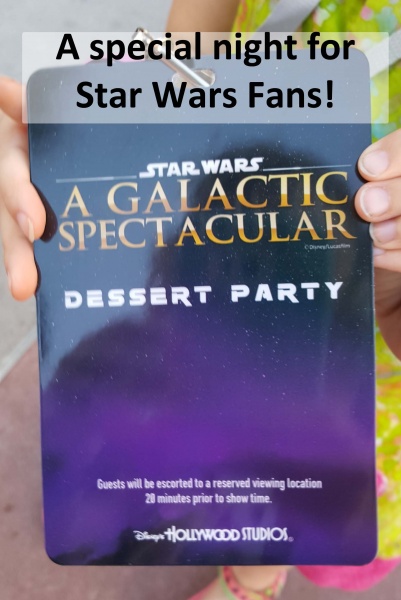 I have become a Star Wars fan late in life largely due to living with a group of Star Wars enthusiasts – even my 3 year old has joined the force and fallen in love with Chewbacca and BB-8. On every Walt Disney World vacation though we plan to try something new that we've never done before and most recently, we attended the Star Wars: A Galactic Spectacular Dessert Party.
Dessert Parties are gaining in popularity and each one offers something special whether it's in theming, access to a popular ride or show, or prime seating at a night time event. As if all of that were not enough, delicious desserts help make it a spectacular way to end a magical day while on your vacation.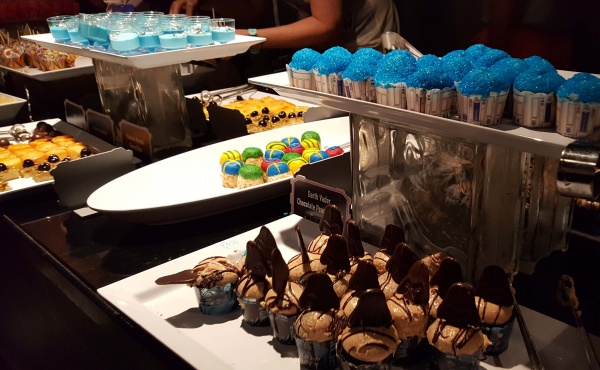 Admittedly, I was a little hesitant about the extra cost of a dessert party with young children and my daughters were only 3 and 7 at the time. When traveling with young children, you just never know whether they are going to make it through an evening show or the excitement of all of the day's events will catch up with them. We really tried to plan our day to sleep in, start late, and take a good afternoon rest to do everything in our power to avoid night time meltdowns and it all worked out better than I could have expected.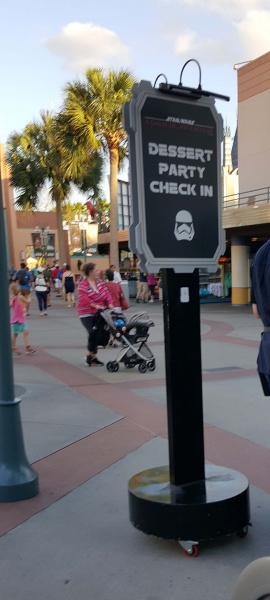 The cost of this party is $79/per person for 10+ years of age and $45/per person ages 3-9 right now but make sure to check for the most current price. You must also have admission to the park on the day of the party so this is in addition to your park ticket. This cost does include tax and gratuities though.
While I realize dessert parties are not for every party, it was definitely one of the highlights of my family's trip. We checked in about 60 minutes before the show. When checking in, we were given party ID badges that would be used to admit us to the dessert party. We found the Launch Bay area clearing out upon our arrival. It was a great time to wander through the exhibits and see all of the Star Wars Memorabilia without lines or a crowd of people.

Once the dessert party started, we were treated to beautifully themed treats and drinks. From cupcakes to vegetable and cheese kabobs, rice Krispy treats to frozen Nutella, there was something for everyone! The desserts were beautiful and delicious. The one challenge with the dessert party is that there is no seating. There are tables, but when attending with young children, it is a bit difficult to manage drinks and desserts without a seat and even more so when the tables are higher than the child is tall! We did find a spot along the wall where our children could sit on the floor with their snacks near a table and out of the way, but this is the one area that is truly difficult to navigate and manage with children.
Throughout the party, Storm Troopers surveyed the area and interacted with guests. We could leave the party and explore the launch bay, meet with characters and come back again for more desserts.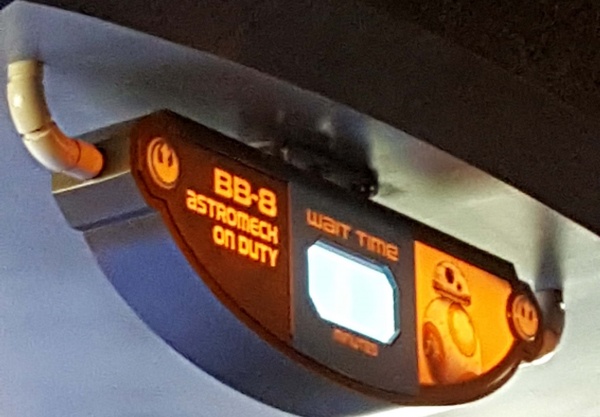 The character meet and greets were easily accessible with minimal waits during the party. We were able to meet BB-8, Chewbacca, and Kylo Ren with Photopass Photographers on site. Jawas and Storm Troopers were wandering the Launch Bay during the party and were willing to stop and pose for photographs on request.
About 20 minutes before the start of the show, guests are gathered together and escorted to the private viewing area by Stormtroopers. If traveling with a stroller, you can pick up your stroller on the way to the viewing area as it will be previously parked outside of the launch bay. Upon entering the reserved area to watch Star Wars: A Galactic Spectacular, each attendee was given a souvenir Chewbacca mug and bottle of water. We were permitted to take snacks with us that we could carry so I let each of my children pick out a couple of snacks to take to eat while watching the show.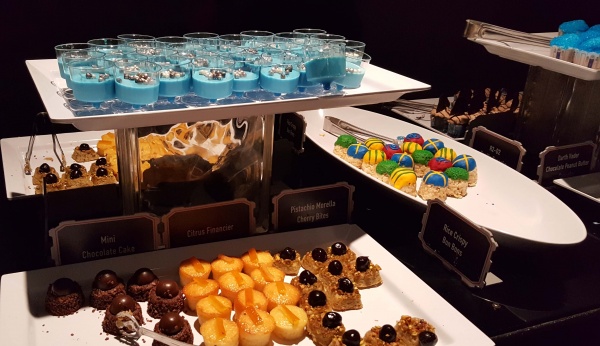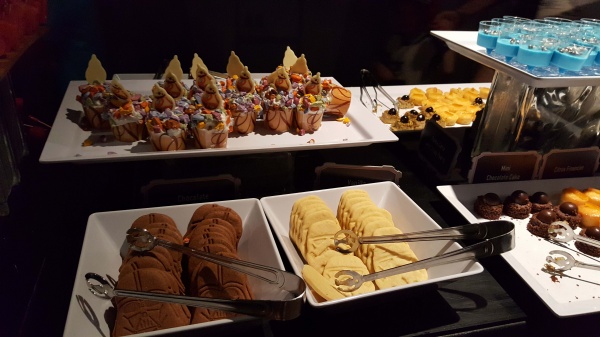 The Star Wars: : A Galactic Spectacular Dessert Party is a great add on experience for any Star Wars fan!
Have you done the Star Wars: : A Galactic Spectacular Dessert Party yet? What were your thoughts? Share them in the comments.
Did you like this article? Make sure to share it with your friends! Check below for easy ways to share!