This post may contains affiliate links for your convenience. If you make a purchase after clicking a link we may earn a small commission but it won't cost you a penny more! Read our full disclosure policy here.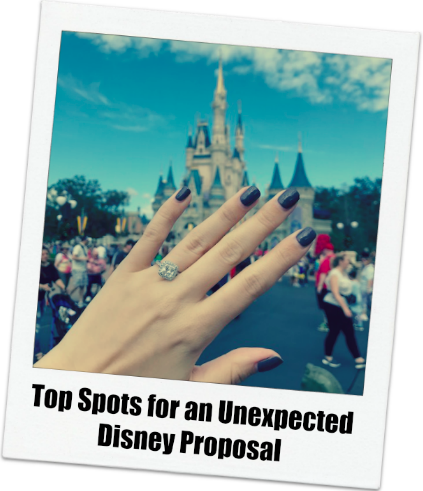 You've all seen the magical proposals in front of Cinderella Castle or at the finish line of a RunDisney race; who wouldn't want to get engaged at the most magical place on earth? If you're thinking about proposing to a Disney fan who would love a Disney engagement, I've got some great ideas for unexpected locations where you could really surprise your loved one!
Main Street U.S.A. Caricatures
If you're looking to experience the magic of a Main Street U.S.A. proposal, but without the crowds, this might be a fun option. This option will take a little bit of pre-planning, so send your loved one off for some shopping, or to pick up a snack while you discuss a proposal plan with the artist. Sit down for a portrait with your loved one, and try to stay calm, as to not blow your cover. The artist will draw you getting down on one knee, an engagement ring, or whatever you have in mind! Get the ring ready for the big portrait reveal! This experience not only comes with the memories of a proposal at the most magical place on earth, but a special souvenir keepsake to remember the day!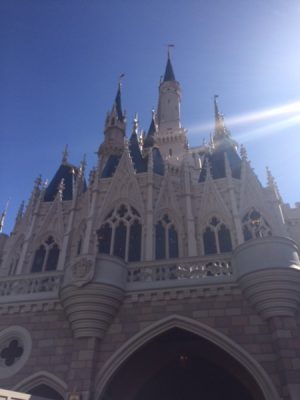 The Wishing Well by Cinderella Castle
If a Cinderella Castle proposal is what you have in mind, but the crowds out front are overwhelming, I've got a slightly more private option for you. Facing the castle, head to the path to the right, where you'll find a romantic wishing well. A classic proposal spot, this location will likely have less foot traffic, so you'll be able to enjoy a little bit of quiet!
The Streets of Morocco
I'm a huge fan of the World Showcase; it's my favorite place on Disney property, and I could easily spend days in a row wandering through the different pavilions. If you're looking for something quiet and secluded, the streets of the Morocco pavilion are often relatively empty (and make for a gorgeous backdrop for the big moment!).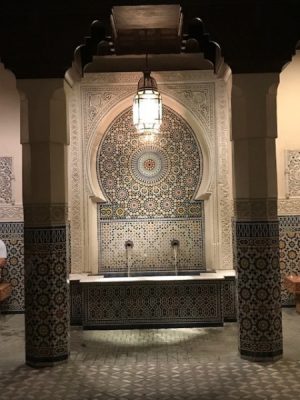 On the Water in Italy
Check out the Italy pavilion for another unique proposal opportunity. Instead of heading into the pavilion, head toward the water. You'll find a beautiful bridge overlooking the lake. This location is typically quiet, even on busier days at Epcot. You'll have Spaceship Earth as your backdrop for a romantic Disney proposal that you'll remember forever!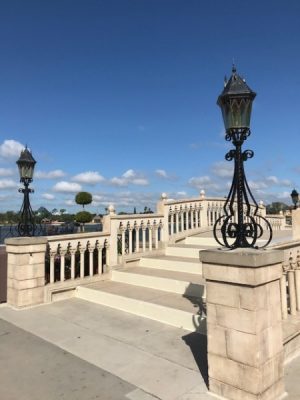 Oh, Canada!
I rarely visit the Canada pavilion, for some reason, but a proposal would be a good reason to get me to stop in! Instead of heading back toward the rear of the pavilion, head down the path toward Le Cellier Steakhouse; there's a gorgeous garden that would create a romantic setting for a proposal! It wouldn't hurt to have steakhouse reservations to celebrate, either!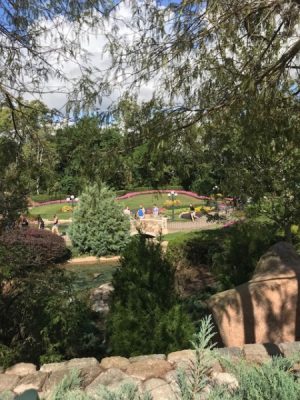 Victoria & Alberts
If you're working with a generous budget and are looking to marry a foodie, this is a can't miss option! Head to the (incredibly romantic) Grand Floridian Resort & Spa and dine at Victoria & Albert's. This proposal opportunity requires some serious planning ahead, as reservations are required months in advance. Enjoy a delicious multi-course tasting menu in a private room, or in the romantic dining room; you can't go wrong here! Once happily engaged, take a stroll through the Grand Floridian, basking in romantic bliss!
Bonus Tips:
If you're considering a Disney proposal, I have a couple bonus tips for you!
1. Contact Disney Weddings: Send an email or give a call, explaining your general ideas. Disney specializes in creating magical moments; you know they'll go above and beyond to make your proposal seamless and stress free. Disney Weddings will offer tips and advice for pulling off the perfect engagement, and will connect you to the right people if you require any props or assistance!
2. Let PhotoPass photographers know your plan: If you're getting down on one knee, send your partner off to grab a hot dog at Casey's Corner, or to pick up that souvenir they've been eyeing while you grab a photographer and explain your plan. They'll snap about 100 photos of the big moment for you and will upload them to PhotoPass so you can download and share with family and friends.
3. Plan a Disneybounding or dapper day: It might be fun to plan some special attire for the big moment! Plan a couples Disneybounding day (Mickey and Minnie, Lady and the Tramp, Donald and Daisy Duck, etc.), or create your own "dapper day" where you step up your park attire a bit! Of course, you don't want to ruin the big surprise, but the pictures would be extra memorable if you could pull off a little bit of outfit coordination!
4. Look at the crowd levels: We all know that Walt Disney World can be crazy crowded. If you're looking for a more intimate proposal, consider the time of year and day of the week. Naturally, weekdays are going to be less crowded than weekends, and "off season" less crowded than New Years Eve or Christmas Day. Mornings are also likely to be less busy than evenings!
Do you have any tips for creating an unexpected proposal? Share your suggested spots in the comments.
Did you like this article? Make sure to share it with your friends! Check below for easy ways to share!