This post may contains affiliate links for your convenience. If you make a purchase after clicking a link we may earn a small commission but it won't cost you a penny more! Read our full disclosure policy here.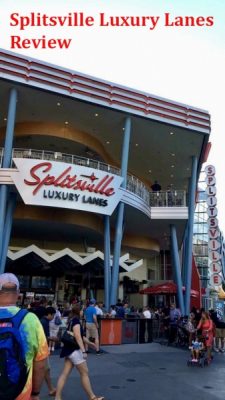 The toughest part of being a Florida resident gold level Annual Passholder is finding ways to deal with what I call the "Blocked Out Blues." Recently I had family in town, and going to the parks wasn't an option because my pass blocked out. As a group we decided Disney Springs would be a suitable alternative.
We decided a fun activity would be Splitsville Luxury Lanes. Per Disney's description, Splitsville Luxury Lanes elevates bowling to a new level of sophistication with upscale food and live music in the West Side.
In our group we had six bowlers and my little 10-month-old. When we arrived at Splitsville, we were quoted a 30 to 45 minute wait time was given a pager. We ended up waiting an hour before the pager went off. The total for our part of six was just over $100 for an hour and a half of bowling. Annual Passholder discounts are offered at this location as well.  Full pricing and information can be found here!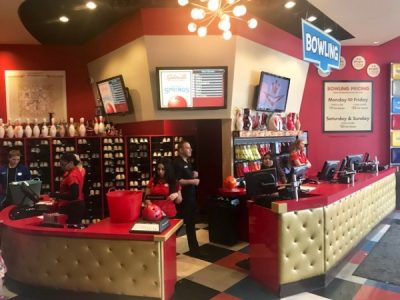 While we waited we went to the bar to grab some drinks. Splitsville has a full service bar that has TVs situated all around it. There are also tables around the bar and on the other side opposite of the bowling alleys that allow you to just eat and drink, rather than bowl. We also watched and enjoyed the live music at the outdoor bar, just past the entrance.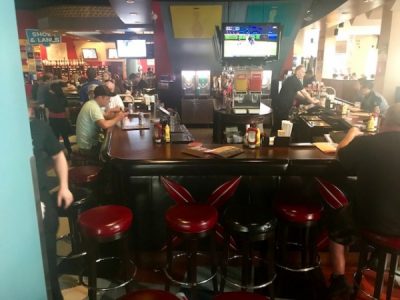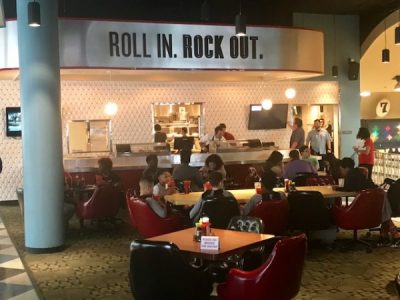 Our pager went off and we reported to the main desk. The nice thing about Splitsville is that when you put your name down you also give them your shoe sizes. When it was our turn to bowl, our hostess had our shoes ready in a basket and took us right over to our lane to begin.
The lane we were assigned to was the primetime bowling location of Alley #1 (no pressure). This is the alley you see through the windows when you are walking from the Orange Parking Garage into Disney Springs.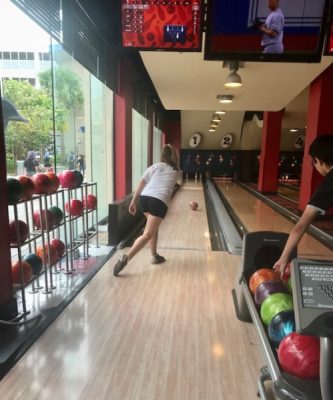 At the lane, the groups names are pre-populated in the computer, so bowling can start immediately.  I thought this was a nice touch that saved us valuable time.
There are no shortage of bowling balls in Splitsville. Around every lane are a wide variety of bowling balls in different styles and weights. There is also an option to add bumpers and to have a youth bowling assistant rack if anyone requires them.
When your lane starts to bowl, your server will come and introduce him or herself. Our server Paul came over and we gave him our drink orders while we looked over the menu. We decided that we were not going to eat a full meal, we just wanted some finger foods while we bowled, so we ordered three appetizers:
Loaded Fries – Fries smothered with nacho cheese, bacon, ranch, scallions and love – $12.00
Macho Nachos – Loaded with seasoned ground beef, shredded jack, nacho cheese, black beans, corn, Pico de Gallo, sour cream and jalapeños and drizzled with avocado ranch. Substitute grilled blackened chicken to make them Big Macho Chicken Nachos! – $14.00
Crouching Dragon – Tempura shrimp, asparagus and avocado topped with spicy krab mix and drizzled with eel sauce, spicy mayo and sriracha – $16.00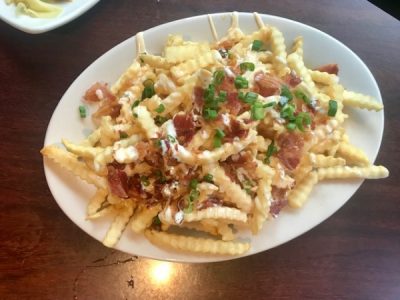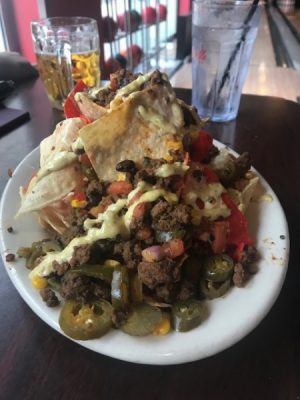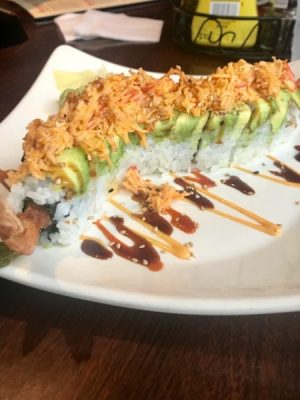 The cheese on the loaded fries was a white cheese and was phenomenal and the bacon was plentiful and fresh. The nachos were spicy but very good and very loaded. There were multiple sushi roll options, which all sounded great, we really enjoyed the Crouching Dragon roll.
The portion sizes were large so we didn't completely finish them between the six of us. Looking around we saw what other people were ordering, and honestly everything looked great. The nachos were a very popular item throughout the lanes and tables. Click here for the full menu offered at Splitsville Luxury Lanes.
Overall, the experience itself was great. Our server was really good, the food was high quality, and the atmosphere was a lot of fun.
When it seems like the world is coming to an end during the  Annual Passholder block out dates, it is nice to know there are so many out-of-park experiences when you have the Blocked Out Blues.
Have you experienced Splitsville before? What were your thoughts? Share them in the comments or on our Facebook page.
Did you like this article? Make sure to share it with your friends! Check below for easy ways to share!