This post may contains affiliate links for your convenience. If you make a purchase after clicking a link we may earn a small commission but it won't cost you a penny more! Read our full disclosure policy here.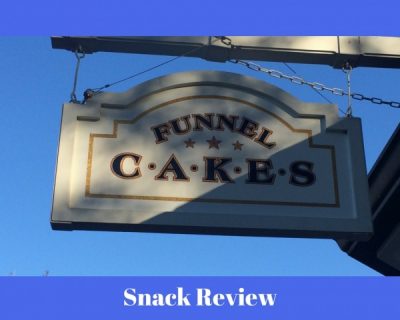 The perfect spot for an All-American snack!
One unusually cold morning in the first week of January, my family and I found ourselves outside the American Adventure pavilion in Epcot, feeling a little hungry. We decided it was time for funnel cakes!
If you've never had a funnel cake, well, quite frankly, I feel sorry for you. These delicious concoctions are a North American specialty. Not quite a doughnut but yet a delicious version of fried dough, this dessert originated in Pennsylvania. Now, it's a staple at carnivals and fairs throughout the United States. Traditionally, these are made with flour, sugar, milk, baking powder, salt and eggs, then fried in oil and sprinkled generously with powdered sugar.
In Epcot's World Showcase, you'll find the Funnel Cake stand, appropriately enough, in the pavilion called The American Adventure. This snack stand is simply and appropriately marked with a big sign proclaiming "Funnel Cakes" and those are the only snacks sold here.
You can get your cake with powdered sugar, chocolate sauce, vanilla ice cream, or if you're really hungry, you can get the cookies and cream sundae, which piles on all three toppings plus crushed cookies! Bottled water is also available here, and if you want to bring the magic of funnel cakes home with you, you can buy a funnel cake making gift set!
The funnel cakes are made fresh to order ,and served piping hot. You can observe the action through a window. Here is our friendly funnel cake maker sprinkling powdered sugar over our order.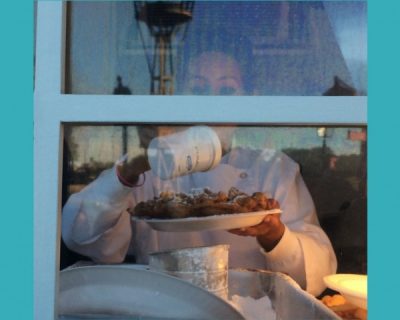 Served hot with powdered sugar!
During busy times of year, the line here can grow pretty long, and since the funnel cakes are made to order, there can be a wait. But in my humble opinion, that wait is worth it!
We only ordered one to share amongst three people, and that was the right call. The funnel cake was enormous, and absolutely covered in powdered sugar. We were pretty much covered with the stuff when we were done. Grab a big fistful of napkins for this snack, and if you're planning on buying one of these beauties, you might not want to wear black.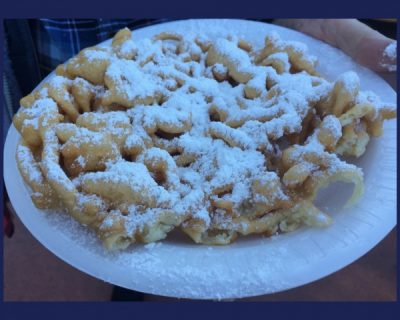 Messy but delicious!
There is no seating here, but we found a nice place to sit outside of the entrance to the pavilion. There was something about eating this hot, sweet snack outside on a cold day that warmed me up inside.
Do you enjoy the Epcot funnel cakes? Share which is your favorite in the comments, or on Facebook or Twitter.
Did you like this article? Make sure to share it with your friends! Check below for easy ways to share!
Incoming search terms:
https://www themouseforless com/blog_world/snac