This post may contains affiliate links for your convenience. If you make a purchase after clicking a link we may earn a small commission but it won't cost you a penny more! Read our full disclosure policy here.
Epcot is divided into two distinct sections:  Future World and World Showcase.  This article considers how to tour Future World's major attractions in just one morning.  If time allows, you should devote at least one half-day to World Showcase (but ideally one full day) to ride the new Frozen Ever After attraction and watch Illuminations: Reflections of Earth.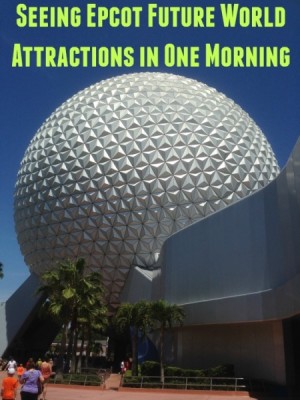 Note:  Epcot has many more attractions than what is recommended here; there are a number of live shows, films, secondary rides, and walk-through attractions that could fill an entire day or even two. This article is for those who have limited time and still want to experience all of the headliners Epcot's Future World has to offer.
The attractions are Epcot Character Spot, Living with the Land, Mission: Space, Soarin', Spaceship Earth, the Seas with Nemo and Friends, Test Track, and Turtle Talk with Crush. To see all eight, I highly recommend you use FastPass+ and arrive for park open ("rope drop").
FastPass+ Considerations
FastPass+ at Epcot puts attractions into two different tiers; you are initially choosing one experience in Tier 1 an  Tier 1 includes Soarin', and Test Track among the rides; it also includes Frozen Ever After, the new ride in World Showcase, and  Illuminations: Reflections of Earth (reserved viewing for the nighttime spectacular).  For your Tier 1 ride, I recommend obtaining it for Soarin', as this is one of the two headliner attractions that see the highest waits, the other being Test Track.  (If you have just one day at Epcot, then I recommend obtaining your Tier 1 FastPass for Frozen Ever After and skipping this plan altogether.)  There is another strategy to see Test Track, so I recommend reserving Soarin'.  For reasons that will follow, I recommend having your Soarin' FastPass around lunchtime (sometime between 11:15 and 12:45).   For your Tier 2 FastPass+ selections, go with Mission: Space for the first hour of the park's hours (typically 9:00-10:00) and Spaceship Earth for the second hour. Your FastPass selections would look something like this:
Mission: Space ~9:15-10:15
Spaceship Earth ~10:20-11:20
Soarin' ~11:30-12:30
Rope Drop
Arrive at the park by 8:15 and get in one of the ticket scanner lines.  If you arrive a little later (e.g., 8:30), you may be able to hang around the early breakfast reservation lines, which will very likely convert to a regular line close to park open, getting you into the park faster than standing at the back of one of the longer "regular lines."  (There's no guarantee that they will convert the line over, but it's fairly likely.)  Once in the park, stay to the right and toward the area where people are queuing for Soarin', but with the aim of visiting Epcot Character Spot inside Innoventions West first.  Character Spot gives you three choices:  the traditional characters of Mickey, Minnie, Donald, and Pluto to the left, and Joy and Sadness from Inside Out and Baymax from Big Hero 6 to the right  At park open, you should be among the first guests to meet the characters.  You don't have time to queue up for all three sets of characters, so pick one or two sets that you want to meet most and then move on.
Your next step is to head for Test Track, which will already have an appreciable line and a wait of 30 minutes or more.  If your riders don't mind skipping the vehicle-design phase of the attraction, and if they are of sufficient height and age to ride alone, you can lessen the wait by queuing in the single rider line.  Otherwise, you just have to suck it up and endure the wait.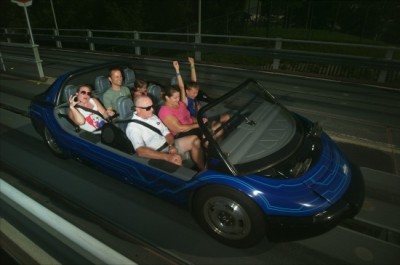 Test Track can be seen using Single Rider and may be your best bet when trying to see all Future World headliners.
Following Test Track, head to Mission: Space for your FastPass reservation.  You may be running a bit late at this point, but you can typically arrive up to 15 minutes after the close of your window and still use your FastPass.  Choose the "orange" (intense, spinning) or "green" version (less intense, no spinning).  If you are behind and/or have a bit of a wait here, the green side usually has a shorter wait.
After Mission: Space, head in the direction of Spaceship Earth.  If you are good on time, you might consider a stop at Club Cool, which serves samples of soda from around the world free.  Club Cool is located in Innoventions East.
Ride Spaceship Earth using your FastPass, then head over to the Seas pavilion for Turtle Talk with Crush and The Seas with Nemo and Friends.  The order here doesn't matter much.  Spend some time in the aquarium afterward if your FastPass window for Soarin' hasn't opened.
After the Seas attractions, head for the Land pavilion for your Soarin' FastPass.  As soon as you go through the final touchpoint for your FastPass, get on your My Disney Experience app and see if there is any FastPass+ availability for Living with the Land.  If you find one within the next 30 minutes, reserve it.  Once your ride on Soarin' is complete, head across the pavilion to Living with the Land and use your FastPass if you got one or ride standby; waits are typically reasonable.
Your morning in Future World should be complete around 12:30 p.m. – 1:00 p.m.  Stick around for lunch in the Land pavilion at either Sunshine Seasons (quick service with a huge variety) or Garden Grill (character meal, reservations highly recommended).
I plan to put this plan to the test for my trip later this month.  I'll write a follow-up blog post right here to let you know how it went!
Please leave comments…do you think this plan will work?  Have I missed something?