This post may contains affiliate links for your convenience. If you make a purchase after clicking a link we may earn a small commission but it won't cost you a penny more! Read our full disclosure policy here.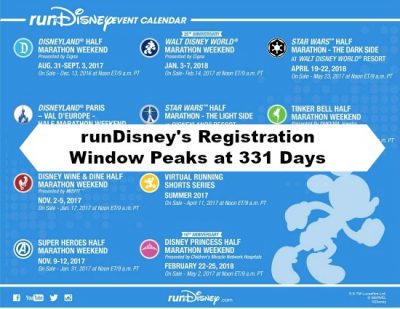 The runDisney registration window peaks at 331 days next year, far in advance of windows like 60 days for FastPass+ and 180 days for advanced dining reservations.  That's more than 47 weeks in advance you must decide to register for a race that wait for it…. you cannot get a refund for, transfer your bib, or even defer your registration to a later race!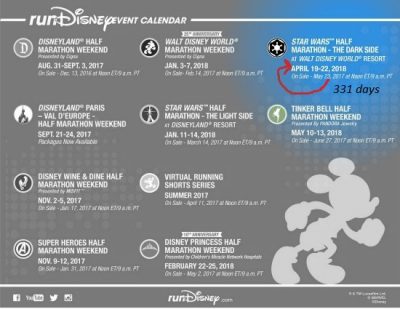 runDisney has released the race dates for races late summer 2017 through spring 2018.  On that calendar, they included the registration dates for each race shocking even the uber planner.  These advance dates don't even take into account the early registration for DVC members and Annual Passholders which used to be two weeks prior, but more recently has been one.  Perhaps because that would have us registering for a race almost as soon as we complete it?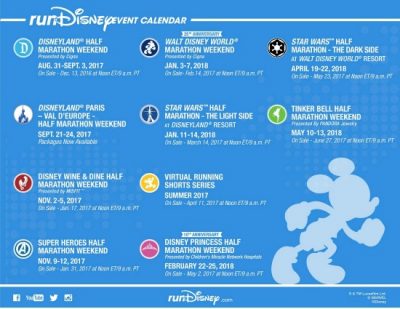 Dates have moved up quite a bit for the 2017-2018 races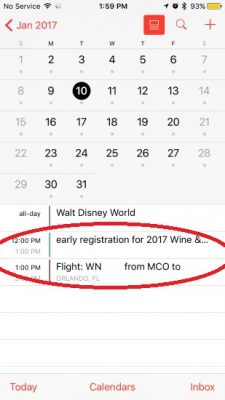 I'll literally be getting ready to board my flight home from one race and have to register for another! 
runDisney races are a phenomenon that have taken the running, walking, and Disney community collectively by storm at Walt Disney World, Disneyland,  and now Disneyland Paris.  There is a magnitude of reasons for people registering for runDisney events, not to mention the thousands of volunteers who help with all aspects of the events.  Just a few race registrations ago, we were all sharing tips and tricks on how to successfully register quickly for a runDisney race.  Many of us took time off from work to minimize the chance of being interrupted at noon EST (when the registration window opened).  Some who were at work barricaded their office with "Caution" tape and signs stating "Registration was in Progress."  Registration day was a HUGE deal, with many races selling out within hours.  I admittedly thought registration day was more stressful than race day itself!  We practiced on other races that were still available, had our active.com accounts updated and logged in, and clicked 'refresh' like it was our job.  But now planning to train for and run a race – an expensive race to boot (not even counting flights, accommodations, and other expenses if Orlando and Anaheim aren't your hometowns)- must be done almost one year in advance.  How is that going to impact registration?
Disney fans are familiar with planning their trips far in advance.  We know the significance of 499, 180, and 60 days from check-in.  We also know that cancellation policies are pretty forgiving if you need to change plans as your travel dates near.  You can even change your dining reservation the day before.  When you register for a runDisney race though, that's it.  You.  Are. Committed.  So close to one year in advance, you might not have ever run a mile in your life, but have thoughts of completing a 5K or 10K in Disney.  Well before day 1 of training, you need to know if you're going to register.  You need to commit a hefty sum of money to a race which means you have to make travel plans.  Travel plans that likely don't have flight schedules yet.  Travel plans that requires time off from work and your department doesn't approve vacation that far in advance.  I know, I'm being very glass half empty.   But registering for a sporting event or better yet, an endurance challenge, so far in advance, poses several challenges to athletes.
Many runDisney participants also run multiple race events.  If I were to register for
Wine & Dine Half Marathon Weekend
,
Super Heroes Half Marathon Weekend
, and the
2018 Marathon Weekend
, I would have to register for all three weekends within one month of another, beginning just one week after returning home from 2017 Marathon Weekend (or when I'm in the airport flying home if I take advantage of early registration).  If the races are priced the same as this year, that would be $1390 over one month, for three race weekends almost a year before they even take place!  Another issue with these early registration dates is that they're so soon after the holidays when most of us are recovering from a good amount of spending.  Could you give us back the couple month to recover runDisney?
2016-2017 registration windows did not open as early
Perhaps one theory is that runDisney hears lots of complaints from those who are unable to register themselves or other family members when a race sells out and have already paid for things like airfare.  Maybe runDisney wants to give us the opportunity to know if we are registered first before making travel plans?  It's not like runDisney is new to the race circuit and needs the extra weeks to plan for the races – let's be honest, they can plan regardless of the registration dates.  What is motivating them to ask us for this commitment so early?  This past year we have seen both single races and challenges open right up until race day.  You could register today to run the Dopey or Goofy Challenge in just one month from now.
I'm not sure how this will affect my registration strategy.  Typically if I want to register myself and family, I take advantage of early registration as DVC members and am ready to go at least 15 minutes before the window opens at noon.  I type as fast as I can to ensure we're in.  But committing this far out is going to be tough – both from a planning perspective for the next 18 months of vacation, as well as paying for them so soon after Christmas.  I might pick one race I really want to do and focus on that.
What's your strategy going to be?  Will this deter you from registering for runDisney races? Share in the comments.