This post may contains affiliate links for your convenience. If you make a purchase after clicking a link we may earn a small commission but it won't cost you a penny more! Read our full disclosure policy here.
Lately, Disney has been all about the Dining and Dessert Packages as a way to see their nighttime (and sometimes daytime spectaculars). There's definitely an appeal to them. You were going to eat anyway, and with the package, you are guaranteed a spot to see whatever spectacular you're wanting to in a reserved spot. Plus, it means you don't have to waste one of your FastPass+ reservations on said spectacular, if FastPass+ is offered. Seems like a win-win, right?
Well, in most instances, it may take some math, but for some, it actually does make sense to consider the package. Now, for someone like me who doesn't drink, I maybe wouldn't consider a package where alcoholic beverages are included in the price, but if you do drink, these dining and dessert packages can be a good deal. My husband isn't a big sweet tooth, so choosing a dessert package is kind of a waste of money. When thinking about booking one of these special packages, you really have to look at the make up of your family, as well as what's offered to see if it is something that benefits you.
So, that brings me back to one of my more recent trips. I knew I wanted to see Rivers of Light, but with the lines the nighttime show gets, and the fact that I didn't want to spend a FastPass+ reservation on the attraction, we looked at doing the Rivers of Light Dining Package. We decided to dine at the newest signature restaurant at Disney's Animal Kingdom, Tiffins. With the dining package option at Tiffins, Guests receive an appetizer, an entree, a dessert, and a non-alcoholic beverage.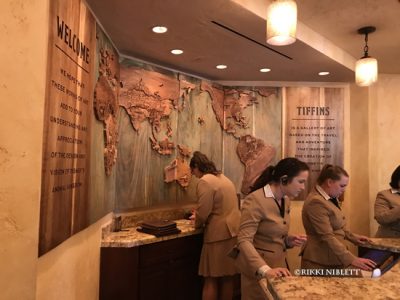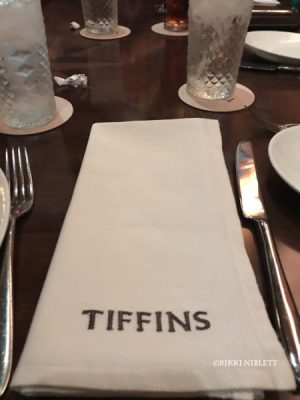 Now for those of you who don't know, Tiffins celebrates the art of traveling and features foods from places around the globe that helped to inspire the creation of Disney's Animal Kingdom. Tiffins specializes in a more unique and somewhat adventurous menu, that features African, Asian and South American flavors.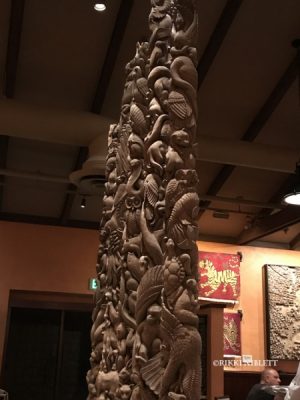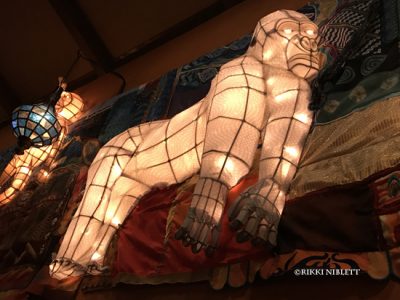 I am a relatively picky eater…the name of something or the ingredients listed can be enough to turn me away from choosing a dish, but on my visit to Tiffins, I decided that I was going to be brave and choose some of the more interesting items. I have to say, I was not disappointed. Matter of fact, Tiffins has become one of my favorite restaurants at Walt Disney World.
For my appetizer, I went super brave! I got the Marinated Grilled Octopus which is served with a Saffron Aïoli and Lemon-Caper Olive Oil. Now, while the appearance can be a little off-putting to some, but once i cut it into pieces to mask the fact that I was, indeed eating octopus, I realized that this was an excellent dish. The octopus itself had a great charred flavor to it. In addition, the aïoli was a wonderful compliment. It was a nice size serving that left me satisfied, but not full. No…full was coming later.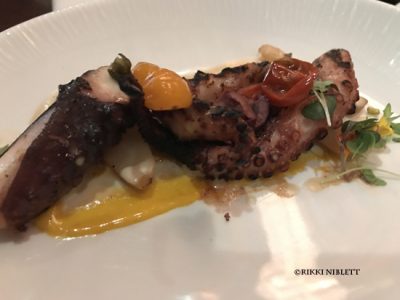 For my main entree, I went with the Wagyu Strip Loin and Braised Short Rib served with Rainbow Carrots, Roasted Peruvian Potatoes, and Chimichurri. This is one of the most amazing main dishes I've ever had. The meat was incredibly tender and cooked to a medium rare perfection. Oh and the sauce that is served on the side is to die for. It's incredibly tangy and rich, and enhances the meat nicely. The potatoes and carrots are great enhancements, but let's be honest….if you're getting this meal, it's all about the meat. This is when I started getting full…but I knew that dessert was on its way.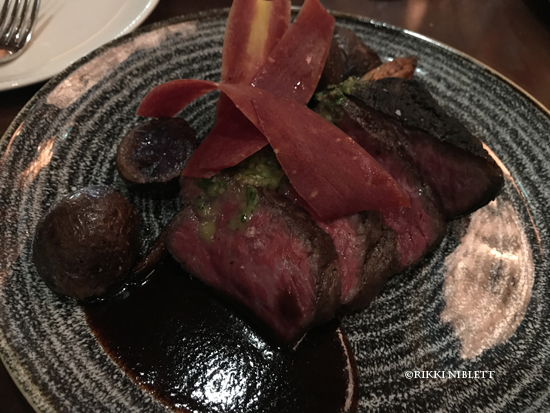 For dessert, I decided to get the South American Chocolate Ganache. In a chocolate lovers dream. It is seriously like eating the richest piece of chocolate. While it looks small, the sweet flavor packs a punch and it ends up being a good choice for the chocoholic. With my dessert I also got a coffee which was beautiful and a perfect finish to the meal.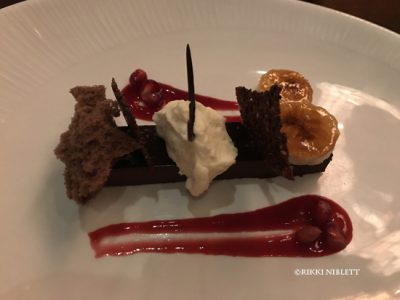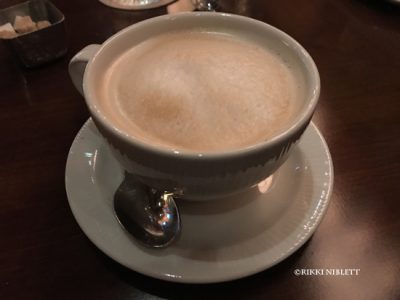 When the meal is over, for those who are on the Rivers of Light Dining Package, you will receive a voucher (that is only good for that night) for reserved seating for the Rivers of Light nighttime spectacular. The ticket will identify which show you will be seeing (if there are multiple shows in the evening) as well as inform you how early you should arrive and which entrance you will need to use.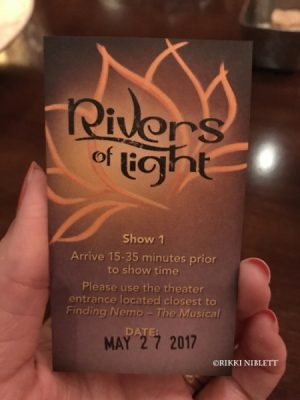 Overall, getting the Rivers of Light Dining Package was a good deal for me. I got some of the most expensive items on the menu, (which were all things I would have ordered anyway), and in total my meal cost $89, not including tax and tip. The Rivers of Light Dining Package runs $67 for Tiffins. That means, not only did a come out ahead on my meal by using the Rivers of Light Dining Package, but I had that reserved viewing spot for the show. I think that was a major win for me.  (For those on the Disney Dining Plan, do know that Tiffins is a two credit meal, however you can use your credits for the Rivers of Light Dining Package, if you choose.)
Have you tried Tiffins yet? What did you think? Do you think the Rivers of Light Dining Package is a good value? Share your thoughts in the comments section. 
Incoming search terms:
rivers of light dinner package review