This post may contains affiliate links for your convenience. If you make a purchase after clicking a link we may earn a small commission but it won't cost you a penny more! Read our full disclosure policy here.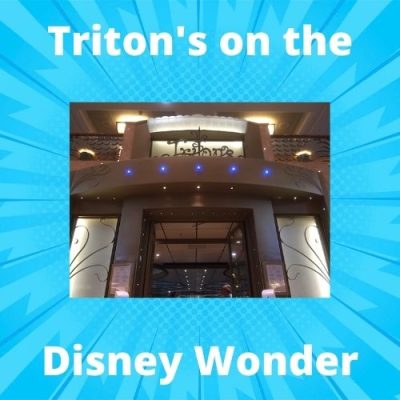 Welcome to Triton's on the Disney Wonder!
Triton's is a restaurant that is part of the rotational dinner service on board the Disney Wonder. It is also occasionally open for breakfast and lunch. Since this ship is not on the Dream, I was looking forward to experiencing it!
Our first meal at Triton's was for lunch. All of our other lunches were enjoyed at the bountiful buffet called Cabanas. But we thought we'd try something different one day. It's impossible to miss this restaurant, as it is located right in the atrium.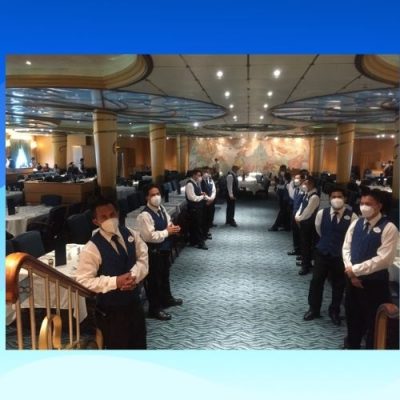 Servers
When you enter the restaurant, you are greeted by a gauntlet of servers. We were led to a large table that was big enough to accommodate our party of nine. Although diners were dressed in everything from shorts and T-shirts to sundresses, the atmosphere in this restaurant is decidedly formal, and that extends to the place settings.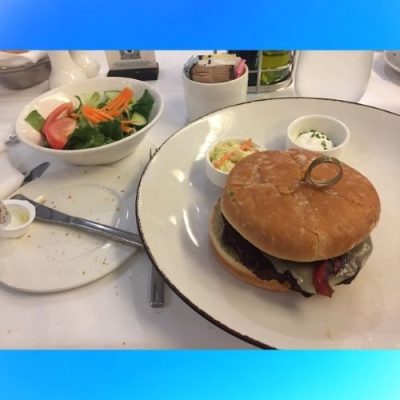 Black bean burger with side salad
The lunch menu was full of tempting offerings, and I decided on the black bean burger. It was very tasty! The burger was bursting with Southwestern flavors, but nothing was overly spicy. It came with a small serving of cole slaw.  I also ordered a small side salad, which consisted of lettuce, tomato, carrots and cucumber. I'm glad I did because the serving of cole slaw was too small to be considered a serving of vegetables.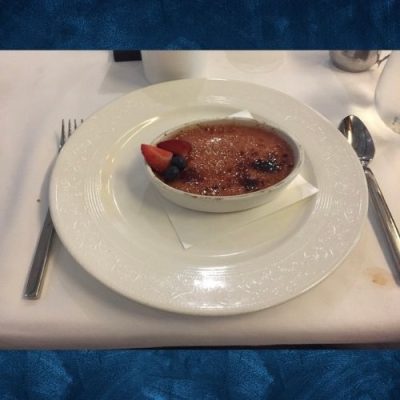 No-sugar-added raspberry creme brûlée
For dessert, I chose the no-sugar-added raspberry crème brulee. It was bursting with raspberry flavor, and the top had the perfect crunch. The interior was soft and creamy.
Crepes
My dad ordered the crepes, and he reports that he liked them.  Although our lunch was tasty, I think we would have all preferred to have lunch at Cabanas. Two sit-down meals a day is a bit much, and the formal atmosphere, without any entertainment, was boring for the teenagers in our group.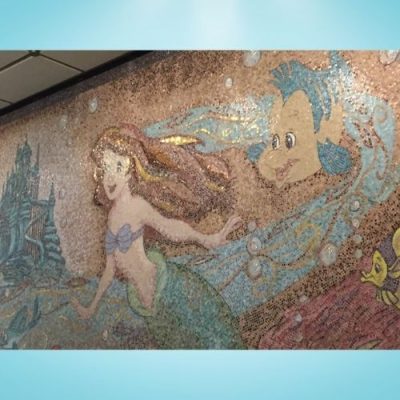 Ariel and Flounder on the beautiful mural
The next day, it was time for our first dinner at Triton's. We were seated at table number 56, which is right next to the beautiful mural of Ariel and her undersea friends. Unfortunately, that meant that several people at our table couldn't see it well. It is truly stunning.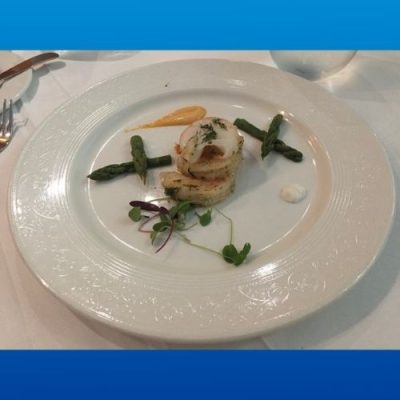 Iced lobster and shrimp
The most tempting appetizer on the menu was the iced lobster and shrimp. When it came to our table, I was a bit disappointed in the very small serving of lobster. This was mostly shrimp. However, it tasted very good.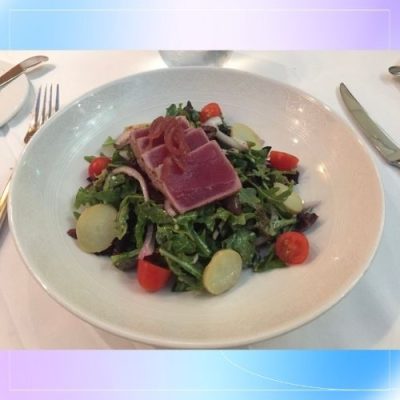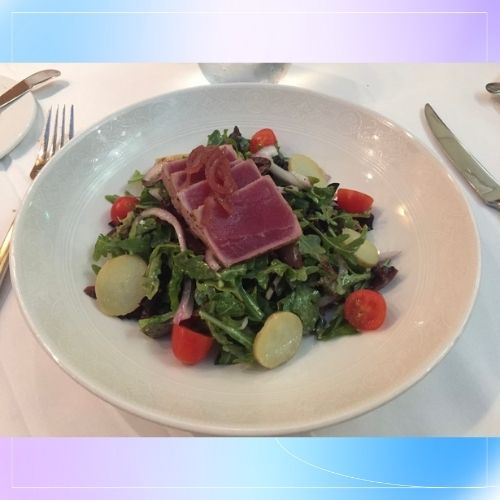 Ahi tuna Nicoise Salad
For my entrée I chose the Ahi tuna Niçoise salad. Wow, was this good! The tuna was seared perfectly. The greens were crisp and the potatoes were soft enough to provide a nice contrast. The dressing was light and flavorful.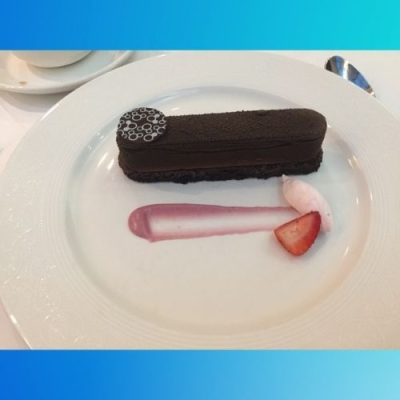 No-sugar-added duo chocolate slice
For dessert I ordered the no-sugar-added duo chocolate slice. This was a moist, rich dark chocolate cake. It was small enough that it was easy to savor each bite slowly and still feel satisfied at the end.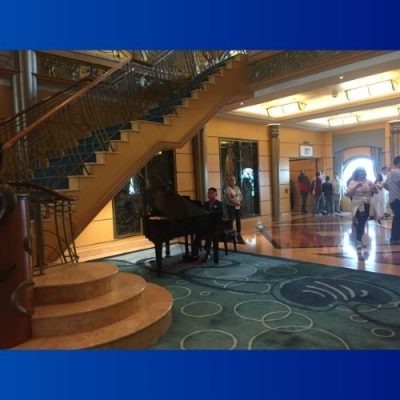 Pianist in the atrium
We had one more dinner seating at Triton's on our final evening of the cruise. As we waited for our dinner seating time, we enjoyed listening to a very talented pianist playing Disney songs on the piano.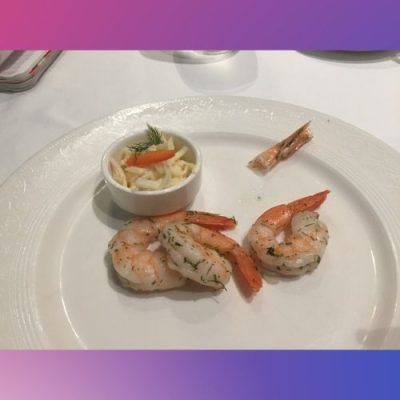 Marinated shrimp
For my appetizer, I chose the marinated shrimp. Succulent and well-flavored, this was excellent, just like almost every seafood dish I enjoyed on the ship. There were four shrimp in a serving. (I forgot to take a photo before I ate one!)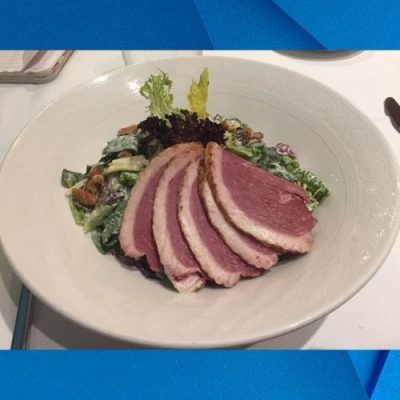 Smoked duck salad
For my entrée, I chose the smoked duck salad. The duck was very flavorful and cooked perfectly rare. However, as you can probably see in the photo, this salad was overdressed. This was the only overdressed salad I had onboard the Wonder.
No-sugar-added chocolate cheesecake
For dessert, I ordered the no-sugar-added chocolate cheesecake. This was a slice of heaven! The chocolate was rich, the texture of the cake perfectly creamy, and the fruit garnish matched so well.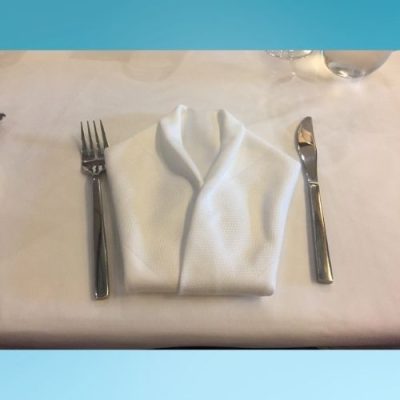 Place setting
For me, Triton's was a hit for dinner, especially because of the excellent seafood. If you have small children, they might squirm because of the relaxed pace of the service and the lack of Disney entertainment. But I would definitely eat here, and order seafood, again!
Do you enjoy dining at Triton's onboard the Disney Wonder? Share your thoughts in the comments or on Facebook or Twitter!
Did you like this article? Make sure to share it with your friends! Check below for easy ways to share!  
Want to visit a Disney Destination? Contact The Magic for Less Travel for more information and a free, no-obligation quote.
Incoming search terms:
https://www themouseforless com/blog_world/review-tritons-disney-wonder/