This post may contains affiliate links for your convenience. If you make a purchase after clicking a link we may earn a small commission but it won't cost you a penny more! Read our full disclosure policy here.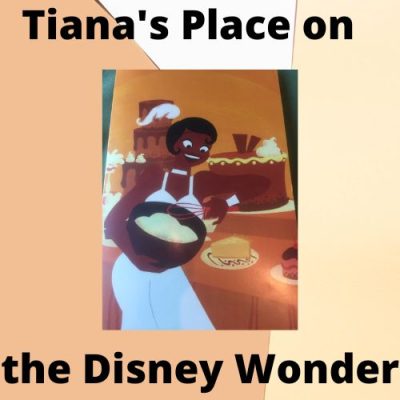 Welcome to Tiana's Place on the Disney Wonder!
Tiana's Place is a full-service restaurant that is part of the rotational dining service aboard the Disney Wonder. My family was scheduled to eat dinner here three times during our cruise. We wound up only eating here twice for reasons which….well, that's the subject of another blog post!

Since Tiana's Place is not a restaurant on the Dream, I was excited to try it. Tiana's is located just beyond the French Quarter lounge. This lounge is decorated in a Doctor Facilier theme. During the day, craft sessions are held here and guests can order beignets, coffee, soft drinks or alcoholic beverages. At night, a jazz duo performs and guests are invited to get up and dance. (Note that the drinks and snacks here are not included in the price of your cruise.)

The dining room in Tiana's Place resembles a restaurant in New Orleans. Our table was next to a large window, and it was wonderful to gaze out at mountains as the ship sailed by. A stage is set up, and on our first evening, Tiana herself (dressed as she is in the restaurant sequence in The Princess and the Frog) introduced a jazz duo, who performed both jazz standards and what the singer jokingly called "Disneyland Jazz," jazz arrangements of Disney classics.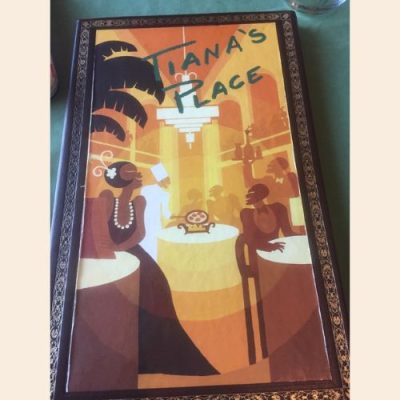 The menu
I was tickled pink to discover that the menu cover looks exactly as it does in the Princess and the Frog. Details like this are what makes Disney dining so special, in the theme parks, at their resorts, and aboard their cruise ships.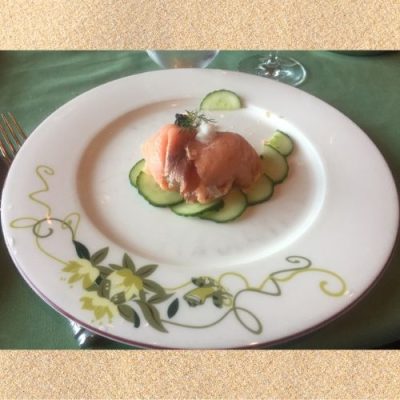 Salmon timbale
On our first dinner service at Tiana's Place, I ordered the salmon timbale for my appetizer. Like all the seafood I ordered on the ship, it was delicious. Fresh, light, clean, and perfectly seasoned, it was a great start to the meal. And can we talk about the adorable plates?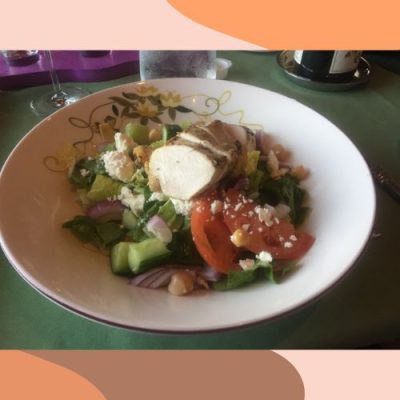 Chicken Pita Salad
For my entrée, I ordered the chicken pita salad. The chicken breast was moist and well-seasoned, and the vegetables were fresh and crisp. The chef had a light hand with the dressing, which I loved.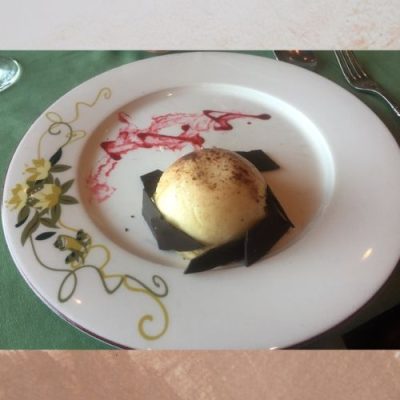 No-sugar-added tiramisu
For dessert, I ordered the no-sugar-added tiramisu. This was heavenly. The rich dark chocolate paired so well with the cocoa powder dusted cake. The size was just right: I was satisfied after finishing it.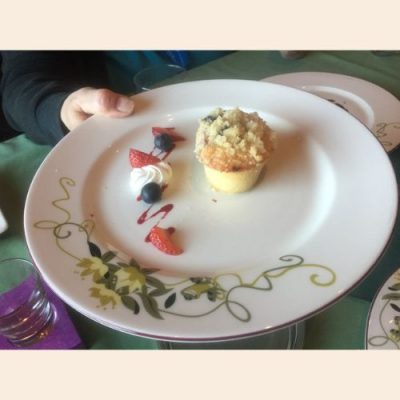 Almond muffin
My mother ordered the almond muffin with fresh berries and whipped cream. The presentation was very pretty, and she enjoyed it.

The very next night, we returned to Tiana's Place for Frozen night! Since we were at the Dawes Glacier, everything on the ship was Frozen themed. (But in a bizarre twist, the nighttime show was NOT Frozen. That happened a couple of nights later.)

There was no stage show this evening, but our servers were all dressed in their Arendelle finest. The menu featured Norwegian delicacies. Since my father's family came to the United States from Norway, many of the flavors were familiar to us.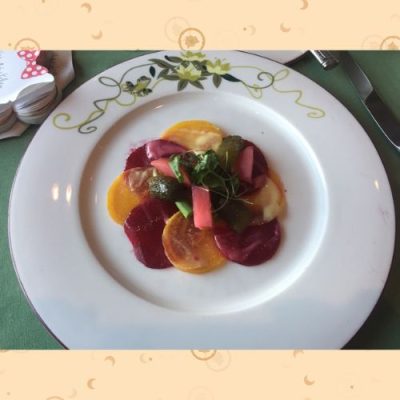 Oaken's Beetroot Salad
I started my meal with Oaken's red and yellow beetroot salad. This salad was earthy without being heavy. And the colors popped so vibrantly on the plate. This was a great way for me to eat my vegetables!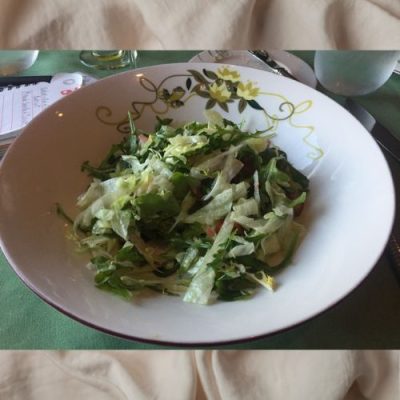 Alesund Smoked Trout Salad
For my entrée, I chose the Alesund smoked trout salad. The smoked trout was outrageously good, but I wished there was more of it. The greens were crisp and fresh and the salad was dressed with a light hand, just the way I like it!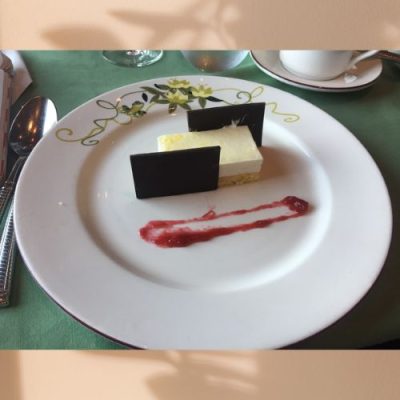 Simon's mousse
For dessert, I chose the no-sugar-added dessert, Simon's mouse. The creamy texture of the mouse balanced perfectly with the tangy lemon flavor. I also enjoyed scraping the dark chocolate through the berry puree!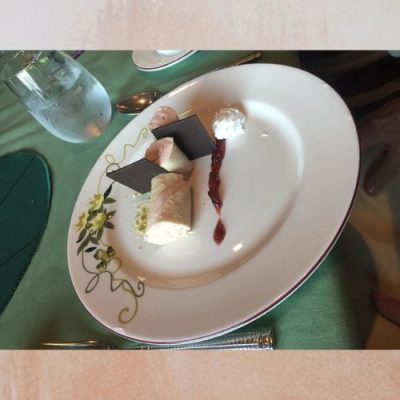 Pannekoeken
This evening, everyone at my table oohed and ahhed about their desserts, so I thought I'd share with you what others at my table had. My father ordered the pannekoeken, which had a much fancier presentation than I am used to seeing!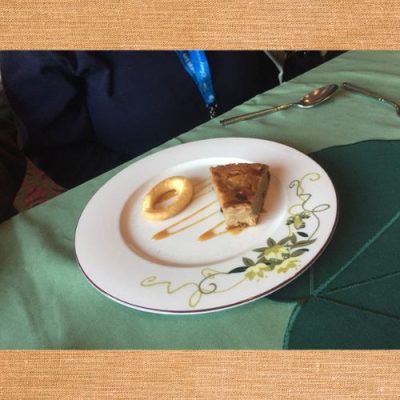 Apple cake
My mother ordered the apple cake, which was drizzled with caramel sauce. She asked me to take a photo of it after she had already enjoyed a bite! The apple cake comes with ice cream but she requested it without the ice cream.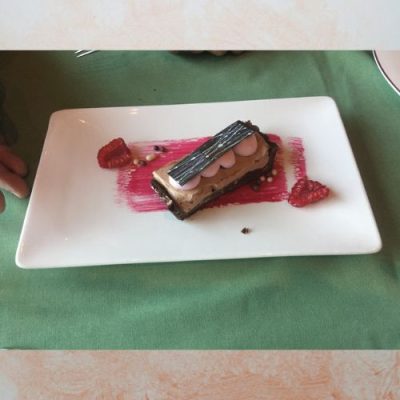 Elsa's torte
My daughter ordered Elsa's torte, which looked a lot like a s'more on a bed of berry puree to me. My daughter wolfed it down!

Our third dinner seating at Tiana's Place, which my immediate family missed, was Madri Gras themed. The rest of my family reports that our wait staff danced and handed out beaded necklaces to the guests. Beignets with chocolate dipping sauce was served. They brought some to our cabin. They were tasty, but I'm sure they tasted even better when fresh.

If Tiana's Place is part of your rotational dining service, I hope you enjoy it!
Do you enjoy dining at Tiana's Place onboard the Disney Wonder? Share your thoughts in the comments or on Facebook or Twitter!
Did you like this article? Make sure to share it with your friends! Check below for easy ways to share!  
Want to visit a Disney Destination? Contact The Magic for Less Travel for more information and a free, no-obligation quote.
Incoming search terms:
https://www themouseforless com/blog_world/review-tianas-place-disney-wonder/