This post may contains affiliate links for your convenience. If you make a purchase after clicking a link we may earn a small commission but it won't cost you a penny more! Read our full disclosure policy here.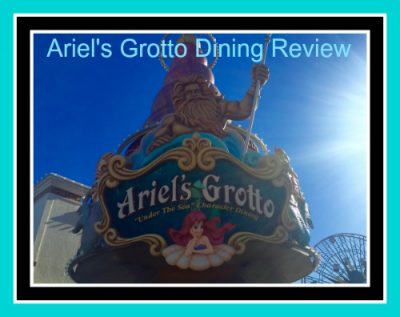 Recently, my family (mother, father, sister, and I) went to Disneyland for the first time. We are Walt Disney World veterans, and really wanted to enjoy our time in California. Knowing that we needed to get a good viewing spot for the World of Color nighttime show at Disney's California Adventure, we decided to book a dining package. We went with Ariel's Grotto due to the price and selection. My sister is a somewhat picky eater, and the Pan-roasted Chicken Breast menu option was the best for her.
Arrival and Check-in
Ariel's Grotto is located in the Paradise Pier section of Disney's California Adventure park. Across Paradise Pier, from the Silly Symphony Swings, you can see the restaurant.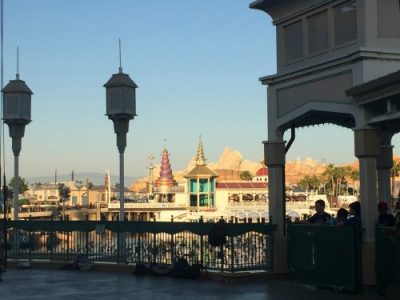 View of Ariel's Grotto from the Silly Symphony Swings
Once you arrive at Ariel's Grotto, you can check in at the front desk up to 15 minutes before your scheduled reservation time. After checking in, you'll receive a pager which will go off once your table is ready.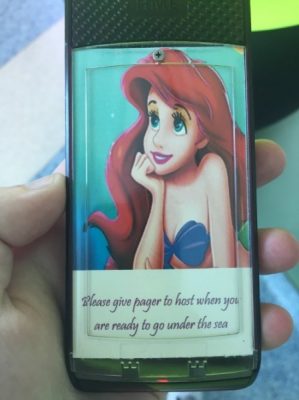 Pager at Ariel's Grotto
While you wait, there is a very nice view of Paradise Pier that you can see through the large window. In the distance, you can see Mickey's Fun Wheel and California Screamin'.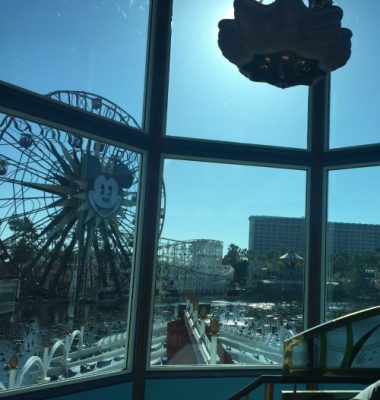 View of Paradise Pier from the Waiting Area
Decor
The inside of Ariel's Grotto is very well-themed. There are seahorses in the woodwork, jellyfish lights, mermaid paintings, and more! The lights even look like seashells!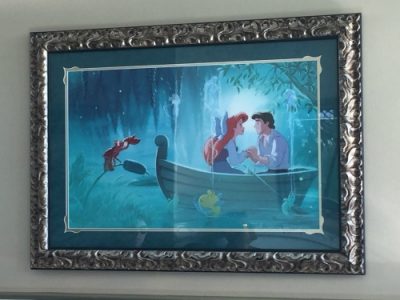 Painting of Ariel and Eric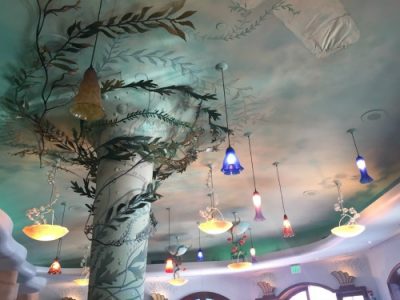 Lights and Ceiling Details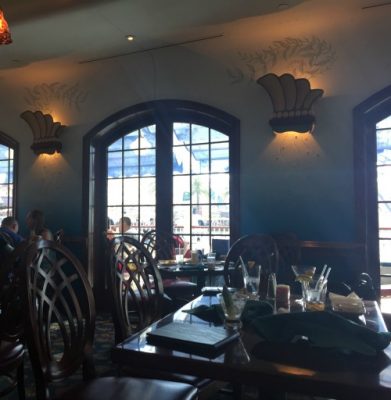 Seating Area with Seashell Lights
Ariel's Grotto Food
When enjoying the World of Color Dining Package, your meal is prix fixe and you order from a specific menu. The current cost per person for Ariel's Grotto starts at $48.58 for adults and $26.98 for children. These prices include tax but not gratuity or alcohol. Annual Passholder and Disney Vacation Club discounts do apply. Other restaurants that have a World of Color dining package have different prices per person.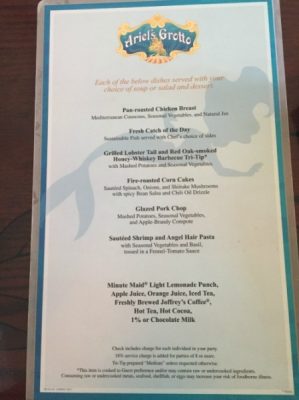 Prix Fixe World of Color Menu
Appetizer
For an appetizer, you can choose from a salad or a cup of soup. They only serve one type of salad and there isn't much flexibility with it outside of asking for toppings to be removed. You can choose a different dressing, however. I chose a balsamic dressing on my salad and really enjoyed it. This salad was a leafy green salad with pecans, bleu cheese, and thin apple slices. It was really fresh and very tasty.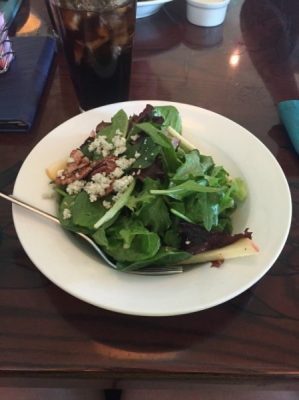 Salad from Prix Fixe Menu
My sister doesn't like leafy greens, so she ordered the crab chowder for us all to try instead. This soup was very creamy and had a lot of flavor. The bacon on top was a welcome addition and we all really enjoyed it!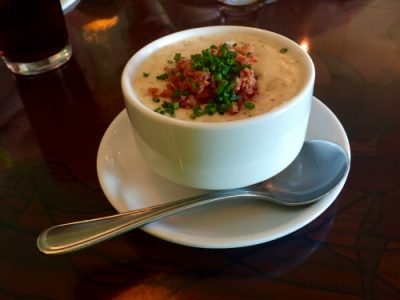 Crab Chowder
Entree
For the entree, since this was prix fixe, my mother, father, and I all chose the lobster and tri-tip meal. The portions were quite appropriate, but unfortunately we were a little underwhelmed with flavor. The tri-tip was cooked perfectly, and the steak sauce that it came with was very flavorful. However, because the sauce was cold, it took away from the tri-tip. The lobster was moist and well-cooked, but we found it to be a little bland. They brought a butter sauce which I really enjoyed with the lobster. Overall, I was satisfied with the meal. This restaurant has character meals for breakfast and lunch, and the dining package for dinner, which tends to mean that the food isn't the main focus.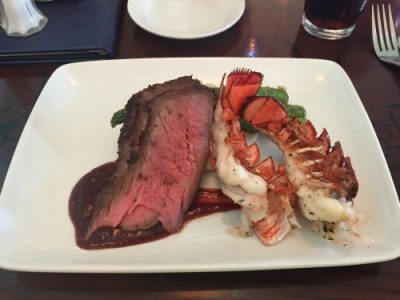 Lobster and Tri-Tip Meal
My sister ordered the chicken breast and asked to replace her side of couscous and vegetables with fries. Since there are no fries at this restaurant, they made the substitution of tater tots instead! The chicken was moist and the tater tots were very good. She was happy with the meal.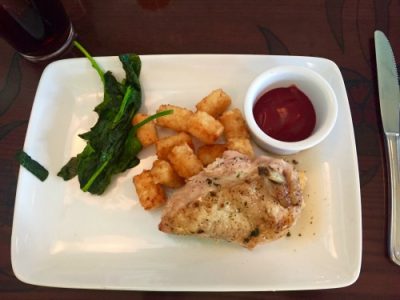 Chicken Breast with Tater Tots
Dessert
For dessert, everyone received their own sampler. In the sampler were three desserts: a Madeleine cookie, a creme brulee, and a mocha fudge cookie. These were all very delicious. The Madeleine cookie was covered in sugar on one side, and was exactly the right amount of sweet. I really enjoyed it. The creme brulee was also just right, with the caramelized sugar on top and the custard not being overly sweet either. Finally, the mocha fudge cookie was incredible. It was very rich but not too sweet because of the dark chocolate in combination with the coffee flavor. The cookie crust was chocolatey but didn't overpower the inside. This dessert platter was a home run for me. My sister enjoyed the Madeleine cookie the most and my mother's favorite was the creme brulee.

Dessert Sampler
World of Color Viewing Area
At the end of your meal, your server will bring you FastPasses (1 for each person in your party) to be able to get into the preferred viewing area for Ariel's Grotto for World of Color. Your server will also give you directions to get to the right area. There will be Cast Members directing you when it is time as well.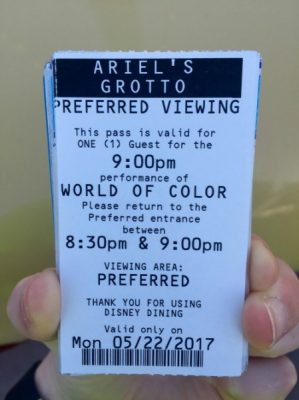 World of Color Dining Package FastPass
The viewing area for World of Color is what made this dining package absolutely worth it. In order to view World of Color, you can purchase a dining package which comes with a FastPass for a viewing area for the show, get a FastPass from a machine, or try to view it from other areas. Since this a water show and there are projections on water screens, being in front with a good line of sight is extremely important. The FastPass viewing areas (both from the dining packages and FastPass machines) take up nearly all of the area directly in front of the water. From the dining package area, we had a perfect view. The next night, we got a FastPass from a machine and had a much more difficult time seeing the projections. After that, we appreciated the dining package even more.
We arrived at around 8:20 p.m. and had no problem getting in to the viewing area early. We found where we were supposed to go by asking. This picture was taken from the viewing area for the dining package prior to World of Color: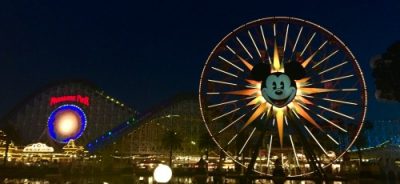 View from Dining Package Viewing Area
During the show, we had a fantastic view. This picture was taken from our viewing area during the show of the water projections: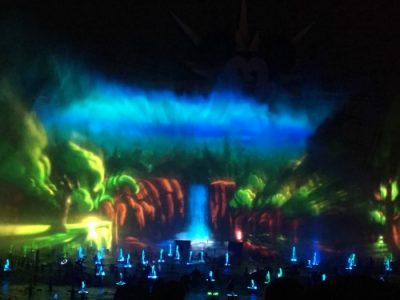 Projection From World of Color
Overall Thoughts 
While the entree that some of us ordered didn't blow us away, we are definitely glad that we booked this dining package. The appetizers and desserts were quite delicious and the viewing area for World of Color couldn't be beat.
This was our first time seeing the show, and we enjoyed it so much that we changed our plans for the next night to be able to go see it again. The viewing area for the dining packages is much better than the viewing areas for regular FastPasses, so if you're only going to be able to see this show once or twice it is probably worth it for you. As Walt Disney World veterans, we hadn't seen this show before, and the excellent viewing area was very valuable to us, especially since we only had 3 nights at the Disneyland Resort. I would definitely recommend this dining package.
Have you done the World of Color Dining Package at Ariel's Grotto? What were your thoughts? Share them in the comments.
Did you like this article? Make sure to share it with your friends! Check below for easy ways to share!
Incoming search terms:
https://www themouseforless com/blog_world/review-of-ariels-grotto-world-of-color-dining-package-at-disneys-california-adventure-park/
https://www themouseforless com/blog_world/review-of-ariels-grotto-world-of-color-dining-package-at-disneys-california-adventure-park/#:~:text=Ariels Grotto Food&text=The current cost per person Vacation Club discounts do apply
https://www themouseforless com/blog_world/review-of-ariels-grotto-world-of-color-dining-package-at-disneys-california-adventure-park/#:~:text=World of Color Viewing Area get to the right area