This post may contains affiliate links for your convenience. If you make a purchase after clicking a link we may earn a small commission but it won't cost you a penny more! Read our full disclosure policy here.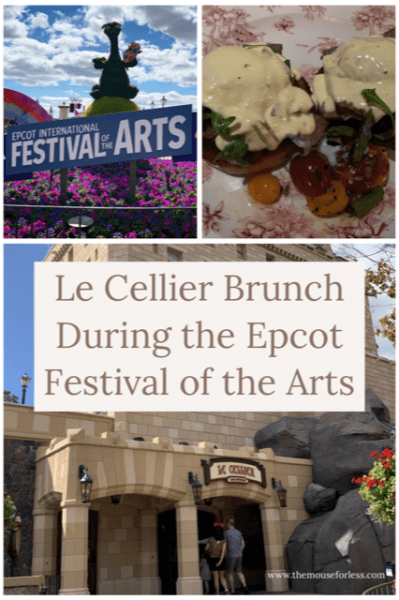 A friend of mine recent mentioned to me how she tried the brunch that is being offered on Saturdays and Sundays at Le Cellier located in the Canada Pavilion in World Showcase during the Epcot Festival of the Arts. As I glanced over the menu, I though…hmmm…that looks good. And while it was certainly going to be a bit of a splurge for myself, I decided to go ahead and try it. So I booked my reservation, knowing full well, this would be my big meal for the day. Maybe I'd have some small snacks, but this was what I would be mostly eating, since it was a splurge and all. What did I think of the brunch? Stay tuned to find out.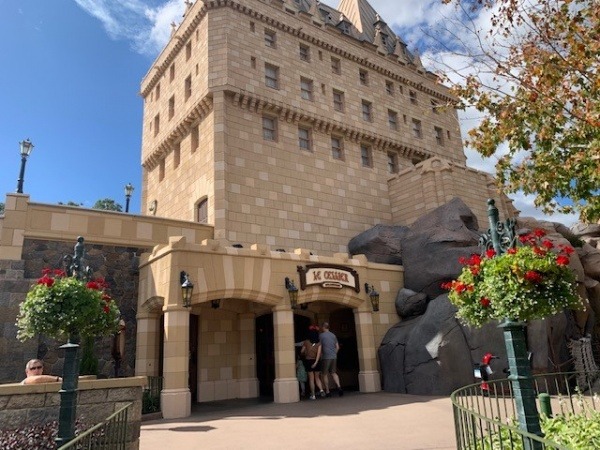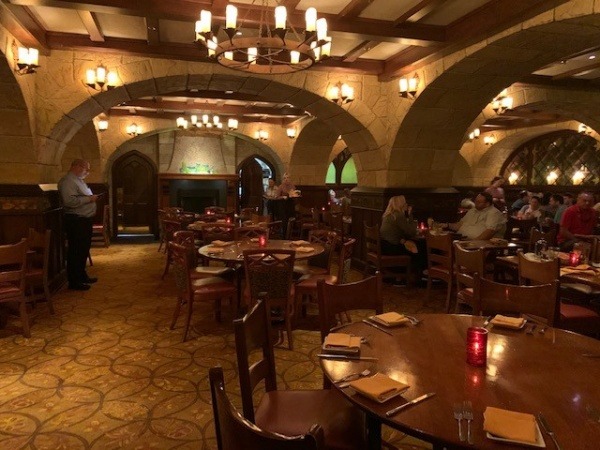 The brunch is $67 per person. It allows Guests to enjoy an appetizer, entree, and dessert for this price. It is a prix fixe menu, with a limited number of options to choose from. Plus, Guests are brought a basket of pastries for the table, as well as a small bowl of maple yogurt with granola, again to share among the table. In addition, Guests are also served either a mimosa or bloody Caesar. (Which is like a bloody Mary.) You also had your choice of soft drinks, coffee, and more. Now….I don't know if it was just my experience, but from my understanding, the mimosa/bloody Caesar was all you could drink! Already, this meal is sounding like a pretty good deal.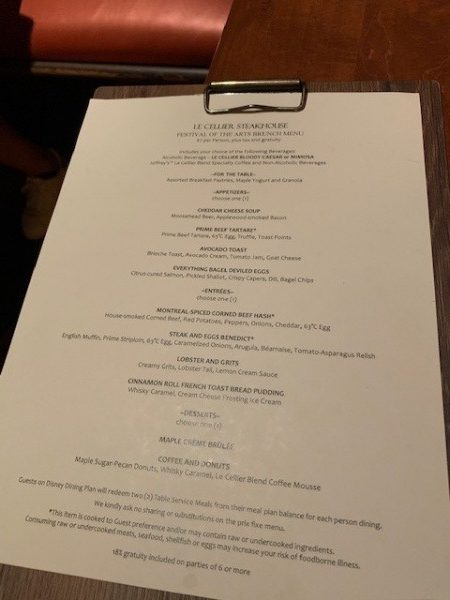 Let's move on to the pastries. They are standard pastries, croissants and the like. The table next to me was served the famous Le Cellier pretzel bread…I was not and that was kind of a bummer.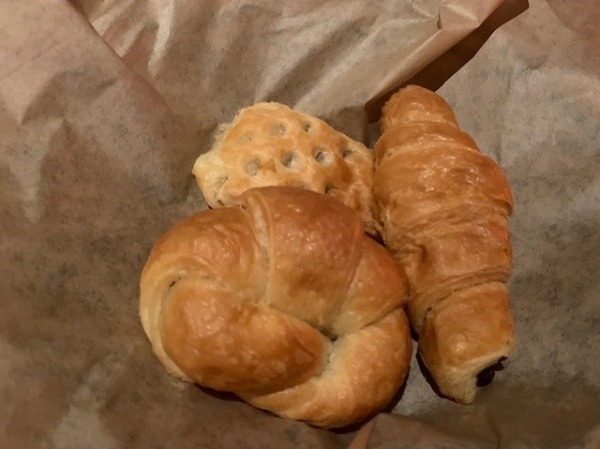 Next, I tried the yogurt and granola, which was fantastic. The maple flavor in the yogurt was subtle and the granola added a great crunch. I now need to find a maple yogurt at the grocery store because I would eat yogurt more often if I could!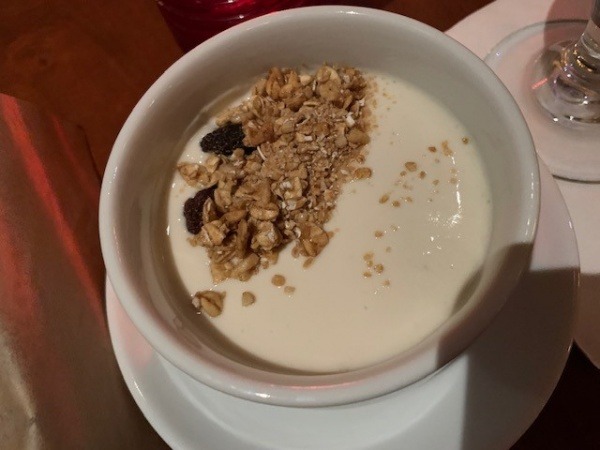 For my appetizer, I went with the famous Le Cellier Cheddar Cheese soup. I mean, I had to, right? This soup was so very creamy, with just a bit of a bite to it! It certainly leaves a little heat behind. It's a great bowl of soup though.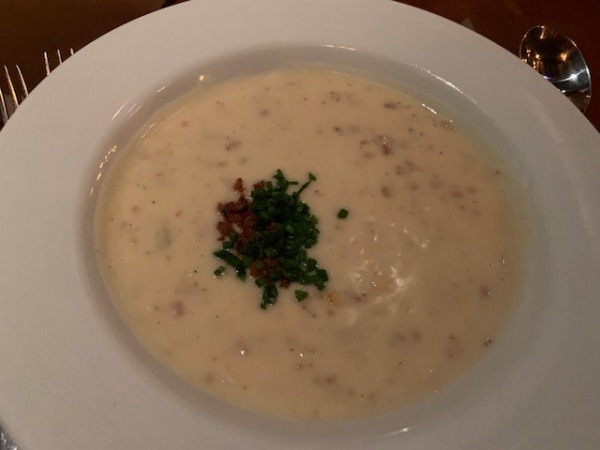 On recommendation of my server, I decided to try the steak and eggs benedict. As previously mentioned, I'm normally a sweet breakfast/brunch girl, but after looking at the description, I decided to give it a try. I made a discovery. I may not be a sweet breakfast girl anymore! This was, by far, one of my favorite things I've eaten. I would get this again in a heartbeat!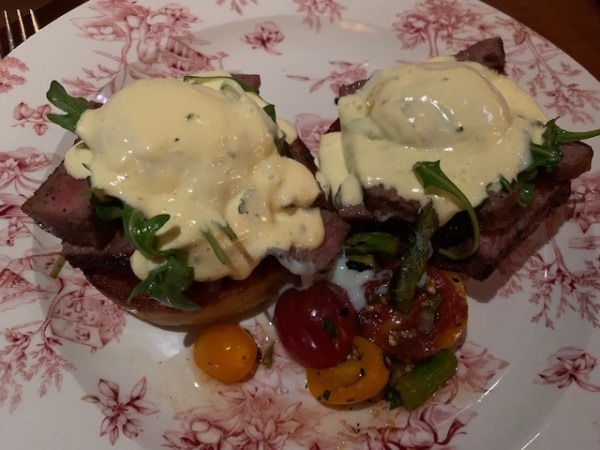 The steak was cooked to perfection at medium rare, the egg was nice and runny, but not overly so, the sauce was to die for, and the English muffin was toasted to perfection with a nice buttery flavor. There was also arugula and onions mixed in, which added a nice flavor. I cannot stress this enough….this dish was phenomenal!
Next we move on to dessert. Again, I went with the classic, Maple Creme Brulee. This didn't taste as mapley as I remembered, but given the fact that creme brulee is my favorite dessert overall, I wasn't complaining. It had that great sugar crunch on top and creaminess underneath. Also, how cute is the maple leaf cookie?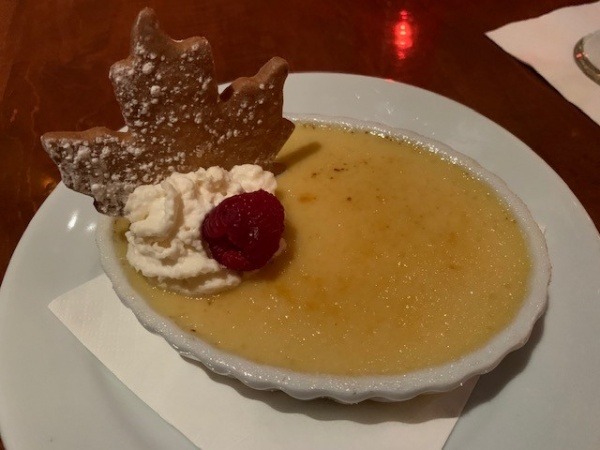 After dining here, I put out this plea….Disney….please add this brunch to the offerings all the time. I would seriously come back just for the steak and eggs benedict. Between that and my recent breakfast experience at Topolino's Terrace where I also had a fantastic meal, I have become a fancy breakfast fan, which is a weird thing to me. Sure, I love a good Mickey Waffle, but apparently give me steak for breakfast and I fall in love.
While I obviously wish the pricing was less for this meal (I mean, don't get me wrong, $67 is a LOT of money for brunch and I am WELL aware of that), I was absolutely pleased with the experience. (And for those who do drink, the fact that this meal offers all you care to enjoy alcoholic options makes this an even better option.) Another thing that surprised me was that the Annual Pass discount was applicable for this meal! I did not expect that, given that it was a special option for the Festival. So, I did save 10% that I wasn't expecting to.)
Seriously…run….don't walk to Le Cellier for this brunch while you still have the opportunity. I don't think you will regret it.
Would you like to experience this brunch or have you tried it before? Let us know your suggestions in the comments or on Facebook or Twitter!
Did you like this article? Make sure to share it with your friends! Check below for easy ways to share!
Want to visit the Walt Disney World Resort? Contact The Magic for Less Travel for more information and a free, no-obligation quote.