This post may contains affiliate links for your convenience. If you make a purchase after clicking a link we may earn a small commission but it won't cost you a penny more! Read our full disclosure policy here.
From Our Magically Speaking Newsletter Archive – subscribe today!
Published On October 5, 2016, By Teresa Pitman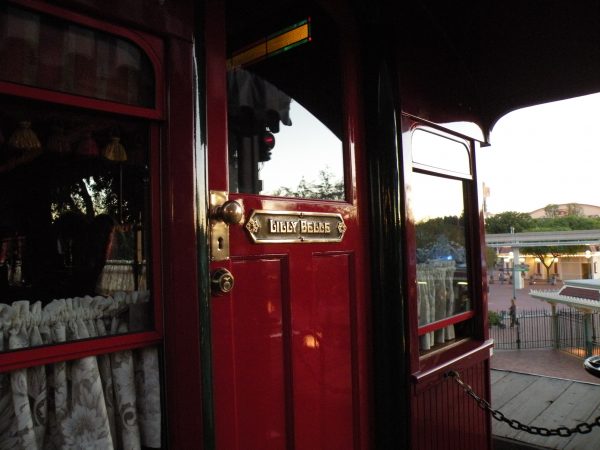 Imagine you're a skipper on one of the Jungle Cruise riverboats in Magic Kingdom. You've had a long day pointing out the backside of water and shouting "Shoo! Shoo!" at that menacing hippopotamus. But finally, your boat is docked.
Where are you going to go for a drink and dinner?
The obvious choice: Jungle Navigation Co. Skipper Canteen. This new table-service restaurant opened in December 2015 and (the story goes) started off as a spot for the skippers to eat, with private rooms that were opened up for guests. Now it's open to all.
Eager diners walk up to a broad white-painted front porch surrounded by greenery where they can check-in. The cozy wicker chairs at the entrance give you a relaxing place to wait if the rest of your party is a bit slower to arrive. (Okay, I admit it, I actually dozed off while waiting!) It definitely has that dining-in-the-jungle feel.
We had a party of 11 (with ADRs) and as soon as everyone arrived we were quickly taken to a table large enough for everyone. The inside of the restaurant replicates the exotic feeling of that front porch, but has dark wood walls, floors, and tables, making the room feel pleasantly cool on a hot day.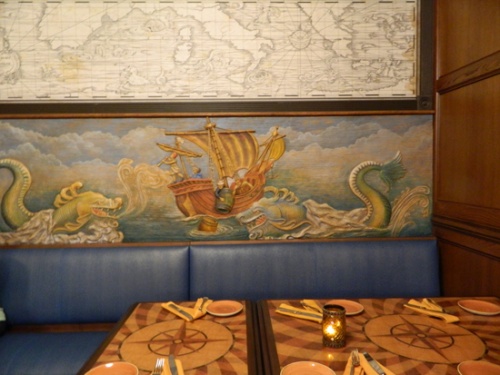 Our friendly server was one of the best we've had: she interacted well with the children, was very knowledgeable about the menu, and kept us laughing with jokes and Jungle Cruise stories.
The décor fits the story perfectly, with artifacts from the various locations on the Jungle Cruise ride, books with intriguing titles on the library shelves, an exotic butterfly collection, and more. When the little ones were restless, we took them for walks around the restaurant to see more of the items on display. If you enjoy restaurants with plenty to look at, this is likely to become one of your faves!
You'll also be entertained by the menu listings: amusing names for the various dishes like "Tastes Like Chicken (because it is!)" and "Trader Sam's Head on Shrimp" make choosing what you want to eat more fun and remind you of the humor of the Jungle Cruise ride. We also enjoyed the Fanta Melon Frosty drinks (a Coke product from Thailand). (And no, you can't order Beverly here.)
There is even a "Kungaloosh!" dessert for fans of the much-missed Adventurer's Club.
I'll confess that Magic Kingdom has long been my least favorite park for meals, but the Canteen has kicked it up several notches. The food we had was excellent, with plenty of spice and flavor, and there were options that pleased everyone from the vegans in our group to the somewhat picky little kids. I had the Curried Vegetable Crew Stew and was delighted to find that the sauce was delicious and the vegetables were all cooked perfectly.
The Canteen is now on the top of our list for future WDW trips – we can't wait to try it again.
Magically Speaking Featured Article
Library of Congress ISSN:1556-3863
Incoming search terms:
how big of a group can jungle navigation skipper canteen accomidate?