This post may contains affiliate links for your convenience. If you make a purchase after clicking a link we may earn a small commission but it won't cost you a penny more! Read our full disclosure policy here.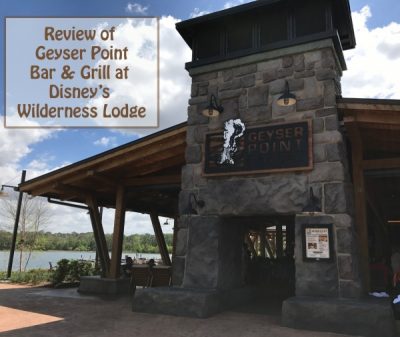 Disney's Wilderness Lodge has been seeing a lot of changes recently. The whole resort is adding a new Disney Vacation Club component called Copper Creek, pool areas have been enhanced and the resort is now home to one of the newest restaurants that has opened up at Walt Disney World. Called, Geyser Point Bar & Grill, this restaurant is a hybrid of both a counter service location and lounge. The restaurant is located near the resort's feature pool and is an open-air venue that features first-come, first-served seating. Geyser Point has an overall rustic, yet upscale feel and is the perfect place to get away for a relaxing meal.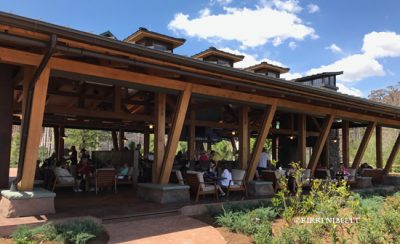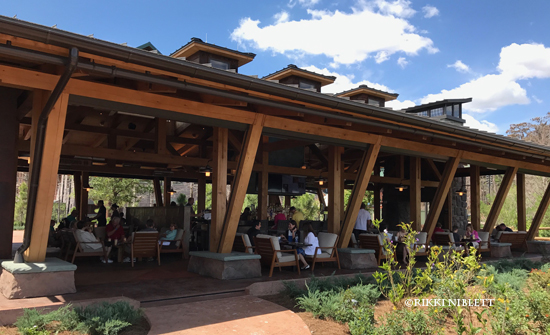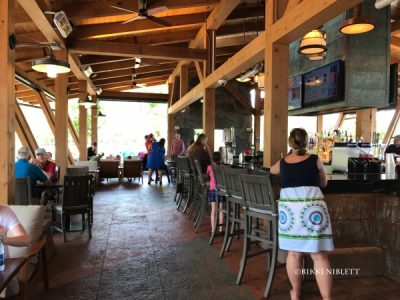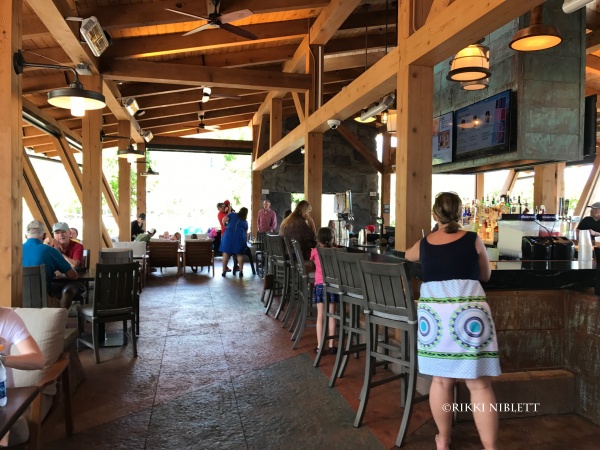 Seating here includes comfy chairs and tables, there is also a large bar where Guests can choose to sit. These areas are all covered from the elements. There is also a handful of tables located near the water that are uncovered.
The lounge area allows Guests to choose from delicious cocktails, as well as small plates. Small plates include things like Edamame, Handcrafted Charcuterie, Cheesy Barbecue Brisket with House-made Chips, and Crispy Fried Oysters.
As mentioned, there is also a counter service portion to this restaurant, which currently serves up breakfast, lunch and dinner. Geyser Point isn't your traditional counter service food though; dining options here are elevated. I ended up trying this portion of the restaurant.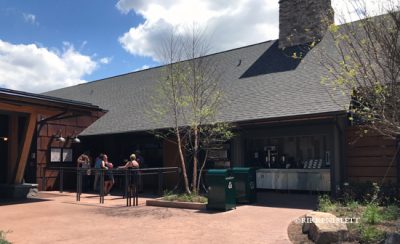 Guests looking to partake in the quick service experience place their order at a walk up window. There is a drink station available next to the window, which does feature a place for Guests to refill their refillable mugs.
Once you place your order, you are given a number and asked to go take a seat. This is where things got tricky. The restaurant, which was only open a few weeks when we dined there, was completely packed. The only seats available were the tables near the water which currently are not shaded. Let me tell you…these get hot with the Florida sun beaming down on you, especially in the middle of the afternoon. This is my biggest (and only) gripe about this restaurant. When I asked if they had an umbrella, they kind of gave me a funny look. I have to say that I'm honestly surprised no one had asked for one previously. So, Disney….please add umbrellas here. Also, I suspect this restaurant may need a few more tables and chairs for Guests too. It already seems popular!)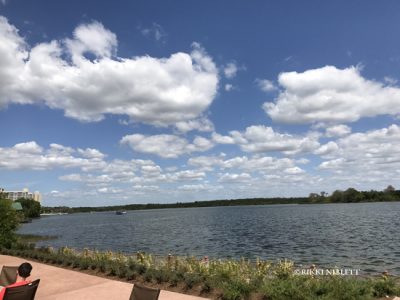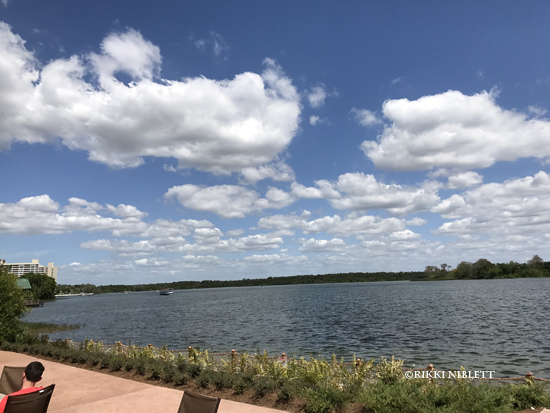 I will say that the view from this restaurant is incredible though! You are looking out directly onto Bay Lake! You'll get to see the boats pass by and I can only imagine what a great spot this would be to catch the Electrical Water Pageant in the evening.
We were finally able to obtain seating that was under the shaded pavilion just as our food was brought out to us by a helpful Cast Member.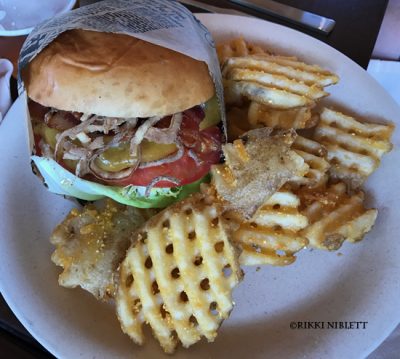 First, I tried the Bison Cheeseburger with Tillamook Cheddar, Sweet Onion Straws, Lettuce, Tomato and Marion Berry Barbecue Sauce. The burger completely fits the theme of the Pacific Northwest-inspired restaurant, but I can see how many may at first, be put off by the idea of eating a bison burger. Let me quell those fears. This burger was delicious! The burger was HUGE and the flavors all melded together to make for an incredible burger. I would absolutely get this again.
The burger was served with Waffle Fries and I have to be honest…these kind of put Chick-fil-a's waffle fries to shame. They were perfectly crispy and they had a bit of crunch left on the outside. These were just plain yummy!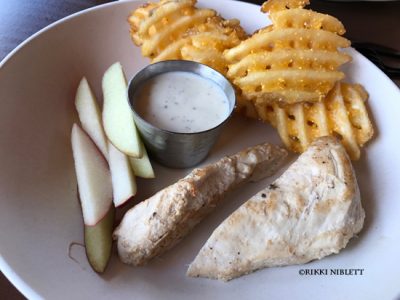 I also wanted to try a meal from the kid's menu. So, I went with the Grilled Chicken Strips which I had served with Apple Slices and Waffle Fries. Now, I will say that if you have a child that is a picky eater, this may not be what they were expecting. (Actually all kids offerings may not be what they expect here.) The Chicken Strips was really just a half of a grilled chicken breast cut up. Now, I found it to be very good and a healthy choice, but I can see how it may be a surprise for the kiddos. In addition, I enjoyed the apple slices as a healthy option, as well.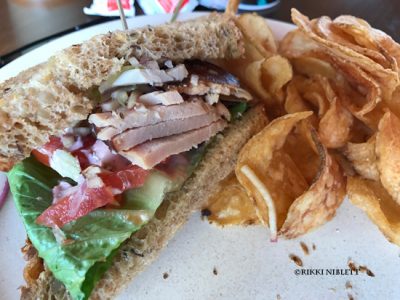 Another member of my party got the Smoked Turkey Sandwich with Lettuce, Tomato and Cranberry Mayonnaise. It was piled high with all the fixings and came with homemade chips. This seemed more like a run of the mill sandwich, but he seemed to thoroughly enjoy it.
After dining at Geyser Point, I can honestly tell you that this has become one of my new favorite places at Walt Disney World. It will be a perfect place to get away from the hustle and bustle of the Magic Kingdom in the middle of the afternoon and come here to grab a meal, snack, or beverage and just relax. I also can't wait to try some of the unique lounge offerings too! But shhhh….this place is just between me and you, ok? I don't want too many people to get word of how awesome it is!
Would you like to try the new Geyser Point Bar & Grill? Share your thoughts in the comments. 
Did you like this article? Make sure to share it with your friends! Check below for easy ways to share!
Incoming search terms:
geyser piint refullable mug