This post may contains affiliate links for your convenience. If you make a purchase after clicking a link we may earn a small commission but it won't cost you a penny more! Read our full disclosure policy here.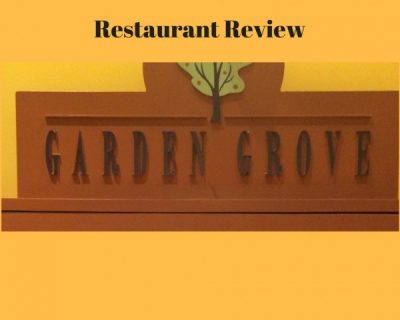 Welcome to the Garden Grove, at the Swan Hotel!
Guys. GUYS. Why are you not eating at the Garden Grove?
I have a feeling you're not, because we visited this character buffet on the first Thursday of the year, and were seated for dinner twenty minutes early in a half empty restaurant.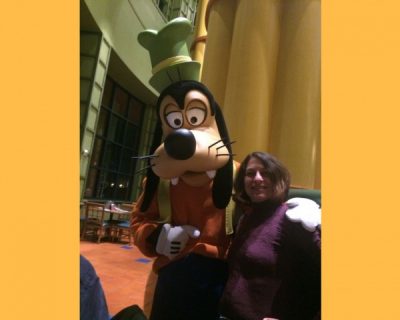 The author with Goofy
Which was great for us – we got a lot of extra attention from the characters, but it's bad for you because YOU. ARE. MISSING. OUT.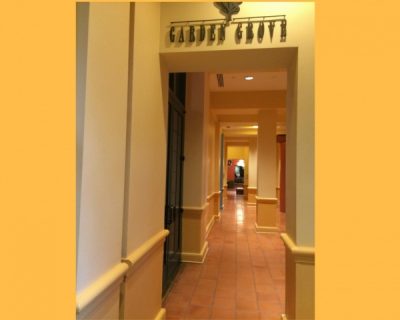 The Garden Grove is located down this hallway
The Garden Grove is a restaurant in the Swan Hotel, and features breakfast, lunch and dinner. On Thursday, Friday and Saturday nights, dinner is a seafood buffet with a side order of Disney characters.
We made a 6:00 p.m. dinner reservation for a Thursday night, and took the boat from Disney's Hollywood Studios to get to the Swan. The Swan is also within walking distance of the Boardwalk.
The restaurant is located down a long corridor. On one end of the corridor is Il Mulino, and Garden Grove is located at the other. By the way, if you stop in the ladies' room by this restaurant, check out the Hidden Mickey artwork on the walls.
Since this is a "garden," the centerpiece of the restaurant is a large tree festooned with lights. In the waiting area, you can watch chefs hard at work through a viewing window.
The seafood buffet features both raw and cooked selections. If you have children who don't like seafood, rest assured that there is a children's section to the buffet that features mini corn dogs, macaroni and cheese, and chicken nuggets, along with a daily vegetable.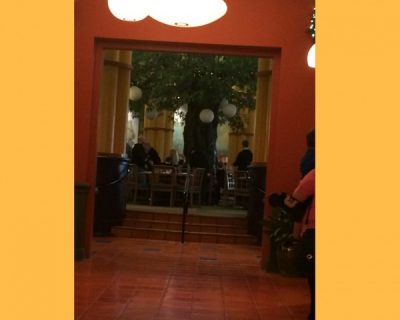 A large tree is the centerpiece of the dining room
There are plenty of salads to accompany your seafood, including those made with fruit or pasta, a Caesar Salad, a Mediterranean Salad, and a Panzanella Salad. I highly recommend the Seafood Paella and the green beans. There is a fish of day, also.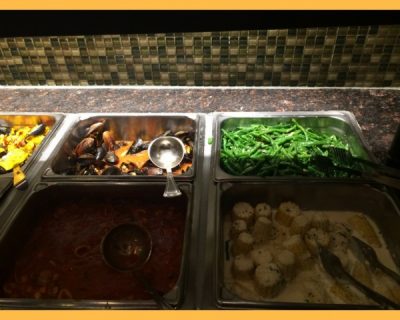 Just a small part of the Sensational Seafood Buffet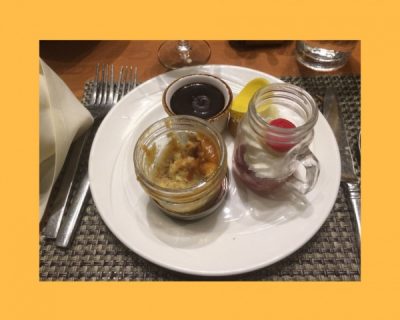 Why, yes, I ate all this dessert!
There is a large variety of desserts available, but the hit at our table was the bread pudding served in a mason jar. My teenaged nephew tore through several of these!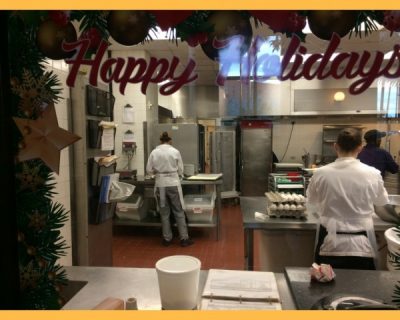 Chefs hard at work at Garden Grove
Just like those infomercials say – But wait! There's more! Every table also receives a fry basket (or a few of them, depending on the size of your party) which includes fried shrimp, popcorn shrimp, fried calamari and hush puppies.
If you're beginning to think that you couldn't possibly eat any more, brace yourself, because each diner also gets a stuffed half Maine lobster, brought on large trays to your table!
To go with all this food is a fun character experience. We were visited by Chip, Dale, Goofy and Pluto. The characters made several stops at our table. Dale, in particular, was hilarious. He kept flirting with my Mom, going so far as kiss her up and down her arm, until my Dad raised his knife threateningly, which prompted Dale to run away in fear.
The meal was around $40.00 per person, but we were able to score a 20% discount since my parents are Disney Vacation Club owners! So not only was this the most enjoyable dinner we had during our vacation, it also turned out to be the best value.
Have you stopped at Garden Grove for a meal? Share your experience in the comments on our our Facebook page.
Did you like this article? Make sure to share it with your friends! Check below for easy ways to share!
Incoming search terms:
https://www themouseforless com/blog_world/review-garden-grove/