This post may contains affiliate links for your convenience. If you make a purchase after clicking a link we may earn a small commission but it won't cost you a penny more! Read our full disclosure policy here.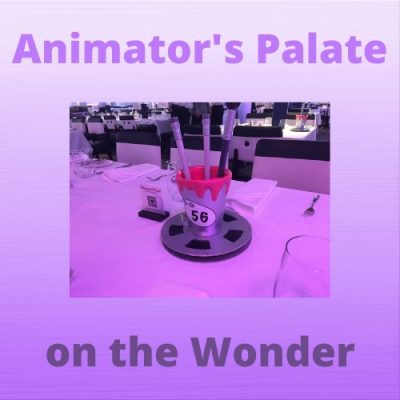 Our table at Animator's Palate
Animator's Palate is one of the restaurants that are part of the rotational dining service on board the Disney Wonder. My family had already experience the Dream's version of this restaurant, so we were excited for what culinary and entertainment adventures it would give us on the Wonder!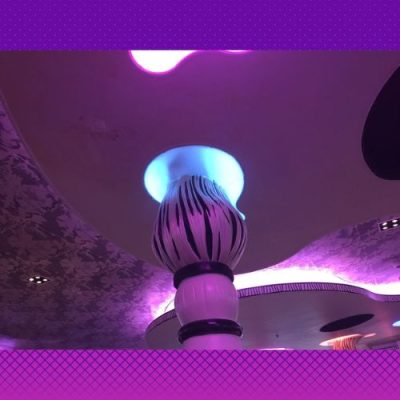 Every detail is animation themed
This restaurant is a full-service establishment, and as you can see the moment you enter the dining room, the theme is the art of Disney animation. On our first dinner service here, we got to watch pencil sketches of Disney characters in progress on the screens that are scattered throughout the dining room. We had fun trying to figure out which character was being drawn!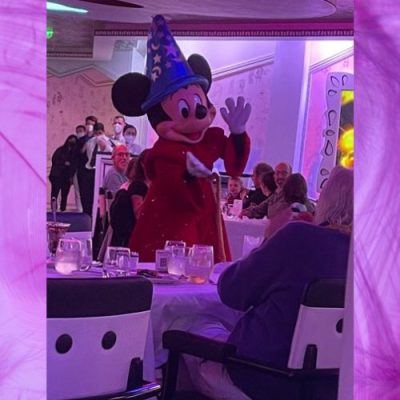 Hey, I know that guy!
At the end of the meal, we were treated to a lovely animated compilation on all of the screens. And a very special guest visited at the end! This show was different from what we experienced on the Dream. (Editor's Note: If you want to be spoiled, take a look at a similar show that happens at Animator's Palate onboard the Disney Magic.)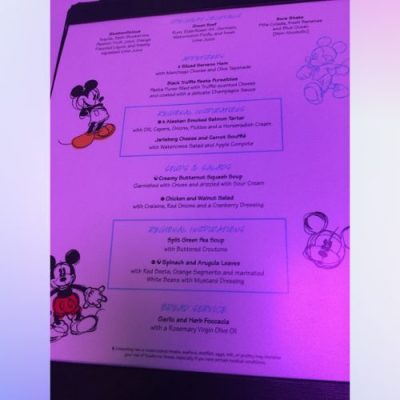 You can order from a digital or physical menu
Now let's get to the food at Animator's Palate! I almost always order "from the lighter side of the menu," even when I'm on vacation. In general, I have found that Disney does a fantastic job serving up flavorful yet healthy dishes.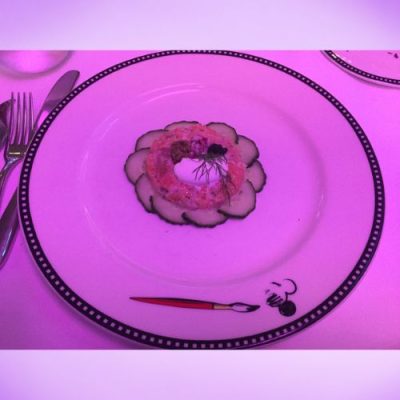 Salmon tartare
For my appetizer, I ordered the salmon tartare. This was absolutely delicious. In general, the seafood served during our entire Alaska cruise was exceptional, and this appetizer was the perfect start to my meal.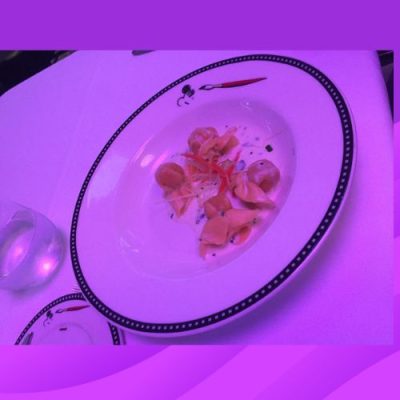 Black truffle pasta puttanesca
My husband ordered the black truffle pasta puttanesca, which he said was outrageously good. And can we talk about the beautiful tableware everything was served on? Even the dishes got into the animation spirit!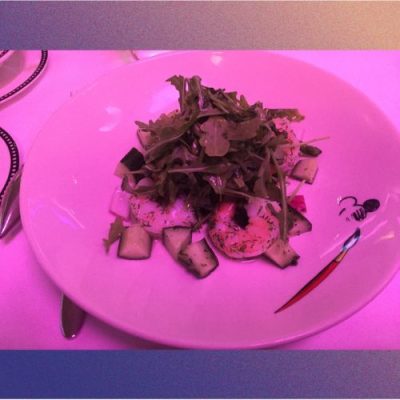 Shrimp salad
For my entrée, I ordered the shrimp salad. The shrimp were seasoned and cooked perfectly, the greens were crisp and fresh, and the salad was not overdressed. (Overdressed salads is a serious pet peeve of mine.)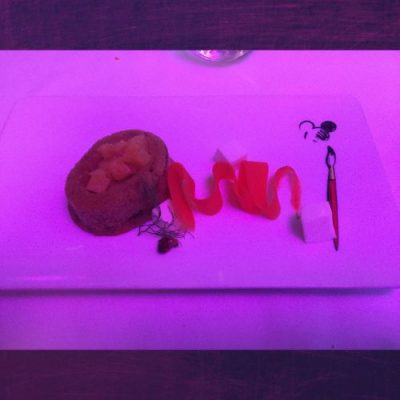 Deconstructed carrot cake
For dessert, I decided on the no-sugar-added deconstructed carrot cake. After I ordered it, I joked with my daughter, "Wouldn't it be funny if they served me a plate of shredded carrots?" Well….they didn't, but this was definitely my least favorite dessert of the entire cruise. As you can see, the cake was served with a garnish of a carrot curl and a cube of tofu. The cake tasted good when I also got a forkful of the pineapple topping. When I didn't, it was bland. I understand that this is a no-sugar-added dessert, but throughout the cruise I had some delicious no-sugar-added desserts. This wasn't one of them.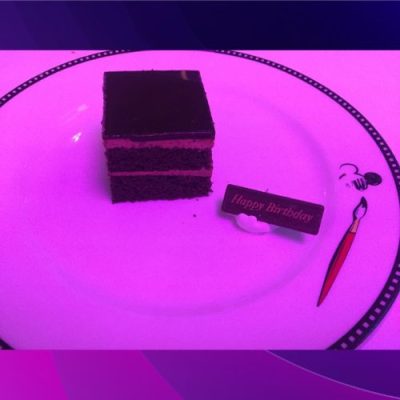 Birthday cake
Somebody must have noted on our reservation that it was two days past my birthday, because our servers came to the table singing Happy Birthday and presented me with this cake! It tasted very good, rich and chocolately, but it was on the dry side.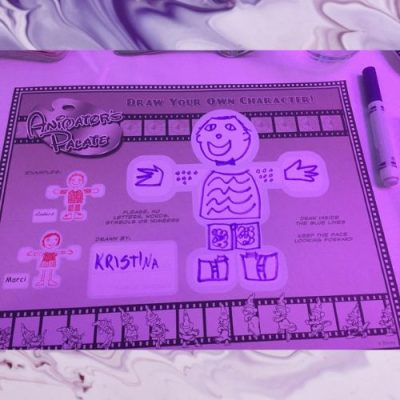 My masterpiece
Our next dinner at Animator's Palate had another really fun theme. We were invited to become animators! At everyone's place setting was a blank template and markers. We each drew a character. I had a feeling that our characters would then be animated and shown on the screens throughout the dining room. Well, I was right, but the experience far exceeded my expectations! To say anything further would be to spoil a fantastic surprise, so I won't say anything else. (Again, take a look at what this show is like, but on the Disney Magic, here.)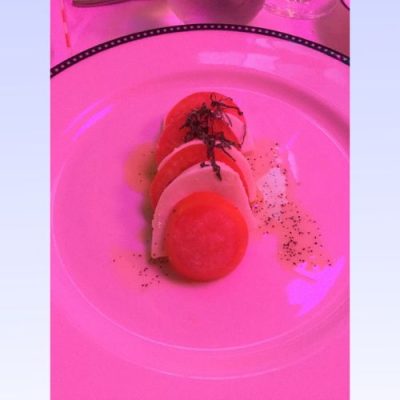 Tomato caprese salad
For tonight's Animator's Palate meal, I actually didn't order seafood! I started out with the tomato caprese salad. Light, flavorful and perfectly seasoned, this did not disappoint. The tomatoes were fresh and the cheese was creamy.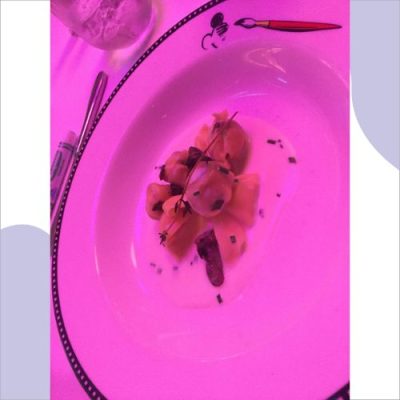 Porcini mushroom pasta
My husband ordered the porcini mushroom pasta. He loved it!  The serving was small, but this is an appetizer.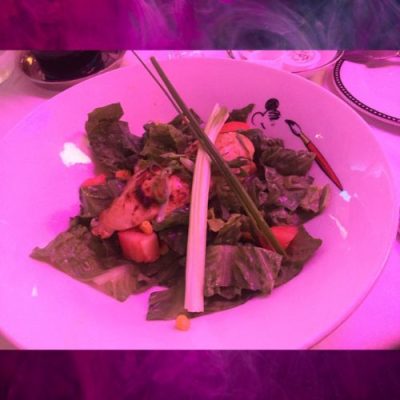 Blackened chicken salad
For my entrée, I chose the blackened chicken salad. The chicken was most and well-seasoned, but I could have used a little bit more kick from the blackening spices. If you are worried about your food being too spicy, don't worry about this one. Once again, the greens were crisp and not overdressed.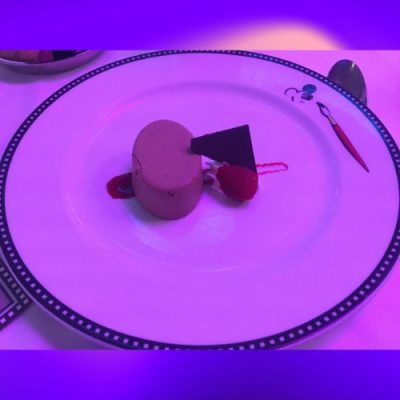 Cappuccino mouse
Tonight's dessert at Animator's Palate was delicious! The no-sugar-added cappuccino mouse was creamy, rich, loaded with coffee flavor, and had just the right amount of sweetness. The raspberry puree went perfectly with it.

In short, the Animator's Palate was my favorite restaurant on board the ship in terms of entertainment. In general, the food was very good. I think you'll enjoy eating here!
Do you enjoy dining at Animator's Palate onboard the Disney Wonder? Share your thoughts in the comments or on Facebook or Twitter!
Did you like this article? Make sure to share it with your friends! Check below for easy ways to share!  
Want to visit a Disney Destination? Contact The Magic for Less Travel for more information and a free, no-obligation quote.
Incoming search terms:
https://www themouseforless com/blog_world/review-animators-palate-disney-wonder/