This post may contains affiliate links for your convenience. If you make a purchase after clicking a link we may earn a small commission but it won't cost you a penny more! Read our full disclosure policy here.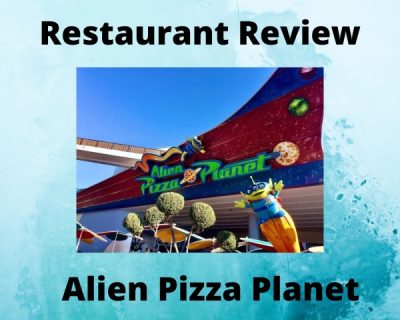 Welcome to the Alien Pizza Planet in Disneyland's Tomorrowland!
Sometimes when you're in Disneyland Park, you head eagerly for your favorite restaurant for a wonderful meal. Other times, you just feel hungry and stop in to the nearest convenient location. That's just what we did recently, and we found ourselves at Alien Pizza Planet in Tomrrowland.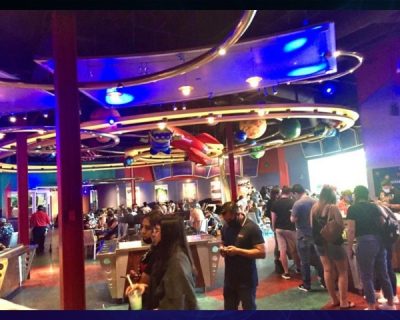 Interior of the restaurant
This counter service location offers Mobile Ordering, which was the subject of a very funny moment with a Cast Member. A guest rolled up her stroller to the entrance of the restaurant and asked where she had to go for Mobile Ordering. "Mobile Ordering? We don't do that here," deadpanned a Cast Member. After the briefest of pauses he continued, "No, just kidding," and helped her out.

There is seating both inside and outside the restaurant. By the time we stopped for dinner, shortly before 5:00pm, the temperature was starting to cool off, so we chose to eat outdoors. We had a large party of eleven, so we pulled one table towards another. Each table is shaded by a trio of colorful, round umbrellas, which we were able to adjust for maximum shade.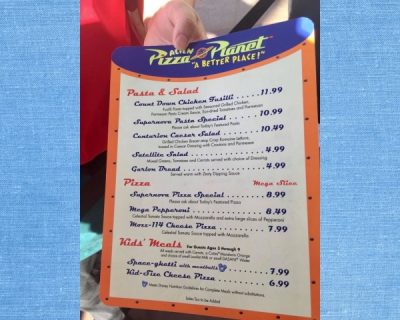 The menu as of October 2021
The line to order was pretty short, so we opted to order the old-fashioned way. While we were in line, a friendly Cast Member gave us a menu and encouraged us to take a photo of it so we could peruse it in line.

My daughter ordered a slice of cheese pizza. My husband ordered the pasta of the day, which was a deconstructed lasagna. I opted for a chicken Caesar salad. Vegetarians had the option of pizza or a salad, although I suspect that they could order pasta with no meat.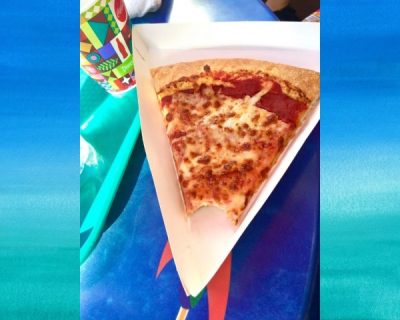 I didn't take this photo fast enough!
Inside the restaurant, you will find lots of references to those cute little aliens from Toy Story, but don't expect to find an arcade full of machines like the Pizza Planet from the film. Instead, you'll find different stations where you can pick up your food.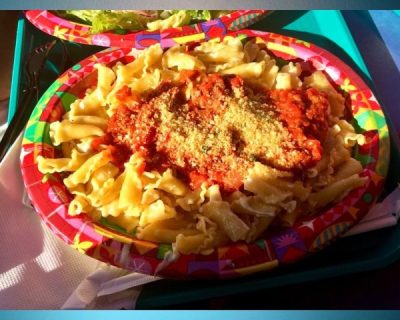 Deconstructed Lasagna, the Pasta Special for the day
The pizza slice was very large. Even if you're the type who likes to order two slices for a meal, you might be satisfied with just one. My husband enjoyed the pasta special very much. My salad was tossed fresh to order, as opposed to being pre-packaged like the salad I had for lunch at the French Market in New Orleans Square. Very thinly sliced radishes were a welcome, peppery component to the salad. The paper plates and cups all had a brightly colored pattern that reminded me of Mary Blair's work.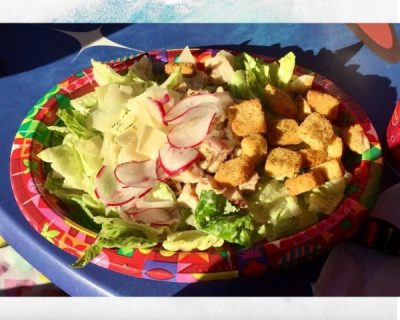 Freshly tossed Chicken Caesar salad
I'm very glad we decided to eat outside, because we had a lovely view of the goings-on in Tomorrowland. Nearby, Stitch was making a socially-distanced appearance. Later, the Disneyland Band performed from a balcony. They played an absolutely stellar (pun totally intended) Star Wars medley that energized the crowd. It was like getting dinner with a show!

All in all, do not pass by this place thinking it's just a pizza joint. Although pizza is the perfect dinner for many a picky eater, the hearty dishes of pasta and large salads were filling and quite good.
Have you dined at Alien Pizza Planet? Share your thoughts in the comments or on Facebook or Twitter!
Did you like this article? Make sure to share it with your friends! Check below for easy ways to share!  
Want to visit a Disney Destination? Contact The Magic for Less Travel for more information and a free, no-obligation quote.

Incoming search terms:
https://www themouseforless com/blog_world/restaurant-review-alien-pizza-planet/
Pizza Planet Disneyland menu