This post may contains affiliate links for your convenience. If you make a purchase after clicking a link we may earn a small commission but it won't cost you a penny more! Read our full disclosure policy here.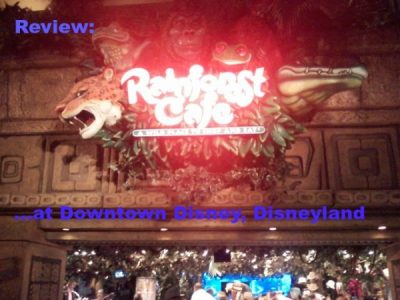 Welcome to the Rainforest Cafe at Downtown Disney, Disneyland!
I'll be honest. The Rainforest Café has never been my favorite Disneyland restaurant. When I'm looking for a relaxing table service meal while visiting the parks, I'm not really in the mood to be serenaded, loudly, by audio animatronics whose cousins are entertaining guests at the Jungle Cruise and in the Tiki Room.
But my daughter absolutely loves this place, and that's why, on a recent short visit to hang out with my parents, we found ourselves eating dinner here. I have to admit, some of the food offerings were better than I expected.
The Rainforest Café has locations throughout the country, but before this one opened in Downtown Disney, I had never been in one. The layout and look of the place is similar, but not identical, to their corporate cousins in Walt Disney World's Animal Kingdom and Disney Springs.
We had a 5:00 p.m. reservation, and after checking in at the elephant, we were quickly escorted to our table on the second floor. (There is an elevator available for those who cannot or would rather not use the stairs.)
We were seated at two brightly colored tables that sat side by side. Mine was covered with elephants, which happen to be my favorite animal. We were quite close to a family of audio animatronic gorillas. It was so cute to see families pass by them on their way to their tables. One little boy smiled, wide-eyed, and waved enthusiastically to the gorilla as he passed.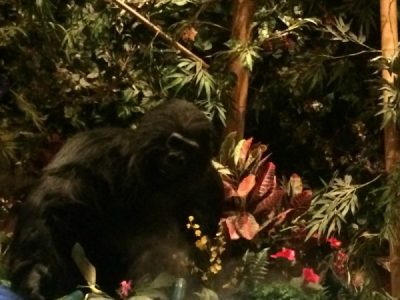 This gorilla will come to life periodically
When our waitress arrived, I gave her a coupon I had for a free kids' meal. My parents were planning on using their Disney Vacation Club discount, but they neglected to read the fine print, which explained that the discount is only available before 4:00 p.m.
My Dad ordered the Awesome Appetizer Adventure for the table. This was way too much food, even for four people. You cannot accuse the Rainforest Café of trying to rip you off. My Dad wound up asking for a to-go box to take leftovers home to their Villa. It included Chimi Cha-Chas, which were surprisingly tasty, Spinach and Artichoke Dip, cheese sticks, chicken strips, and guacamole that was fresh tasting and well seasoned.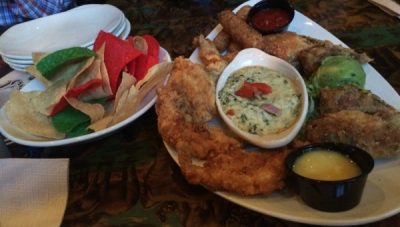 Awesome Appetizer Adventure
I enjoyed a glass of Pinot Noir with the appetizer. For my entrée, I ordered a House Salad with Grilled Shrimp. The salad consisted of finely chopped greens, tomatoes, carrots and cucumbers. The shrimp was seasoned very nicely and upon request they brought a bottle of olive oil and vinegar that I drizzled over everything.
House Salad with Grilled Shrimp
My mother ordered something that actually wasn't on the menu – she asked for grilled shrimp, with no pepper, and veggies. When the entrees arrived her shrimp clearly had pepper on it, and it came with fries. Our server took it back. When her correct entrée arrived, the hostess brought it herself, and she apologized for the mistake, offering us dessert on the house.  The veggies were topped with a good quality shaved Parmesan cheese.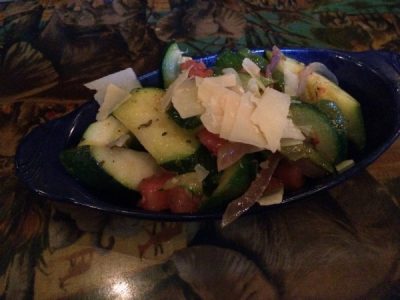 Vegetables topped with good quality Parmesan Cheese
My Dad ordered the Southeast Asian Trio, which consisted of Thai-style ribs, Terikyaki chicken with mango salsa, shrimp with Sriracha aioli, and a jicama slaw that was heavy on cilantro. My Dad doesn't like cilantro so he didn't care for the slaw, but I tasted it and thought it was delicious! Bright, herby from the cilantro, with crunchy veggies.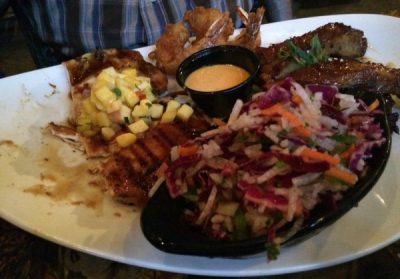 Southeast Asian Trio with delicious (don't believe my Dad) slaw
My daughter ordered the grilled cheese with fresh fruit, and was delighted that I somehow forgot to institute the "always have veggies with dinner" rule. Disney must have addled my brain.
We decided to try the famous Volcano for dessert, which was, indeed, on the house. The servers brought the huge volcano shaped concoction made of brownies, vanilla ice cream and whipped cream to our table with much ceremony. I had expected this to be one of those novelty desserts that looks great but doesn't live up to the hype. I was pleasantly surprised. The ratio of brownie to ice cream to whipped cream was perfect, and the brownie itself was rich, chocolatey and not overly sweet.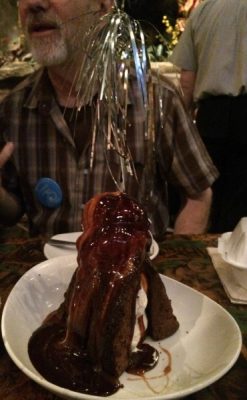 Volcano!  Volcano!
When the bill came, there was some confusion. The dessert was, indeed, free, but our waitress insisted that I never gave her the coupon for the free kids' meal. This baffled me, but in the end she modified the bill to remove that charge.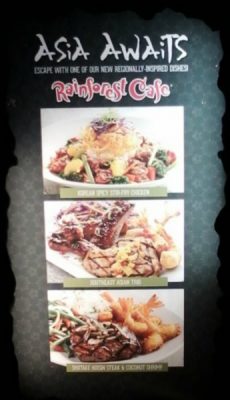 The "Asia Awaits" menu
All in all, we will continue to eat at the Rainforest Café because my kid loves the atmosphere, and the food is better than passable. This is not the place for a relaxing romantic dinner for two, but for a frenetic, exciting place bound to enchant most kids (although not those who spook at sudden noises or are easily overstimulated) this is a home run.
Have you tried the Rainforest Café on either coast? What were your thoughts? Share in the comments section.
Incoming search terms:
rain forest cafe downtown disney
rainforest cafe downtown disney
rainforest cafe in downtown disney