This post may contains affiliate links for your convenience. If you make a purchase after clicking a link we may earn a small commission but it won't cost you a penny more! Read our full disclosure policy here.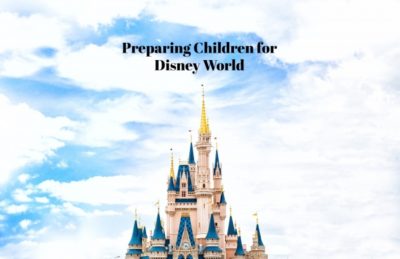 As a "non-childless" millennial, the last several Disney World trips I've taken have included my children. (No judgment to those who take Disney trips without kids! I also know how great that is!) I've compiled some tips on preparing children for Walt Disney World that have helped us greatly over the years.
Plan Plan Plan
I think I include this tip in every article I write! But it is so true! Knowing what rides you want to do and where you want to eat BEFORE your trip can keep you from spinning in circles. And preparing children for Disney World is a big part of our planning process! Show them menus to see if they would like the food at restaurants. There is nothing worse than booking your favorite restaurant only to have your kids turn up their noses at what they order.
Include Your Children in Planning
Depending on the ages of your children, they can absolutely help you plan your Disney trip. For older kids, let them read through a travel book and choose some things to do. For younger kids, show them pictures of attractions to see if they are interested. This can help you gauge where you should spend your time in the parks. If you have a little one that loves Disney Jr, plan on spending some time at the Disney Jr Dance Party and meeting those characters. Older kids may want to spend more time on thrill rides or meeting Star Wars characters. But ask your children for their input. It lets them feel like they have some control over their vacation!
Check Height Requirements
This is so important! Please check height requirements before you head to Disney World so there are no surprises. We have a trip coming up in November, and my daughter is currently 39 inches tall. She will be able to ride Slinky Dog Dash and Seven Dwarfs Mine Train now! But she won't be able to ride anything with a 40 inch height requirement (unless she has a growth spurt in the next 2 months!) As we are planning this trip, I have told her that she won't be able to ride some rides because she isn't big enough. She's 3, so she may not totally understand the concept, but I'm laying some groundwork to keep her from being too disappointed when her big brothers get to ride the thrill rides. This leads my to my next point….
Watch Ride-through Videos
There are some great POV ride-through videos of pretty much every ride at Disney World. My daughter may not be able to ride the bigger rides, but we have watched videos of Slinky Dog Dash several times, and she is so excited to ride it! I am hyping up the rides she can do now. For my older kids, we watch the thrill ride videos to help prepare. I wanted them to see what the rides were like before they got in the ride seats so maybe they wouldn't be too afraid of them. This really only worked for my middle guy. As prepared as my oldest was, he will never forgive me for taking him on Rock N' Roller Coaster! But I'm proud that he tried it. (Also, never force your child to ride something that scares them! My oldest will not ride a few rides again, and that's fine with me!)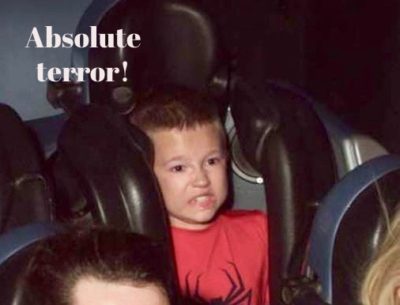 Talk About Your Expectations
It's important to talk to your kids about what the parks are like and how you expect them to behave. Parks are crowded, it's hot, there is sensory overload around every corner. I think it has helped my family cope with the unpleasant aspects of Disney when we talk about it and plan for it. Basically, I tell them to speak up. If they start getting uncomfortable with the crowds or heat or anything, I want them to speak up while we can fix the situation. If they wait too long to say they need a break, it can lead to a meltdown! And this goes for adults, too!
Last year we powered through a rope drop morning at Animal Kingdom and then hopped over to Epcot. We didn't eat lunch and it was ridiculously hot. We all ended up walking like zombies to the Mexico pavilion and stopped for some food. It was a game changer! And a rookie mistake on my part. But no one spoke up and said they needed a break! We learned a lot about ourselves that day.
Also, talk to your kids about how you expect them to act. Teach them some etiquette for waiting in long lines, have them pick out some toys or activities they can bring with them to keep them occupied, or let them pick out some snacks to eat in the parks. This gives them a sense of control while helping pass the time waiting.
Don't Skip Your Resort
If you are staying on Disney property, take some time to explore your resort! Check in the lobby and see if there are any special events going on during the day. Sometimes the resorts will have drawing classes or craft activities throughout the day. Pop Century has a Mickey tie-dye shirt activity you can do, and several resorts have scavenger hunt activities that are free. Also, the resort pools are so much fun. Usually when I ask my kids what they are excited about doing at Disney World, they tell me they want to go swimming. But I totally understand! The resort pools are superbly themed and just a blast to experience. There are usually pool bars for the adults, as well.
Let Your Kids Lead
I love a rope drop-to-park-close kind of day at Disney World. But it just isn't possible with my kids right now. We do better going to the parks early and then heading back to the hotel in the afternoon. Sometimes we will go back to the parks in the evening, but I don't push it because I don't want to completely exhaust the kids for the next day. Think about what kind of schedule your kids keep, and try to stick to that as best you can. If you children still take long naps, try to plan that in your day by leaving and coming back to the parks later. My kids don't take naps anymore, and that is why we tend to front-load our days at Disney. Know your kids, listen to your kids, and try not to push them too hard. I'm speaking from experience on this one!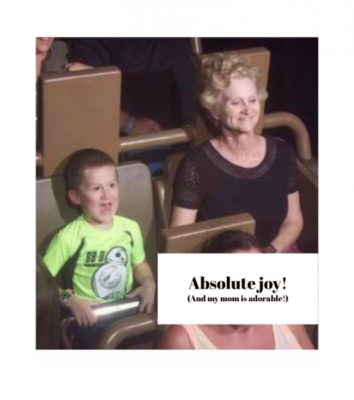 Have Fun!
Preparing children for Disney World can greatly improve your vacation. Most importantly, though, have fun with your kids! Disney World truly is a magical place. Enjoy it! Yes there can be meltdowns, drinks spilled all over their clothes, skinned knees from toddlers running and tripping, potty accidents, etc. Again, I'm speaking from experience! Theses moments are fleeting. Focus on the big picture, and you and your children will have lasting memories of Disney World.
What tips do you have for preparing children for Walt Disney World? Share your thoughts in the comments or on Facebook or Twitter!
Did you like this article? Make sure to share it with your friends! Check below for easy ways to share!
Want to visit the Walt Disney World Resort? Contact The Magic for Less Travel for more information and a free, no-obligation quote.