This post may contains affiliate links for your convenience. If you make a purchase after clicking a link we may earn a small commission but it won't cost you a penny more! Read our full disclosure policy here.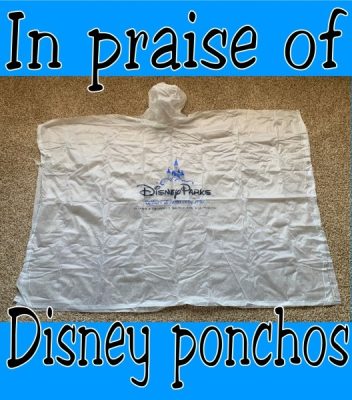 If you travel to Walt Disney World during the summer months, rain isn't IF, it's WHEN. And how much and how long. Given that inevitability, packing or buying Disney ponchos is a must.
But I didn't know that my first time to Disney World as an adult. My husband and I took a very last-minute trip to Florida in September 2008 and really didn't know what we were splashing into. Cue 3 PM of our first day, in the old Mickey's Toontown area at the very back of Magic Kingdom, as the heavens opened. We were lucky enough to duck into the large gift shop, but after wandering around for a half hour with no sign of the rain letting up, we decided to make a run for it. So we bought two Disney ponchos and fast-walked all the way out of the park and to our Caribbean Beach Resort bus.
The ponchos couldn't keep us completely dry, but they did much better than I would have suspected, given their $7 cost. The rest of the trip days we brought our ponchos into the parks to ward off rain, and they also worked very well for that!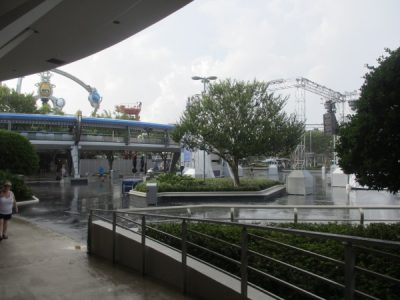 On future trips to Florida, we brought those same ponchos and also one-time-use dollar-store ponchos. If it looked like rain, we brought out the thicker Disney ponchos. (If not, the dollar-store ones, just in case). Those original ponchos were with us when we got deluged in the back of a park (yet again), this time in the Hogwarts area of Islands of Adventure at Universal Orlando. As we tromped out of the park in the downpour, we thanked our lucky stars and the cheap plastic keeping most of us and our possessions dry.
Attractions are hard with ponchos — most require you to gingerly fold them up and hold or stow them during a ride. But the short lines generated by the mass exodus of tourists are usually worth the trouble. I think I've taken wet ponchos with me on rides in almost every park over the years.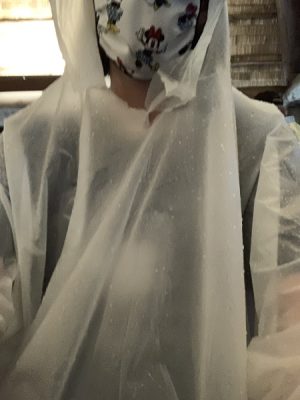 When I saw the forecast for a group trip to Hawaii in December 2021, I knew the Disney ponchos would be coming along. The forecast was sustained rain for several days. This wasn't just the usual Hawaiian "drizzle a little each day to keep things green" but a record-breaking EIGHT inches one of the days we were there during a storm-of-the-century front.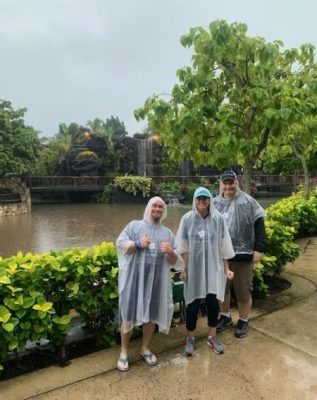 Despite getting more rain in one day than my Arizona hometown gets in a year, we weren't going to let some moisture keep us inside. So we walked the streets of Waikiki in ponchos. And visited the Polynesian Cultural Center in ponchos. I am pleased to report that my 13-year-old, much-worn, seven-dollar Disney poncho kept most of me dry during those waterlogged outings.
But one Disney poncho finally got retired at the end of that trip. After being taken on and off a hundred times, being folded up repeatedly (sometimes in my husband's cargo shorts pockets), and saving me from drying out many purses and backpacks, it had torn too much to keep.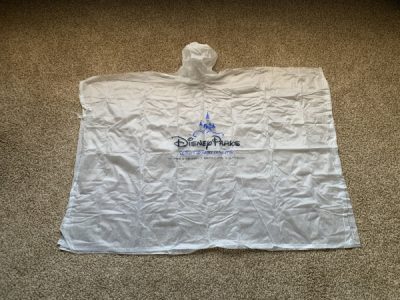 I don't know how much new Disney ponchos cost these days, but I'm sure I'll buy one the next time I visit. I'm certain I got way more use and enjoyment out of it than any $7 souvenir I've ever bought.
Do you use Disney ponchos or do you carry an umbrella or both? Share your thoughts in the comments or on Facebook or Twitter!
Did you like this article? Make sure to share it with your friends! Check below for easy ways to share!  
Want to visit a Disney Destination? Contact The Magic for Less Travel for more information and a free, no-obligation quote.

Incoming search terms:
https://www themouseforless com/blog_world/praise-disney-ponchos/
disney world ponchos
https://www themouseforless com/blog_world/praise-disney-ponchos/#:~:text=If you travel to Walt Disney ponchos is a must