This post may contains affiliate links for your convenience. If you make a purchase after clicking a link we may earn a small commission but it won't cost you a penny more! Read our full disclosure policy here.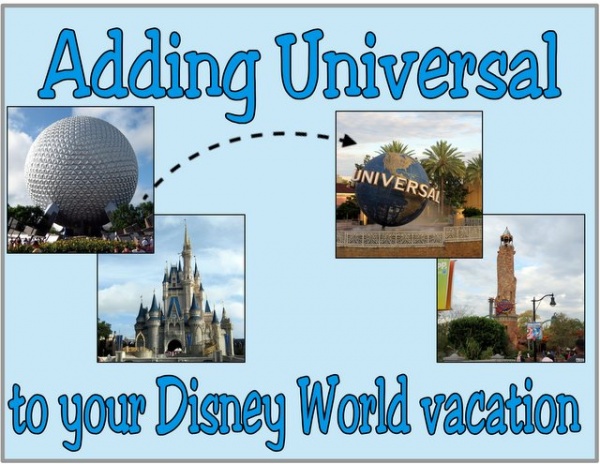 After visiting Walt Disney World a few times, our children figured out that — gasp — Orlando has other theme parks! Chief among them is Universal, which has sparked interest in the past few years with notable additions themed to Harry Potter, Minions, and other popular franchises. So how do you add Universal to a Disney World vacation?
First, you'll need to get there. If you drive to Disney World, it's a quick trip up the I-4 freeway of less than 20 minutes (depending on traffic). Parking in the main Universal garage near CityWalk and the theme parks runs $20.
If you don't already have a car, you'll need to find your own transport. It's no surprise that competing theme parks don't make it convenient to visit each other! Here are some options:
Rent a car from the on-site car rental agencies at the Dolphin or Car Care Center at Disney World. You will pay for rental car and for parking at Universal. Note that there aren't any close car-rental locations near Universal if you are considering a one-way rental across town.
Get a ride with Uber. Download the app, request a pickup, and away you go. You'll only pay for the price of the ride, which is probably less than a car rental plus parking. I've found Uber easily available in the Orlando resort areas.
Shuttle bus. Some travel agents offer tickets to Universal that include a round-trip shuttle ride. While it's nice to roll everything into your larger trip price, the shuttle option can be limiting on hours and availability.
You'll also need to decide how long you want to visit. Why are you going to Universal Orlando?

"We are mainly interested in Harry Potter and seeing Diagon Alley, Hogwarts, and Hogsmeade."
If all things Potter are your priority, you can probably see all of it in one day trip with a park to park ticket. Leave your Walt Disney World resort very early and arrive at Universal at least half an hour before the park that doesn't have early entry opening. Go straight to Diagon Alley and ride Escape from Gringotts. Then take the Hogwarts Express to Islands of Adventure and experience Forbidden Journey and the two Dragon Challenge roller coasters.
With those longer queues out of the way, you'll still have a big part of your day left. Stroll around the Wizarding Worlds, eat, re-ride (using single rider lines), and sample any other attractions in Universal. Be sure to return to Universal Studios Florida at night to see the fire-breathing dragon in Diagon Alley!

"This is the second part of our week-long theme-park vacation."
If you're planning to experience more of Universal, consider spending at least two days, three if you plan to visit the new Volcano Bay water theme park. Your transportation plans remain the same as for a one-day visit, but unlike Disney World, you'll pay for hotel parking at Universal's onsite resorts. If you stay at any of the five onsite hotels, you'll get early entry into a theme park each morning of your visit, including arrival day if you get there early enough. The three top resorts — Portofino Bay, Hard Rock, and Royal Pacific — also receive unlimited Express Pass.
Regardless of where you stay, the resort area is small enough to park hop frequently and you should be able to cover the parks in two or three days. CityWalk has diverse eating options when you are ready to escape the parks.
"… but I don't think buying Express Pass is in our budget! Will I be able to see everything without awful wait times?"
First, run the numbers to be sure this statement is really true. If you stay one night in one of the top three resorts listed above, you get two days of Express Pass — your check-in and check-out days — starting as soon as you arrive. So you could leave Disney World painfully early, check in to a Universal resort hotel, and start using your one-night benefits at 8:00 a.m. until park close the next day! That's two days of early entry, and two days of unlimited Express Pass. You might find the math works in your favor.
If you can't swing a night onsite for that benefit, use all of the tricks you've learned from Walt Disney World visits. Be in line at the turnstiles well before the park opens. Go to the E-ticket Harry Potter rides first. Use the many single rider lines — Universal has them for almost every big attraction. Parent swap is also available and works even better than Disney's version. Lines also tend to die down near closing — I watched an 60-minute wait for Escape from Gringotts plummet to 15 minutes between 7:30 p.m. and 8:00 p.m. on a busy Saturday evening.
Universal is aggressively expanding its empire and you will want to check out what some Disney fans call "The Dark Side" sooner or later. As you can see, it's easy to add Universal to a Disney World vacation!
How have you managed to add Universal to a Disney World vacation? What tips and suggestions do you have to share? Add them in the comments.

Did you like this article? Make sure to share it with your friends! Check below for easy ways to share!