This post may contains affiliate links for your convenience. If you make a purchase after clicking a link we may earn a small commission but it won't cost you a penny more! Read our full disclosure policy here.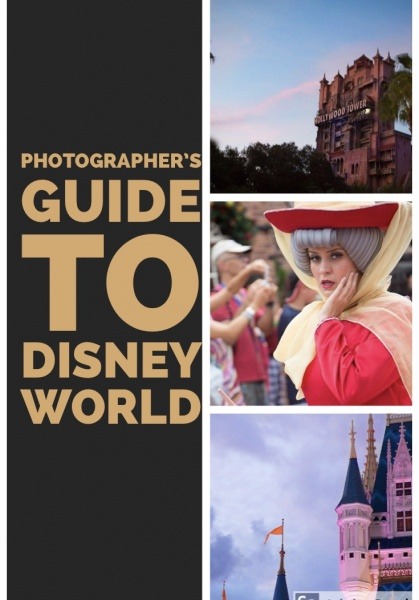 Are you a photographer, professional or hobbist, who loves to photograph the sights & sounds of Walt Disney World? Or, are you just a phone photographer with an artful eye? I'm going to share my photographer's guide to Walt Disney World for fellow photographers to enjoy! I am a professional photographer, so I always bring my big DSLR camera on my Disney vacations.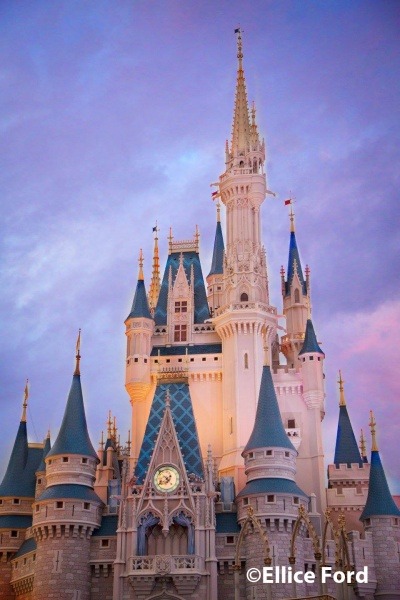 Although all cameras are allowed in the parks & resorts, something to keep in mind if you are a professional photographer; you cannot use images taken in Walt Disney World for sale or promotional purposes for your business, without permission from Disney themselves. I'm not familiar with what hoops that may entail, because I haven't tried. I just like shooting in Walt Disney World for my own leisure! I do have a few of my favorite pieces framed around my home.
There are so many beautiful shots you can get all over the Walt Disney World Resort-the options are endless! Whatever you choose to photograph, there are a few key things I keep in mind when getting my favorite shots. Let's talk about some tips to consider!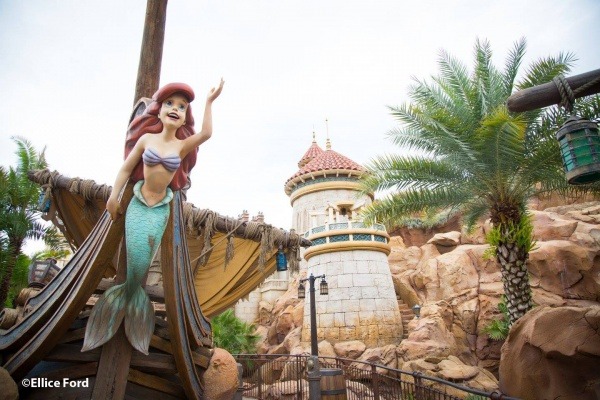 The Right Gear
My top tip starts with having the right gear, case & not carrying more than you need. I use a sling camera backpack & only bring my camera & one lens-my 75-300mm. I do not bring a flash, extra batteries or other lenses. This is mostly a personal preference. Nothing is worse than dragging around a bunch of gear. If you do decide to bring  a couple lenses, or whatever the case may be, entertain the idea of locking it up for a few hours in a locker while you explore the parks. My bag can also fit things like my wallet, cooling towel & other necessities.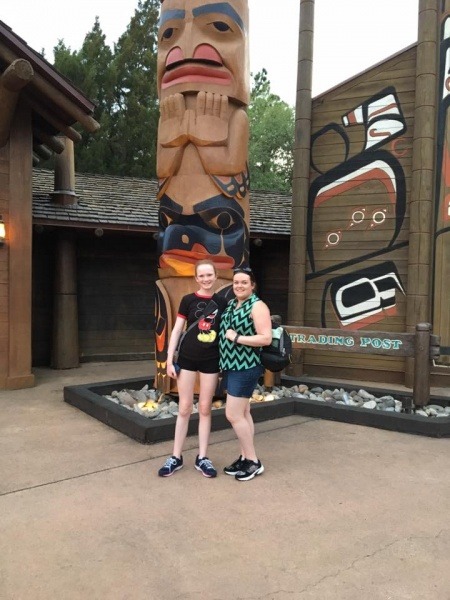 Sunrise & Sunset
This is a rule of thumb for me in anything I photograph, and the same applies to Walt Disney World. Best lighting tends to be sunrise & sunset, with worst lighting being middle of the day when the sun is high. Some of my favorite shots of Cinderella Castle were taken during sunset when I was staking out a spot for the fireworks. The sky changes so many colors, and the castle lights reflect beautifully against it.
Early morning is another great time to get some perfect shots. If you are lucky enough to snag any pre-park opening breakfast reservations at the parks, take advantage of that by getting some awesome shots on your way in. I have a pre-park opening reservation at Be Our Guest on our next trip, and this is the main reason I wanted it! I am so looking forward to some semi-empty & sunrise photos.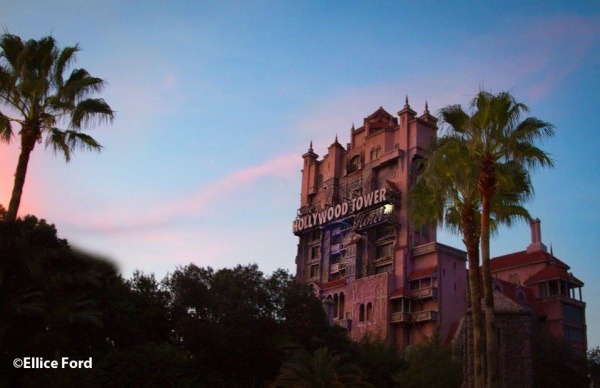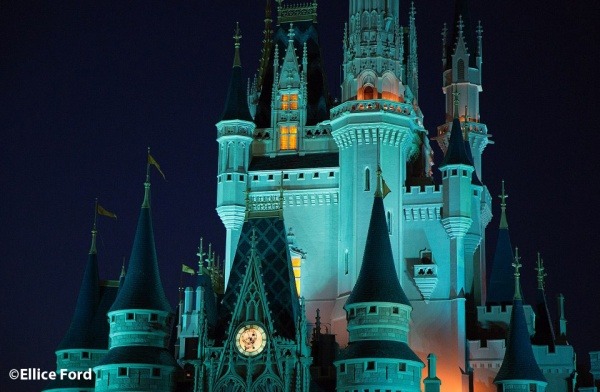 Nighttime
One of my favorite times to photograph the parks is at nighttime. Main Street & Spaceship Earth are two beautiful sights when the sun goes down. Take time to slow down when the lights come on & the sun goes down to soak up the nighttime atmosphere!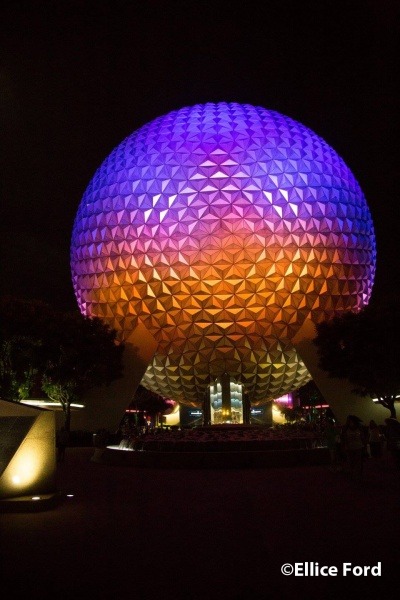 Photographing Fireworks
Photographing fireworks is something that is difficult with any camera. The spectacular fireworks shows that Disney World puts off are ones to not be missed-you want to make sure you get that perfect shot! Ideally, bringing a tripod in to help you out is the way to go. Since your ISO has to be quite high, with a shutter speed super slow, a shaky hand is not going to get a good shot. This could be a full tripod, or a table tripod, depending on the size of your camera. If it's the latter of the two, make sure you find somewhere that has a table to use. If you do choose the big tripod route, find somewhere that has the space & the view.
Also, don't be afraid to use it! I've seen lots of people using tripods right in the middle of a crowd. I've only done it once myself, because I don't like to hog the space. I kept it locked in a locker during the day & grabbed it before getting my spot for the fireworks. This way, I wasn't dragging it around all day.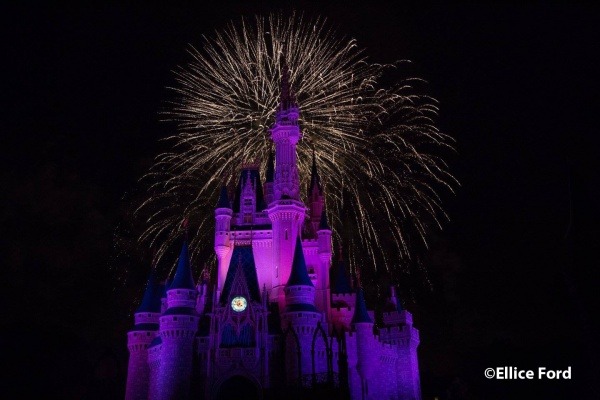 If you choose to not use a tripod, which I normally don't, you can up your ISO even more and have a shutter speed that you can hand hold. I have a pretty steady hand, so my F-stop is usually at about 80-100. I'm usually able to achieve great shots hand holding my camera!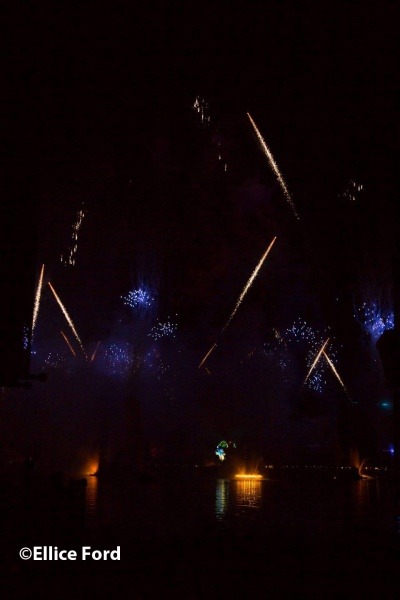 Last tip – use Photoshop to pull in fireworks from multiple images! Overlay, cut, snip, mask, whatever your choice to make it look like there's a pile of fireworks in the sky! Often times, the shots we see that have several fireworks in one image, have a lot of post production work in them. Don't be afraid of that!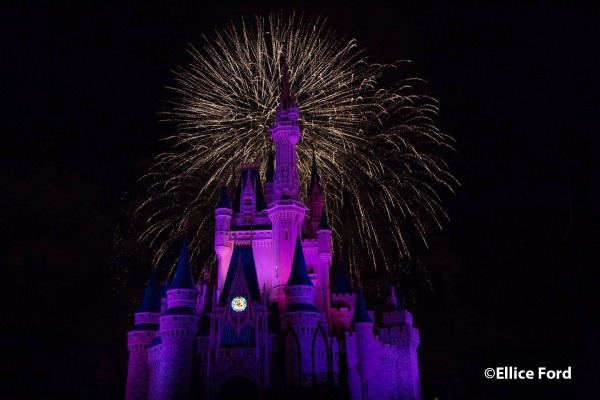 Angles & Unique Vantage Points
Get creative with your angles & vantage points! Whenever I travel to Disney World, I try to find unique ways to photograph my favorite spots, like Cinderella Castle. Try shooting the castle from behind, on a tilt or from Adventureland. Or why not try photographing Spaceship Earth up close as opposed to far away, or from across the lagoon? Play with your skill & get some unique shots!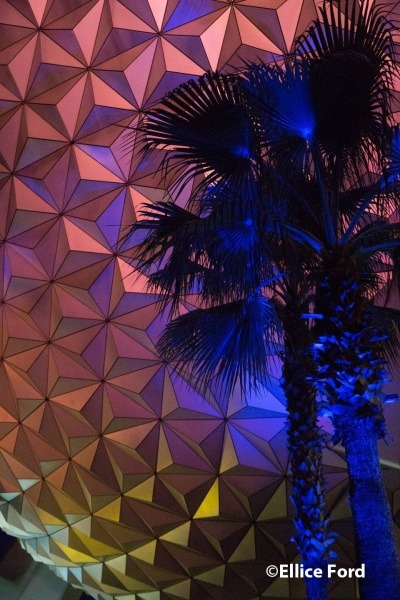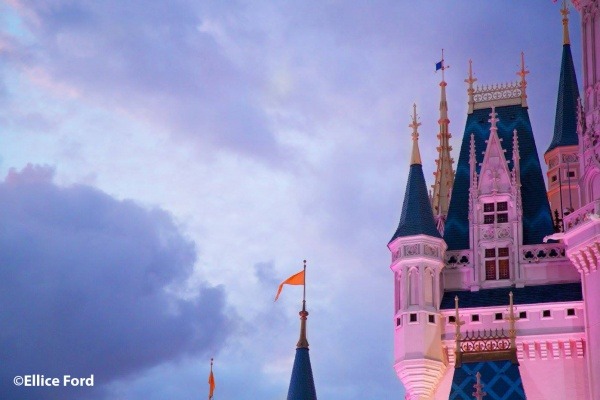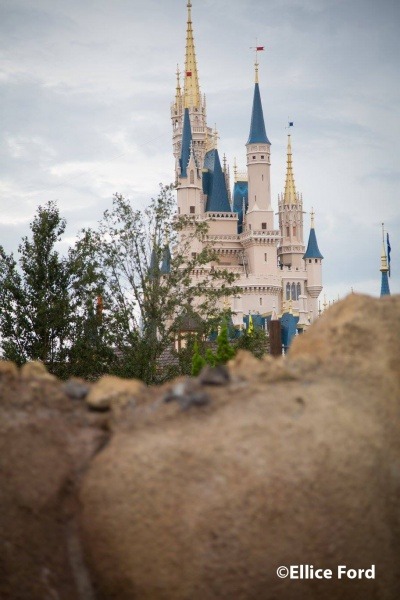 Play With the Focus
Similarly to choosing unique vantage points, also try playing with the focus. Make something more evident in the foreground, with the background blurred. Also try doing to reverse. This can make for some really cool shots! You can achieve this by changing your aperture & using manual focus.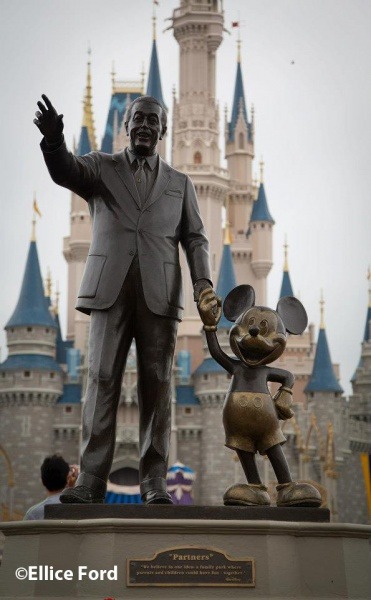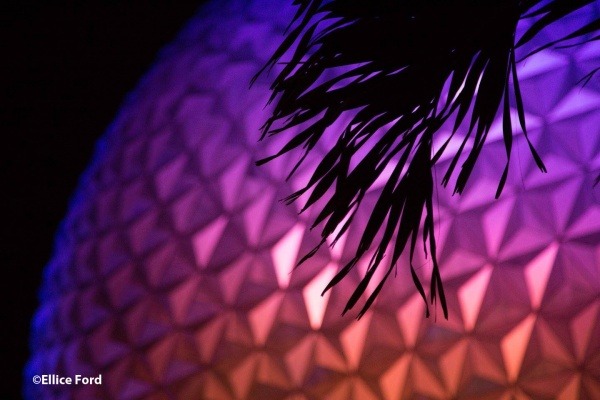 Lower Crowds
Something that is hard to achieve, but is possible, is shooting during lower crowds. My best tip for this is to book a pre-park opening breakfast reservation. You can snag a pre-park opening reservation at many restaurants within the parks. Make sure you do this on a day that doesn't offer Extra Magic Hours. This allows you access to Main Street, and possibly Fantasyland, during not only low crowds, but also during sunrise!
Shows
One of my favorite things to photograph at Walt Disney World is the shows. The stage shows, the parades, all of it. I absolutely getting some shots of my favorite show to live over & over. Here's a tip for parades; zoom in & capture details & characters! Don't just photograph the big picture. At those indoor stage shows, like Beauty & the Beast – Live on Stage or Festival of the Lion King, you want to boost your ISO & put your shutter speed as low as possible. That part is tricky because you can't have it too slow or your images will be blurry. One of the most difficult shows to photograph is Fantasmic! I still have not mastered how to photograph the water show. Lastly, snag a spot as close as you can!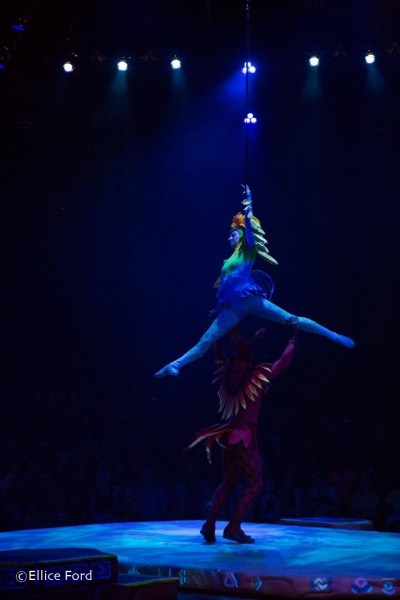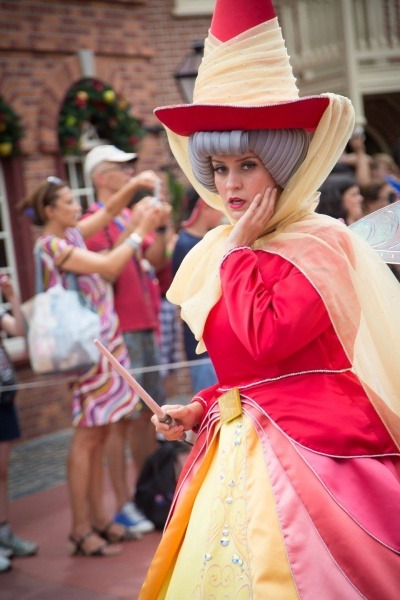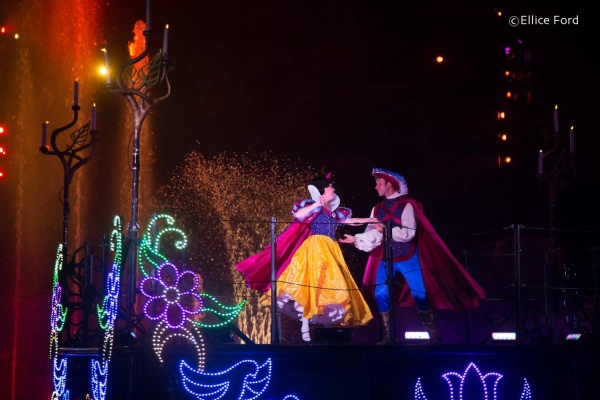 The Little Things
Don't forget the little things! Disney World has so much to offer, it's easy to forget to photograph smaller sights. Take time to enjoy the little things in the parks & photograph them! I love to photograph the little statues in Magic Kingdom, the animals on the Tree of Life in Animal Kingdom, and pretty much anything that catches my eye!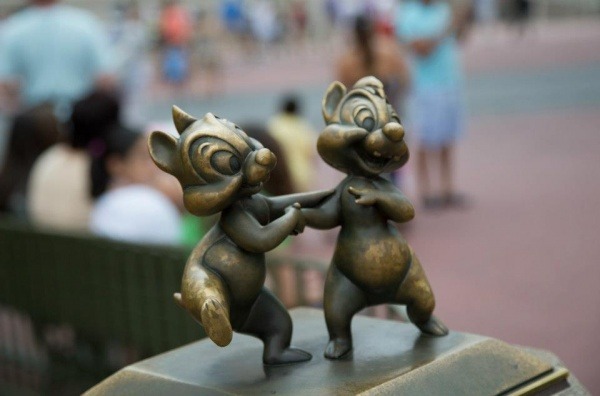 Photograph Resorts & Non-Park Things
Don't be afraid to bring your camera on resort hopping days. Walt Disney World has some of the most beautiful hotels, with so much to see & do. You want to be prepared in case something catches your eye! Some of my favorite resorts to photograph include the Polynesian & Wilderness Lodge.
Another thing to keep in mind is photographing anything outside of the park that tickles your fancy. Monorails, boats, lagoons, all of the above!
Photoshop
My final tip, is to not be afraid of post production. I don't edit my photos much because I like to keep things natural. That said, I do sometimes use my clone brush to get rid of people, mask in fireworks from multiple images, or change up the sky a little. For the most part, I do tend to keep things simple by upping the saturation & contrast in the sky or upping overall saturation. Something else I do in post, is remove the noise from any of those nighttime or show pictures. Don't be afraid to play!
Those are my trade secrets for photographing Disney parks! Whatever you choose to photograph in Walt Disney World, make it count! Whether you're shooting with a professional camera, point & shoot camera or your phone, make each & every shot beautiful with some of the tips I've provided you, and remember to capture your art in your favorite place!
We hope our Photographer's Guide to photographing Walt Disney World was helpful. What tips do you have? Let us know in the comments, or on Facebook or Twitter!
Did you like this article? Make sure to share it with your friends! Check below for easy ways to share!
Want to visit the Walt Disney World Resort? Contact The Magic for Less Travel for more information and a free, no-obligation quote.

Incoming search terms:
https://www themouseforless com/blog_world/photographers-guide-walt-disney-world/
dismey world photo tips
disney world photographer event photos
https://www themouseforless com/blog_world/photographers-guide-walt-disney-world/#:~:text=Although all cameras are allowed without permission from Disney themselves
iso shutter spees etc for disney world