This post may contains affiliate links for your convenience. If you make a purchase after clicking a link we may earn a small commission but it won't cost you a penny more! Read our full disclosure policy here.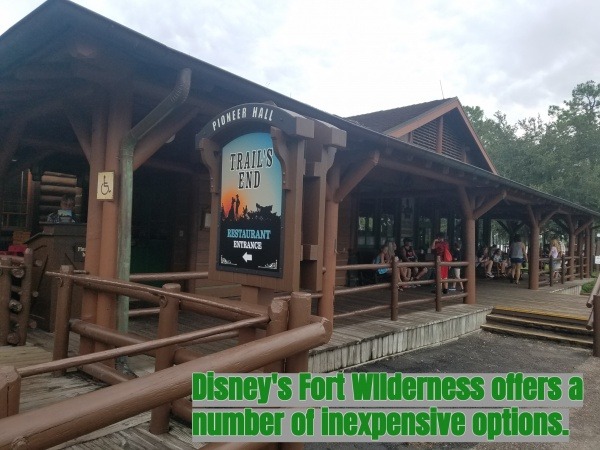 To say Walt Disney World offers a multitude of different resorts would be an understatement. There is a place for just about anyone in Disney with 19 different resorts on property. Disney has another 12 deluxe villas options on top of that. The Disney hotel rooms are hard to pass up with intricate theming, unique pools, the H2O+ products and even the occasional towel creation left on the bed by a Cast member. The extra magic people receive from staying in a Disney resort is sometimes worth the price alone. But  Disney's Fort Wilderness Campground offers an experience few other resort on property can replicate.
That's because at Disney's Fort Wilderness Campgrounds, you can bring the room with you! Guests can pitch their tents, park their campers or even rent a cabin for one of the most unique resort experiences on property.
There's no shortage of magic at Disney's Fort Wilderness. From roasting marshmallows with Chip and Dale, a boat ride to Magic Kingdom, country cooking, and not to mention the savings, camping is one way to go for your next vacation.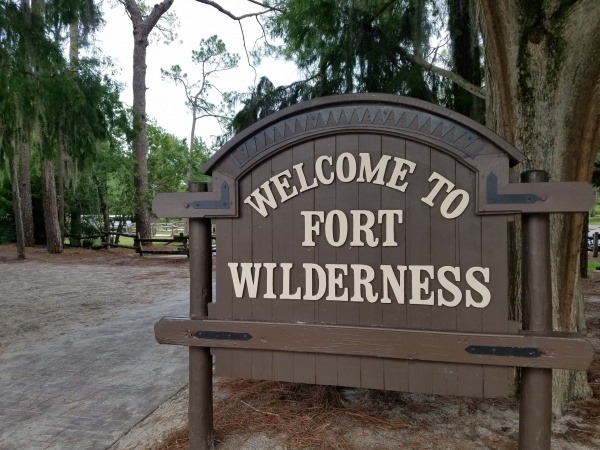 Magical Savings
It's no mystery that a trip to Walt Disney World is expensive. Staying in a Walt Disney World resort makes the price even higher. Have faith because there is an alternative at Fort Wilderness. Not only can people stay in Disney, but they can do it at an affordable price. If guests are staying in a tent, camper or RV, they are most likely traveling to Orlando by car. This means guests are saving money on a room and cutting the cost of traveling.
Travelers can currently stay a night in the campground for as low as $56. This price is only available for tents and pop-up campers.
A full hook-up site for larger campers and RV's start as cheap as $84. Sites can be as expensive as $118 for a Premium Meadow Campsite.
The current lowest price listed for a Value Resort is $99. The campsite for a tent or pop-up camper is $43 cheaper. The $43 cost savings may not seem too hefty, but the total can tally up rather quickly. Guests may miss out on some of the amenities that come with an actual room, but Fort Wilderness still has many of the Disney Resort features like pools, dining, activities and merchandise. Although a room is more spacious, the price is worth thinking about.
Good Eatin'
Dining at Walt Disney World is a treat in itself.
Trail's End is the best of both worlds with exceptional country-style food for a great price compared to other dining locations. The cost of the buffet is one of the lowest on property. Breakfast is $25 for adults and $14 for children. Brunch is $32 for adults and $18 for children. There is a slight increase for dinner with adults costing $35 and a $19 fee for children.This is one of the best restaurants in my opinion, price for value as far as Disney dining is concern.
Fort Wilderness is also home to one of the  longest running dinner-shows in America. Wind down with some fried chicken and baked beans while enjoying a two-hour long show of singing, dancing and comedy at the Hoop Dee Doo Musical Revue.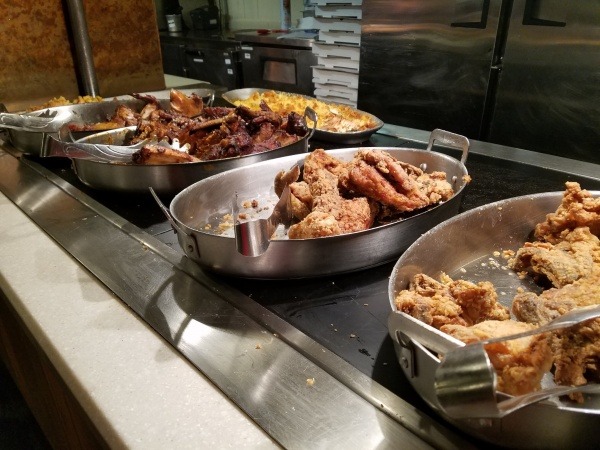 The Water Way
Transportation and getting to where you need to go quickly is important when going to and from the parks. One of the perks of staying at Fort Wilderness is access to the boat to Magic Kingdom. Not only is the boat a short trip away from Cinderella Castle, but it is also a scenic route going through the Seven Sea's Lagoon. There is something magical about taking the boat back after a long night of fun in Magic Kingdom.
All of the Lights
Guests do not have to see the Electrical Water Pageant from the entrance of Magic Kingdom. Fort Wilderness is one of six resorts with a view of this special water parade.
Guests can see the 15-minute long show from the shore of the campground each night at 9:45 p.m. Check out some dazzling lights on the water after indulging in a buffet of ribs, fried chicken and baked beans.
Guests also have the perk of watching the "Happily Ever After" fireworks and projection show from the beach. People can listen to the entire show through speakers located along the dock and beach. The only downside is the projections can't be scene.
Horses in the Back
Guests nine years old and up can ride horses around Fort Wilderness for an experience unlike many others in Disney World. Horseback riding can be a relaxing and unique escape from visiting the parks. The 45-minute ride is $55 per person.  The resort also offers a horse-drawn excursion for $55.
Aim High
Anyone ages of seven or older can partake in a 90-minute archery lesson. It costs $45 per person for each lesson. Guests can channel their inner Merida and give it a try.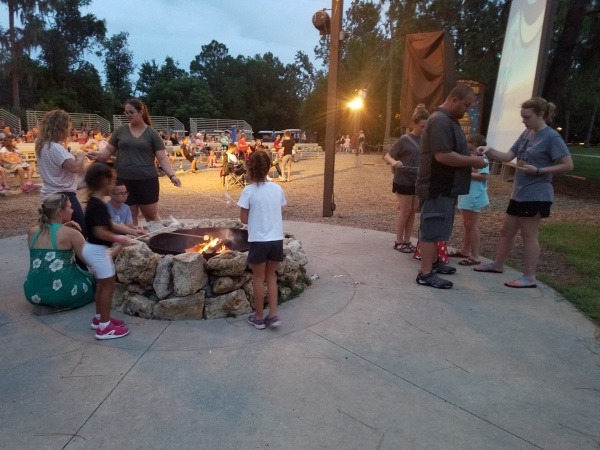 Around the Fire
There's a chance to sweeten up your night by roasting marshmallows with Chip 'n Dale. All the ingredients you need for a s'more is available for purchase at the Chuckwagon Snack Bar. Save some money by bringing your own supplies. The night also includes a meet-and-greet and autographs from the famous duo. There's also a guitar-playing cowboy to top it all off. Following the fire and friends, a different movie plays each night.
Guests can end the night as happy campers.
As you can see, Disney's Fort Wilderness Campgrounds offer a wide variety of reasons to stay at this resort. Have you stayed here before? What are some of your favorite things to experience? Let us know your thoughts in the comments, or on Facebook or Twitter!
Did you like this article? Make sure to share it with your friends! Check below for easy ways to share!
Want to visit the Walt Disney World Resort? Contact The Magic for Less Travel for more information and a free, no-obligation quote.

Incoming search terms:
https://www themouseforless com/blog_world/perks-disneys-fort-wilderness-resort/